Juli - August
30/08/08 Münte und Tailor Ann, Caspers Tochter stellen sich vor.
Nein, keine Angst, kein weiterer Beardie zieht bei uns ein :-), nur jemand der sich um die kleinen grauen Tierchen mit dem nackten Schwanz kümmern wird....
Münte and Tailor Ann would like to say hello.
No, not another Beardie is going to move in with us :-), but someone in charge of the little gray furry fellows with the long naked tail....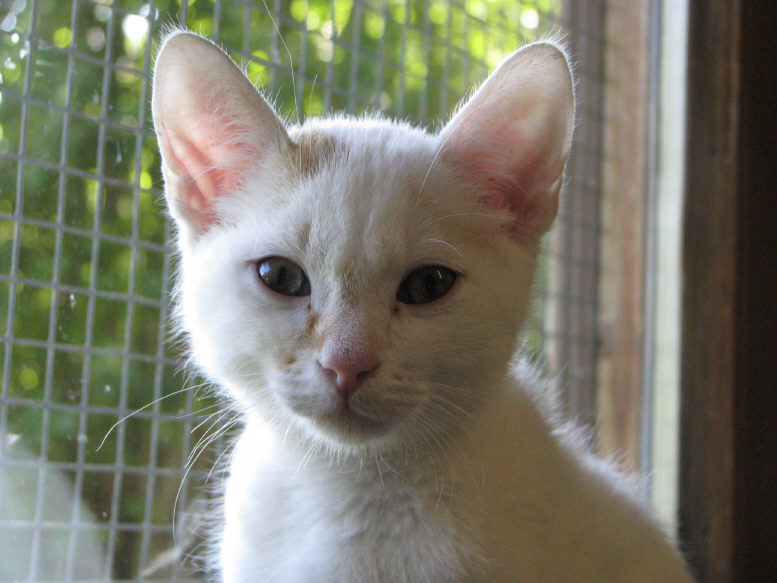 Münte(fering)
Tailor Ann vom Spinneratz *22.11.2007
M: Courtney vom Spinneratz
V. Dt. Ch Zotti Floppy Toppolino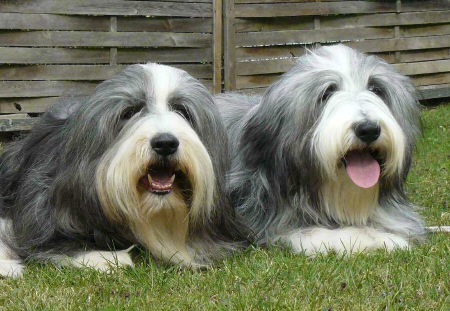 Tailor Ann und Courtney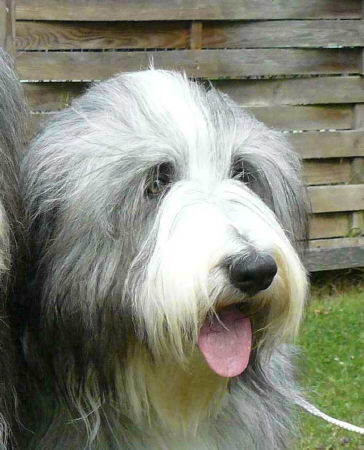 ©B.Halfmann
Tailor Ann ist eine hübsche Beardiedame geworden
Tailor Ann did develop into a lovely little Beardiegirl
29/08/08 Chocolate und Phil, ein Herz und eine Seele oder "die zwei Chaoten".....wenn sie nicht Spielsachen und Schuhe (Phils Idee) im Garten verteilen, oder Mr.P nach rechts schaut und nach links rennt und dann am Baum bremst, dann beschäftigen sie sich ganz friedlich miteinander.
Chocolate and Phil, always together or maybe better called the two "chaots"....when the two of them are not taking almost all toys outside in the garden, Phil carries all my shoes there, or Mr. P is running around looking to the right and running to the left until he stops with his nose at a tree...when they are not up to some mischief, the two of them are "playing" peacefully together.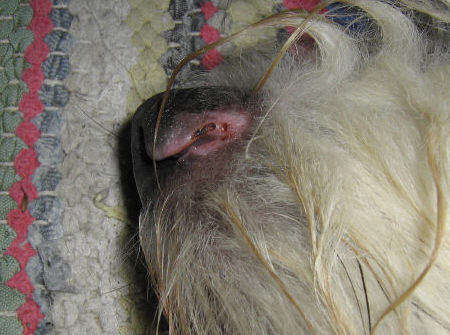 die Bremsspuren an der Nase....sie heile so langsam ab
Phil's nose after he hit the tree.... starting to heal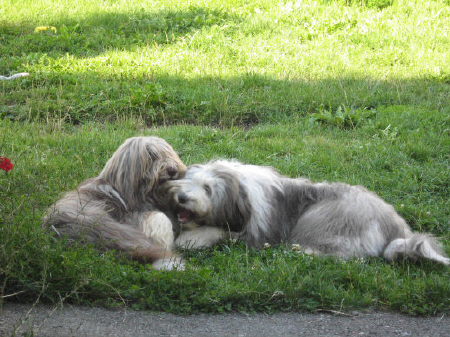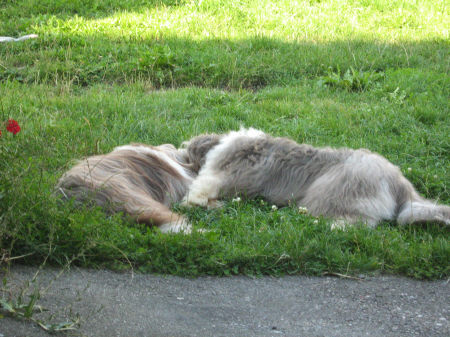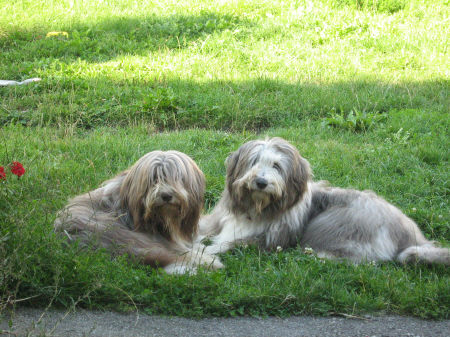 ......wir werden beobachtet....someone is watching us
27/08/08 Primelchen war im Urlaub.....bei uns. Und sie hatte eine tolle Zeit: Spielsachen klauen, Phil jagen, am Sofa oder auch mal im Bett schlafen, in der Donau mit den Herren baden, gestern hat sie sich sogar zum Frühstück eine Maus gefangen....nun sie hat ihren Urlaub richtig genossen :-)
Primelchen came to stay for her vacation....She seemed to have a nice time: taking the toys away, chasing Phil, sleeping on the sofa or on the bed, going for a swim in the Danube, yesterday she even caught a mouse for breakfast.....well she really did enjoy her stay :-)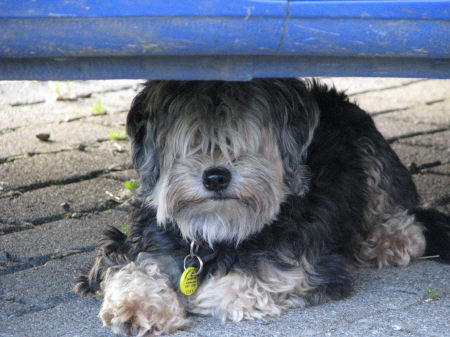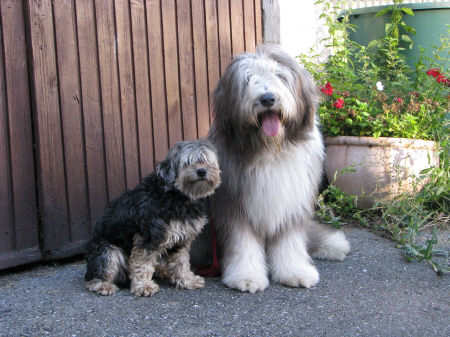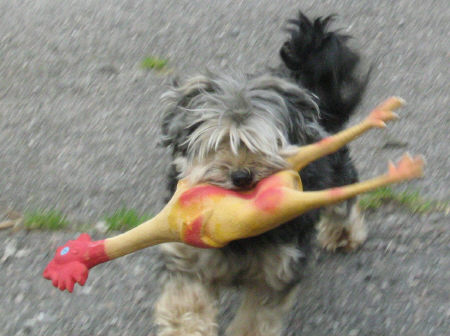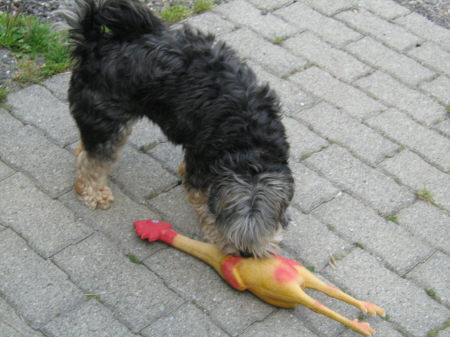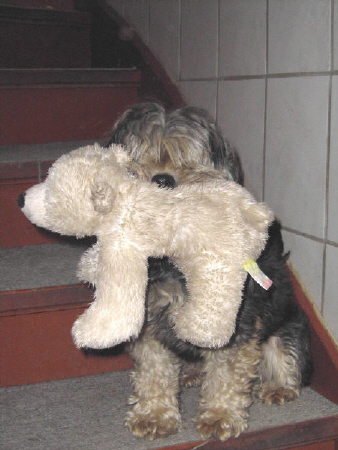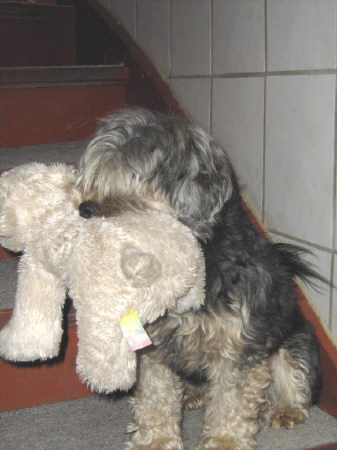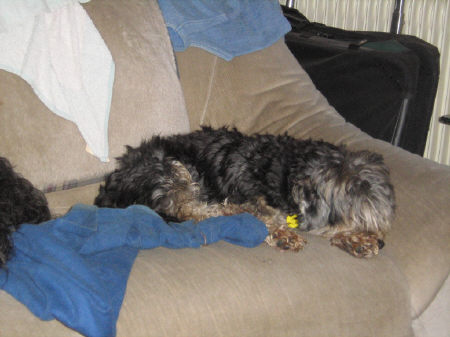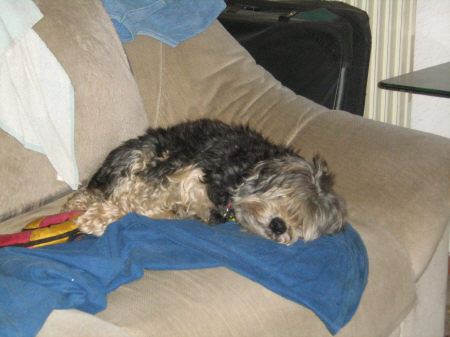 18/08/08 Zwischen den beiden Bildern liegen 6 Monate....There are 6 months between the two pictures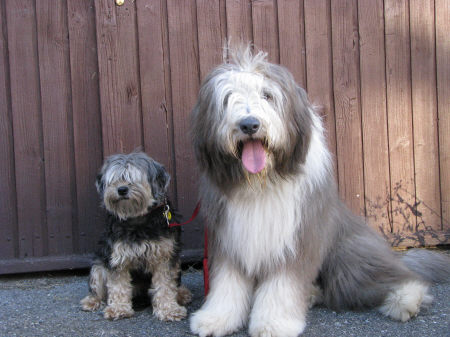 Phil und Primelchen
17/08/08 Phil ist nun schon 10 Monate alt und hat all meine Hoffnungen mehr als übertroffen. Ist er nicht nur ein absolut fröhlicher kleiner Mann, immer bereit irgendeine Dummheit mit Chocolates Hilfe in die Tat um zu setzen, einerseits kaum zu bremsen, dann wieder total verschmust. Im Altenheim macht er seine Sache richtig toll und auch sonst hat er sich bei uns sehr gut eingepasst. Er kann am Rücken liegend schlafend im Auto darauf warten, dass ich endlich fertig bin und kaum los gelassen sprüht er nur von Energie. Ich hätte es nicht besser treffen können!!! Danke, Kerstin, Andreas, Megan, Theo ;-)
Phil is already 10 months old and he more than met all my expectations. He is always in a good mood, always ready for some new adventure which he will achieve with Chocolates help. On one side he is full of energy, hardly to stop, on the other side he can lie next to me to be cuddled. In the old peoples home he does a great job and he fit in the group very well. He can sleep lying on his back in the car, waiting for me to finish and once let loose he is full of power. He is absolutely perfect!!! Thank you Kerstin, Andreas, Megan and Theo ;-)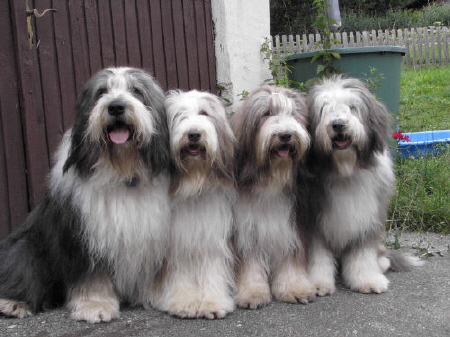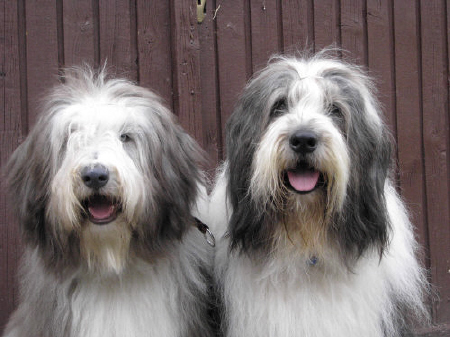 07/08/08
Phil....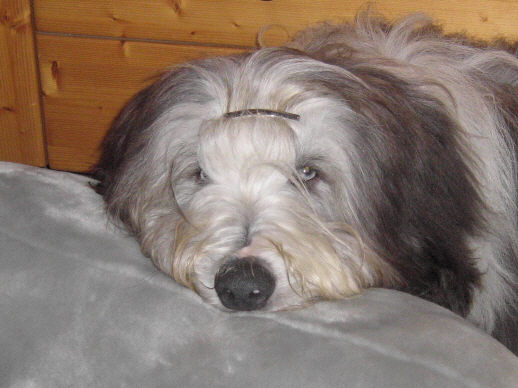 kann kein Wässerchen trüben und ist ein sehr wissbegieriger Hund:
Wenn er nicht dafür sorgt, dass Octopussie die Welt kennen lernt indem er ihn durch die Gegend schleppt und mit ins Auto nimmt, dann will er erkunden, warum Brennesselblätter brennen, die Wurzeln aber nicht, wofür man sie natürlich erst einmal ausgraben muss. Dann wird der Biber ins Grüne gesetzt und beobachtet und sein letzter Streich: er wollte wissen, ob es wirklich wahr ist, dass dem Hai die Zähne wieder nachwachsen. Dafür muss man diesem natürlich erst einmal einige Zähne "ziehen" um zu beobachten was da passiert. Und da solche Wissenschaftlichen Studien natürlich müde machen, wird der Hai dann als Kopfkissen genutzt, was aber auch bei Casper sehr beliebt ist.
Phil is a very curious dog and if he is not showing Octopussie the world by taking him along on the walks or in the car, he tries to find out why the stinging nettly has stinging leaves but not stinging roots. Therefore he needed to dig them up to be able to chew them. Beaver is taken outside and watched , and his last scientific work was about the teeth of a shark. Being told they grow during the whole life of a shark, he pulled a few to see if this is true. Because learning makes him sleepy he took shark as a pillow, something Casper loves too.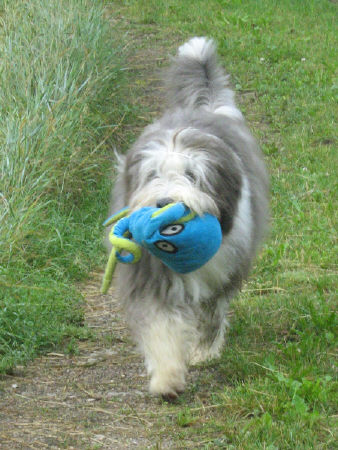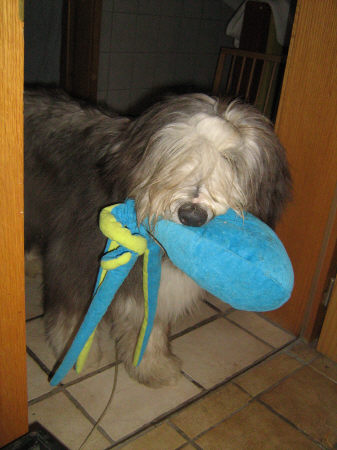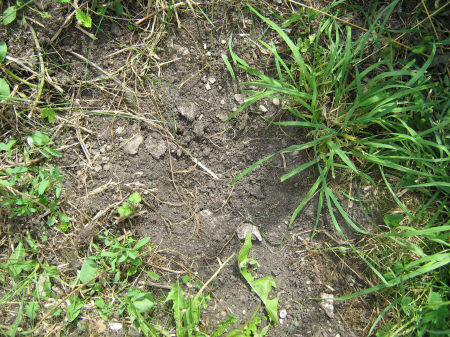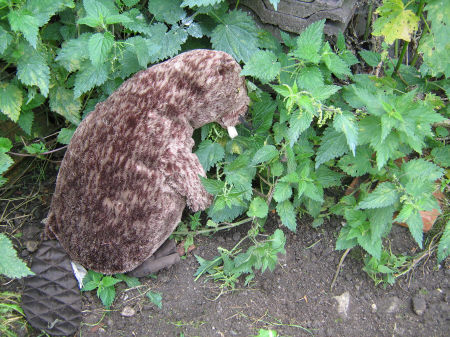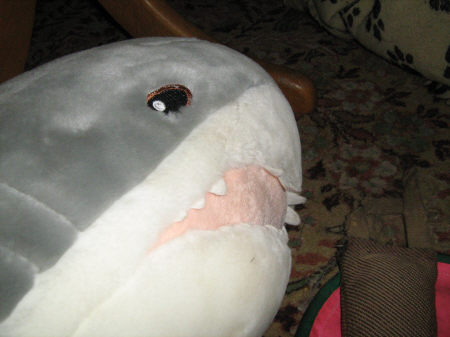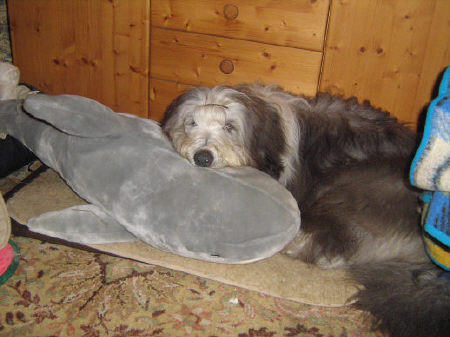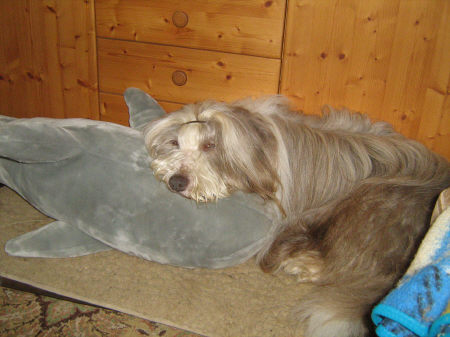 02/08/08 Wir hatten Besuch von Tassilo. Leider konnten die Herren seine künstlerischen Bemühungen nicht wirklich würdigen....
We had Tassilo, my nephew over for a short visit. Well the boys didn't really appreciate his artistic skills.....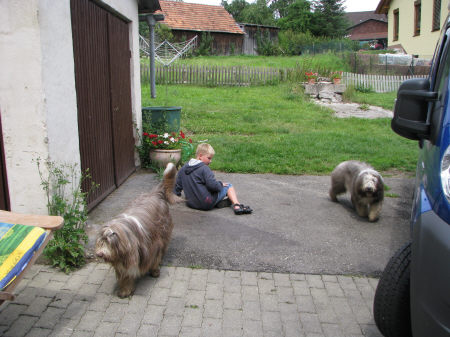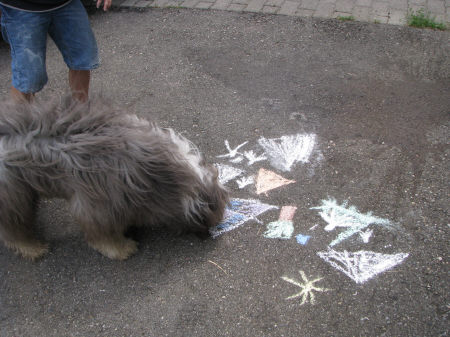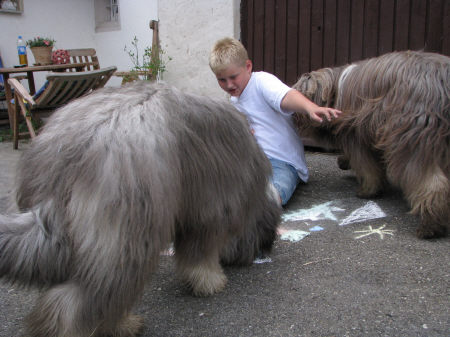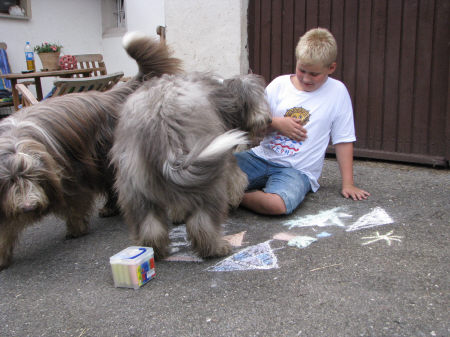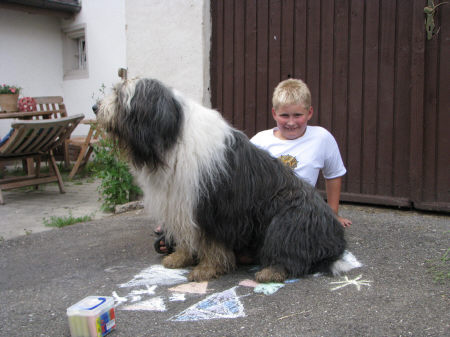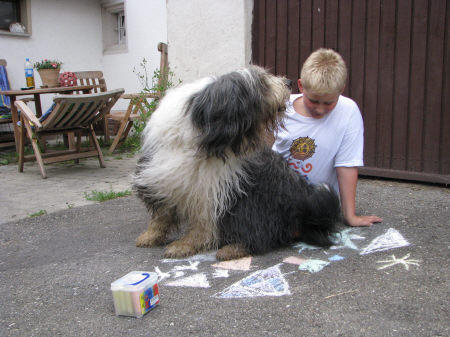 Nur Baghria fschien so beeindruckt, dass er sich auf Tassilos Schoß setzte. Er ist eben ein kleines, zartes "Schoßhündchen" :-) was ihm nur keiner glauben will....
Only Baghira seemed to be really impressed and decided to sit on his lap. Well in reality Baghira IS a tiny, delicate lap-dog :-) only nobody believes him....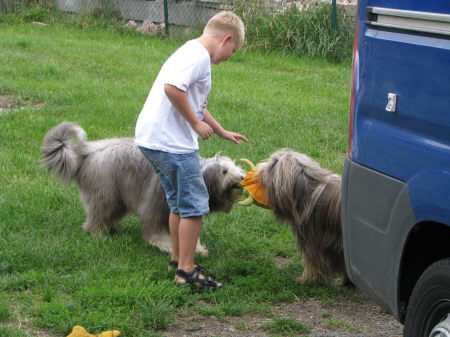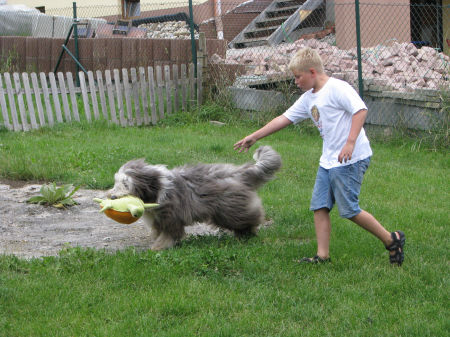 Tassilo konnte gar nicht verstehen, dass Phil Chocolate jedes Spielsach klaut....
Tassilo couldn't understand Phil stealing every toy Chocolate has...
01/08/08 Tja es ist mal wieder so weit: wir ziehen um. Noch dauert es etwas, aber bis Oktober sollte alles geschafft sein und wir werden in unser Haus mit großem Garten ziehen. Neben einem großen Garten hat das Haus noch einen weiteren Vorteil: einen direkten Eingang in den Keller, wo die "Wellness Oase" für die Herren entstehen wird.....
Again we will be moving. By October everything will be ready for us to move to our house with a big garden. Next to the lovely big garden this house will have another advantage: direct access to the cellar where the "Wellness Oasis" for my boys will be....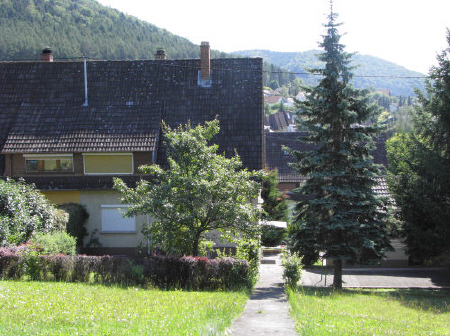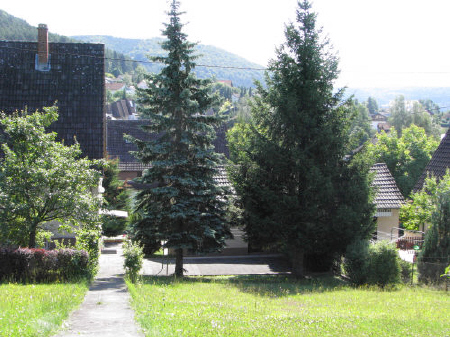 Sicht vom oberen Ende des Gartens - view from the top end of the garden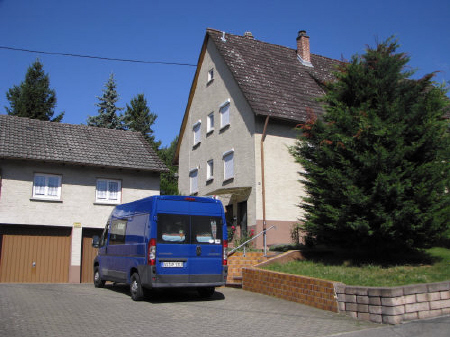 Blick von der Strasse, die Garage ist zugegebenermassen etwas zu klein, die Türe am Haus führt in den Keller und später in die "Wellness Oase"rechts die beiden Räume über der Garage.
View from the street. Well I have to admit, the garages are little bit too small. The door at the house is leading into the cellar where later the "Wellness Oasis" will be. Right: the two rooms on top of the garages.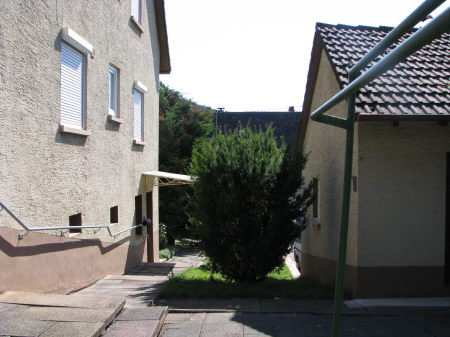 Unten am Eck, zwischen Garage und Haus kommt ein Zaun mit Gartentürchen hin, damit die Herren nicht verloren gehen.
At the lower corner, between the garages and the house I will put a fence and a door so the boys won't get lost.
24/07/08 Phil hat eine neue Idee am Morgen, abgesehen davon, dass er sein Möglichstes tut mich auch nicht verschlafen zu lassen: er trägt Octopussie mit auf die Wiese, dort darf ich mich um ihn kümmern aber Phil trägt ihn dann auch wieder zurück nach Hause.
Irgendwie hilft dies mehr als alle Schilder, die Autofahrer zum Langsamfahren zu bringen ;-)
Phil's newest idea in the morning beside paying attention I won't miss to get up in time: he will carry Octopussie along on our walk, letting me taking care while he runs around to carry him back home again.
Somehow this helps a lot more to slow peole down in town than all signs along the street ;-)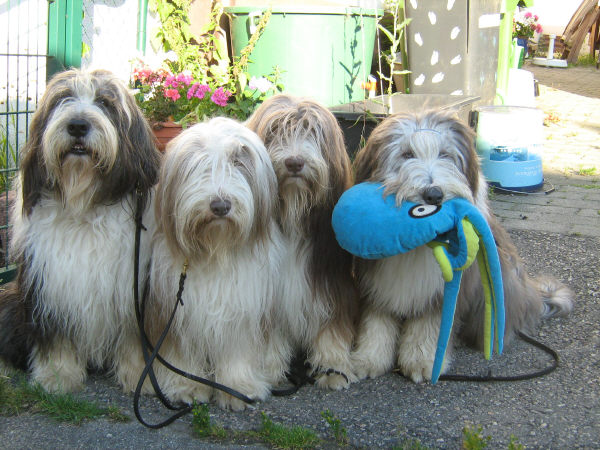 20/07/08 Wir waren in Großaitingen auf der Clubschau der Landesgruppe Bayern Süd. Es war ein langer Tag, da die Beardies erst gegen 15:00 dran kamen. Und es war sehr windig, etliche Pavillons schwebten über dem Boden ;-) ABER was ich sehr bemerkenswert fand, bei den Beardies hatten die Junghunde damit keine Probleme, weder mit der langen Wartezeit noch mit den lauten Absperrbändern oder sonstigen Geräuschen, wohingegen einige erwachsene Hunde genau damit doch einige Probelem hatten.
Phil war sehr brav, obwohl ein frei rennender Border Collie 3 mal den Ring querte und am anderen Ende des Platzes mit Bordern getobt wurde, was natürlich sehr rücksichtsvoll ist, wenn das Richten noch nicht beendet wurde.... Phil und Chocolate erhielten beide ein V2
We went to the Club Show at Großaitingen, Bavaria. It was a very long day as judging with the Beardies only started at 3 p.m. And it was a very windy day, some tents tried to take off ;-) It was very intersting, as all the younger Beardies did't seem to mind the noises and moving tape as some of the older dogs did.
Phil was very concentrated and didn even react as a Border Collie ran through the ring 3 times and some people played with their dogs at the while he was evaluated and some people playing with their Border Collies. Some people are very considerate......Phil and Chocolate both got Exc. 2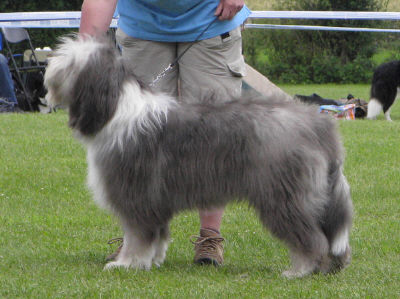 15/07/08 Schweden ohne Elche ist einfach nicht Schweden. Und was bringt man sich als Souvenier mit?
Sweden without the elk isn't Sweden. And what kind of souvenier is appropriate?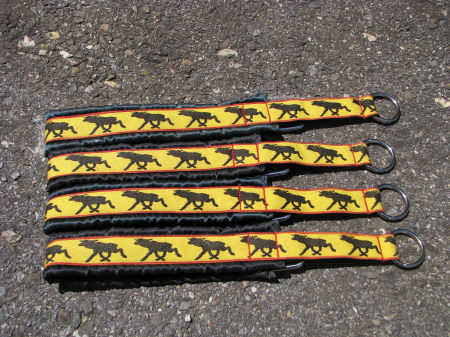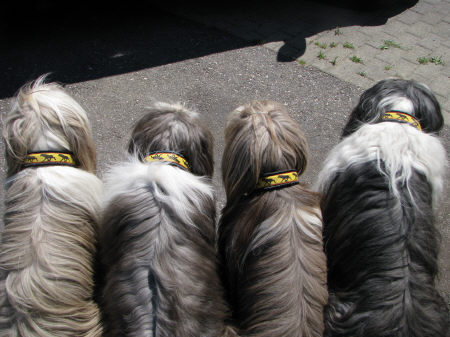 ...richtig, etwas mit Elchen. Diese Beardie Halsbänder gab es auf der Clubschau in Lida, man kann sie sich hier bestellen: www.doglegdesign.se Diese Seite ist zwar nur auf Schwedisch, aber ich denke das meiste versteht man und die beiden Schwestern sprechen Englsch.
....right, something with an elk. These Beardie collars were sold at the Beardie Club Show in Lida and they can beordered here: www.doglegdesign.se This page is in Swedish, but it's possible to understand most and the two sisters do speak English.

27. Juni bis 13. Juli
Wir waren unterwegs....mehr unter Urlaub