WELPEN
We are expecting puppies around Christmas 2018
Wir erwarten um Weihnachten 2018 Welpen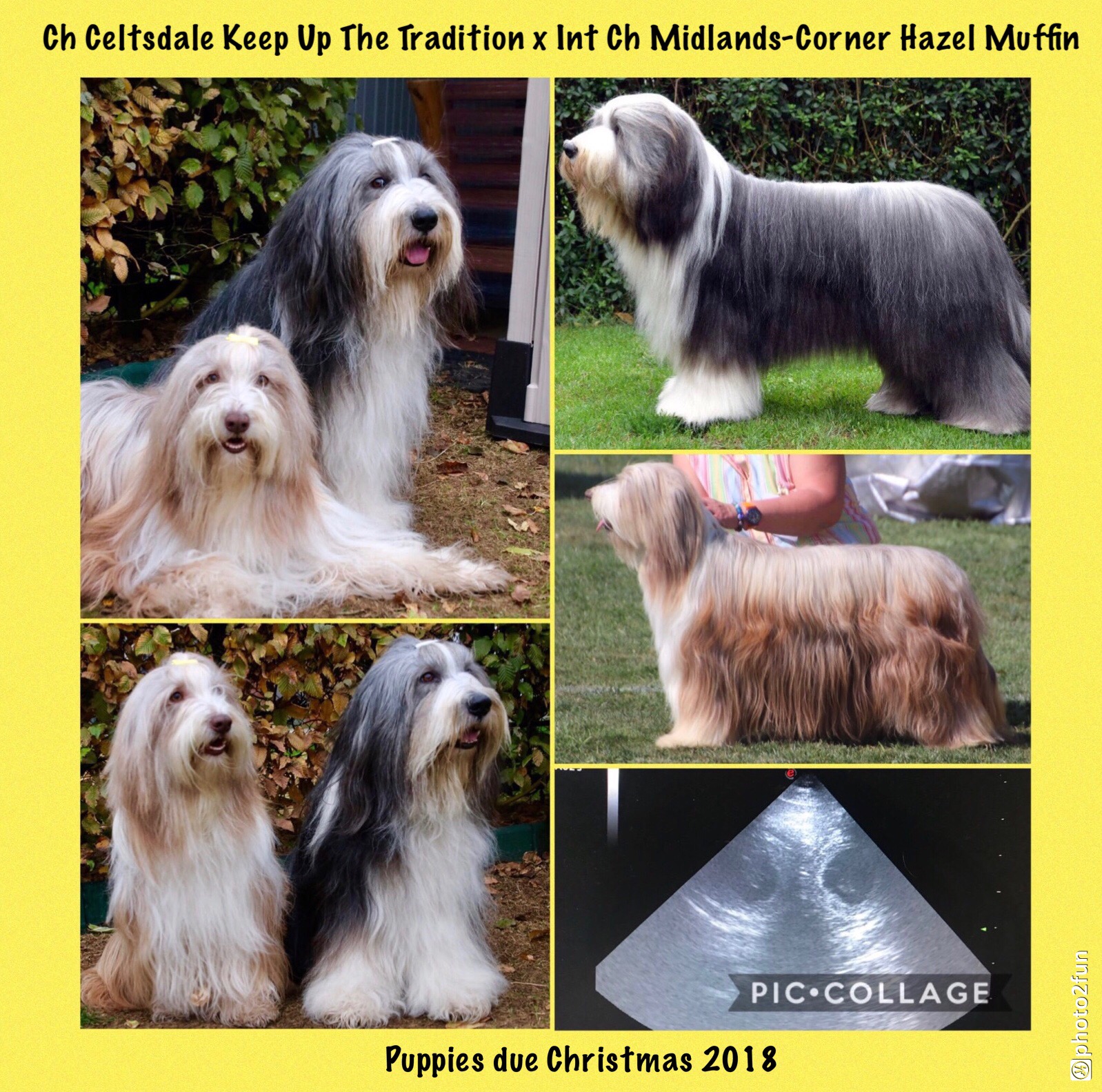 Bradiba's Brilliant Mini Muffins 2017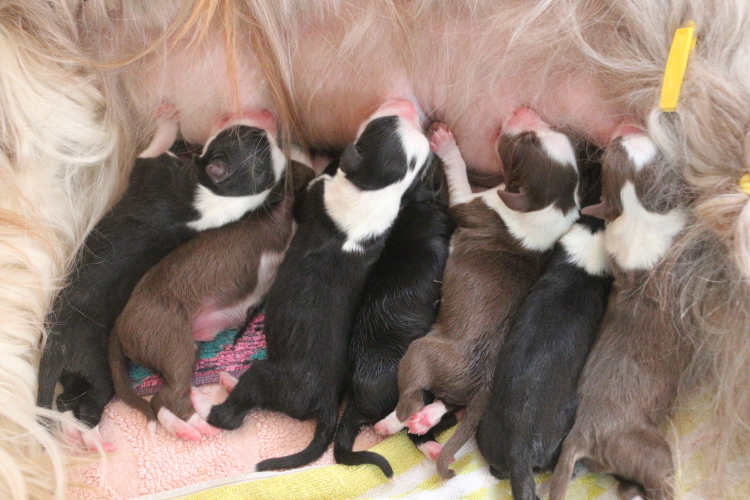 girl 4, girl 2, girl 1, girl 3, boy 1, girl 5, boy 2
2 Rüden (Braun weiss) 5 Hündinnen (1x braun weiss, 4x schwarz weiss
2 males (brown-white) 5 females (1 brown, 4 black)
Alle Welpen haben ihre Familie gefunden / All puppies are spoken for

Muffin hat es super gemacht, es ging wie's "Brezelbacken", ich kam am Anfang kaum mit, 4 Welpen in 32 min... Ein riesen Dank an meine "Hebammen", allen voran Anny Willmann, die ganz spontan und schnell zur Stelle war um zu helfen sowie an Marian, Diane und Brenda....manchmal hat so eine Zeitverschiebung seine Vorteile, es ist immer jemand wach und kann gute Tipps und moralische Unterstützung geben
Muffin did a great job, the first 4 in 32 minutes, I hardly was able to keep up, then she slowed down. A big "Thank you" to all my mid-wives, first of all Anny Willmann who was here in a rush on short notice to help and my international mid-wives Marian, Diane and Brenda.....sometimes these timezones are an advantage, as there always will be someone to talk to and get advice or help
aktuelle Fotos bei Flickr / new photos see Flickr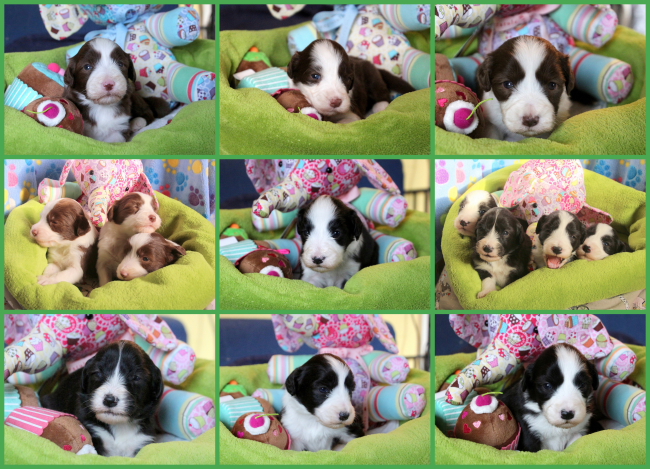 26/03/17
3 Wochen alt / 3 weeks old
mehr hier / more here

Umzug in den Welpenauslauf/we moved to the larger puppy pen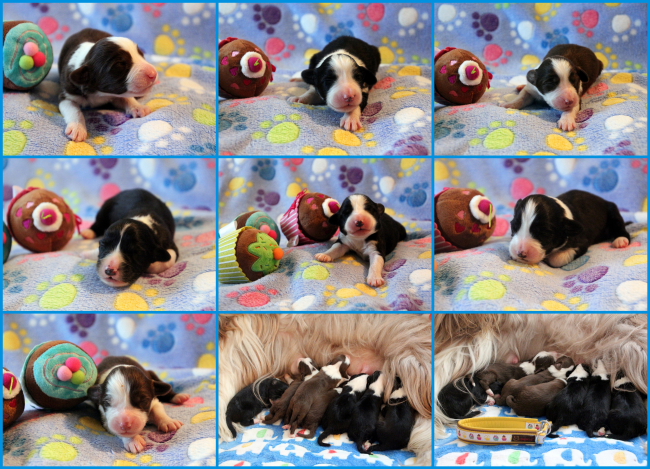 weitere Fotos bei Flickr/ more photos on Flickr

der Bradiba's B....-Wurf wird um den 08/03/17 erwartet
Bradiba's B.....- litter expected around 08/03/17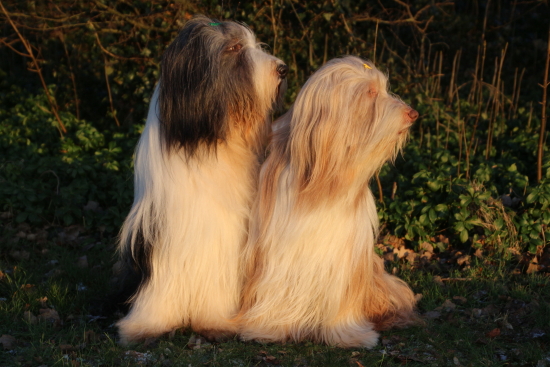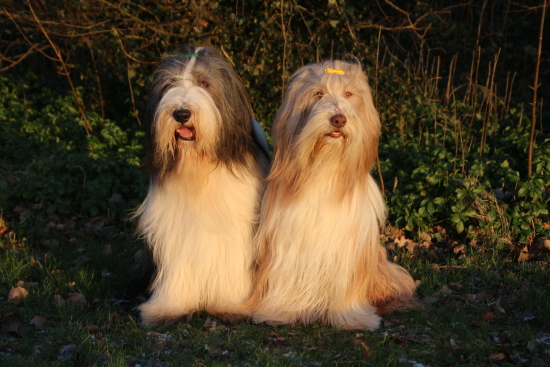 Danke an alle die an diesem Wurf "beteiligt" waren: Marian und "ther fellow Musketeers", die mir bei Muffin immer mit Rat und Tat zur Seite stehen, an Marian die und mich in diese Richtung gewiesen hat, Chocci's Helga und Rüdiger, bei denen wir fast eine Woche wohnen durften, Bettina und Nina die sich um Phil und Chocci gekümmert haben, alle die von meinen Plänen wussten und 23 Tage die Daumen gedrückt haben, sowie ein ganz besonderer Dank an Imke und ihre Familie, die diese Verpaarung möglich gemacht haben.
Thank you so much everyone who were involved in making this mating come true: Marian and her fellow Muskeeters who are always there to help and encourage me, for Marian to point me in the direction of Jaqen, for Chocci's Helga and Rüdiger where we were able to stay for almost a whole week, to Bettina and Nina who took good care of Phil and Chocci, and everyone who knew about my dream and crossed their fingers these past 23 days. A very special Thank you goes to Imke and her family who made this mating come true
.

aktuelle Fotos bei Flickr / new photos on our Flickr account
01/10/16
....und dann waren es nur noch 2....
....and suddenly there were only 2....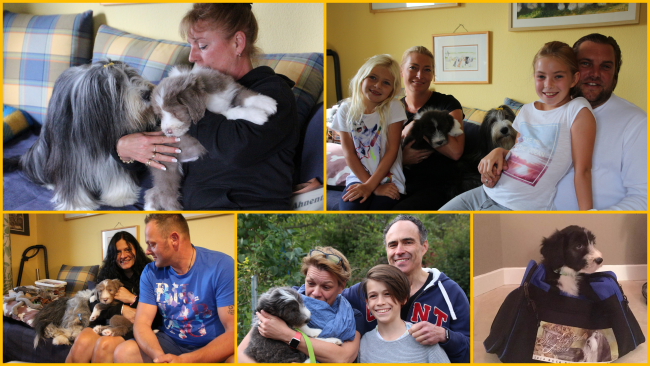 Blue sucht noch seine Familie
Blue is still looking for his family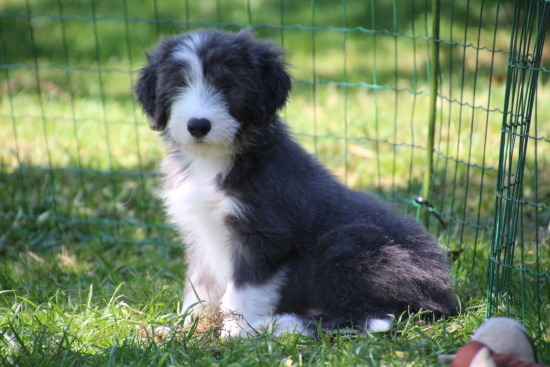 Fudge bleibt :-)
Fudge is staying :-)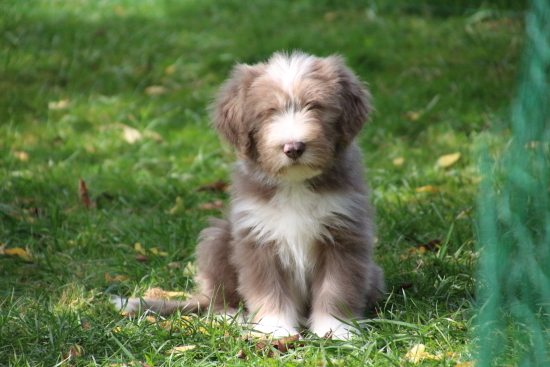 11/09/16
und plötzlich sind sie 7,5 Wochen alt....der Countdown beginnt
and suddenly they are 7,5 wks old......countdown starts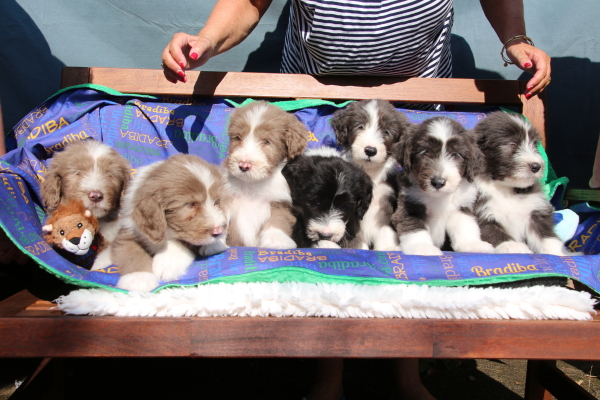 Fudge - Happy - Gino - Truffles - Blue - Jack - Charlie
Nun in Geburtsreihenfolge die offiziellen Namen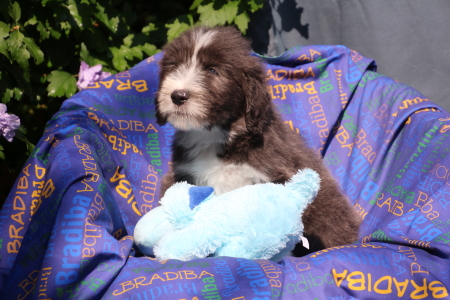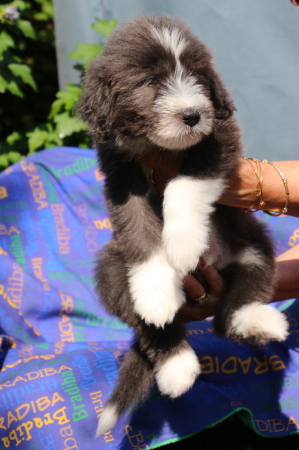 Charlie/Indigo
Bradiba's Amazing Blue Print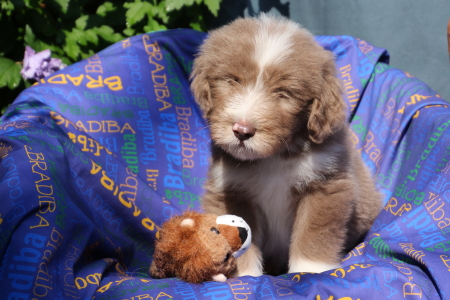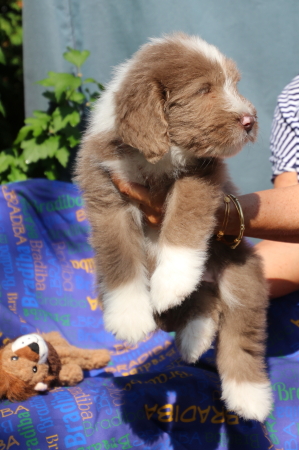 Fudge/Dot
Bradiba's Amazing Chocco Fudge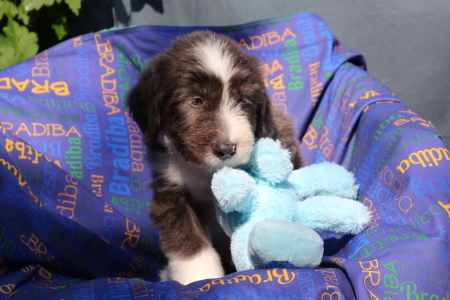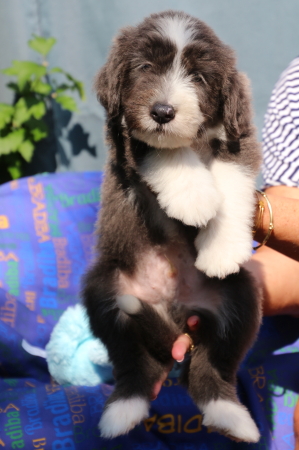 Jack/Sky
Bradiba's Amazing Blueberry Pie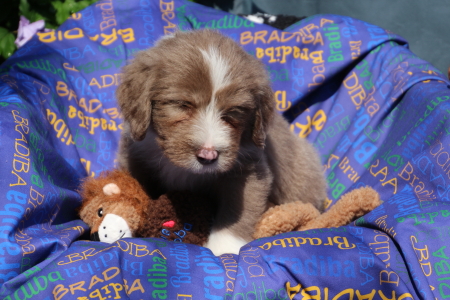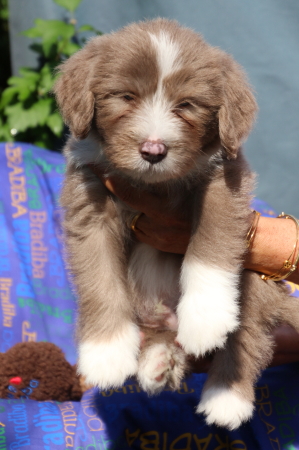 Happy
Bradiba's Amazing Cream Tea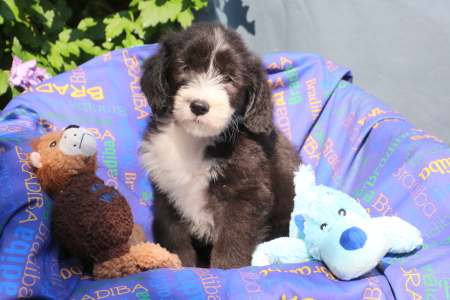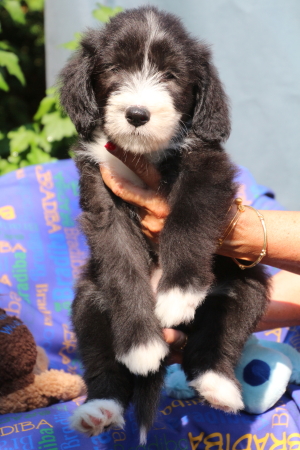 Truffles
Bradiba's Amazing Assorted Truffles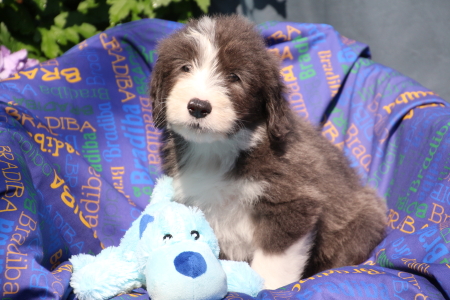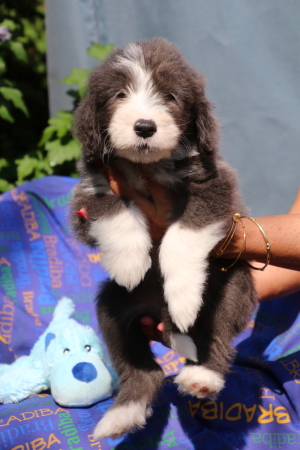 Blue
Bradiba's Amazing Bluebell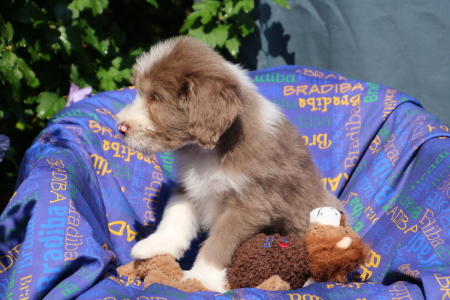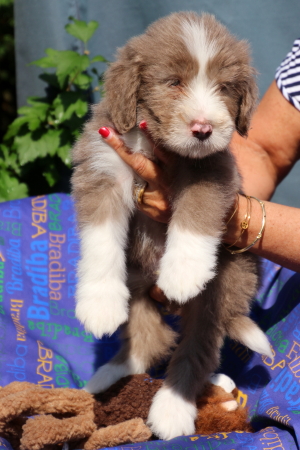 Gino/Mr. Green
Bradiba's Amazing Cinnamon Candy
31/08/16
6 Wochen alt

Mittlerweile geht Toffee noch 2-3x tgl zu den Welpen, morgens und abend will sie es aber auf alle Fälle...trotz der spitzen Zähnchen....
Louie hat eine wichtige Aufgabe als babysitter und Betreuer übernommen und macht seine Sache richtig super. Auch Phil ist sehr tolerant mit seinem Nachwuch, Chocci beobachtet seine Enkel noch lieber durch den Zaun hindurch. Toffee findet es immer noch nicht sooo prickelnd wenn Muffin zuviel Interesse zeigt.
Geräusche lernen sie im Spiel kennen, sei es der Rasenmäher oder die elektrische Sense des Nachbarn zur rechten oder das laute Motorrad des Nachbarn zur linken Seite. Oberhalb unseres Gartens ist erst der Mähdrescher gefahren, heute wurde umgeackert. Die verschiedenen Dinge die ich ihnen in den Auslauf gehängt habe finden sie toll, die Dosen scheppern so schön wenn man sie anstoßt und die Rosetten haben auch ihren Einsatz als Flatterband Ersatz gefunden.
noch gut 2 Wochen, dann ziehen schon die ersten aus..... :-( wobei ich weiss, dass ihre Familien sich riesig auf diesen Termin freuen.
Right now Toffee will go in and nurse 2-3 times a day, she really wants to go in first thing in the morning and last thing at night....despite the little teeth.
Louie has a really important job as babysitter and entertainer and does a fabulous job. Phil is very tolerant with his offspring as well, Chocci comes visiting and having a look but seems to be happy there still is a fence between him and them. Toffee isn't very happy if Muffin comes too close, so we'll just wait and see.
They are getting used to different noises while playing, my neighbor to the right side was kind enough to use his lawn mower while they were out side, every moning another neighbor is kind enough to drive past in his noisy motorbike and the farmer first was harvesting and now turning over the ground in his field next to us. They love the different things I did hang up for them most of all the cans which make a lovely noise when hit with a paw. Only two more weeks and the first ones are going to leave...:-( well I do know their families are looking forward to this date.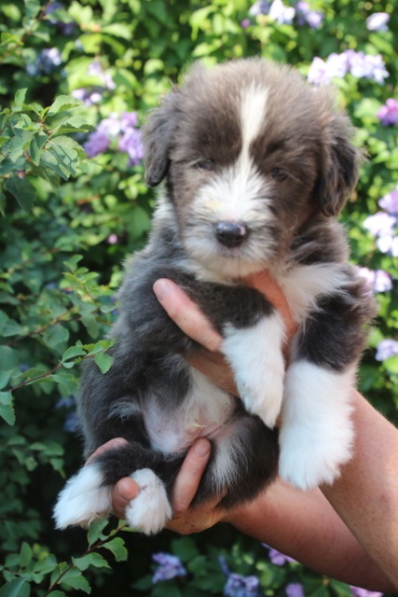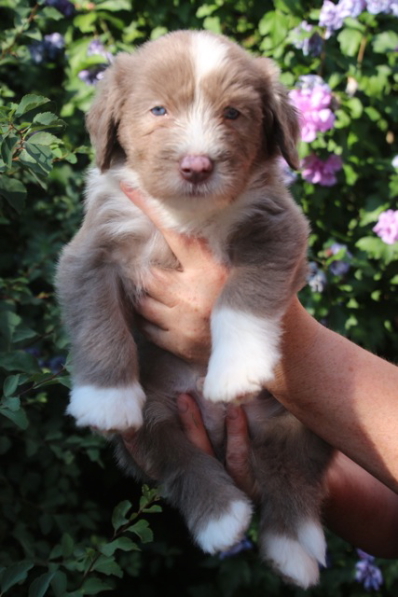 Charlie - Happy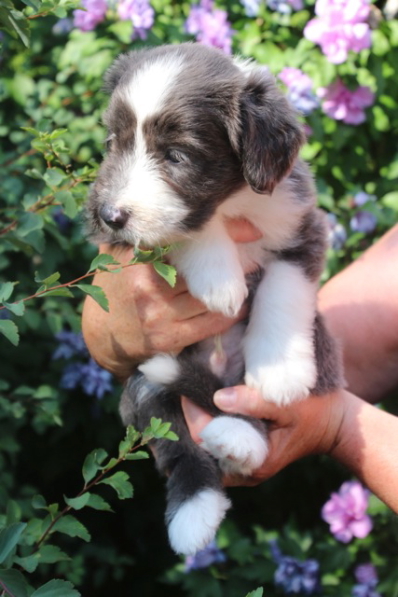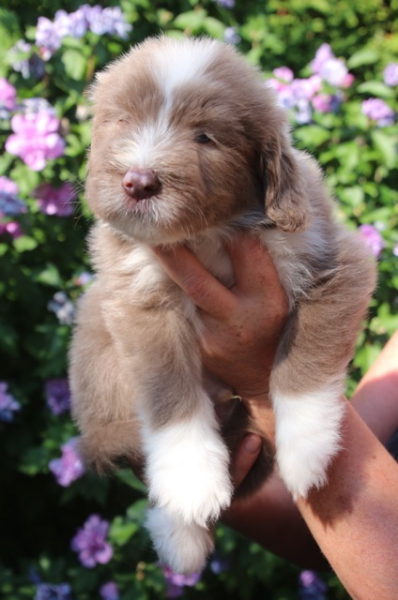 Sky - Dot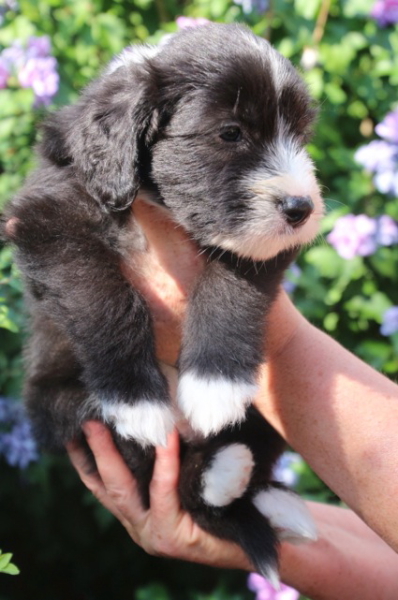 Truffles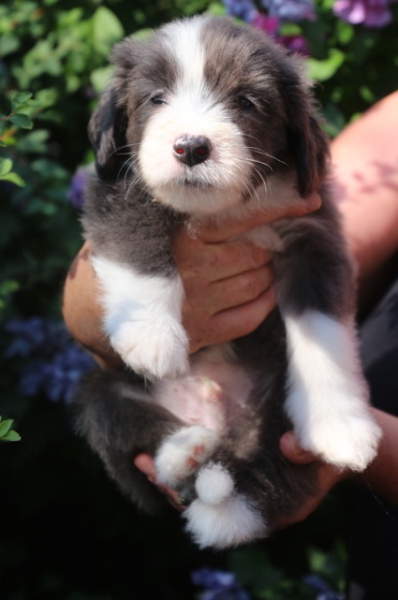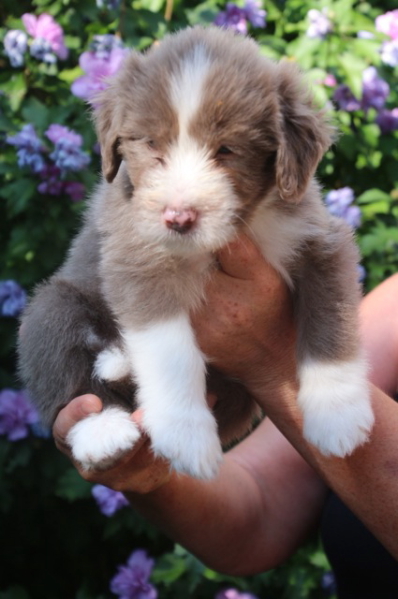 Blue - Mr. Green
11/08/16
3 Wochen alt/3 weeks old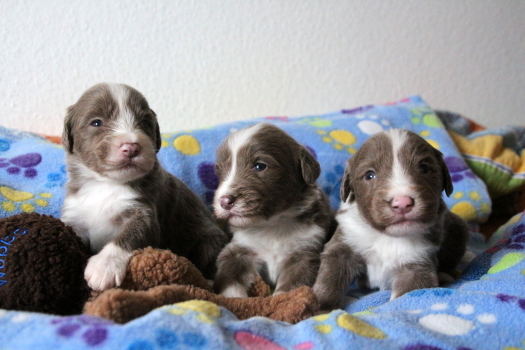 die drei Fawnies: Mr. Green, Happy, Dot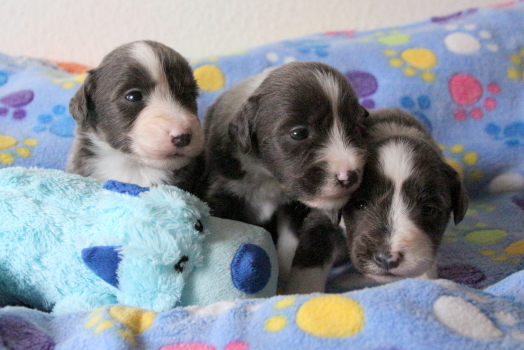 die drei blauen: Blue, Indigo, Sky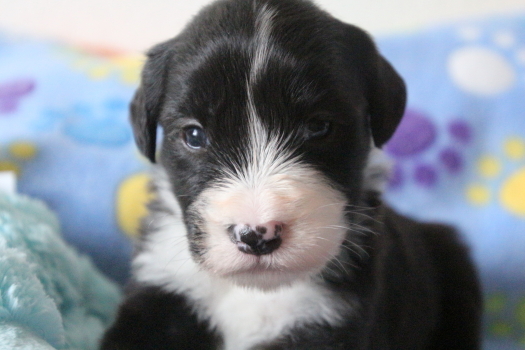 und der schwarze Rüde Truffles
In der letzten Woche war der Zuchtwart da, sie war sehr zufrieden mit der Entwickluung. Mittlerweile haben alle das 3 fache ihres Geburtsgewichts erreicht, Dot war der erste der sein Geburtsgewicht sogar vervierfacht hat, dicht gefolgt von Truffles. Beide haben die 1 kg Marke gesprengt, aber die anderen Brüder sind ebenfalls knapp dran und werden es die kommenden Tage auch schaffen.
Seit Dienstag nun gibt es einmal am Tag eine kleine Mahlzeit nebenbei, sie benehmen sich sogar ganz manierlich...wenn sie dann mal an der Reihe sind, davor ist das Geschrei groß, jeder will der Erste sein.
Dot und Happy haben als erste den Rand der Wurfkiste überwunden, demnächst geht es ab mitten ins wahre Leben. Wenn es Wettertechnisch passt steht auch der erste Ausflug ins freie auf dem Plan, gerichtet sind wir
During the last week the breed warden payed a visit and was really happy with the puppies. By now they at least did triple their birth weight, the first even have noch 4x their birth weight, Dot and Truffles crossed the 1 kg (2,2lb) mark, closely followed by their brothers who will do so during the next few days.
Tuesday we started feeding a little amount of food besides Toffee's milk and you won't believe it, but they do behave rather nicely...well at least once it's their turn. but until then it's a lot of noise, as patience is not theirs.
Dot and Happy were the first to climb the whelping box so we'll be moving downstairs right into real life. Weather allows we might even spend some time outside.
03/08/16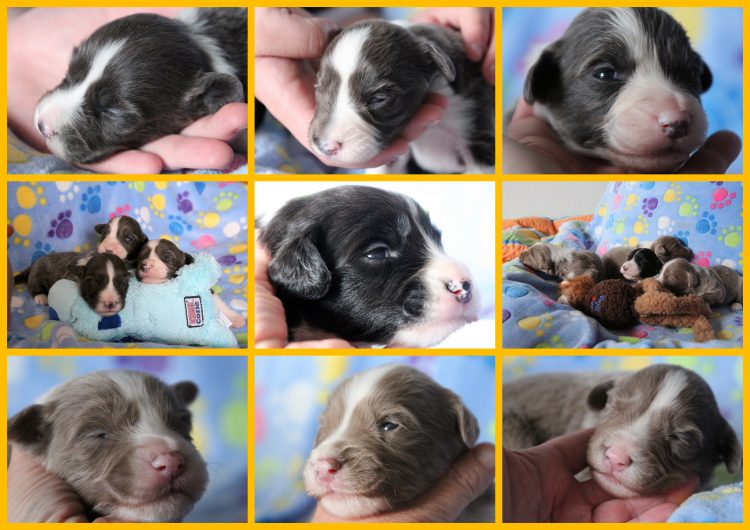 obere Reihe /top
Indigo, Sky, Blue
mittlere Reihe / middle
3 blaue, Truffles, 3 fawn und der schwarze
untere Reihe /bottom
Mr. Green, Dot, Happy,
27/07/16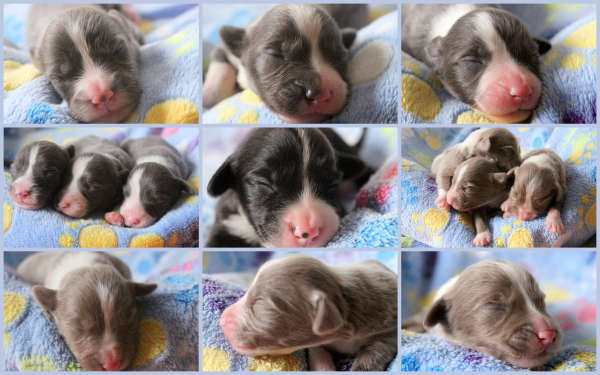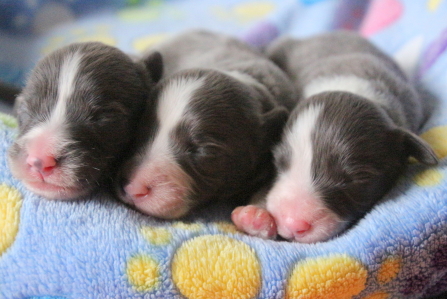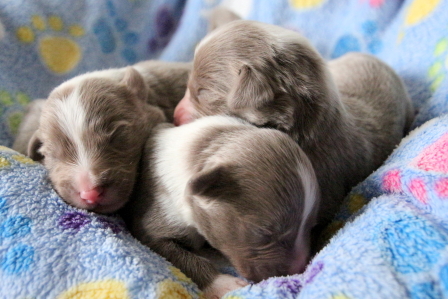 3 blaue Rüden / 3 blue boys --- 3 fawn Rüden / 3 fawn boys
Rufnamen:
Indigo, Sky, Blue -------------------------- Dot, Happy, Mr. Green
Bluebell; Blueberry Pie; Blueprint ---- Choco Fudge; Cinnamon Candy; Cream Tea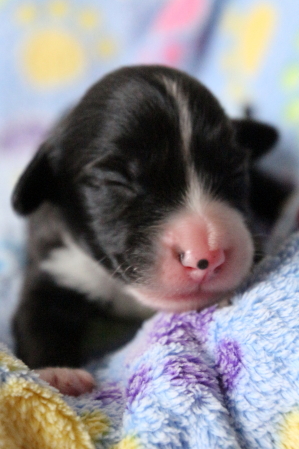 schwarzer Rüde / black boy
Assorted Truffles
Rufname: Truffles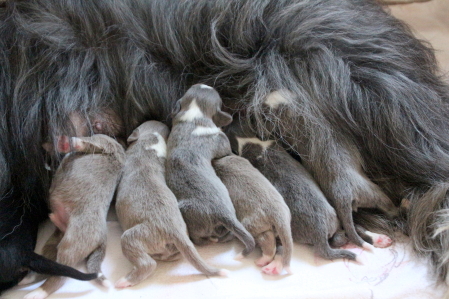 20/07/16
SIE SIND DA, Bradiba's Amazing....
THEY ARRIVED, Bradiba's Amazing....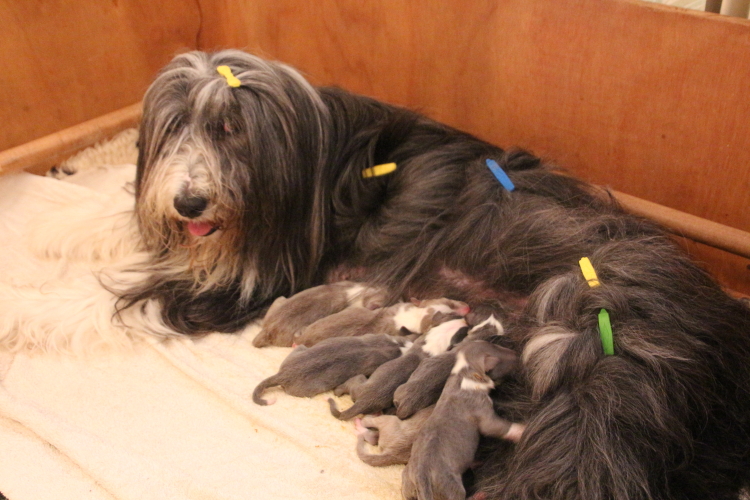 Toffee hat alles super gemeistert und brachte in aller Ruhe mit vielen Entspannungspausen in der Zeit von 5.45 bis 14:16 8 gesunde Beardie Zwerge zur Welt. Da sie wohl der Ansicht ist, zwei Damen im Haus reichen, sind es 8 kleine Rüden geworden. Phil hatte aber auch einen "durchschlagenden" Einfluss, es sind 4 blaue, 3 fawn und ein kleiner schwarzer Mann geworden.Toffee und ihren Zwergen geht es gut, Chocci hat die Geburt mit einem Entspannungsbad im See gefeiert (er hätte sonst jeden Zwerg aus vollem Hals begrüßt, daher ist er im Urlaub, Danke Nina!!!), die anderen haben sich vorbildlich ruhig verhalten.
Toffee did a lovely job and took her time and long, relaxing breaks to give birth between 5:45 am and 2:16pm to 8 lovely litte Beardie puppies. As she probably thinks 2 girls are more than enough in this house, she gave brth to 8 lovely little boys. Phil made a lasting impression as well as there are 4 blue, 3 fawn and one little slate boy. Toffee and her little family are very content, Chocci missed out taking a nice bath (he would have greeted each and every one of his grandchildren with a loud concert,) and the other 4 were just lovely, waiting quietly for everything to finish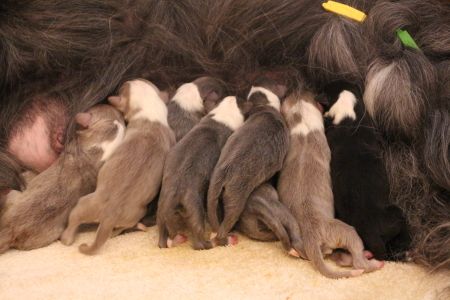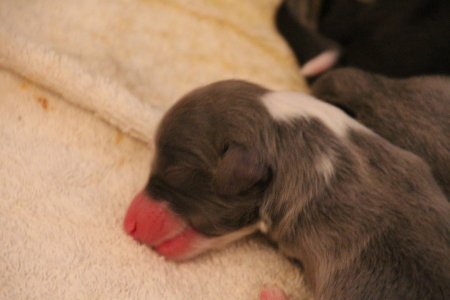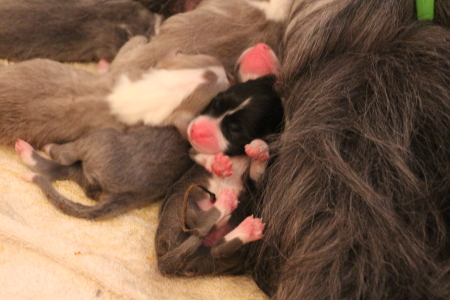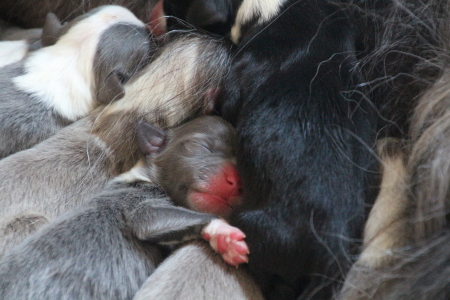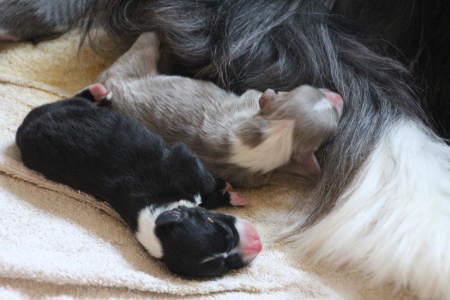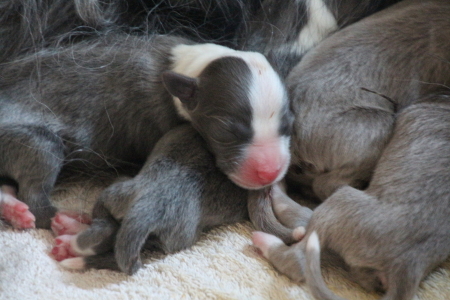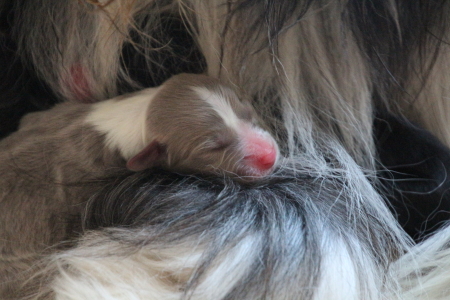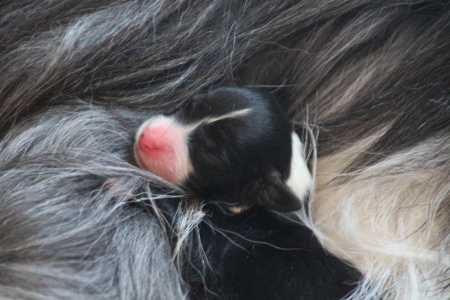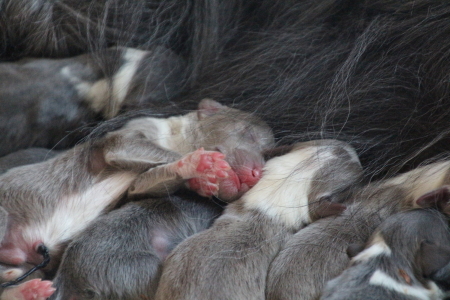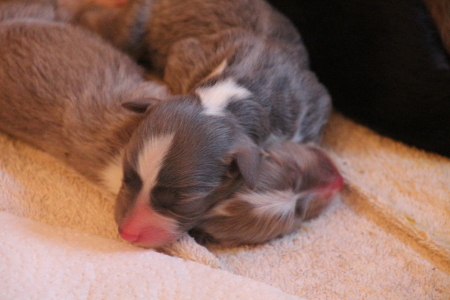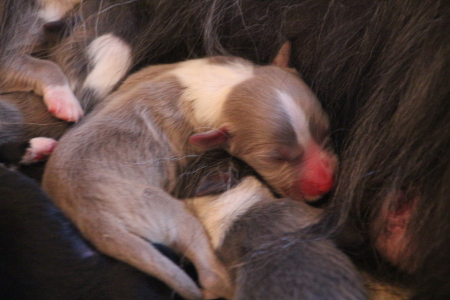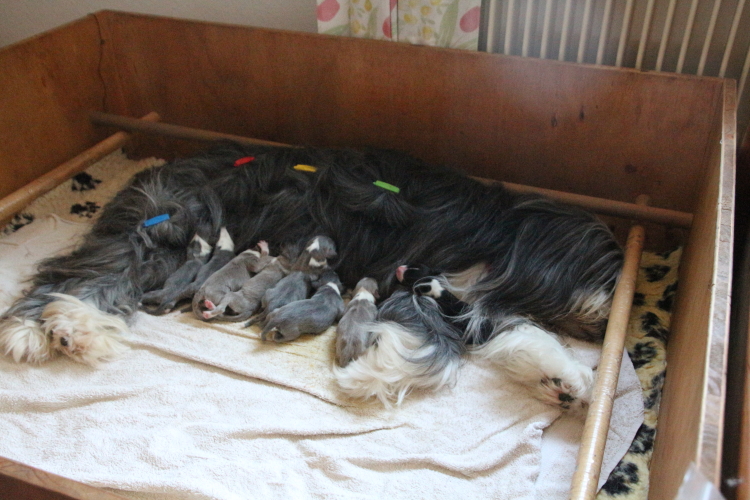 13/06/16
Wir erwarten Welpen
We are expecting puppies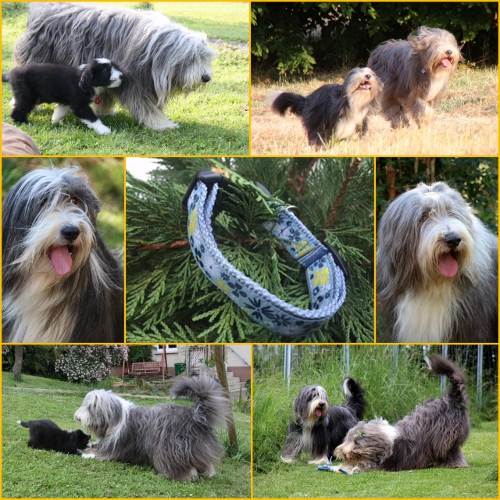 um den 20. Juli erwarten wir Welpen
V: Dt Ch VDH, CfBrH; HR Ch Philemon Paparazzi "Phil", HD A; frei von erbl. Augenerkrankungen
M: Dt. Ch VDH, Romantikstreet Chocolate's Toffee "Toffee"; HD A1; frei von erbl. Augenerkrankungen
IK 2,69; AVK 75%
Für mehr Infos einfach melden: loxodonta(at)bradiba.de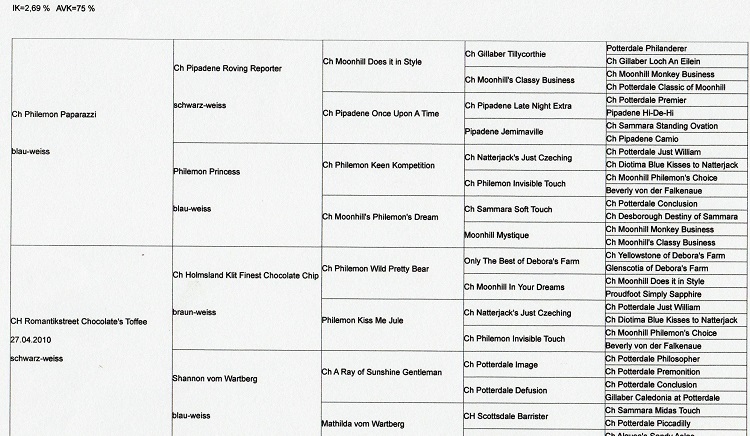 Da Phil blau ist und braun trägt, Toffee schwarz ist aber einen braunen Vater und eine blaue Mutter hat, könnte es ein bunter Wurf werden.
Phil is a lovely blue boy, carrying brown, Toffee a lovely slate girl with a brown sire and a blue dam, so we could expect all colors in this litter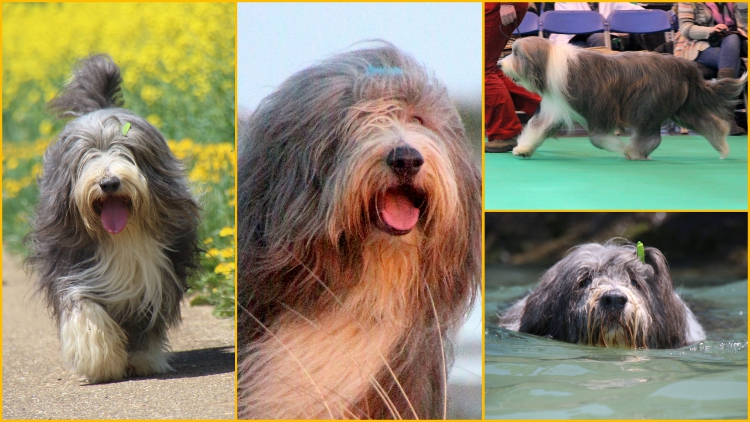 Phil
Phil ist ein ruhiger, ausgeglichener, sanfter und schmusiger Bär, der draussen jedoch aufdrehen kann. Er liebt sein Rudel, seine Katzen und das Wasser. Phil ist ein zuverlässiger Rüde, der 8 Jahre mit mir zusammen das Seniorenheim besucht hat und alle Menschen liebt
Phil is a very settled, relaxed and cuddly little bear, outside ready for action. He loves his family, his cats and the water. Phil is a dog I can relay on, for 8 years he visited the old peoples home with me and loves all people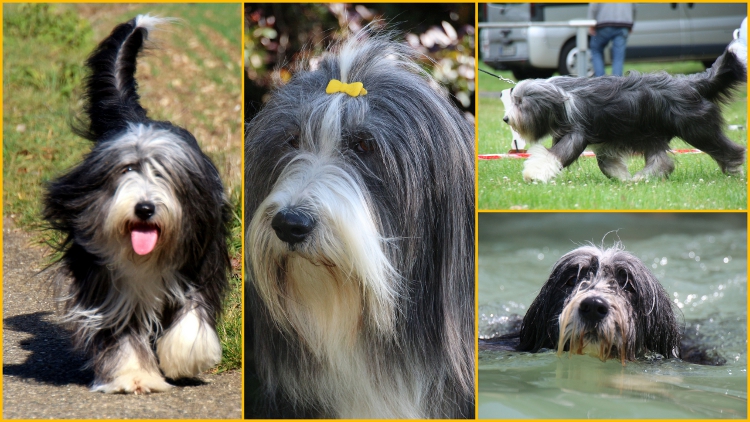 Toffee
Toffee hat mit mir 6 Jahre das Seniorenheim besucht und diese Arbeit geliebt. Wie Phil auch ist sie eine ausgeglichene, ruhige, entspannte Hündind, die mit Begeisterung die Rennspiele initiert. Sie liebt ihre Meute, alle Menschen und das Wasser. Wie eine gute Freunding und sehr erfahrene Züchterin sage, sie ist ein wahrer Beardie.
Toffee visited the old peoples home for 6 years and did a lovely job. Like Phil she is a relaxed, settled, cuddly bitch and the one to start a chase outside. She loves her family, everyone she meets and the water. Like a good friend and experienced breeder said, she is a true Beardie
15/06/15
Manchmal, für uns unerklärlich, zerplatzen unsere Träume. Es wird vorerst keine kleinen Schoko Muffins geben, mein Augenmerk liegt im im Augenblick darauf, dass bei Muffin alles in Ordnung kommt und natürlich dass es Baghira weiterhin gut geht!
Sometimes for reasons unknown to us, dreams are shattered. For the moment there won't be any little choco muffins, my foremost task right now will be the well being of Miss Muffin and of course Baghira stays ok!

Wir erwarten den Bradiba's A-Wurf um den 28 Juni 2015
Liberty's Taste of Duffy's x Ch Midlands-Corner Hazel Muffin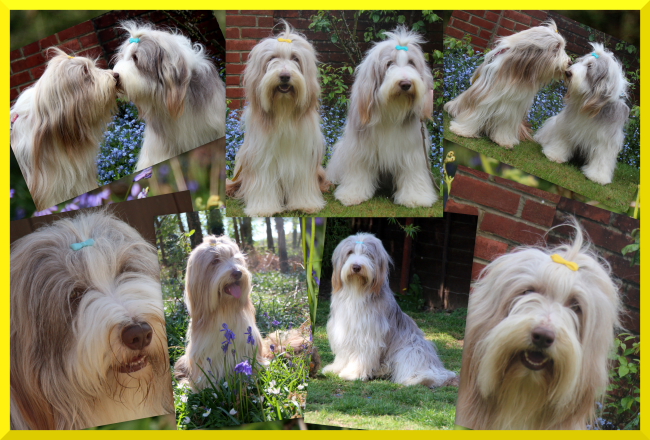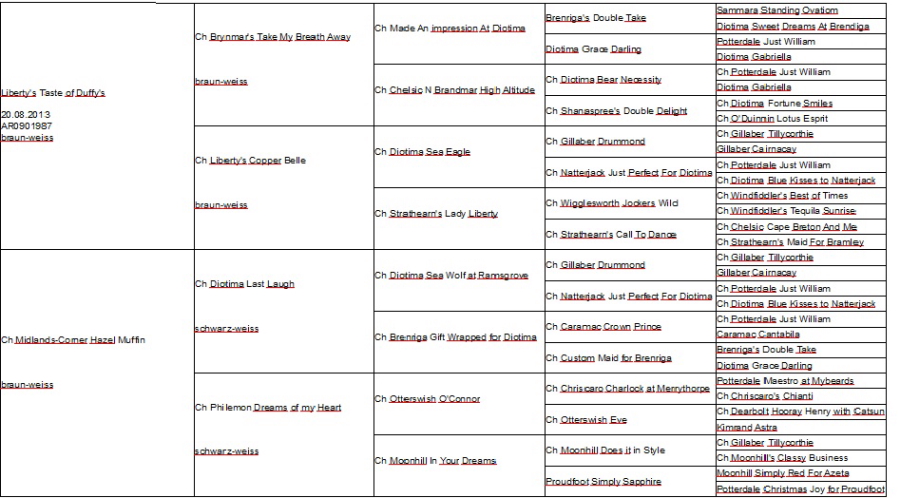 IK 3,0 AVK 78,57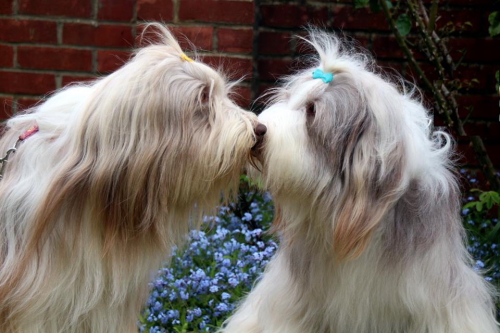 Muffin, Duffy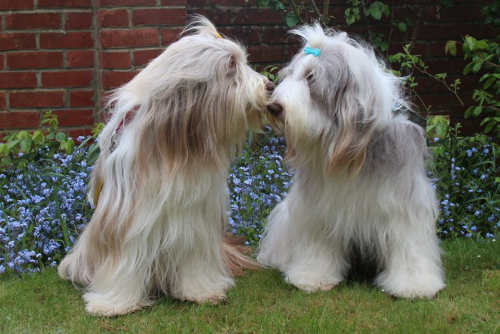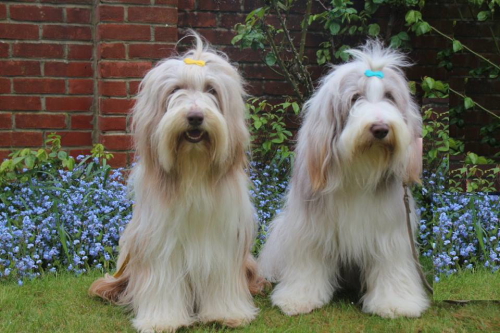 ********************************************************************
Chocci's 2. Welpen
* 27/04/2010
V: Holmsland Klit Finest Chocolate Chip
M: Shannon vom Wartberg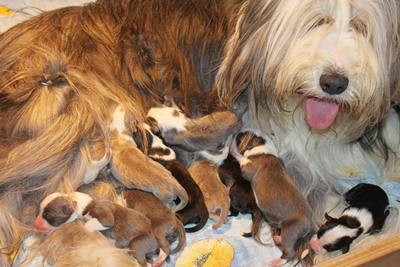 Shannon und ihre 10 Zwerge
1 Rüde und 2 Hündinnen schwarz, 3 Rüden fawn und 3 Rüden, 1 Hündin blau
Shannon and her 10 puppies 7 boys and 3 girls
1 boy and 2 girls black, 3 boys fawn and 3 boys and 1 girl blue,
26/06/10
und schon sind 8 Wochen um und sie ziehen aus....
and suddenly they are 8 weeks old and moving to their new families
Es hat viel Spass gemacht das Aufwachsen dieses Wurfes zu beobachten, zu sehen wie aus diesen kleinen "Meerschweinchen" richtige kleine Hundchen wurden. Jeder mit einem eigenen Charakter, oftmals können sie die Eltern nicht verleugnen: sei es die Art des Wedelns mit dem ganzen Hinterteil wie Chocolate oder auch seine Mitteilungsfreude oder einfach die sanfte, schmusige Art von Shannon.
DANKE Martina, Gunter, Tabea, Tom und Thorben für alles. Ihr habt die letzten Wochen auf vieles verzichtet und den Zwergen eine optimalen Start ermöglicht. Den neuen Familien viel Spass und Freude mit diesen tollen Zwergen!
I enjoyed the chance to see these little "guinea-pigs" grow intol lovely little Beardies. Each on with its own character. They can't deny their parents, the way the whole backside moves when they wag their tail or the way some love their voices like Chocolate him, their gentle and loving character like Shannon.
THANK YOU so much, Martina, Gunter, Tabea, Tom and Thorben for everything. During these last weeks you had to give up so many things to give these puppies a perfect start for their life. Now I would like to wish lots of fun and happiness with their bundles of joy.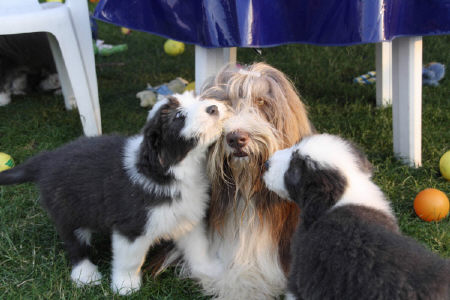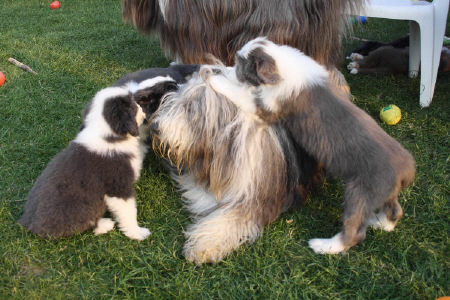 Chocolate mit Chip und Carlos Phil mit Crispyund Campari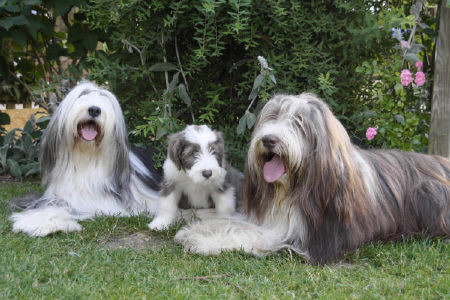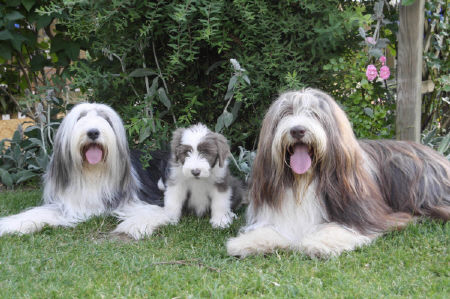 Campari Campino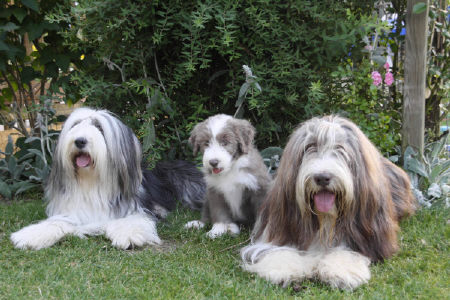 Carlos Chester (Noah)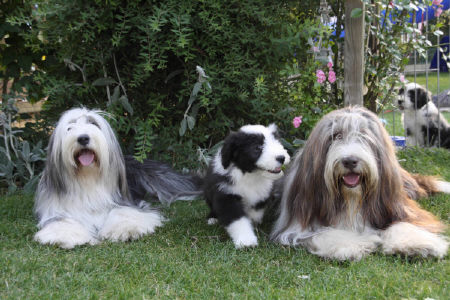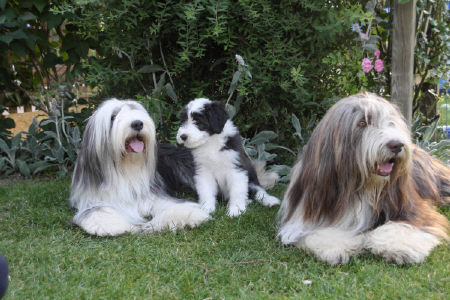 Chip (Cool Man) Crispy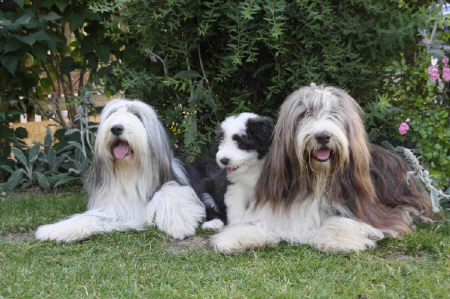 Crispy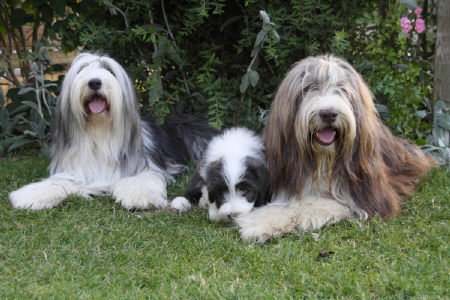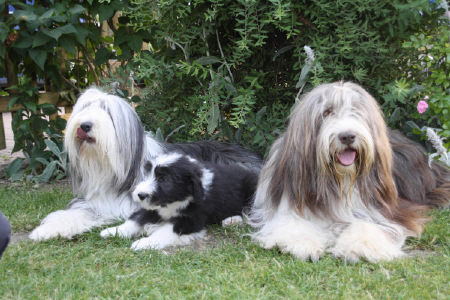 Cute Emma (Emma) Chocolate's Toffee (Toffee)
Choccis erste Welpen * 07/11/2008
bei Martina und Gunter Stirnkorb in Weikersheim-Elpersheim
Zwinger "Romantic Street"
01/01/09
8 Wochen alt - 8 weeks old
Fotos mit Papa - Pictures with Daddy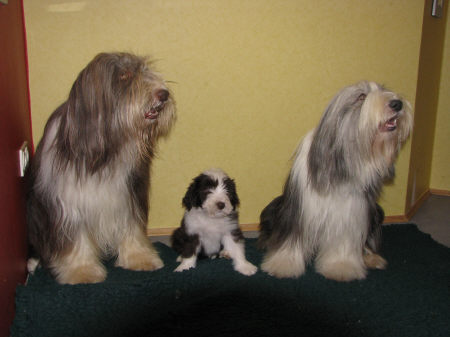 Chocco Muffin - Baily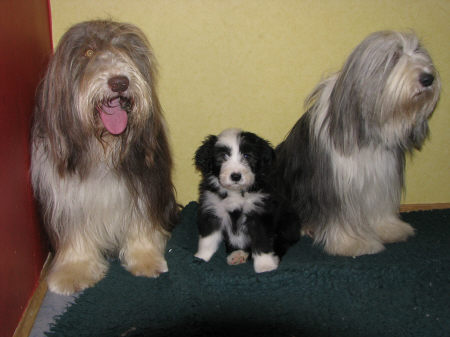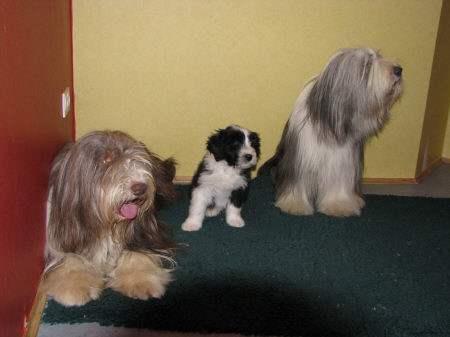 Black Jack - Barney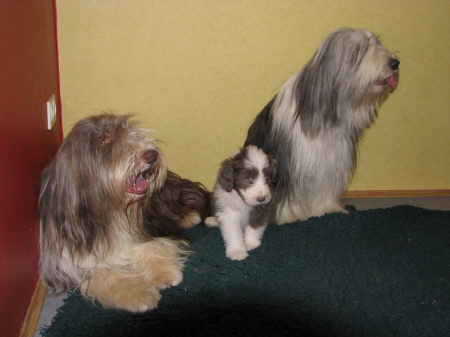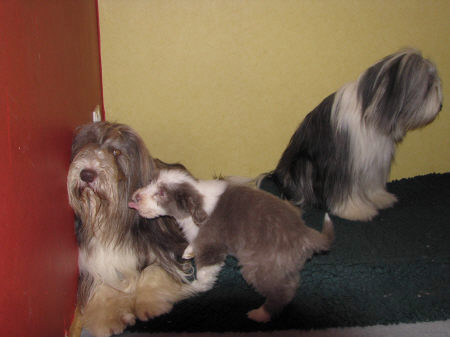 Balisto - Beverly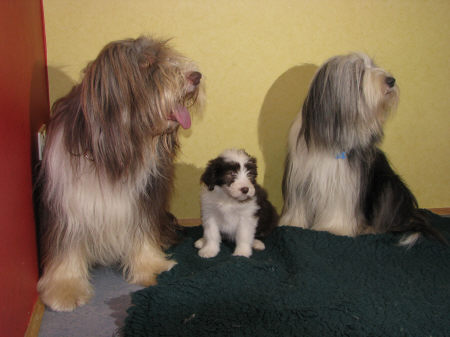 Betty Lou - Britney

27/12/08
7 Wochen alt - 7 weeks old
Weihnachtsgeschenke für die Welpen....Christmas presents for the puppies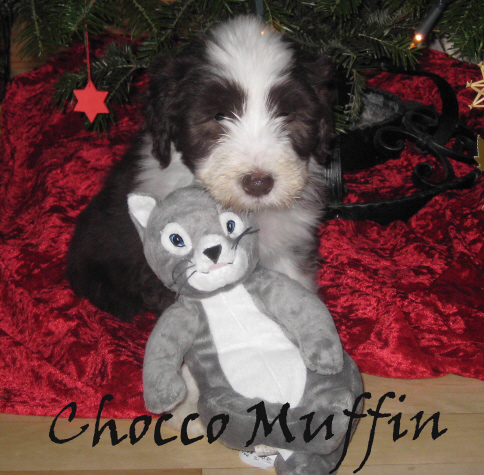 ....ganz der Papa, ein IKEA Stofftier...just like daddy a toy from IKEA

21/12/08
Wir sind 6 Wochen alt....we are 6 weeks old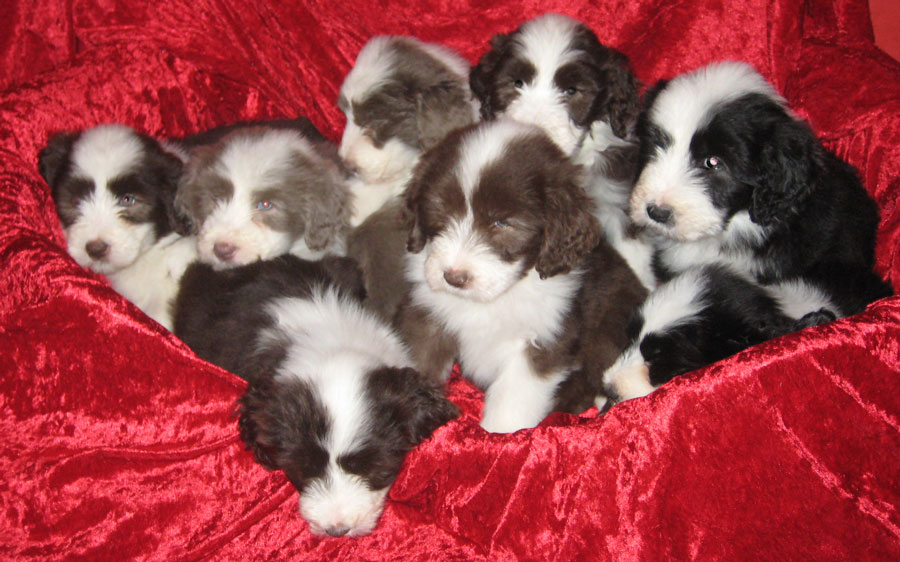 05/12/08
Wir sind 5 Wochen alt....we are 5 weeks old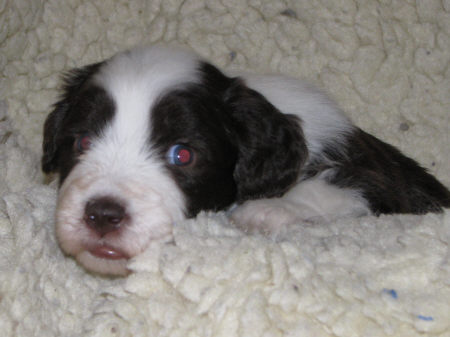 Brown Chocco Muffin - Baily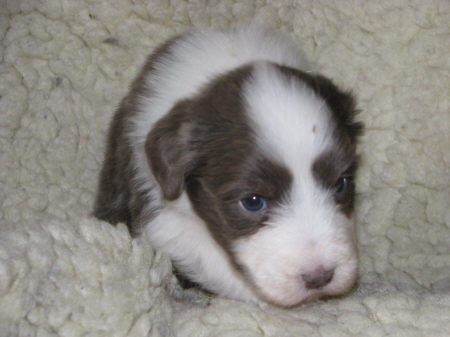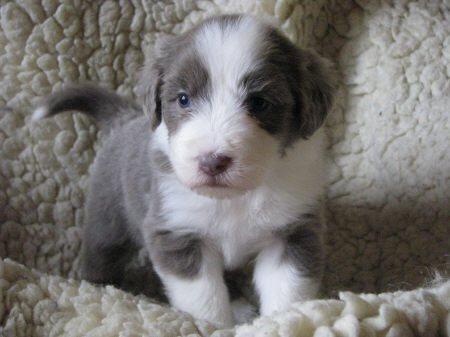 Balisto - Beverly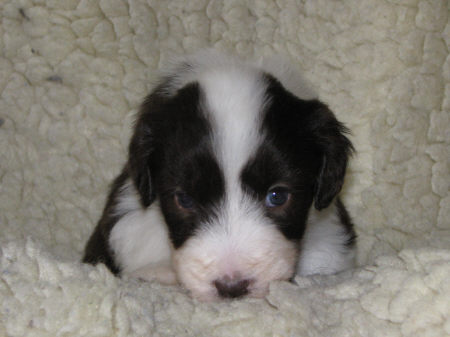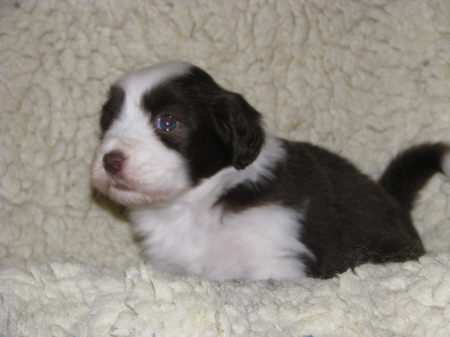 Betty Lou - Britney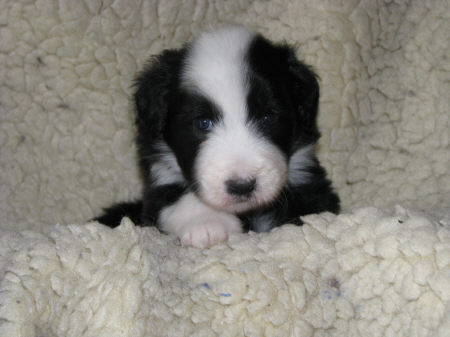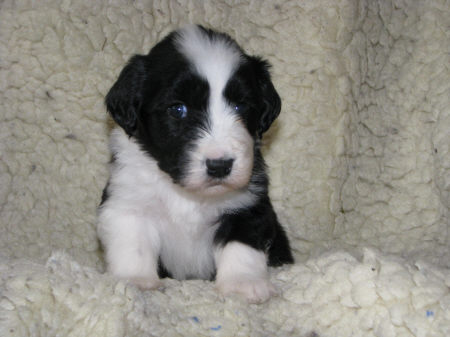 Black Jack - Barney

24/11/08
Und sie wachsen und wachsen....They are growing....
mehr/more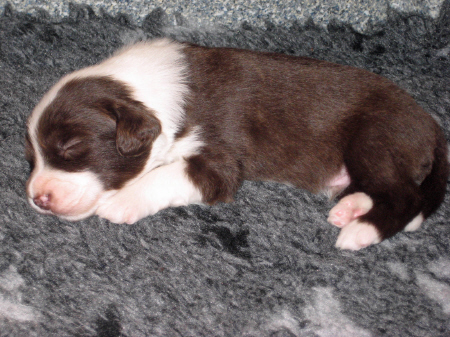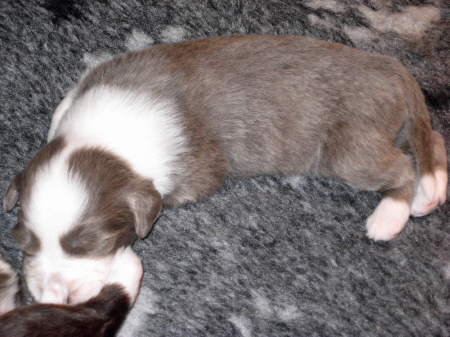 Baily und Balisto

15/11/08
Nun sind sie schon eine Woche alt und haben ihre Namen bekommen:
Now they are 1 week old and they already have names: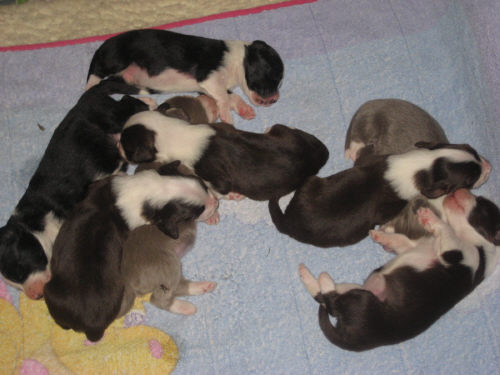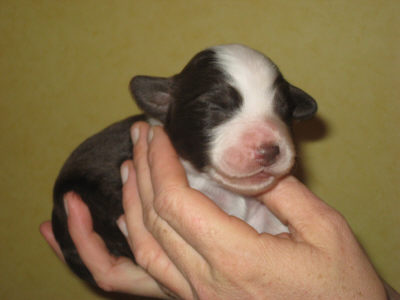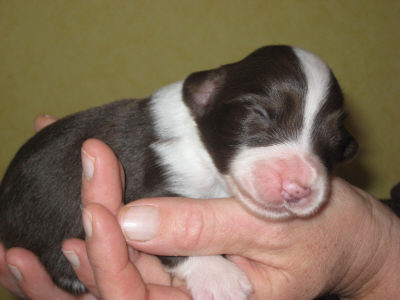 Brown Chocco Muffin ;-) und Baily
Romantikstreet Brown Chocco Muffin,
mit brauner Nase geboren - born with a brown nose
Muffin, der Name den eigentlich Phil hätte bekommen sollen, etwas abgeändert als: "Philemon Megan's McMuffin"....nun daraus wurde dann ein kleiner Philemon Paparazzi ;-)
Muffin, the name I had in mind for Phil, a bit different as "Philemon Megan's McMuffin"....well now he is known as "Phil" Philemon Paparazzi ;-)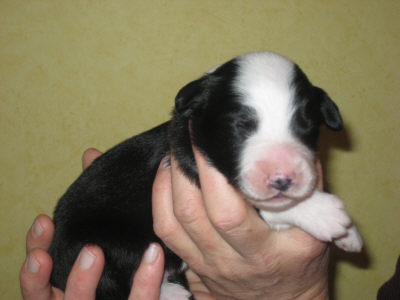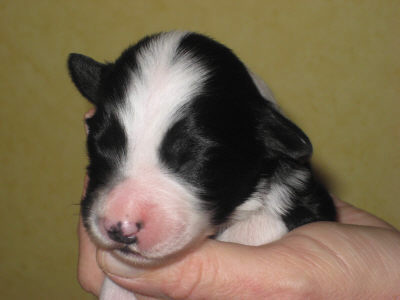 Black Jack und Barney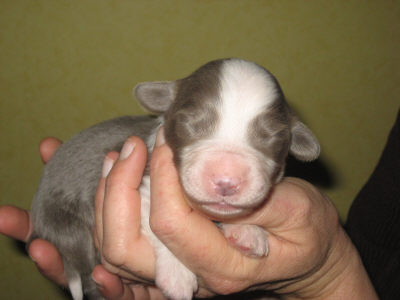 Balisto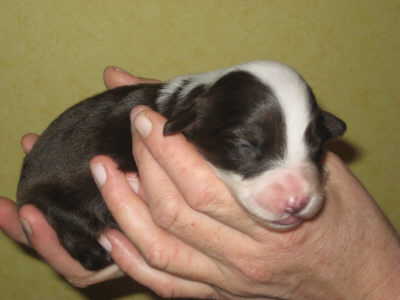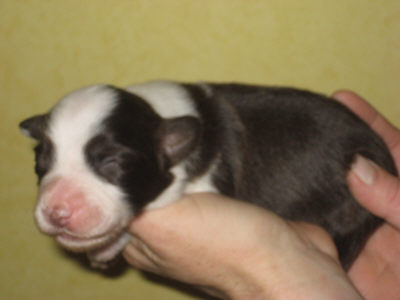 Betty Lou und Britney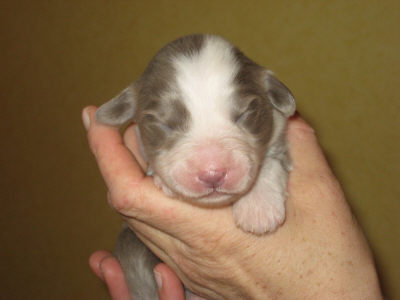 Beverly
08.11.08
1 Tag alt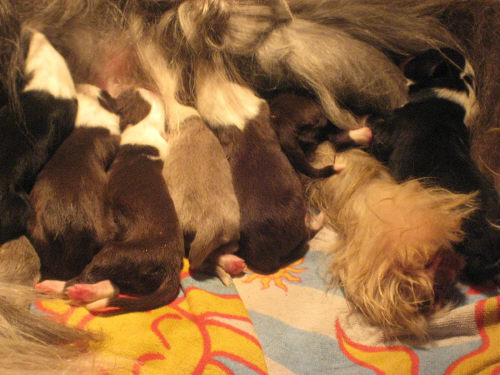 2 Rüden braun, 2 Rüden schwarz, ein Fawnie
2 Hündinnen braun und eine kleine Fawnie Dame
2 males brown, 2 males black, one Fawnie
2 females brown and a little Fawnie girl

Caspers 2. Nachkommen * 22/11/2007
bei Bärbel und Sabrina Halfmann, Ehringshausen/ Katzenfurt
Zwinger "Vom Spinneratz"
17/01/08
Es ist soweit, die Zwerge sind 8 Wochen alt und werden nun in ihre neuen Familien ziehen. Ich bin gespannt wie sie sich weiter entwickeln und freue mich, den einen oder anderen hin und wieder zu sehen. Ich wünschen ihnen viel Spass und ein langes, glückliches Beardie Leben und ihren Familien soviel Freude mit ihrem neuen Familienmitglied.
As they are now 8 weeks old it's time for them to move to their new families. I am looking forward to seeing one or the other from time to time. I would like to wish them a long and happy Beardie life and their families lots of fun and joy with their new familiy member.
Tailor Ann vom Spinneratz - Tanita Special Blue vom Spinneratz - Timber Black vom Spinneratz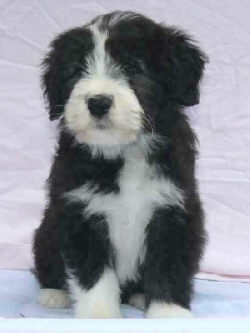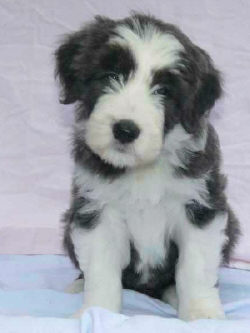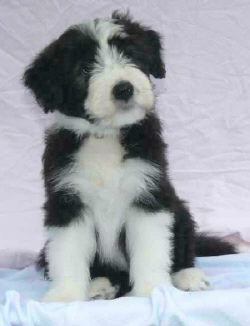 Touchdown vom Spinneratz - Topper Harley vom Spinneratz - Take That vom Spinneratz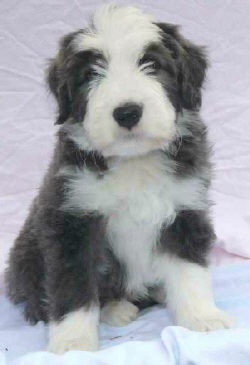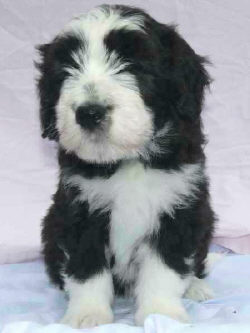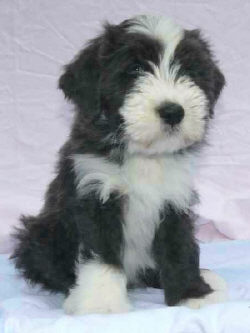 09/01/08
ein passender Termin für die neuen Fotos ;-)
a nice date to send me new pictures ;-)
6 1/2 Wochen alt - 6 1/2 weeks old
Tailor Ann- Tanita Special Blue- Timber Black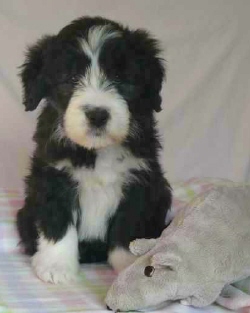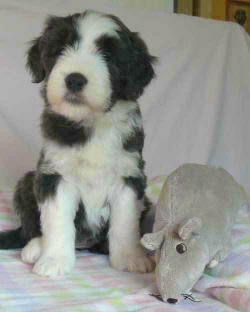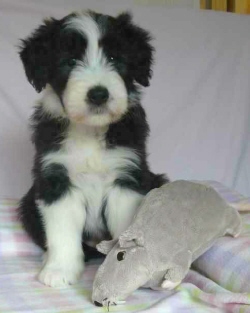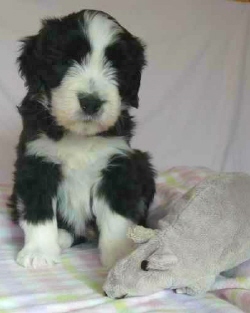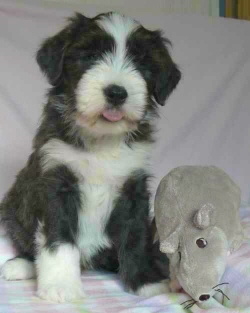 Touchdown Barcly- Topper Harley - Take That Nelson
früh übt sich, wer ein Ikea Fan werden will wie Chocolate, Casper und Phil...
31/12/07
Ein gutes Neues Jahr 5 Wochen
Happy New Year 5 weeks old
Tailor Ann - Tanita Special Blue - Timber Black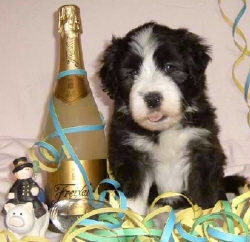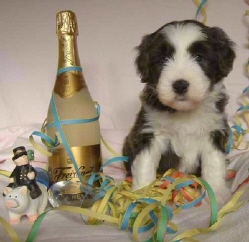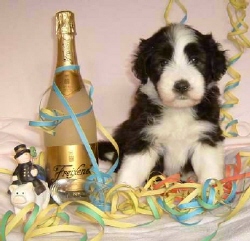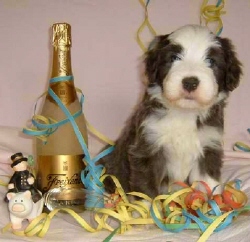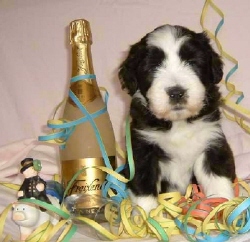 Touchdown - Topper Harley - Take That Nelson
Die Welpen sind da!
The puppies are born!
*22/11/2007
je 3 in blau (2/1)und schwarz (1/2)
3 blue, 2 boys and one girl a,d 3 black, 1 boy and 2 girls
Ladys first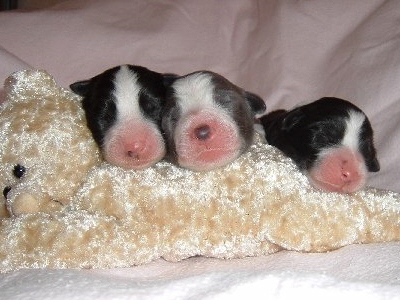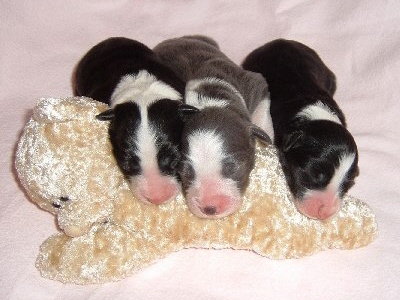 und die Herren

22./23. September 07

Courtney vom Spinneratz und Zotti Floppy Toppolino


Caspers 1. Nachkommen
* 29.06.2007

bei Daniela Pötz, St. Gallen, Schweiz
Zwinger "Flying Dancers"
30.04.07/01.05.07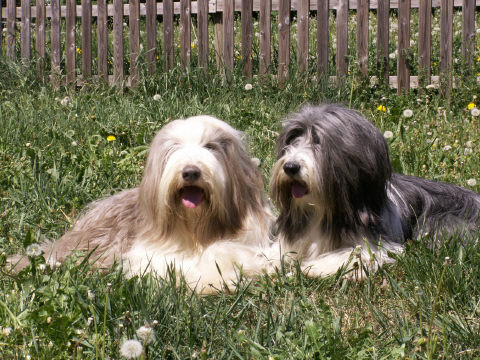 Zotti Floppy Toppolino und Our Lovely Alisson of Sherry Lane
29.06.07
Allison hat ganze Arbeit geleistet: 7 kleine Zwerge
3 fawn weiss (2 Rüden, 1 Hündin), 2 braun weiss (1/1), 2 schwarz weiss (1/1)
.....Allison did a wonderful job: 7 little Beardies
3 fawn white (2/1) 2 brown white (1/1), 2 black white (1/1)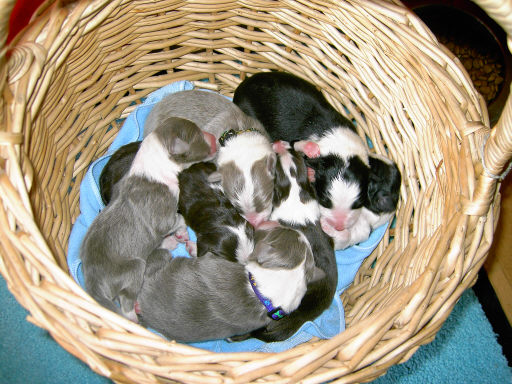 04.07.07
5 Tage alt - 5 days old
15.07.07 Heute habe ich mir Caspers Zwerge angesehen, sie sind 16 Tage alt. Hier die ersten Einzelfotos, richtig, es sind nur 5, da zwei der Zwerge der schwarz-weisse Amazing Magic Merlin, 1,100g und sein Bruder der fawn weisse Amazing Karelian 1,300g bei einer befreundeten Züchterin einem Einzelkind Gesellschaft leisten.
Today I visited Casper's offspring, they ar 16 days old. As you can see, there are only 5 of them in the pictures as the black boy Amazing Magic Merlin and his fawn brother Amazing Karelian are helping out at a breeder with only one puppy.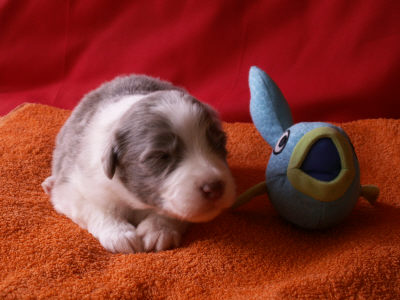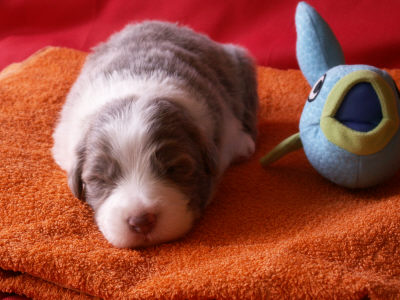 Amazing Beautiful Legolas (m) 1,100 g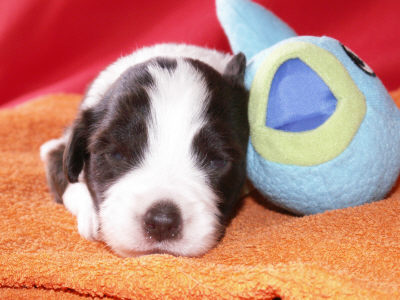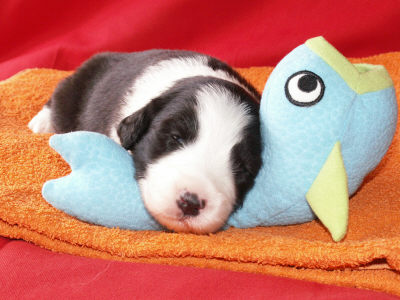 Amazing Easy Anais (w) 850g und Amazing Memory of Heather (w) 960 g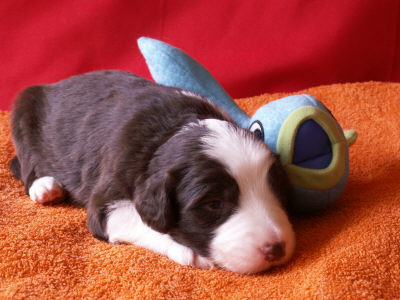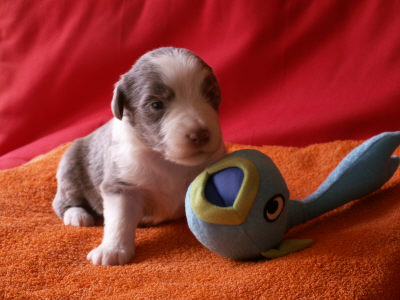 Amazing Miraculix (m) 1,100 g und Amazing Myrielle (w) 860 g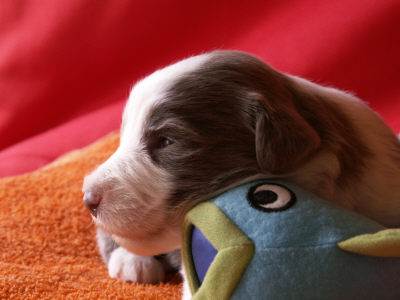 Myrielle
09.08.07 Die Zwerge werden morgen 6 Wochen alt und ich habe sie heute noch einmal besucht.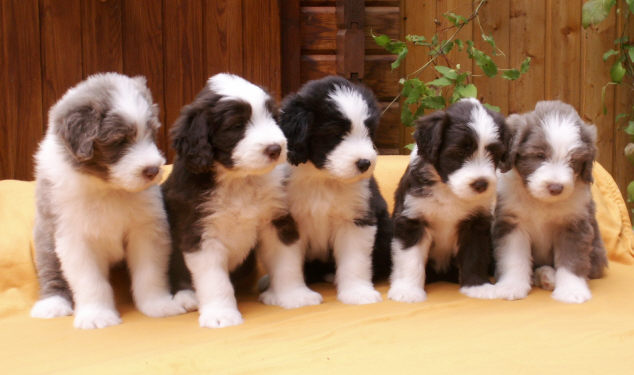 Legolas - Miraculix - Azia (Memory of Heather) - Anaiis - Mädi (Myrielle)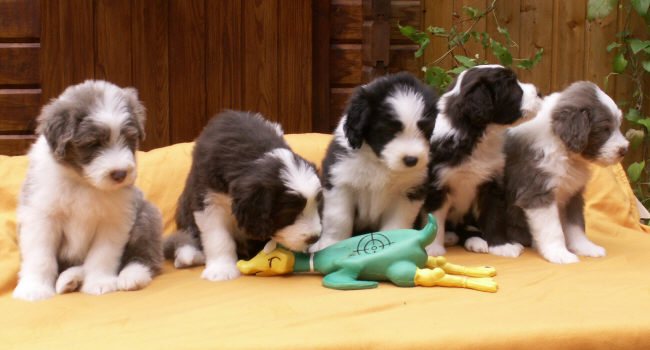 Legolas, Anaiis und Miraculix bleiben in der Gegend von St. Gallen, Azia zieht nach Neuchatelle und wird nun französich lernen und Mädi wird die weiteste Reise unternehmen, sie zieht nach WIEN...
The puppies are going to be 6 weeks old. Most of them will stay in Switzerland, Azia (Memory of Heather) will be going to the french part of Switzerland, the others will stay near St. Gallen. Mädi (Myrielle) will be moving to VIENNA
So, nun der Reihe nach....
Amazing Beautiful Legolas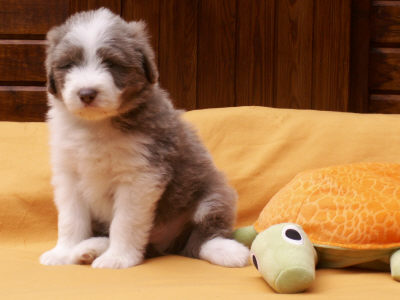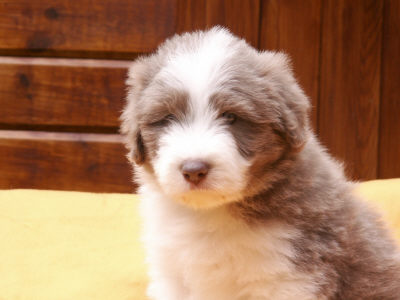 Amazing Easy Anais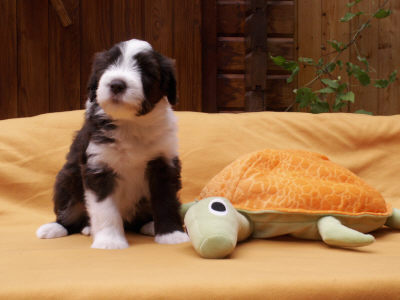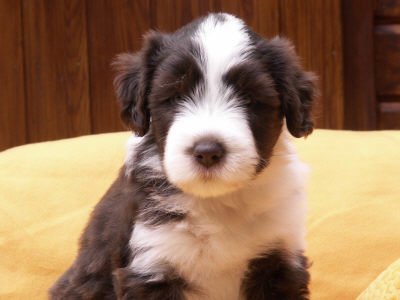 Amazing Miraculix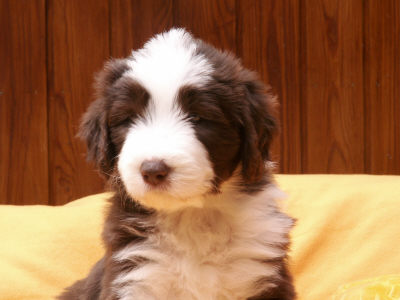 Azia oder Amazing Memory of Heather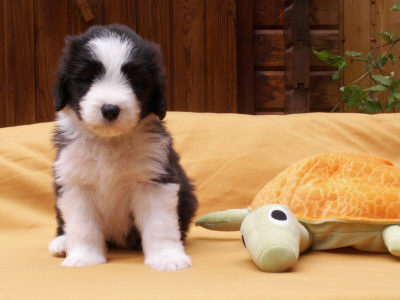 Mädi oder Amazing Myrielle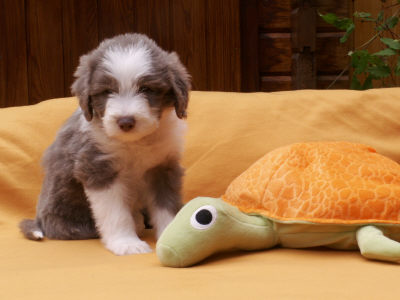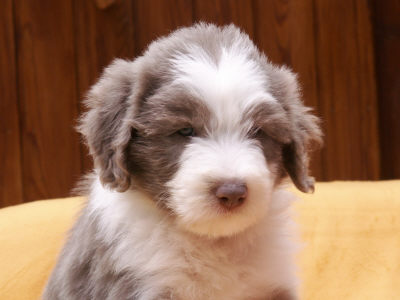 13.08.07 Nach Computercrash, Kameraprogramm Neukauf und Kameradefekt......hier sind endlich Fotos von den beiden Auswanderern.
After a computercrash, a new programm for the camera and buying a new camera.... here they are: the two emigrants.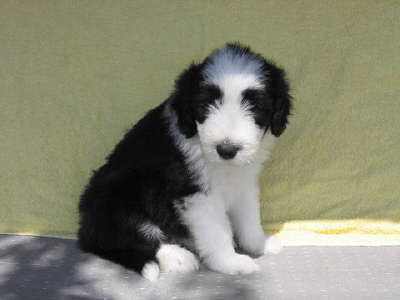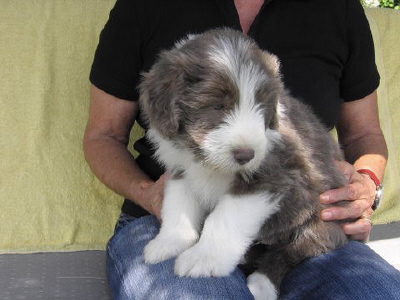 Magic Merlin - Karelian
15.09.07 alle Welpen haben neue Familien gefunden und ich wünsche allen ein ereignisreiches, langes Beardie Leben