Samtpfoten

Es bleibt dabei, wir werden eine oder auch zwei kleine Katzen aufnehmen, die uns die kleinen grauen langschwänzigen Tierchen vom Leibe halten sollen. Aber da Münte so ein Pech hatte, werden wir die beiden erst vorstellen, wenn wir umgezogen und sie bei uns eingezogen sind. Zumindest die kleine Immigrantin wird schon auf ein Zusammenleben mit Hunden eingewöhnt, ihr Spielkamarad muss noch ganz abgeklärt werden. Aber das wird schon.
We are positive: one or maybe two kittens are going to move in with us in the new house, so the little grey furry fellows with the long tails won't invade the house. As Münte wasn't lucky enough to move in with us, I am going to present the little kittens as soon as they have been moving in with us in the new hose. At least one of them, the little Immigrant, is living with a friend of mine to get used to dogs, the other one has to be decided on
24/05/15 7
Monate vor Weihnachten ;-) zieht ein kleiner Maine Coon Kater ein
7 months till Christmas ;-) a little Maine Coon moves in
Balou
*15/02/2015
Maine Coon, black smoke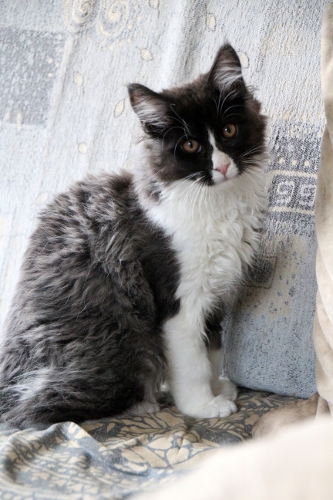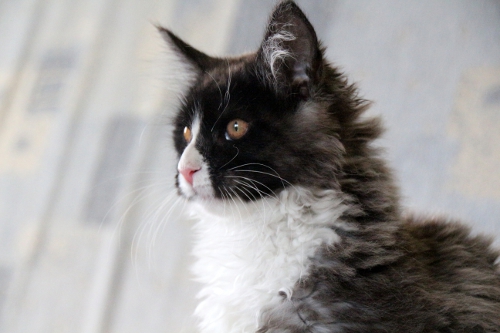 10.10.2008 Phil's Geburtstag: es ist soweit, eine kleine Schweizerin zieht ein
Phil's birthday: finally a little Swiss lady is moving in
Ricola
*18.06.2008
Rasse: Schweizer Bahomi (BAuernHofMIx)
Breed: Swiss Bahomi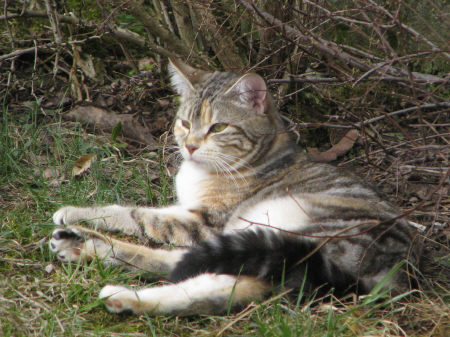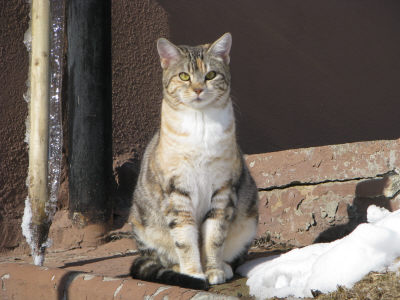 Da sie aus der Schweiz kommt, kommt nur ein Name in Frage der eine Verbindung zur Schweiz hat. Heidi kam für mich als Name nicht in Frage, alternativ wäre noch "Fondue" gewesen, aber auf Grund ihrer tollen Farbverteilung habe ich mich für Ricola entschieden. Ricola, schweizer Kräuterzucker, hergestellt aus 13 Kräutern.
As she is coming from across the border in Switzerland her name had to have some connection to her homeland. Heidi I didn't like as a name for a cat "Fondue" being an alternative. But as she has a wonderful mix of colors in her coat, I decided on Ricola. Ricola being the famous Swiss herb drops, made of 13 different herbs.
26.10.08 Ricola bekommt Unterstützung aus Thüringen
Ricola gets support from Thuringia
Chaos
*18/08/08
Rasse: Thüringer Bahomi
Breed: Bahomi from Thuringia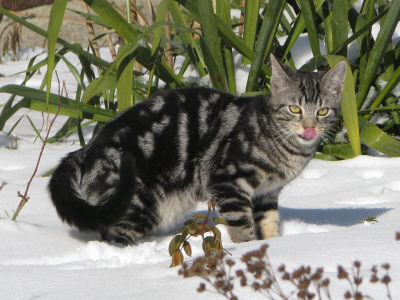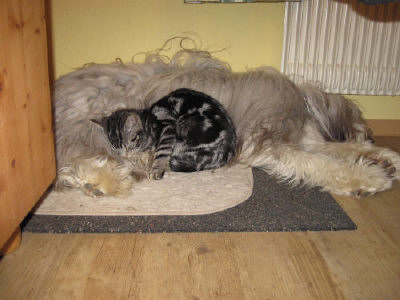 Es stellte sich die Frage soll er "kleiner Schreihals" heißen oder nicht. Er ist und bleibt ein kleiner Schreihals, er hat von Alsfeld bis Heilbronn geschrien, und schon zuvor von Ilmenau bis Alsfeld.... Aber dieser Name ist doch etwas lang. Daher habe ich mich entschlossen, ihn "Chaos" zu nennen, da er eine Gabe dafür zu haben scheint, Chaos anzurichten. Alternativ wäre "Dragon" gewesen, da er die ersten Tage immer alles und jeden angefaucht hat.
It took a while to find an appropriate name for this little tom cat. As he was noisy all the way from Ilmenau to Alsfeld and later from Alsfeld to Heilbronn (4 h drive!), the first idea was "kleiner Schreihals". But this being much too long, I decided to call him "Chaos" as he seems to be able to cause chaos wherever he turns up. An alternative was "Dragon" as he was hissing at everybody and everything during his first days.

Herminchen und Krümmel
* 06/2009
Sie waren NICHT für UNS bestimmt....nicht wahr Helga?! Wir sollten sie nur auf Hunde prägen, aber sie sind immer noch da und Helga ohne Katzen......
They weren't meant to stay with us.........don't you agree, Helga?! We were only ment to get them used to dogs, but they are still here with us and Helga is still without cats....