Phil oder Mr. P...
Dt.Ch.VDH, Club (CfBrH); HR Ch; Karavankensieger
Philemon Paparazzi

*10.10.2007
blau-weiß


Körklasse 1
HD A, GB 6/6; DNA-CEA/CH-Clear
CEA/PRA/Kat. frei; MDR 1 Gen (+/+);
Wesenstest, Working Test 1, 2, Therapiehund
V: Theo (Dt. Ch VDH Pipadene Roving Reporter) M:Megan (Philemon Princess)
Z: Kerstin Selle, Hauneck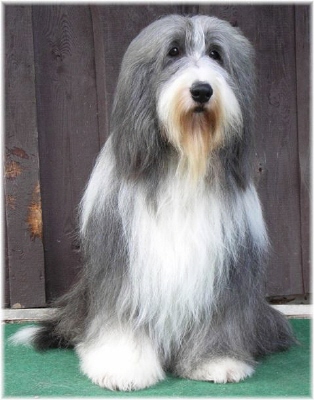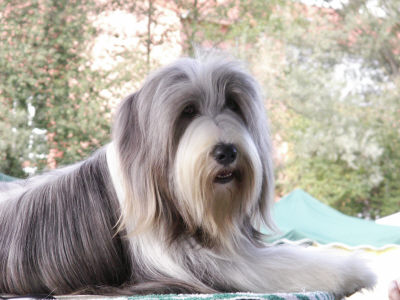 ©K. Selle li. Bild und Welpenbilder der ersten Wochen
Irgendwie war es klar, wenn mein Diabolo nicht mehr ist, dann sollte es ein RICHTIGER Philemon sein, es sollte ein Megan Kind bei uns einziehen. Sie ist mit Chocolate verwandt und über ihren Vater auch mit Casper.Sie hat eine ganz spezielle Ausstrahlung und irgendwie hat es zwischen uns von Anfang an "gepasst".
Es sollte ein Rüde sein und wenn möglich ein blauer. Jetzt, knapp 1 Jahr nach Diabolos Tod ist der richtige Zeitpunkt, fand Megan wohl.

Eine Punktlandung: ein Rüde im Wurf und der ist blau.
Wenn das nicht Schicksal ist.

I decided if Diabolo isn't here anymore, this time it has to be a REAL Philemon, and Megan has to be the mother. She is a cousin to Chocolate and her father is Caspers Grandfather. She has a very special aura and somehow from the beginning there was the right chemistry between us.
It should be a boy and preferable a blue one.
And Megan did just that: one boy in the litter and it being blue. This is destiny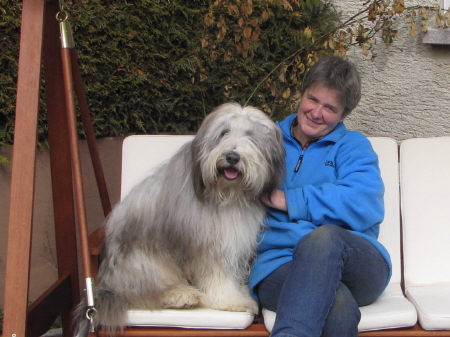 März 2009
17 Monate alt, Phil, meine Schmusebacke
2013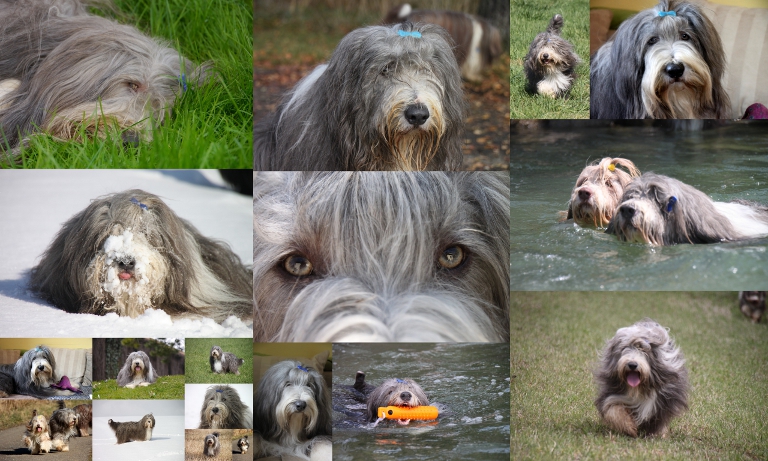 2011

01/04/11
Phil ist ab heute offiziell:
it's official now, Phil can be called:
Dt.Ch.VDH, Club (CfBrH) Philemon Paparazzi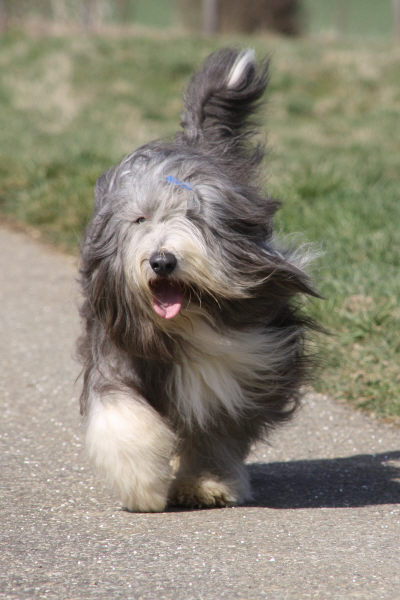 März 2011 Phil ist Champion
Gut Ding braucht Weile, mein kleiner Blaubär hat die erforderlichen Anwartschaften für den Dt.Ch VDH und Club (CfBrH) erhalten und ist nun Dt. Champion. Danke Kerstin und Andreas für diesen tollen Theo-Megan Sohn, und JA er ist der Schönste und Beste aller Blaubären, so schöne Augen und so einen tollen Charakter wie er hat keiner!!!
Good things take their time, finally my little blue bear got his CCs for the German Championship. Thank you so much Kerstin and Andreas for this lovely Theo-Megan son and YES he is the most beautiful and best blue boy, there isn't another one with such lovely eyes and such great temperament!!!!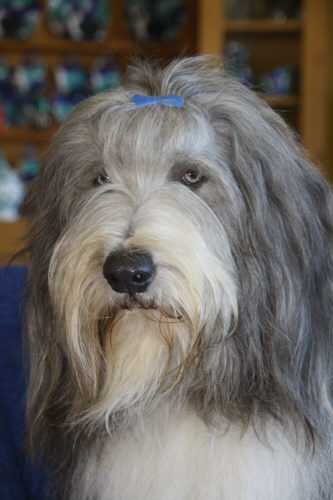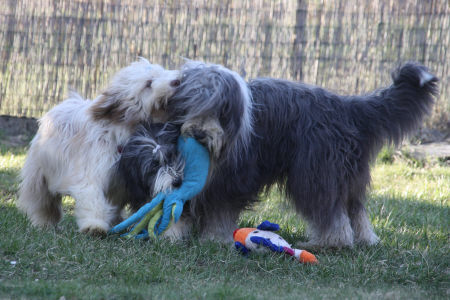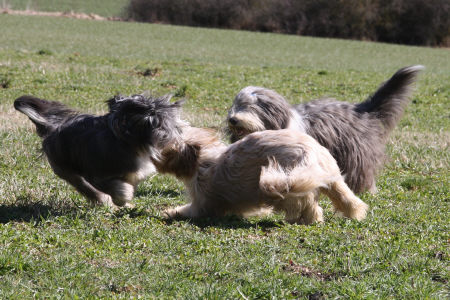 Phil ist Champion und benimmt sich kindisch wie immer, er ist der absolute Favorit der beiden Mädels und jederzeit zu jedem Unfug bereit
Phil is Champion and he didn't change a bit ;-) Like always he is best buddy for the two girls and up to mischief whenever they feel like it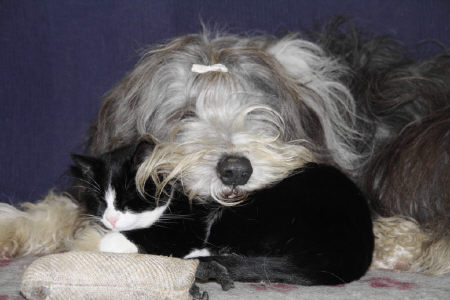 Winter 2011....Phil und seine Mädels
Phil and his girls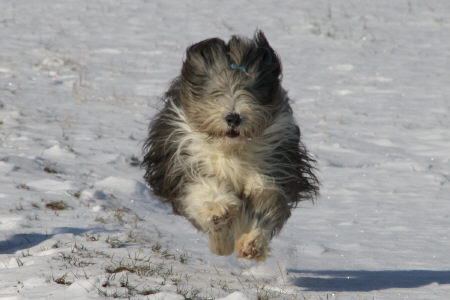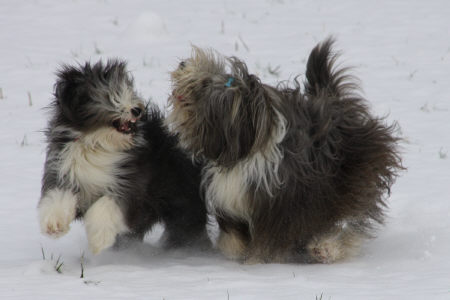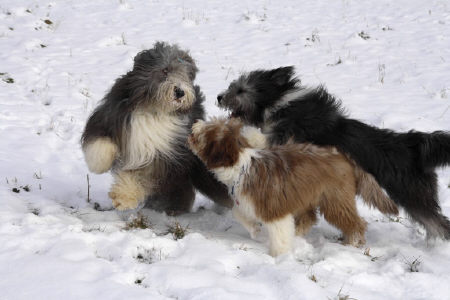 2010

September 2010....und damit er mit Chocolate nicht teilen muss, ist noch ein Zwerg eingezogen
Just so there is no need to share, another little girl moved in

Juli 2010....endlich hat er "seinen" Zwerg bekommen
....Finally Phil got "his own" puppy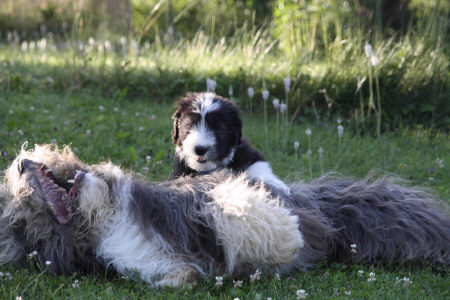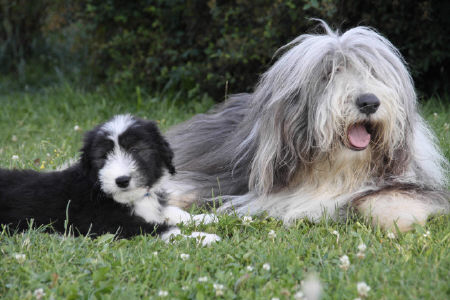 Juni 2010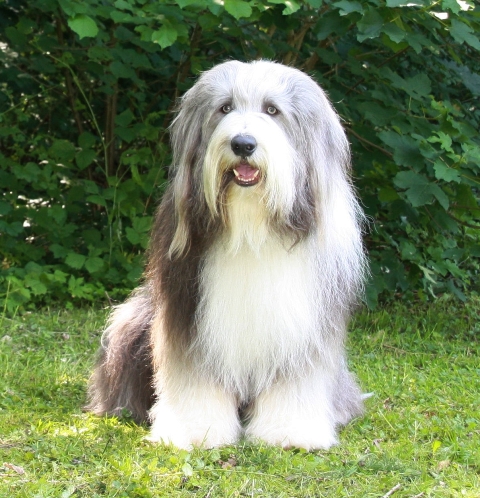 Januar 2010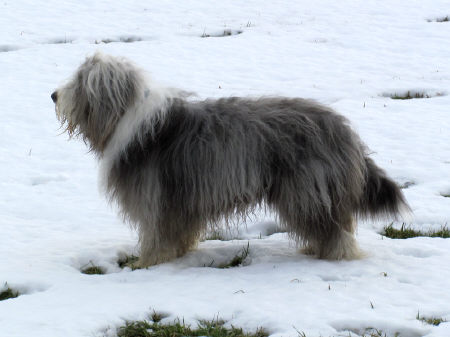 2009
Dezember 2009, Phil und "seine"Katzen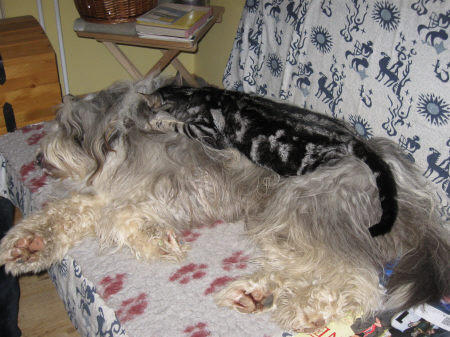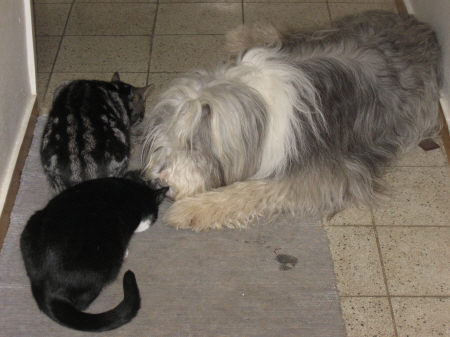 April 09, fast einfarbig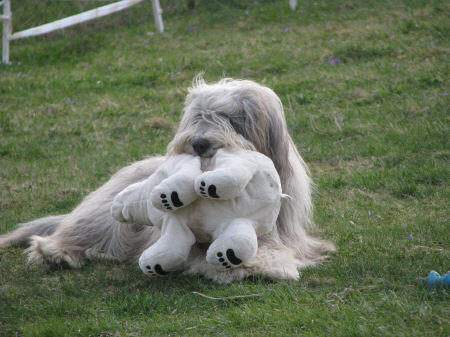 Januar 09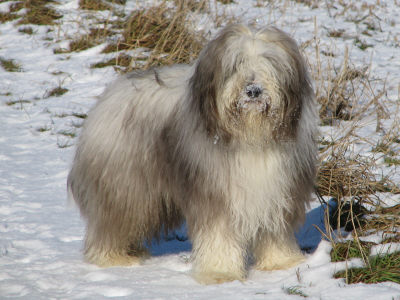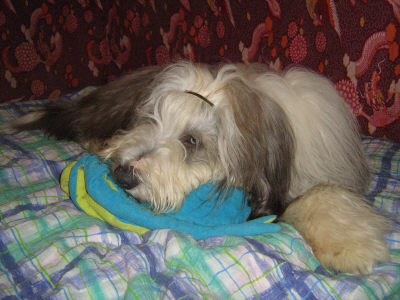 2008
Phil Oktober 2008, 12 Monate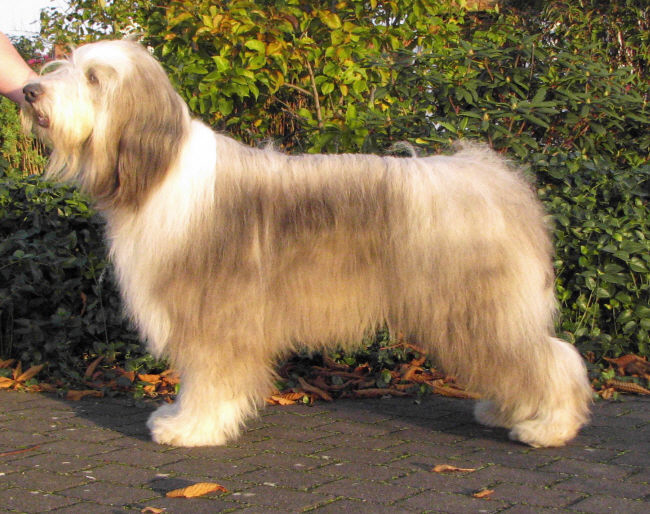 So schnell vergeht die Zeit....vor 1 Jahr durfte ich ihn zum ersten Mal in der Hand halten, gestern wäre er am liebsten über den Tisch um zu Kerstin zu gelangen. Aber ich konnte ihn gerade noch bremsen ;-)
Phil ist ein geniales "kleines" blaues Männchen geworden. Da die Rahmenbedingeungen: ein kleiner Philemon; ein Megan Kind, männlich, blau mit weisser Schwanzspitze noch genügend Raum gelassen haben, damit er sich entfalten konnte, kann ich nur sagen: er ist GENIAL....
Eine kleine Einschränkung vielleicht: er muss noch lernen, dass es nicht das Highlight des Tages ist, wenn er mich morgens mit seiner großen, nassen, beweglichen Zunge weckt :-0
Time did pass very fast...just one year ago I got the chance to hold him for the first time, yesterday I just caught him, when he tried to jump the table to reach Kerstin ;-)
Phil turned into a lovely "little" blue boy. As I only wanted a little Philemon, a Megan puppy, male, blue with a white tail ending, there were enough possibilities for him to develop. And I can only say, he is GREAT....
Well one little thing he could still work on: he needs to realize it's not the highlight of the day to be woken up by his long and wet tongue :-0
Phil Juni 2008, 8 Monate alt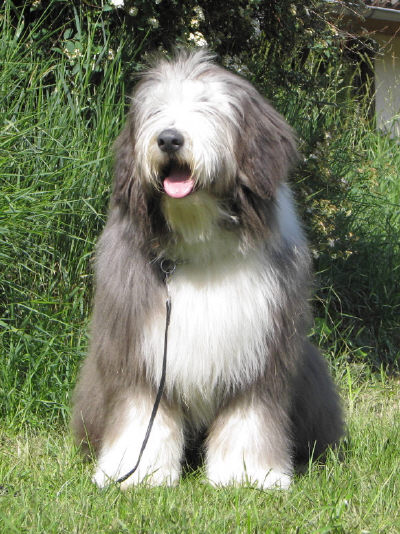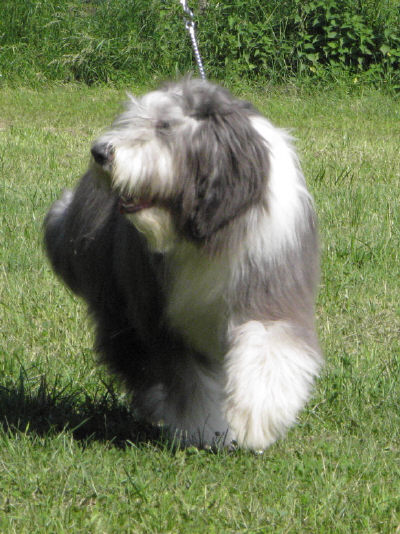 10.02.08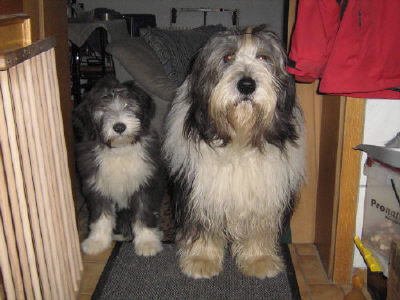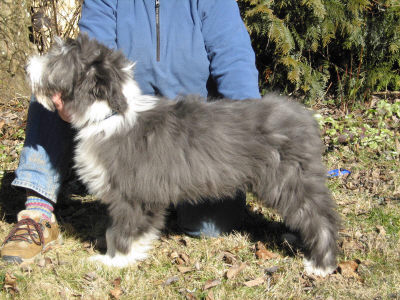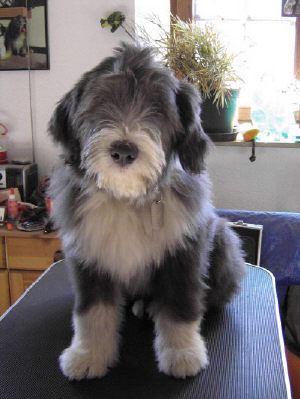 4 Monate alt - 4 months old
2007
28.12.2007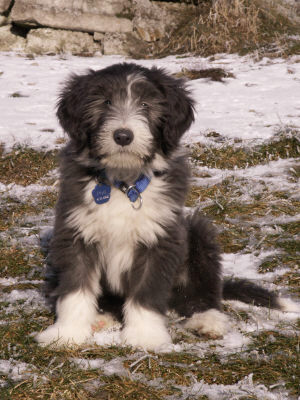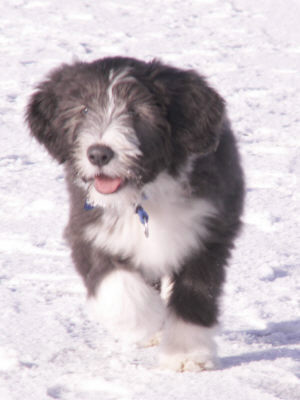 11 Wochen alt - 11 weeks old
08.12.2007
Phil ist eingezogen, er ist 9 Wochen alt - Phil moved in, 9 weeks old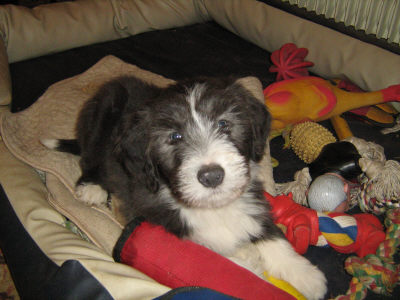 17.11.2007
Heute habe ich Phil zum zweiten Mal besucht, beim ersten Mal war er gerade mal 10 Tage alt. Er ist ein wunderhübsches kleines Kerlchen und seine Schwestern lieben ihn sehr ;-)
Today I visited Phil for the second time. The first time I saw him he was 10 days old! Phil is a gorgeous little fellow and his sisters seem to love him, too ;-)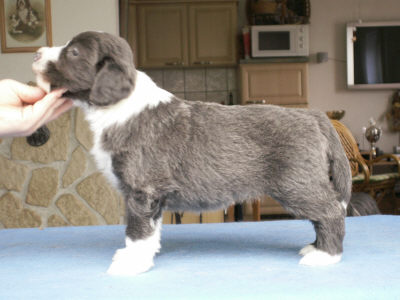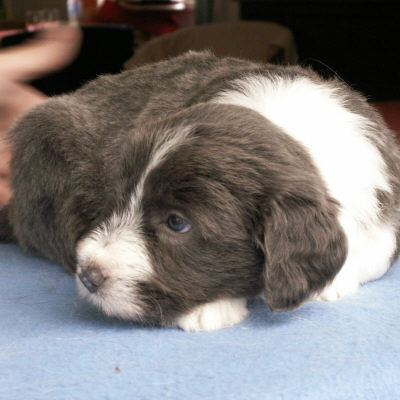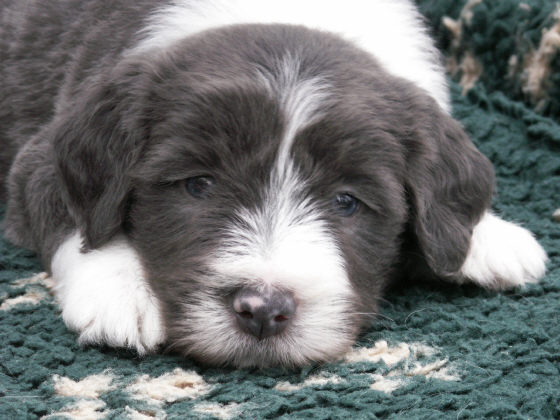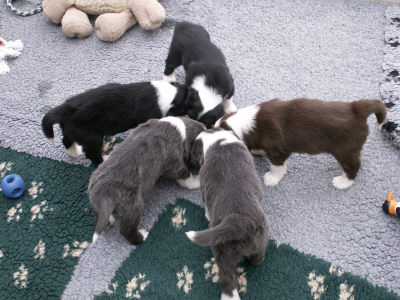 31.10.2007: Es ist Halloween und statt einem Kürbis hat er sinen Frosch! Phil ist 3 Wochen alt. Seine Nase ist einfach zum Verlieben.
Tonight is Halloween and instead of a pumpkin he has a frog. Phil turned 3 weeks of age. I love his nose!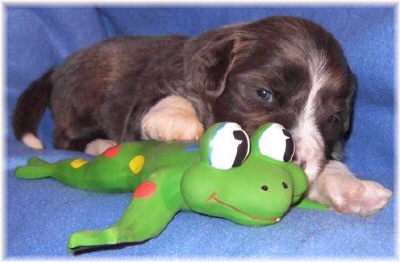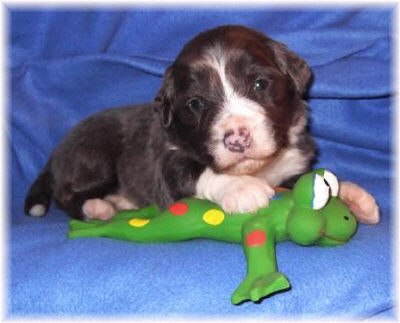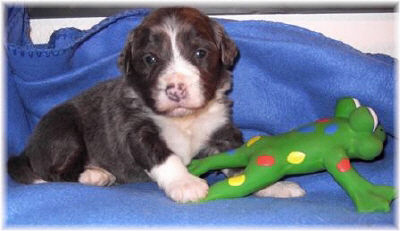 24.10.07: 14 Tage alt
die Augen sind offen, die Nase gesprenkelt und die Beine tragen noch nicht wirklich
the eyes are open, the nose full of little dots and the legs not very steady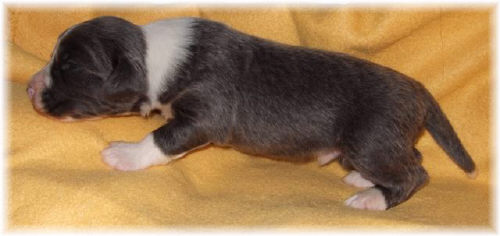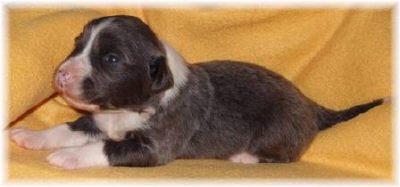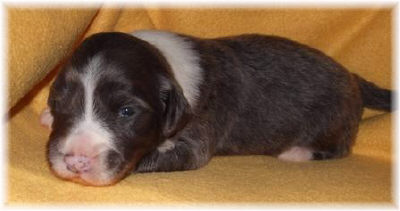 am 21.10.07 durfte ich ihn sehen und zum ersten Mal halten
on Oct., 21 I was able to hold him for the first time
11.10.2007: 2 Tage alt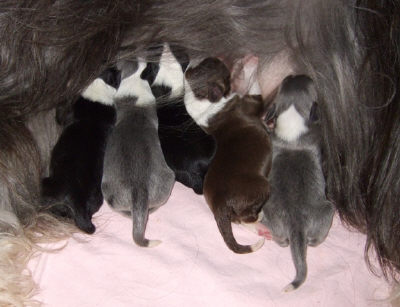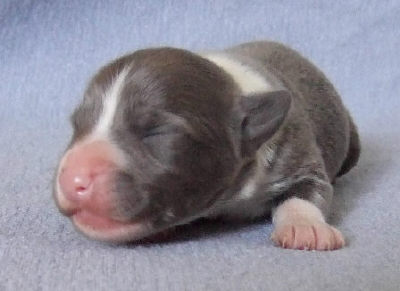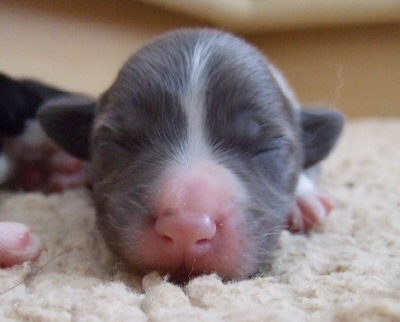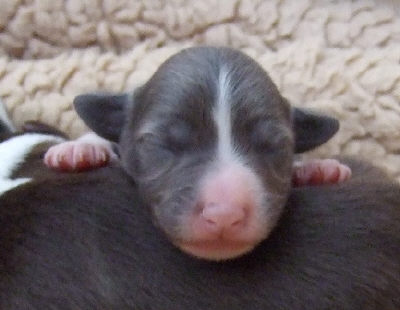 diese beidenFotos finde ich am Besten - these two pictures I like most
10.10.2007
2:26 am Nachmittag p.m.
die sms lautete: blauer Rüde ist der erste... alles was ich mir erhofft hatte ;-) Mr. P
the sms read: blue boy is the first....all I had been hoping for ;-) Mr. P