King Louie
Over The Moon For Bradiba Smartness
WT 22/10/2015

V: Ch Heart 'N Soul Smartness M:Farmarens New Gossip
Z: Malgorzata A. Figas, Posen (PL)
HD GB 7:6; B2; ED 0; DNA-CEA/CH-Clear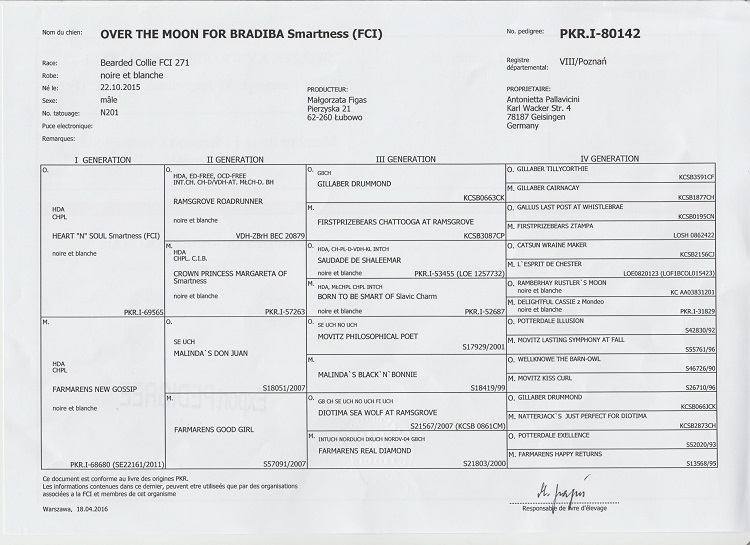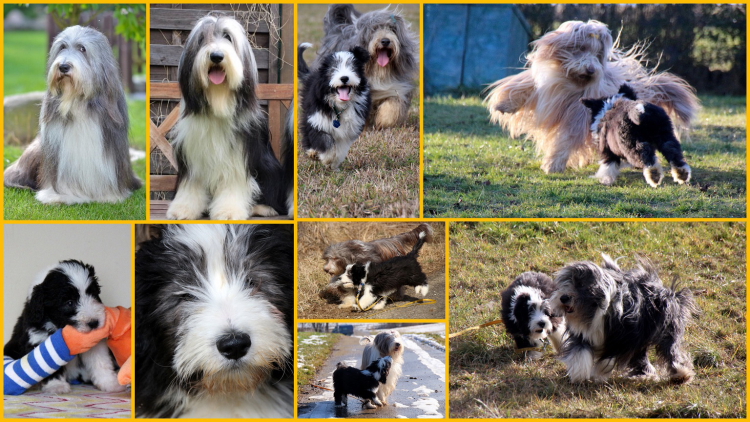 li -> re im Uhrzeigersinn/ left -> right clockweise
Ch Heart 'N Soul Smartness "Robi"/ Farmarens New Gossip "Sally"/ Louie, Phil/ Louie, Muffin/ Louie Toffee/ Louie Chocolate
Louie Casper/ Louie 14 wks/Louie 4 wks
Nachdem ich im September Baghria gehen lassen musste, stellte sich nie die Frage "ob" je wieder ein schwarzer Rüde bei uns einziehen würde, es stellte sich nur die Frage "wann" dies der Fall sein würde.
Mit Louie habe ich einen Zwerg anvertraut bekommen, der in seiner Ahnentafel drei Rüden vereint, die mir immer sehr imponiert haben. Etwas weiter hinten, aber immer noch meine Verbindung zu den Pahari Beardies ist Ch Pahari L'The Pagan mein absoluter Favorit. Auf der Seite seiner Mutter ist sein Urgroßvater Ch Diotima Sea Wolf, der mich auf meinem ersten Crufts Besuch sehr beeindruckte und auf der Seite seines Vater ist Ch Ramsgrove Roadrunner sein Großvater
Robi, sein Vater ist eine Kopie von Douglas (Ch Ramsgrove Roadrunner) und Sally seine Mutter eine wahnsinnig schmusige Hündin. Seinen Namen hat er (das wird auch kaum einen verwundern) aus dem Dschungelbuch, nach King Louie.....und wer sagt's er ist ein richtig lustiges Äffchen :-)
Wie nicht anders erwartet, wurde Louie als erstes von Phil und Muffin angenommen, sie haben seine "Erziehung" übernommen....., Toffee hat entdeckt, dass er rennen kann, Chocolate hat wie immer keine rechte Zeit etwas zu sehen, dass ihm (noch) nicht bis zur Schnauze reicht, aber das wird und Casper weisst ihn stimmlich zurecht. Mit Balou stellt er abends die Wohnung auf den Kopf die anderen Katzen erziehen ihn da etwas besser ;-)
Ich bin mir sicher er wird in Kürze alles Wichtige erlernt haben, was für ein glückliches Beardieleben nötig ist ;-).
Danke Mag, dass Du mir das Äffchen Louie anvertraut hast!!!
After I had to let Baghira go in September, there never was a question n "if" but only "when" another big black nose would join us again. Toffee did her best, but her nose IS tiny....
In his pedigree 3 sires I admired/admire a lot are combined: first of all an all time favorite of mine, Ch Pahari L'The Pagan; far back but the connection to the Pahari Beardies. On his dam's side his great-grandfather is Ch Diotima Sea Wold at Ramsgrove a dog I met on my first Crufts visit and on his sire's side his grandfather is Ch Ramsgrove Roadrunner.
"Robi", his dad is a carbon copy of Douglas (Ch Ramsgrove Roadrunner) and his dam Sally is a lovely, very affectionate bitch. He got his name (no surprise here either) from the Jungle-book, after King Louie.....and what do you expect, he is a very happy, cheeky little monkey :-)
As I expected he was accepted almost immediately by Phil and Muffin, these two took over his upbringing....it'll be fun to see what they teach him ;-). Toffee realized he can run really fast, Chocci so far hasn't really "seen" him as he has no time to see what can't reach his nose....but Louie is growing like weeds. Casper vocally tells him his boundaries, and my two black and white Jungle-book characters turn the house up side down in the evenings, the other cats will have a better influence on him I am sure.
I am pretty sure soon he will know all the important things for a happy, bouncing Beardie life.
Thank you so much, Mag for entrusting me with this lovely boy, I am "Over The Moon"