In memoriam
"How lucky I am to have something that makes saying Goodbye so hard"
A.A. Milne and Winnie-the-Pooh
He is gone
You can shed tears that he is gone or you can smile because he lived
You can close your eyes and pray that he'll come back or you can open your eyes and see all he's left
Your heart can be empty because you cannot see him or you can be full of the love you shared
You can turn your back on tomorrow and live yesterday or you can be happy for tomorrow because of yesterday
You can remember him and only that he's gone or you can cherish his memory and let it live on
You can cry and lose your mind, be empty and turn your back or you can do what he'd want:
smile, open your eyes, love and go on
Author Unknown

Dogs in heaven
When dogs go to heaven, they don't need wings because God knows that dogs love running best.
He gives them fields. Fields and fields and fields. When a dog first arrives in heaven, he just runs.

Dog heaven has clear, wide lakes filled with geese who honk and flap and tease.
The dogs love this. They run beside the water and bark and bark
and God watches them from behind a tree and smiles.

There are children of course. Angel children.
God knows that dogs love children more than anything else in the world,
so he fills Dog Heaven with plenty of them.
There are children on bikes and children on sleds.
There are children throwing red rubber ballsand children pulling kites through the clouds.
The dogs are there, and the children love them dearly.

And, oh, the dog biscuits.
Biscuits and biscuits as far as the eye can see.
God has a sense of humor, so He makes His biscuits in funny shapes for His dogs.
There are kitty-cat biscuits and squirrel biscuits.
Ice-cream biscuits and ham-sandwich biscuits.
Every angel who passes by has a biscuit for a dog.

And, of course, all God's dogs sit when the angels say, "sit."
Every dog becomes a good dog in Dog Heaven.

God turns clouds inside out to make fluffy beds for the dogs in Dog Heaven,
and when they are tired from running and barking and eating ham sandwich biscuits,
the dogs find a cloud bed for sleeping.
They turn around and around in the cloud... until it feels just right,
and then they curl up and they sleep.

God watches over each one of themand there are no bad dreams.

Dogs in Dog Heaven
have almost always belonged to somebody on Earthand, of course, the dogs remember this.
Heaven is full of memories.
So sometimes an angel will walk a dog back to Earth for a little visit
and quietly, invisibly,the dog will sniff about his old backyard,
will investigate the cat next door,will follow the child to school,
will sit on the front porch and wait for the mail.
When he is satisfied that all is well,
the dog will return to Heaven with the angel.
It is where dogs belong, near God who made them.

The dogs in Dog Heaven who had no real homes on Earth are given one in Heaven.
The homes have yards and porches and there are couches to lie on
and tables to sit under while angels eat their dinners.
There are special bowls with the dogs' names on them.
And each dog is petted and reminded how good he is, all day long.

Dogs in Dog Heaven may stay as long as they like
and this can mean forever.
They will be there when old friends show up. Will be there at the door.

Angel dogs.
(Dog Heaven by Cynthia Rylant)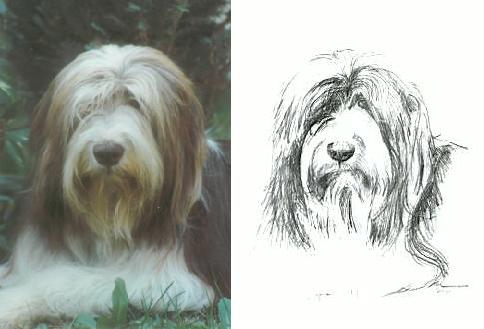 The Lovely Heartbreaker's Ashford
Brandy
11.10.1989 - 11.11.2003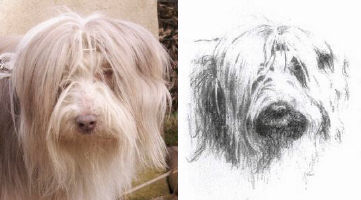 Zotti Floppy Fawn Rosmarin
Röschen
14.06.1990 - 30.08.2006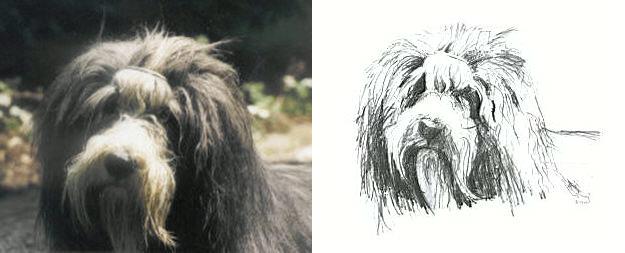 The Lovely Heartbreaker's Condor Man
Diabolo
04.04.1991 - 14.11.2006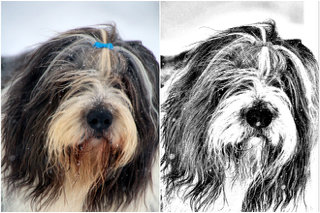 Ch Pahari Presenting Papageno
18/06/2001 - 04/09/2015
Münte
20.05.2008 - 26.08.2008
Ludie, Csavai Tücsök
August 1989 bis Dez. 2003

Tücsök wurde meist Ludie genannt, sie war zu Beginn ein richtiges kleines Luder, aber im positiven Sinn. Sie ist der Grund warum alle meine Hunde kleine schwarze Hunde toll finden und heiss lieben. Sie durfte alles, war die unumstrittene Chefin aller. Sie konnte es sich erlauben aus den Näpfen der "Großen" zu klauen, lies aber keinen an ihren, sie zeigte nur ihre schönen weissen Zähne, kein Knurren war nötig!


1992 und 1994
Primel
Mai 2003 - August 2009
Seit April 2004 nun hat Primel den Platz von Ludie übernommen; sie ist ein Löwchen und wurde im Tierheim abgegeben, da die Besitzerin unüberlegt einen Welpen angeschafft hatte.
Primel ist ein Kobold mit 4 Beinen, sie blickt einen immerzu frech in die Augen und springt und hüpft den ganzen Tag fröhlich durch die Gegend. Primel lebt -wie zuvor Ludie- bei meinen Eltern und weckt meine Mutter jeden Morgen voller Tatendrang. Sie hat die Herren fest im Griff, ein Knurren und keiner traut sich an ihren Futternapf oder Hundekuchen.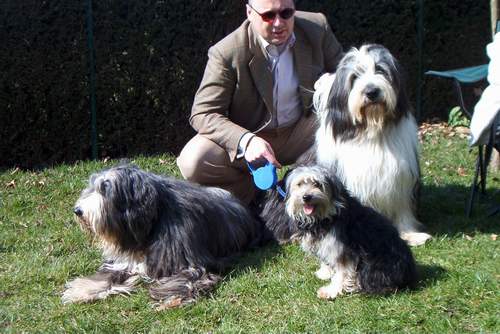 Primelchen hat uns gerade mal 6 jährig im August 2009 verlassen. Sie war einige Tage etwas schlapp und blaß, sie war anämisch und auch eine Bluttransfusion (Baghira hat ihr Blut gespendet) konnte ihr nicht mehr helfen. Sie hatte einen blutenden Tumor in der Brusthöhle. Primelchen hat bei mir im Garten einen schönen Platz gefunden, den wir mit Primeln bepflanzen werden.