SEPTEMBER - OKTOBER
SIE SIND DA
HERE THEY ARE

Bradiba's Amazing....
* 20/07/2016
Ch Philemon Paparazzi x Ch Romantikstreet Chocolate's Toffee
7 Rüden, 3x blau, 3 x fawn und ein kleiner schwarzer Mann
7 boys, 3 blue, 3 fawn and one little black man
Aktuelle Fotos immer auf Flickr /New photos on our Flickr account
01/10/16
....und dann waren es nur noch 2....
...and suddenly there were only 2....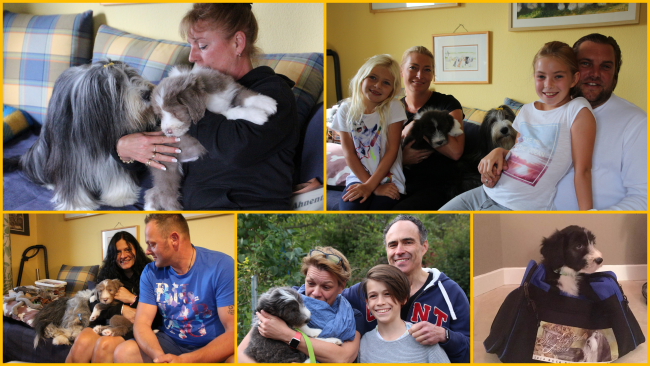 Blue sucht noch seine Familie
Blue is still looking for his family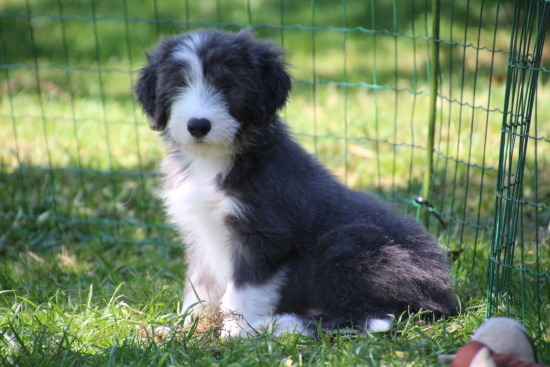 Fudge bleibt :-)
Fudge is staying :-)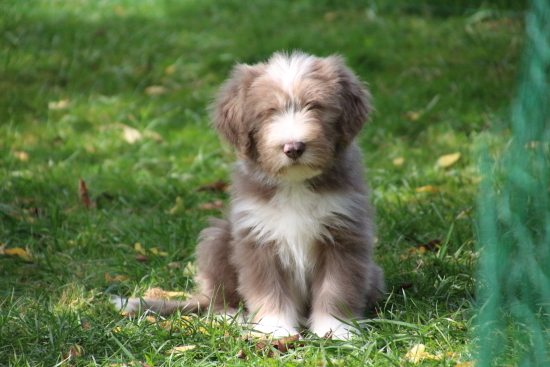 11/09/16

Heute kam Tassilo nochmals vorbei und war beeindruckt wie sehr sie sich in den vergangenen Wochen verändert haben. Es sind nun richtige kleine Rabauken geworden. Mit tatkräftiger Unterstützung durch meine Mutter, Schwester und beide Neffen haben wir es geschafft die 7 "Kleinen Raupen Nimmersatt" auf ein Foto zu bekommen.
Die Zwerge sind nun so viel wie möglich im Gartenauslauf, der auch nochmals "gewachsen" ist und geniessen es dort. Einen Regenschauer haben sie auch erlebt, aber eigentlich fast verschlafen, nur als der Regen dieses Mal wirklich nicht aufhören wollte haben wir sie ins Haus geholt und abgetrocknet um sie kurz darauf wieder in die Sonne zu setzen.
Die letzte Wurmkur und das letzte Krallenschneiden haben wir auch hinter uns gebracht, dabei war auch Peter anwesend um die Zwerge mit Männern bekannt zu machen ;-) . Nun kommt noch das Chippen und Impfen, und sie sind bereit zu gehen....aber sie haben Glück dafür bekommen sie dann nochmals Besuch ;-)
Today Tassilo came visiting once more and was amazed how big they have grown. They are little noisy, active monsters by now but with the help of my Mum, sister and nephews we managed to have a photo of them all together.
By now they spend as much time as possible outside in the garden where the puppy run has "grown" some more. Yesterday we got some heavy rain, at first we didn't think it would be more than a few drops, but finally saw we had to take them inside to dry off....and to go outside shortly after again as the sun came out once more.
They had their last deworming and nail trimm and my friend Peter was there as well so they got to know men as well ;-) Now only the implanting of the micro chip and vaccination will have to take place and they are ready to go.....lucky little boys this means another visitor ;-)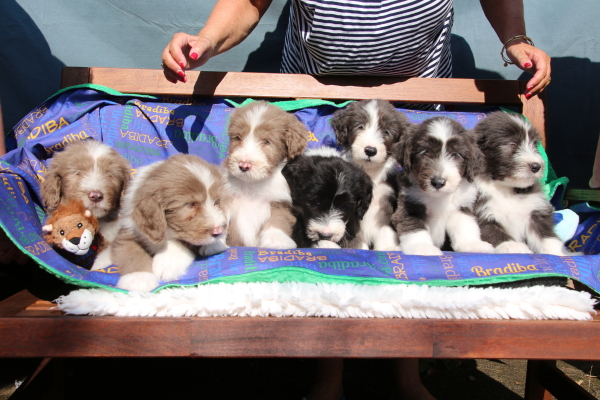 Fudge - Happy - Gino - Truffles - Blue - Jack - Charlie
Einzeln in Geburtsreihenfolge mit ihren offiziellen Namen - Portraits in birth order with their official names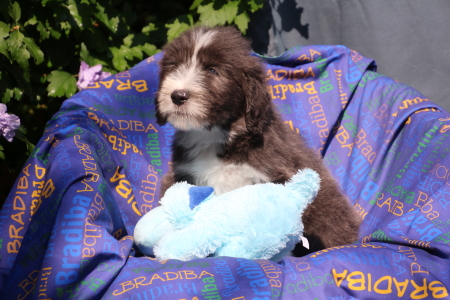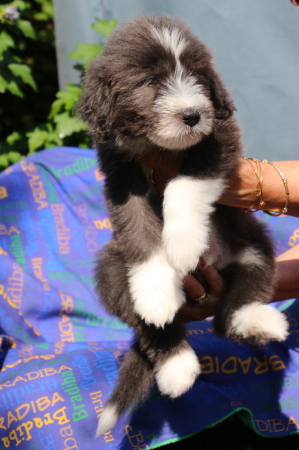 Bradiba's Amazing Blueprint
Charlie/Indigo
Charlie zieht zu einer Familie mit zwei netten Mädels die ihren Beardie im Mai mit 15 verloren haben
Charlie will move in with a family with two lovely girls who lost their 15y old Beardie in May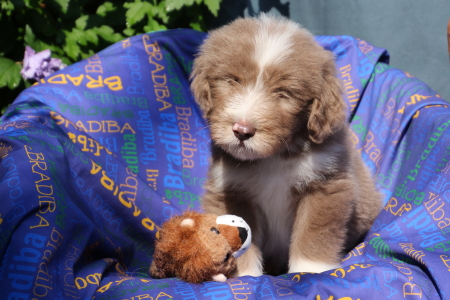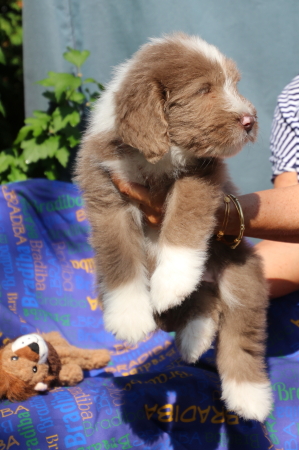 Bradiba's Amazing Choco Fudge
Fudge/Dot
Fudge....er bleibt bei Opa Chocolate, Mama Toffee, Vater Phil bei den Bradiba
Fudge....he will stay with Granddad Chocci, Mum Toffe, Dad Phil and the Bradiba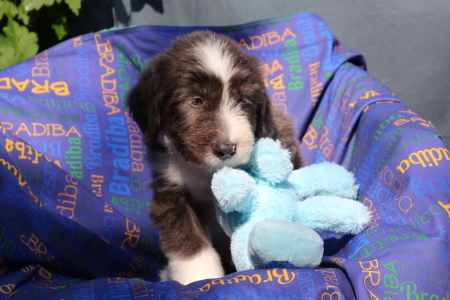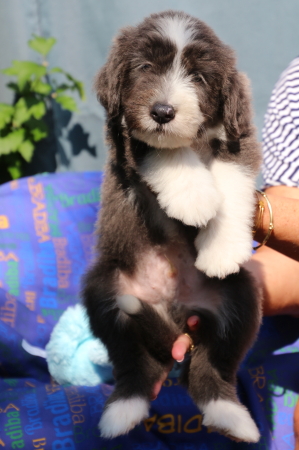 Bradiba's Amazing Blueberry Pie
Jack/Sky
Jack wird zu einer Familie mit zwei Teenagern ziehen
Jack will move to a family with two teenage boys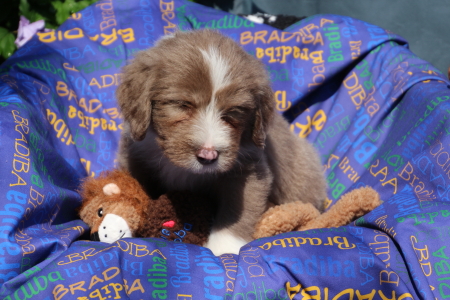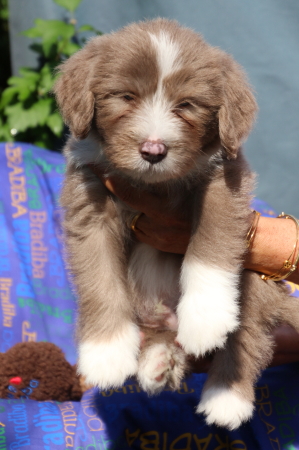 Bradiba's Amazing Cream Tea
Happy
Happy bleibt ganz in der Nähe und wird das Frauchene von Othello, einem 5 Jahre alten Beardie Rüden "happy" machen
Happy will move to the next town and make the owner of "Othello" a 5 y old Beardie boy "happy"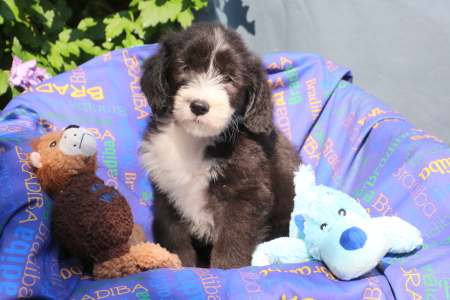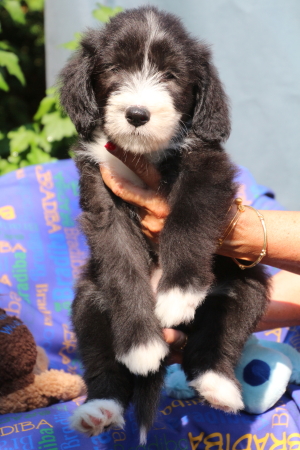 Bradiba's Amazing Assorted Truffles
Truffles
Truffles wird zu einer Freundin, ihrer Mutter und ihren Beardies ziehen
Truffles will move in with a friend, her Mum and her Beardies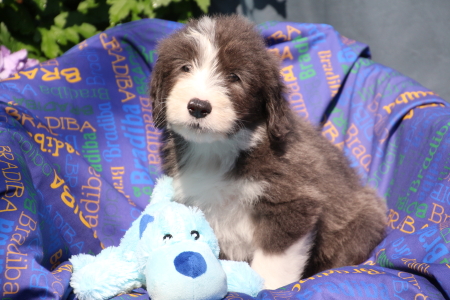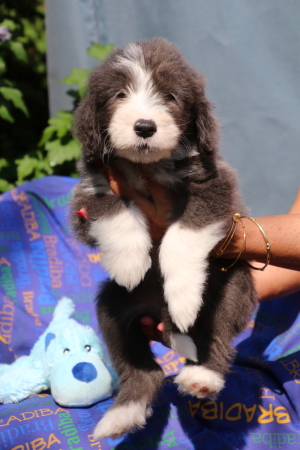 Bradiba's Amazing Bluebell
Blue
Blue ist ein ganz ein sanfter Zwerg und wird bis er seine Familie findet einfach noch etwas bei uns bleiben
Blue is a very gentle little boy and till he finds his own family will just stay a bit longer with us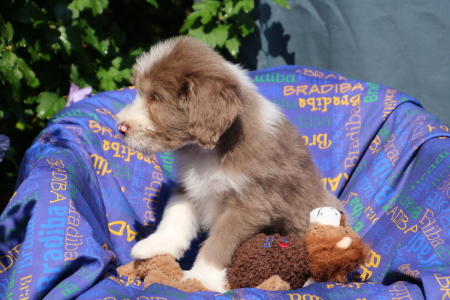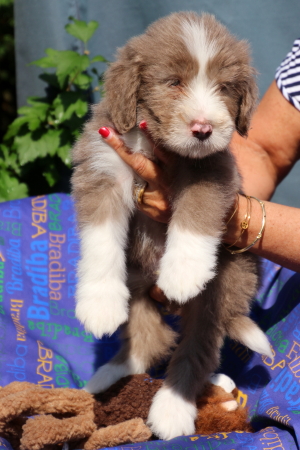 Bradiba's Amazing Cinnamon Candy
Gino/Mr. Green
Gino, das Ebenbild seines Großvaters Chocci und genau so mitteilungsbedürftig, wird in eine Familie ziehen in der ihm die 5J alte Beardiedame beim Eingewöhnen helfen wird.
Gino, the mirror of his Granddad Chocci, as talkative as Chocci, will move in with a family and their 5y old Beardie girl which will help him getting accustomed
07/09/16
7 Wochen alt
....noch 10 Tage und die ersten ziehen aus...
Neben Kinderbesuch haben sie weitere laute Gartengeräte kennen gelernt, das meiste im Spiel wenn sie im Garten sind oder auch hier im Welpenauslauf. Louie ist immer noch der Beste, er findet die Kleinen auch toll und klaut ihnen schon mal die Spielsachen :-)
We had children visiting and they got to know some more loud garden tools. Most of the time they didn't even realize they were laearning as they were enjoying playing outside. Louie still is their best buddy, he loves them as well and from time to time steals a toy from them :-)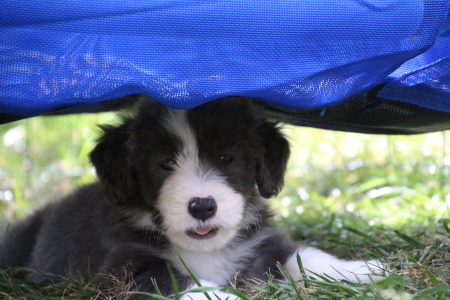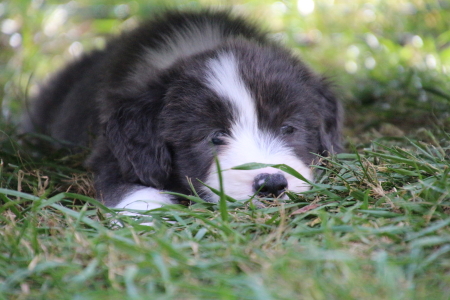 Blue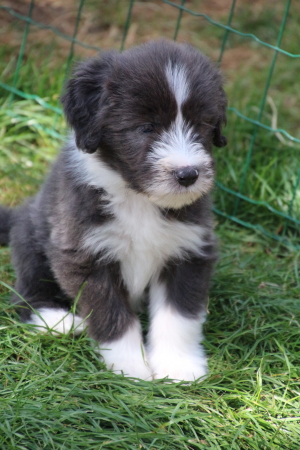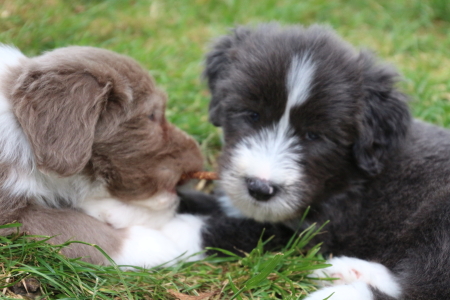 Charlie/Indigo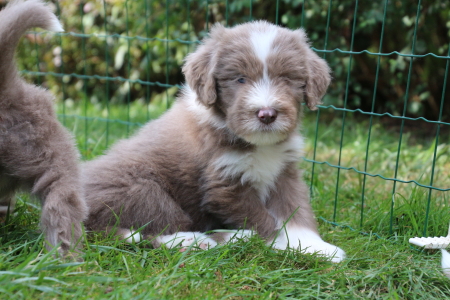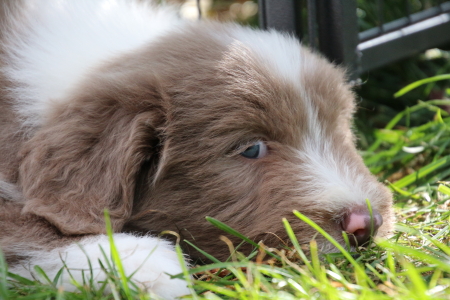 Fudge/Dot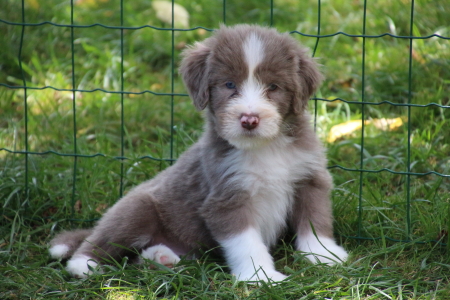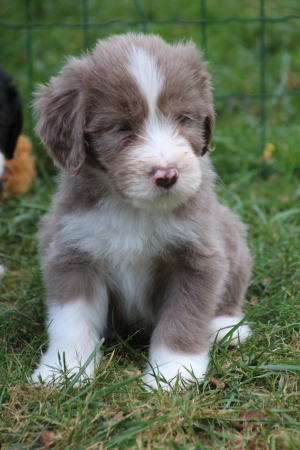 Gino/Mr. Green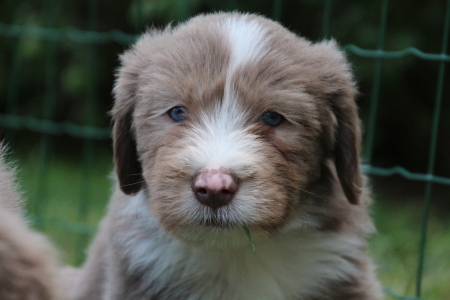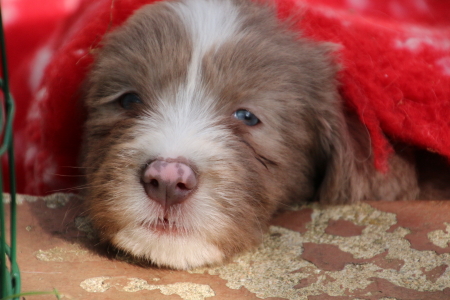 Happy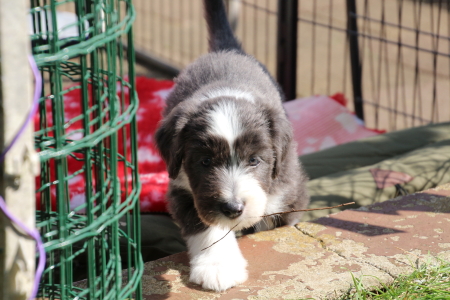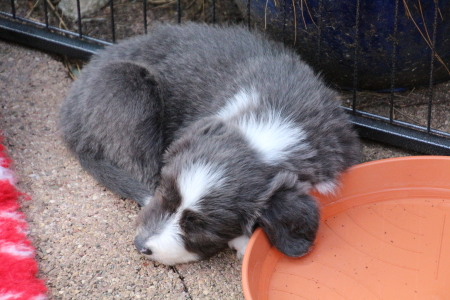 Jack/Sky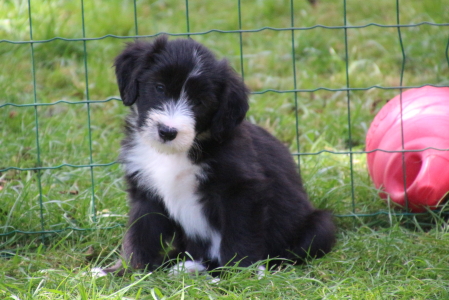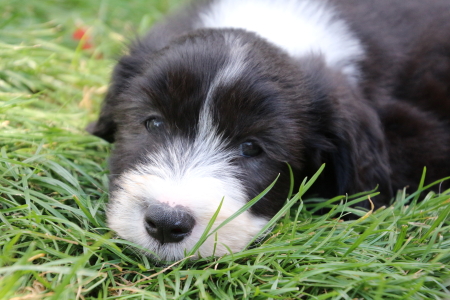 Truffles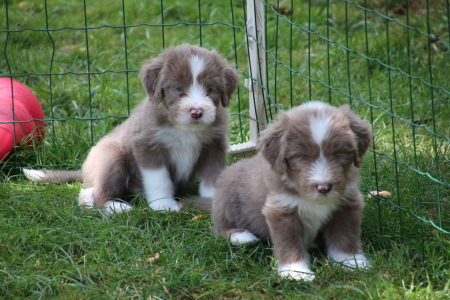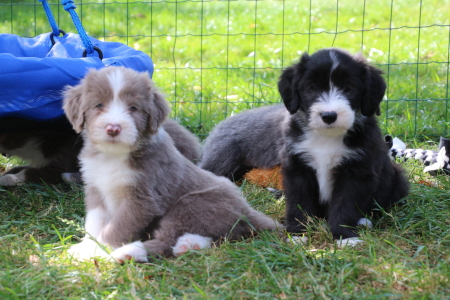 Happy, Fudge - - - Gino/Truffles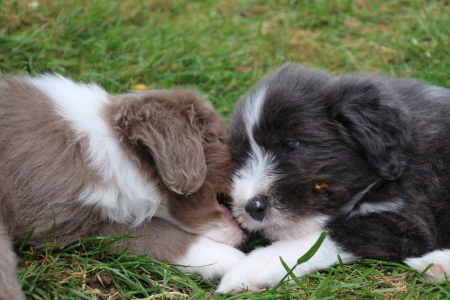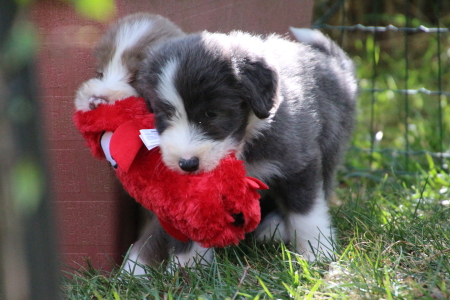 Fudge, Charlie - - - Gino, Blue