Juli - August
SIE SIND DA
HERE THEY ARE

Bradiba's Amazing....
* 20/07/2016
Ch Philemon Paparazzi x Ch Romantikstreet Chocolate's Toffee
8 Rüden, 4x blau, 3 x fawn und ein kleiner schwarzer Mann
8 boys, 4 blue, 3 fawn and one little black man
Aktuelle Fotos immer auf Flickr /New photos on our Flickr account
31/08/16
6 Wochen alt

Mittlerweile geht Toffee noch 2-3x tgl zu den Welpen, morgens und abend will sie es aber auf alle Fälle...trotz der spitzen Zähnchen....
Louie hat eine wichtige Aufgabe als babysitter und Betreuer übernommen und macht seine Sache richtig super. Auch Phil ist sehr tolerant mit seinem Nachwuch, Chocci beobachtet seine Enkel noch lieber durch den Zaun hindurch. Toffee findet es immer noch nicht sooo prickelnd wenn Muffin zuviel Interesse zeigt.
Geräusche lernen sie im Spiel kennen, sei es der Rasenmäher oder die elektrische Sense des Nachbarn zur rechten oder das laute Motorrad des Nachbarn zur linken Seite. Oberhalb unseres Gartens ist erst der Mähdrescher gefahren, heute wurde umgeackert. Die verschiedenen Dinge die ich ihnen in den Auslauf gehängt habe finden sie toll, die Dosen scheppern so schön wenn man sie anstoßt und die Rosetten haben auch ihren Einsatz als Flatterband Ersatz gefunden.
noch gut 2 Wochen, dann ziehen schon die ersten aus..... :-( wobei ich weiss, dass ihre Familien sich riesig auf diesen Termin freuen.
Right now Toffee will go in and nurse 2-3 times a day, she really wants to go in first thing in the morning and last thing at night....despite the little teeth.
Louie has a really important job as babysitter and entertainer and does a fabulous job. Phil is very tolerant with his offspring as well, Chocci comes visiting and having a look but seems to be happy there still is a fence between him and them. Toffee isn't very happy if Muffin comes too close, so we'll just wait and see.
They are getting used to different noises while playing, my neighbor to the right side was kind enough to use his lawn mower while they were out side, every moning another neighbor is kind enough to drive past in his noisy motorbike and the farmer first was harvesting and now turning over the ground in his field next to us. They love the different things I did hang up for them most of all the cans which make a lovely noise when hit with a paw. Only two more weeks and the first ones are going to leave...:-( well I do know their families are looking forward to this date.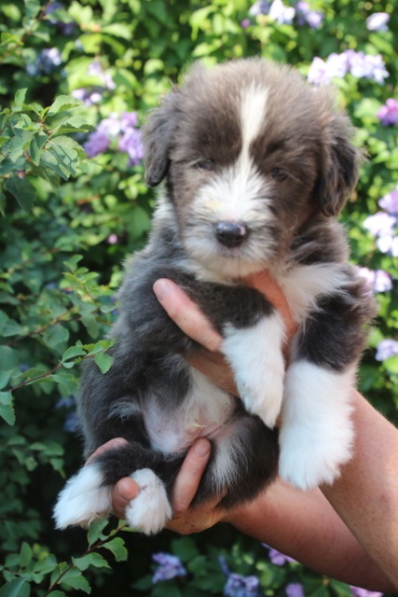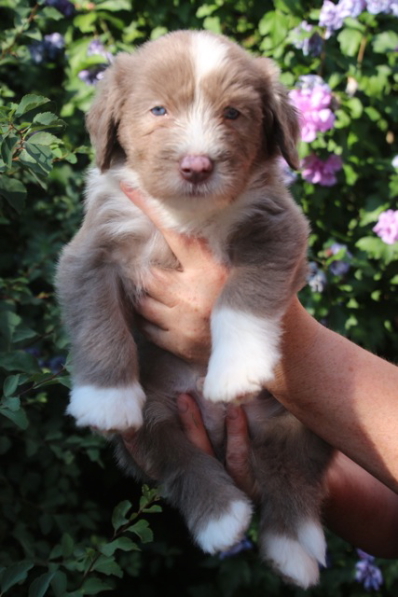 Charlie - Happy
C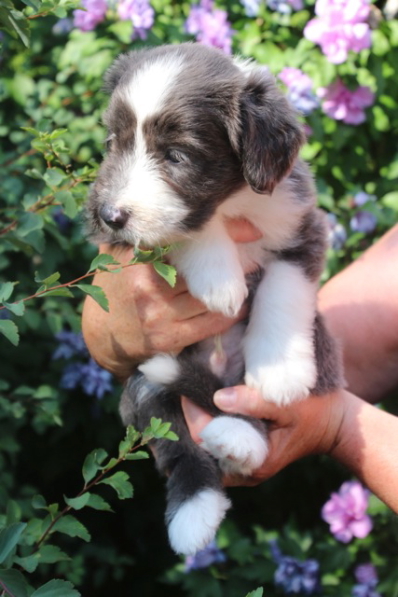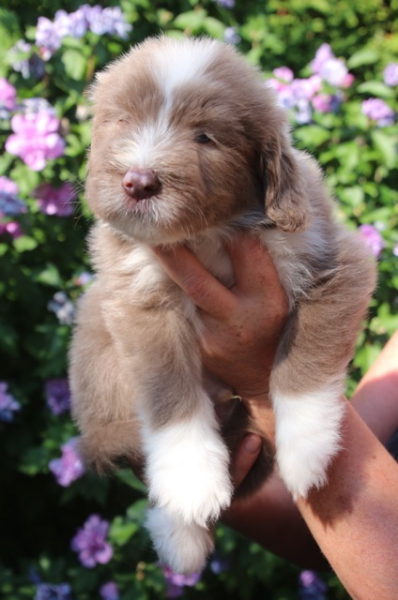 Indigo - Dot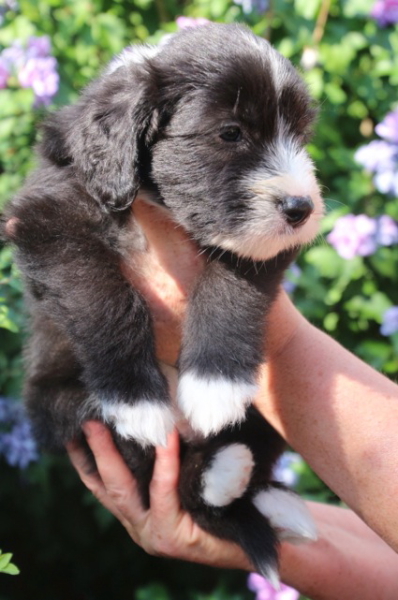 Truffles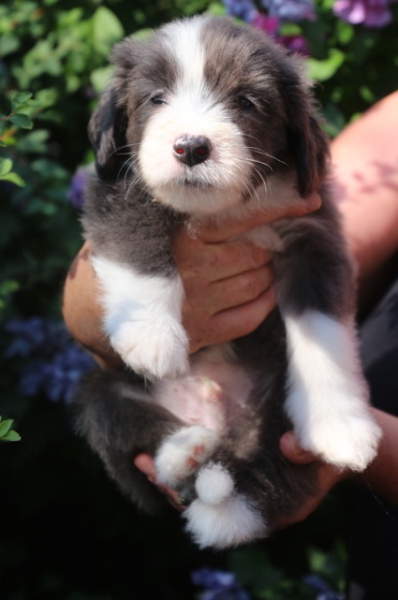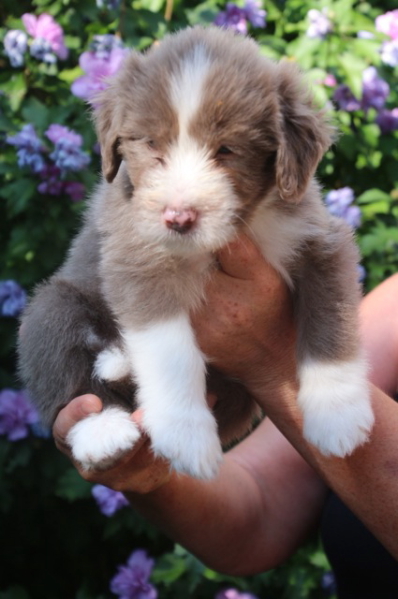 Blue - Mr. Green
28/08/16
5,5 Wochen alt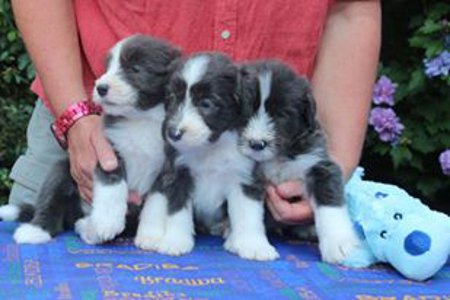 Blue, Sky, Charlie ~~~~~~~~~Truffles, Mr. Green, Happy, Dot

Wir versuchen viel nach draussen zu gehen , wobei es leider schon fast zu heiss ist und wir nur die kühleren Stunden am späten Vormittag und am frühen Abend nutzen können. Aber dann halten sie halt in der heissen Zeit Siesta im kühlen Haus
It's summer again and really, really hot. We manage to go outside in the cool late morning hours, then a little siesta in the cool interior and another playtime in the garden late afternoon.
13/08/16
"Casper", Ch Zotti-Floppy Topolino
18/06/04 - 13/08/16
und plötzlich leuchtet ein Stern mehr am Himmel
still und leise, mit einem letzten Schwanzwedler hat er sich auf seinen letzten Weg gemacht...
and suddenly there is one more star in the sky
quietely one last time wagging his tail, he went on his last way....
run free, Casperle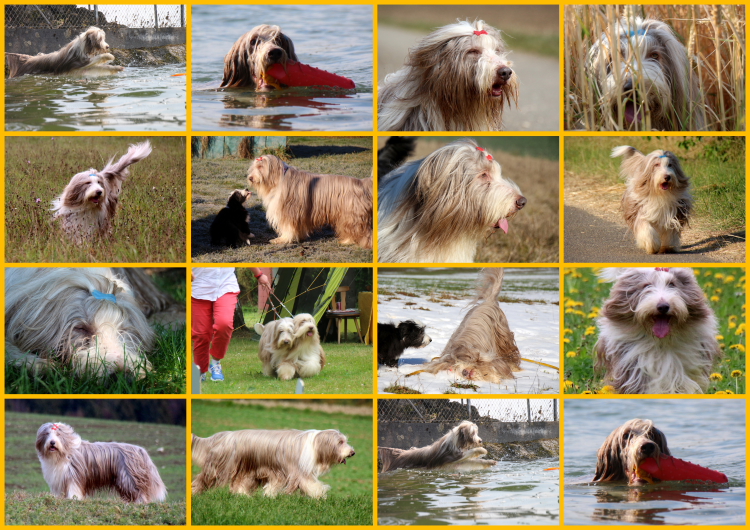 11/08/16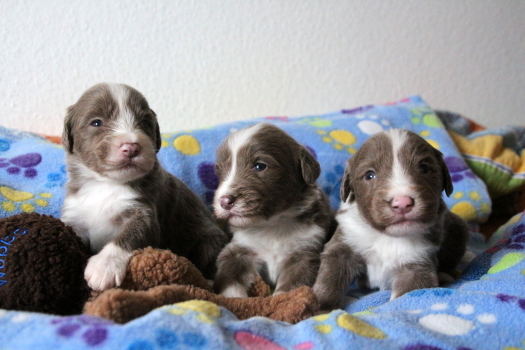 die drei Fawnies: Mr. Green, Happy und Dot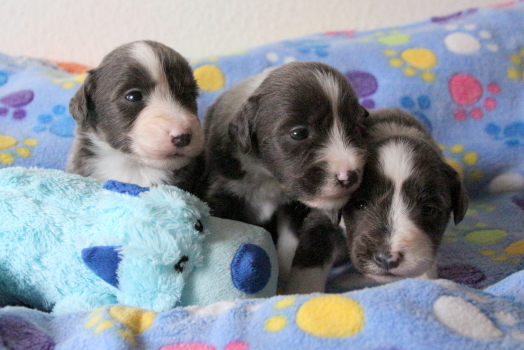 die drei Blauen: Blue, Indigo, Sky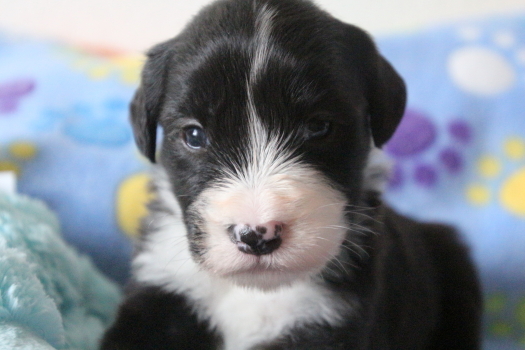 und unser schwarzer Rüde: Truffles

In der letzten Woche war der Zuchtwart da, sie war sehr zufrieden mit der Entwickluung. Mittlerweile haben alle das 3 fache ihres Geburtsgewichts erreicht, Dot war der erste der sein Geburtsgewicht sogar vervierfacht hat, dicht gefolgt von Truffles. Beide haben die 1 kg Marke gesprengt, aber die anderen Brüder sind ebenfalls knapp dran und werden es die kommenden Tage auch schaffen.
Seit Dienstag nun gibt es einmal am Tag eine kleine Mahlzeit nebenbei, sie benehmen sich sogar ganz manierlich...wenn sie dann mal an der Reihe sind, davor ist das Geschrei groß, jeder will der Erste sein.
Dot und Happy haben als erste den Rand der Wurfkiste überwunden, demnächst geht es ab mitten ins wahre Leben. Wenn es Wettertechnisch passt steht auch der erste Ausflug ins freie auf dem Plan, gerichtet sind wir
During the last week the breed warden payed a visit and was really happy with the puppies. By now they at least did triple their birth weight, the first even have noch 4x their birth weight, Dot and Truffles crossed the 1 kg (2,2lb) mark, closely followed by their brothers who will do so during the next few days.
Tuesday we started feeding a little amount of food besides Toffee's milk and you won't believe it, but they do behave rather nicely...well at least once it's their turn. but until then it's a lot of noise, as patience is not theirs.
Dot and Happy were the first to climb the whelping box so we'll be moving downstairs right into real life. Weather allows we might even spend some time outside
03/08/16
2 Wochen alt - 2 wks old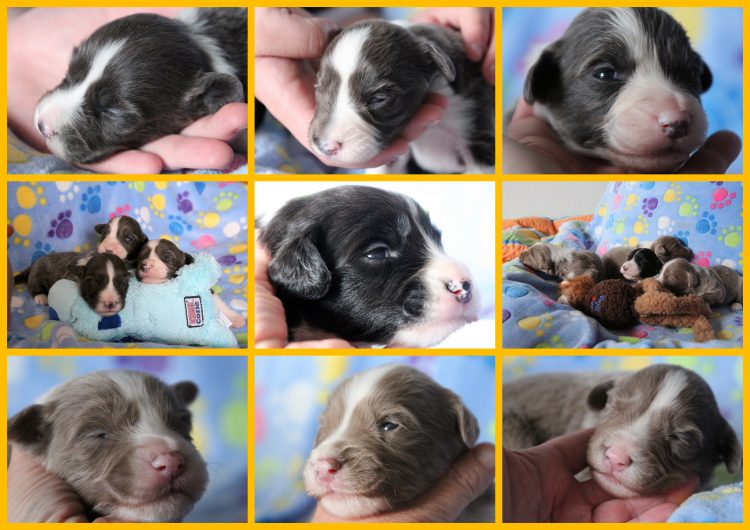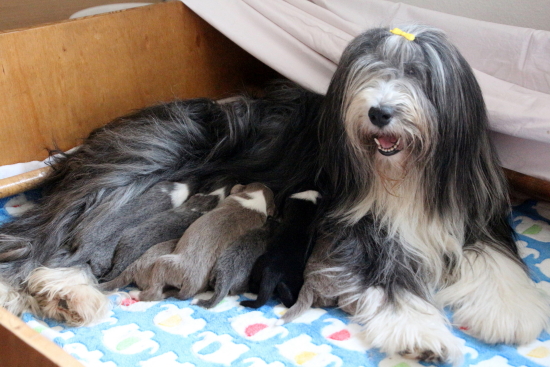 Stolze Toffee und ihre "kleinen Raupen Nimmersatt" :-)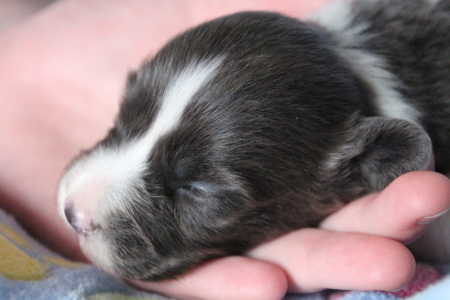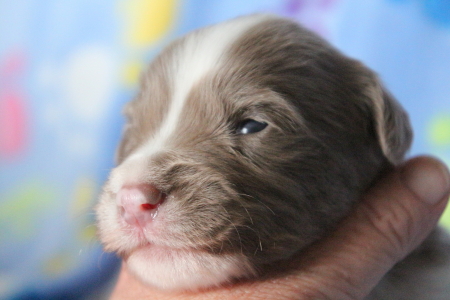 Indigo - Dot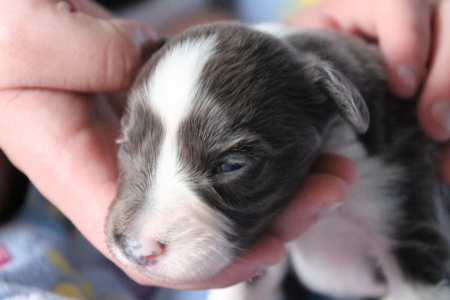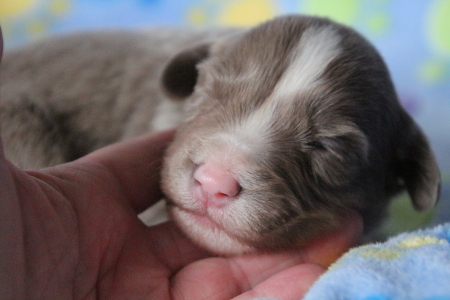 Sky - Happy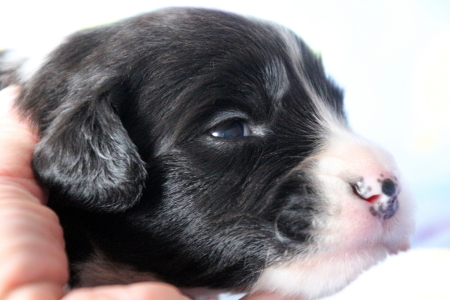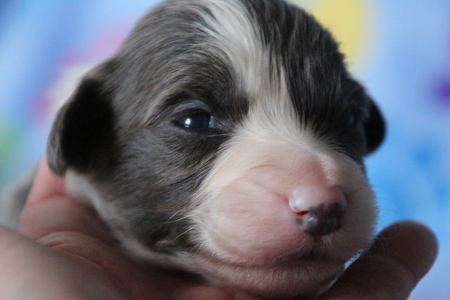 Truffles - Blue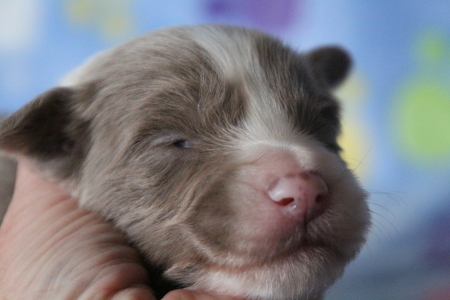 Mr. Green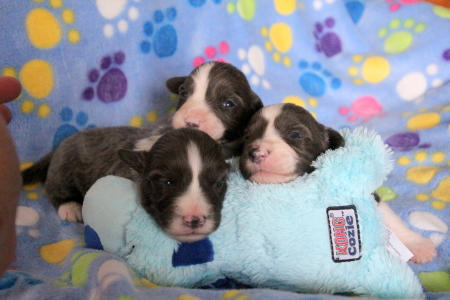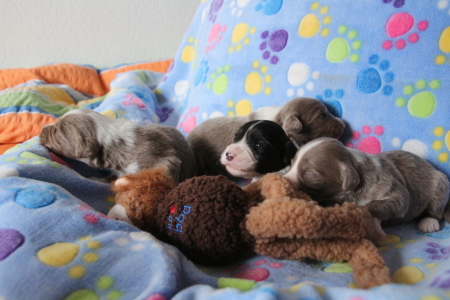 Indigo-Blue-Sky ---Dot-Truffles-Happy-Mr. Green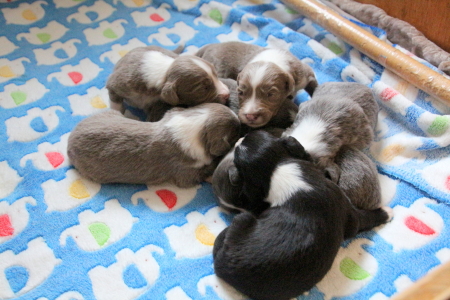 2 Wochen alt
27/07/16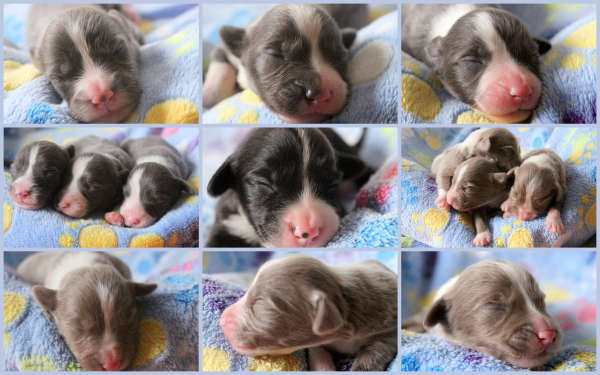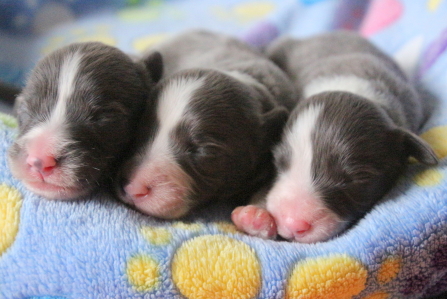 3 Blaue Rüden / 3 blue boys --- 3 Fawn Rüden / 3 fawn boys
Rufnamen:
Indigo, Sky, Blue --- Dot, Happy, Mr. Green
Bluebell; blueberry Pie; Blueprint ----- Choco Fudge; Cinnamon Candy; Cream Tea
Wer wie heissen wird ist noch offen/Who will be who not yet decided ;-)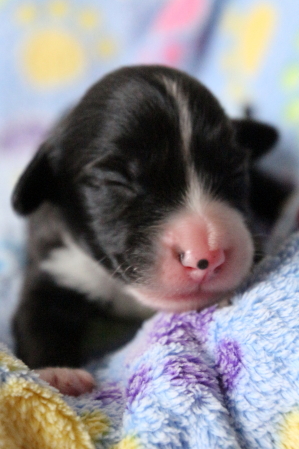 Schwarzer Rüde / black boy
Assorted Truffles
Rufname: Truffles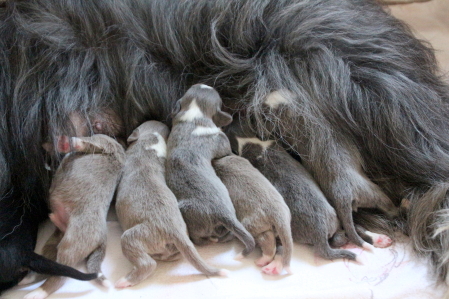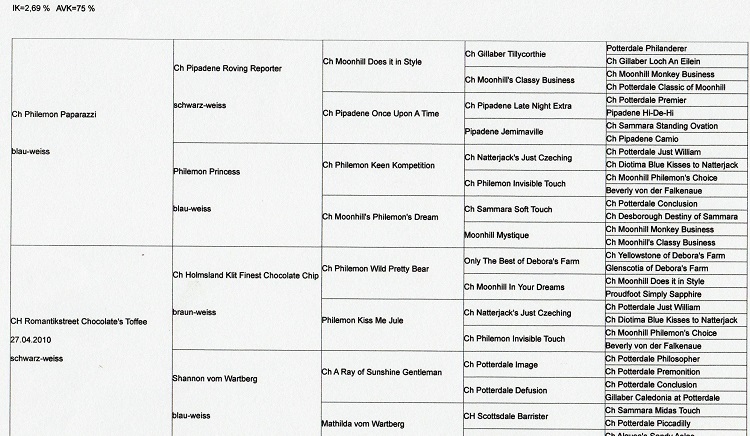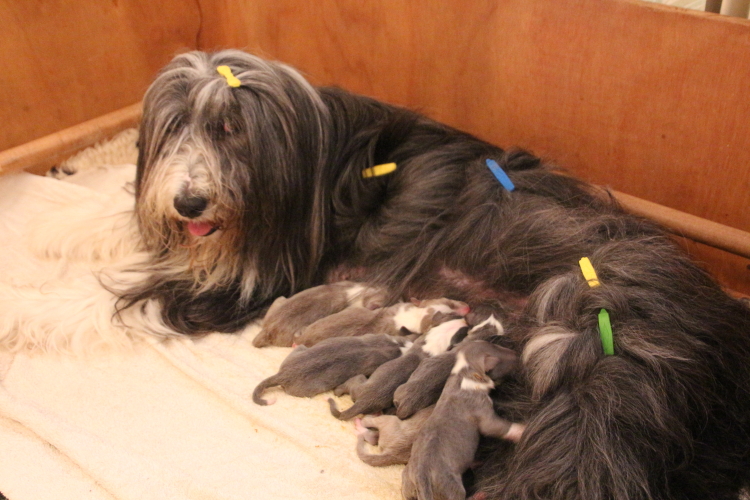 Toffee hat alles super gemacht, Danke Steffi dass Du da warst!
Toffee did a lovely job, Thank you Steffi for being with us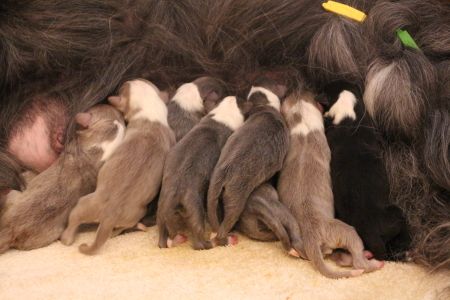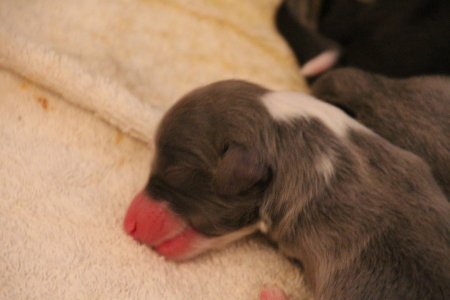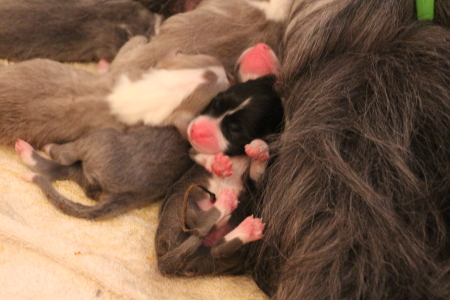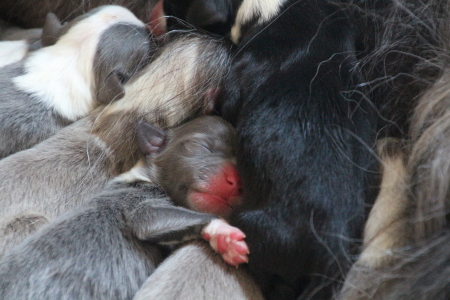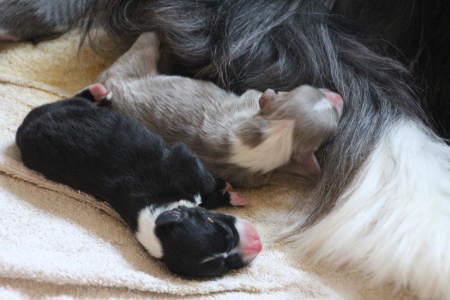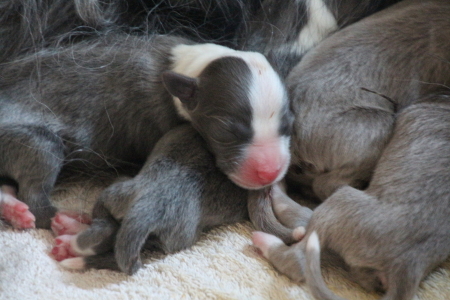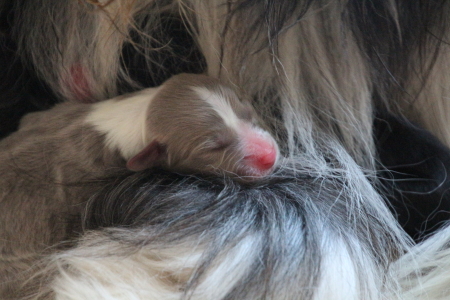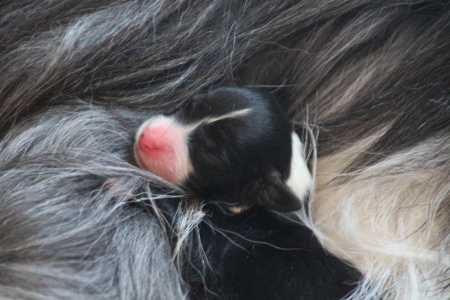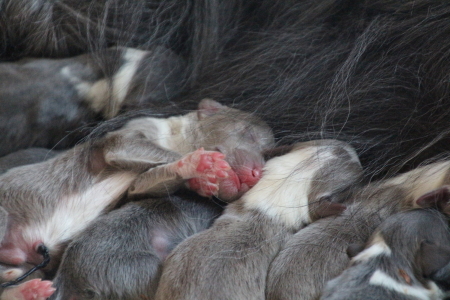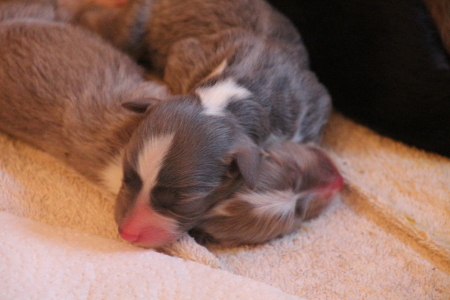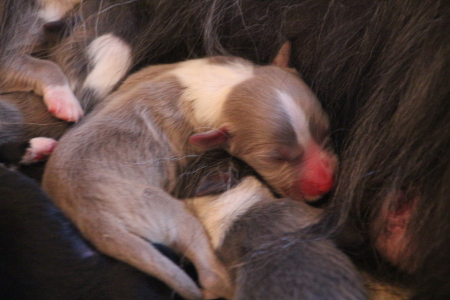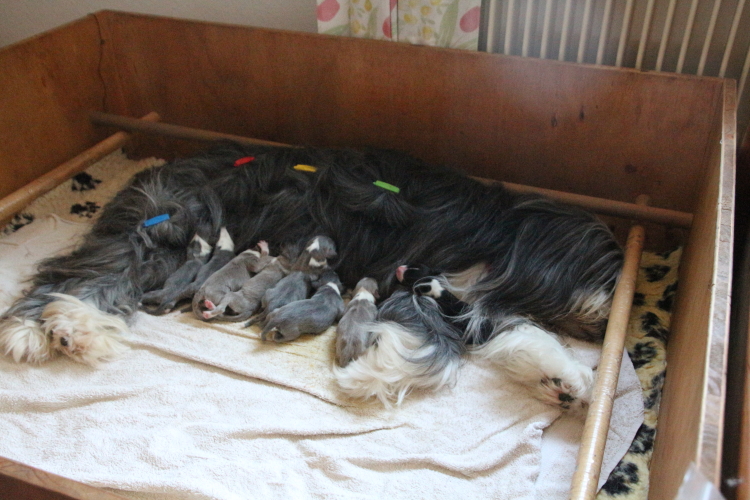 kleine, zufriedene Familie
content, happy little family