Juli - August
Dieses Jahr scheint es ein sehr warmer Sommer zu werden.....nein, sogar ein richtig heisser. Wir haben etliche Ausflüge an den Bodensee unternommen, leider traut sich Baghira seit er mit im Mai dem Vestibulär Syndrom zu kämpfen hatte, nicht mehr in den See. Hin und wieder helfe ich ihm, manchmal mache ich ihn nur so nass. Aber wir hatten immer alle zusammen einen tolle Zeit am See.
This year it looks like a really nice, warm summer.....well it's not only a warm, it's a really hot summer. We did some lovely trips to Lake Constance, sadly since Baghira had to battle Vestibular Syndrome, he isn't very happy gping in the water anymore. So sometimes I help him, sometimes I just give him a shower. But we really did enjoy our trips to Lake Constance and as it looks there might be some more to come.
29/07/15 - 04/08/15
Ich habe eine Pause gebraucht, etwas für Herz und Seele. Daher habe ich mich etwas verrückt, dazu entschlossen einen Ausflug gen Norden zu unternehmen. Es stellte sich nur eine Frage: Kann Baghira mit, sonst bleiben wir daheim. Und er konnte mit und hat diese Reise in volen Zügen genossen. Wir hatten Glück, es war lang nicht so warm wie hier, nachts teilweise knapp 8°C. Baghira war in seinem Element, Kinder ohne Ende auf den Camping Plätzen und alle wollten ihn streicheln. Da wir nun schon mal gen GB unterwegs waren, sind wir auch auf eine Ausstellung gegangen. Mir wurde Midshires als vielleicht die schönste Ausstellung beschrieben und ich muss sagen, wir hatten viel Spass. Baghira erneut in seinem Element, kennt er doch alle und jeden ;-) . Wie immer haben wir in Oye Plage Halt gemacht und es war genial, einer der schönsten Plätze um mit Hunden Halt zu machen (wenn man und die Beardies Wasser udn Sand mögen ;-) ).
I needed a break, something for my heart and soul. So I decided to be a bit crazy and head of towards the North. There was only one question can Baghira come along or should I stay home. And he was able to come along and had a blast!! We were lucky weather wise, it was much cooler than home, about 8°C/46F during the night. Baghira really enjoyed the trip all those lovely children at the camp grounds. He just adores children and they all wanted to cuddle hi. As we were traveling to Britain why not visit a show while there. Midshires I was told to be one of the loveliest shows and I have to agree. Again something just like Baghira's taste as he thinks he knows everybody and has to greet them. As always we had a nice stop at Oye Plage, one of the most beautiful places to stay with dogs (when you and the Beardies love water and sand ;- ).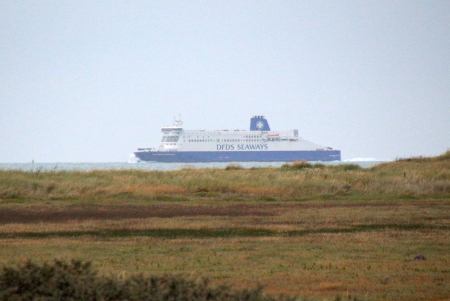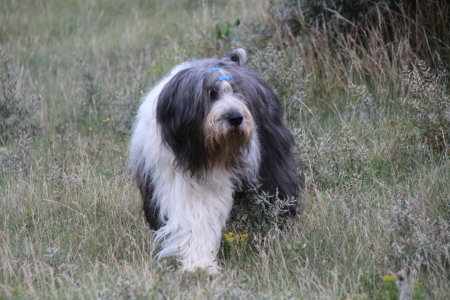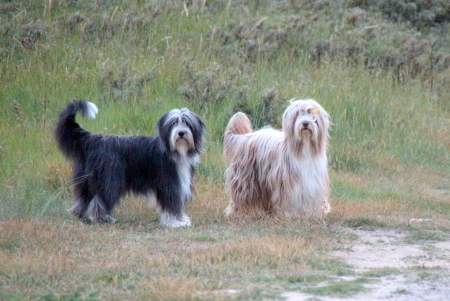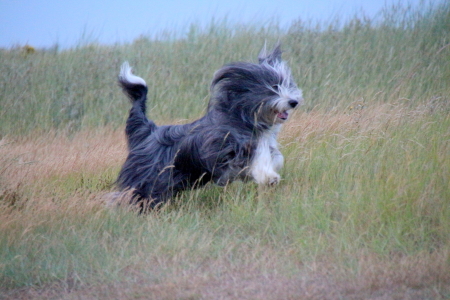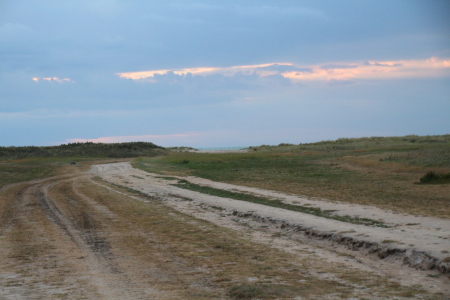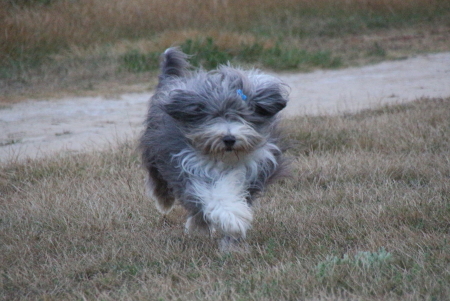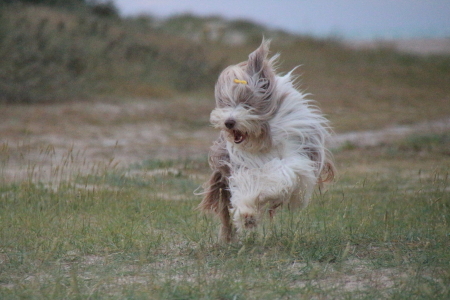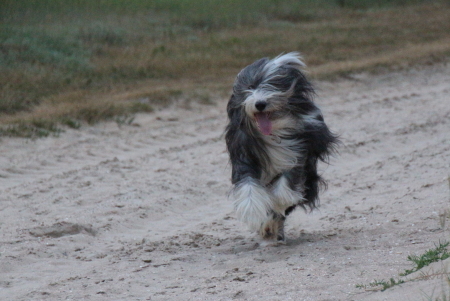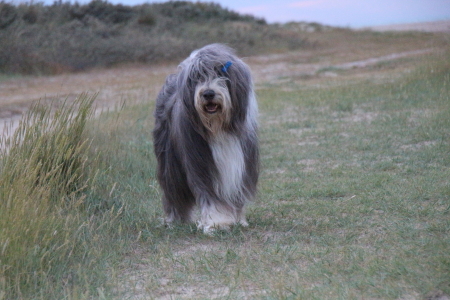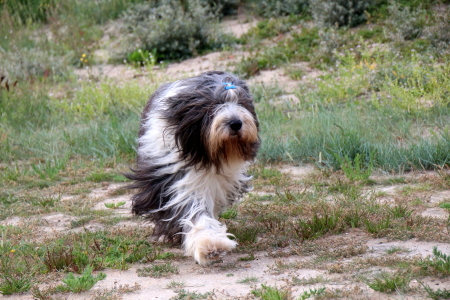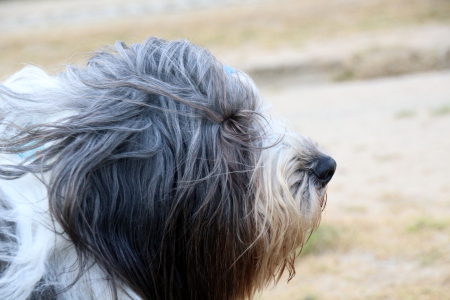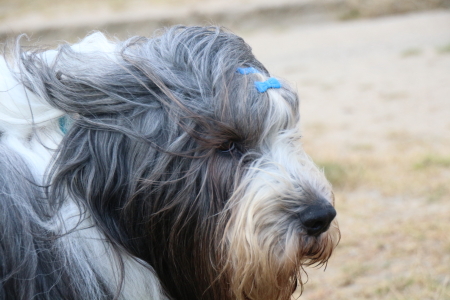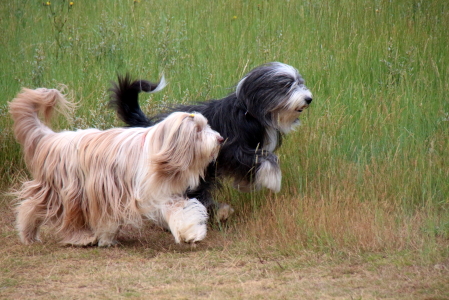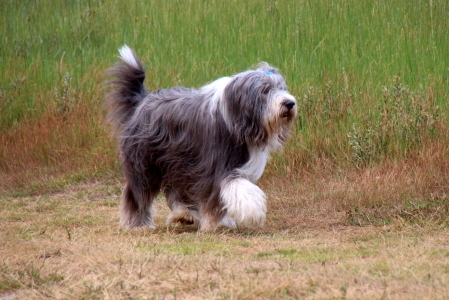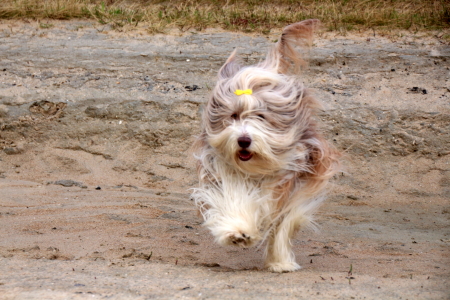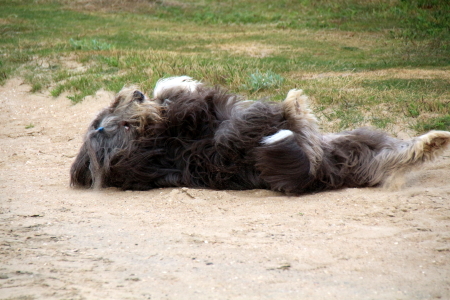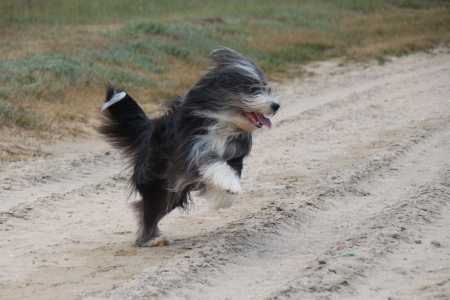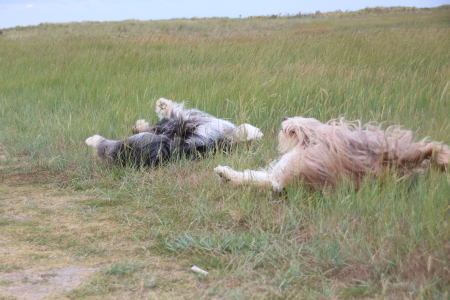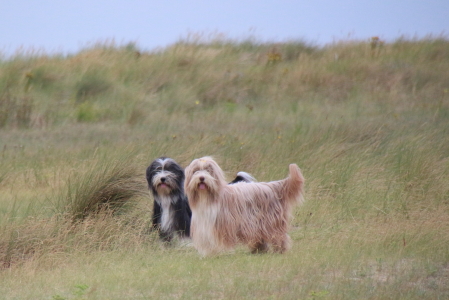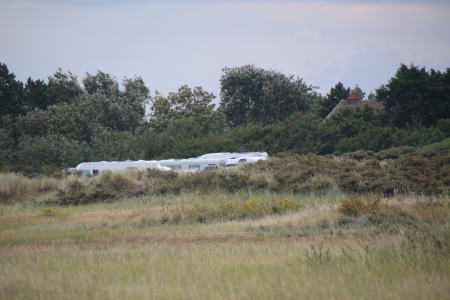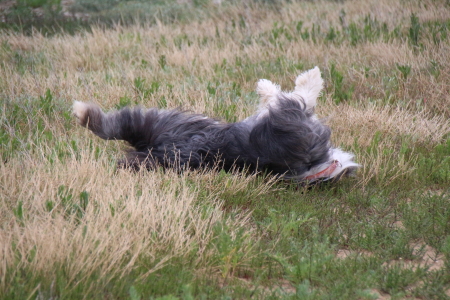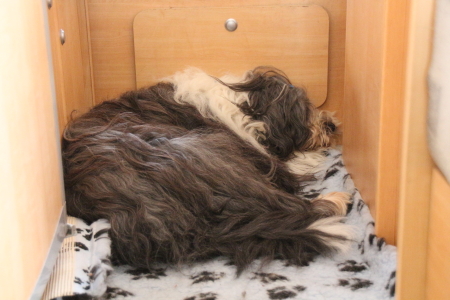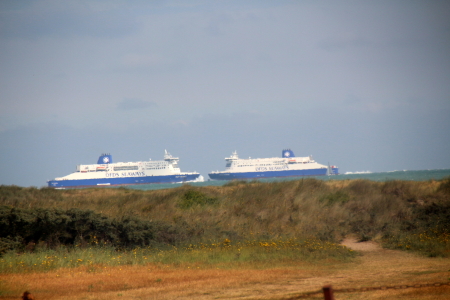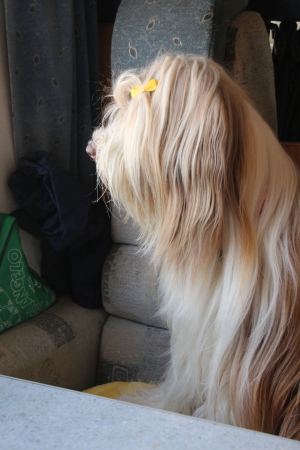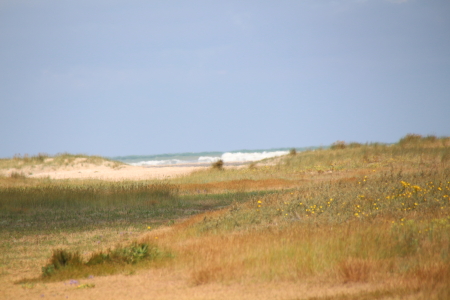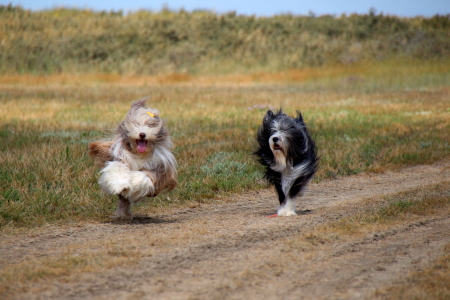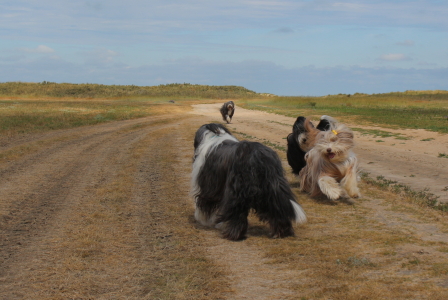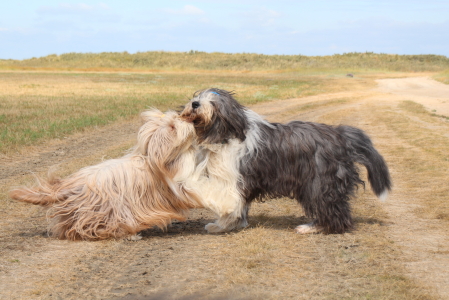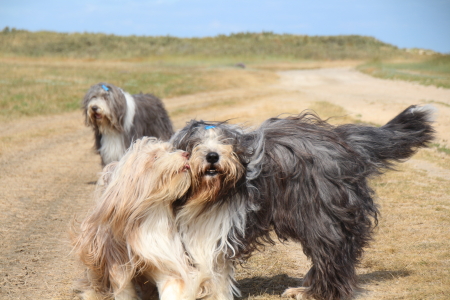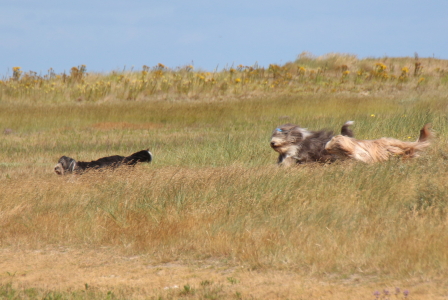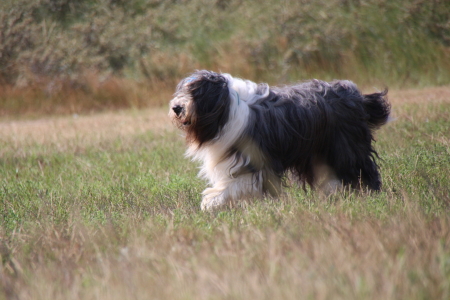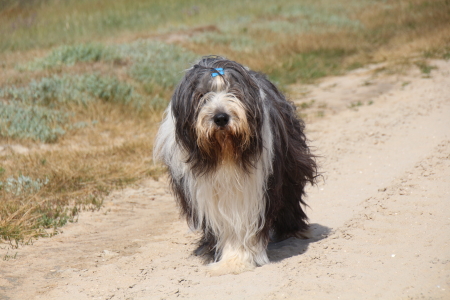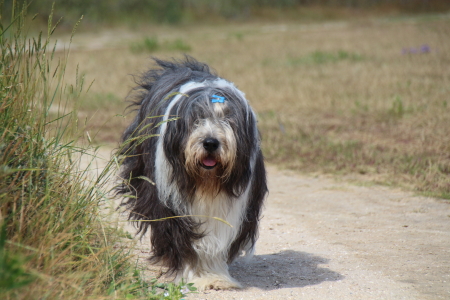 Von Dover ging und es ging vorbei ein Stonehenge nach Frome, wo wir auf einem kleinen "Adult-only" Campingplatz übernachtet haben, weiter nach Worcester. Ich liebe mein Navi, dass micgh gerne schmale Strassen entlang schickt, aber dieses Mal war nicht ich es, die den Verkeht aufgehalten hat. Es war ein riesen Wohnwagen vor einer einspurigen Brücke. Das Wetter hat weiterhin mitgespielt, angenehme Temperaturen, trocken. In Worcester hatten wir einen herrlichen, deutlich größeren Campingplatz mit vielen Kindern und Hunden am Kanal. Toffee findet jedes Wasser, aber ich habe es geschafft, sie vom schwimmen abzuhalten ;-)
From Dover passing Stonehenge we drove to Frome where we stayed at an "Adult-only" Campground and onwards to Worcester. I love my sat nav taking me tiny roads, but this time it wasn't me holding up traffic, it was a bog camper waiting at a single track bridge. Weather wise I can't complain, lovely not too hot summer weather, dry ground and nice low temperatures during the night. In Worcester we were at a larger campground next to the Canal were walking was fun...Toffee has a good nose when it comes to finding water, but I managed to keep her out of it ;-).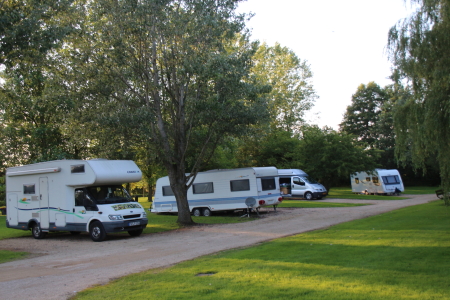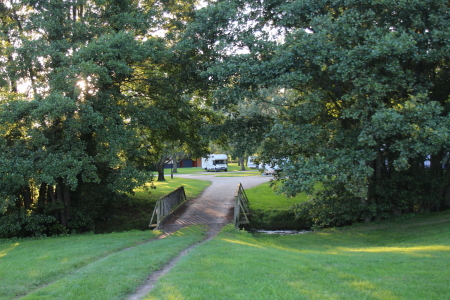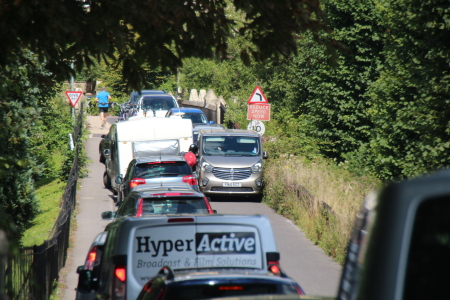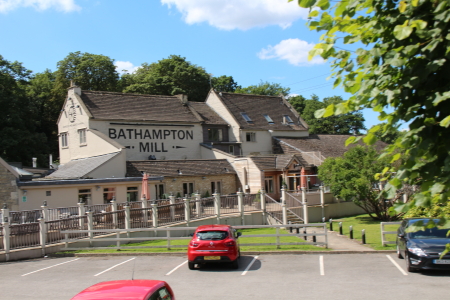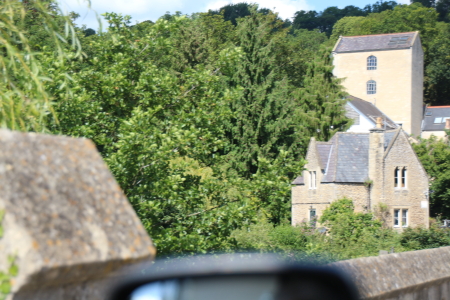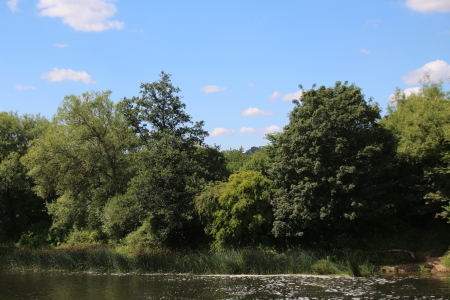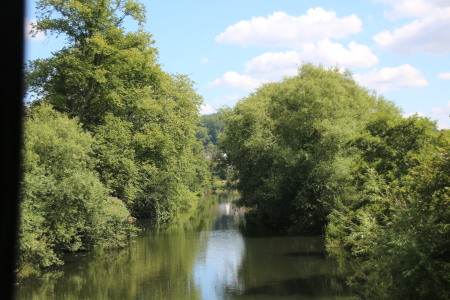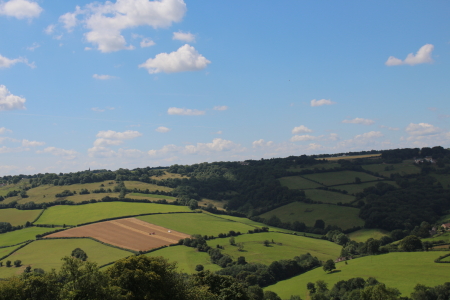 Und dann war es soweit, Midshires Ausstellung! Schon beeindruckend für uns hier, zu einer Ausstellung zu gehen, auf der nur Beardies gezeigt werden und dann noch in dieser Anzahl. Es waren 99 Rüden und 120 Hündinnen gemeldet, zusammen 236 Starter.
Phil war als Erster in der Veteranen und später in der Special Open Dog gemeldet....ich fürchte ich muss akzeptieren, dass er einfach nicht für die Veteranenklasse geeignet ist! Er hüpft und lacht und versucht die Leine zu fangen....nun ja in der Special Open Dog hat er sich beim Laufen mit Marian Appleby deutlich besser benommen, dafür fand er das Stehen eher überflüssig. Er ist ein freches MONSTER, mein Herr Philemon ;-) er wurde VHC platziert
And then it was time for Midshires. It's very impressive for us, to come to a show where there are only Beardies shown and you have 99 dogs and 120 bitches entered, making 236 entries.
Phil was first entered in Special Veteran and later in Special Open Dog......well I guess I have to accept he is not ready to be shown in Veteran Class. He is jumping around, trying to catch the leash, having a great time....well at least later in Special Open Dog with Marian Appleby did he behave on the move but didn't believe he needed to stand. I just love my bigblue monster, my Mr. Philemon :-) He came VHC :-)
Baghira war als nächster dran in Special Vintage, einer Klasse ab 11 Jahren. Er war an diesem Tag mit über 1 jahr Abstand der älteste gezeigte Hund der Ausstellung. Vielen Dank an dieser Stelle nochmals an David Hyde, der ihm den "letzten Schliff" gegeben hat, bevor er in den Ring kam. Baghira hatte Spass. Die ganze Zeit mich im Auge behaltend und wedelnd hat er sich in aller Ruhe im langsamen Trab durch den Ring bewegt. Immer noch mit einem schönen geraden Rücken und seinem ihm so eigenden federnden, leichten Gang, den man bei >30kg Hund so selten sieht. Baghria wurde Zweiter!
Es wurde gefragt, warum man einen Hund mit über 14 Jahren und gewissen gesundheitl. Problemen ausstellen muss. Es war keien Frage von '"müssen"! Wäre er nicht so gut drauf gewesen, hätte er den Tag im Zelt verschlafen dürfen.
Ich bin der Ansicht, die Gesundheit einer Rasse spiegelt sich auch in der Langlebigkeit wieder. Was gibt es Schöneres, als einen alten Hund noch im vollen Haarkleid stehend zu zeigen. Junge Hunde mit dem rassetypischen Gangwerk und gerade Rücken gibt es viele, aber bei den Alten sieht man dies leider kaum noch, werden sie doch auch kaum mehr gezeigt!!! Meist erscheinen sie wenn sie gerade mal das Alter für die Veteranenklasse erreicht haben, machen ihre 3 erforderlichen Anwartschaften und dann waren sie nie wieder gesehen.
DAS ist eine Vergeudung!!! Andere Rassen würden sich die Finger nach so vitalen, schönen Hunden ablecken wie wir sie in unserer Rasse noch finden können!
Baghira was next, entered in Special vintage. With >14y he was with more than 1y difference to the next, the oldest dog shown on this day. Once again thank you very much to David Hyde for giving him the final touch before entering the ring. Baghria enjoyed his time in the ring. Keeping close eye contact with me and wagging his tail the whole time, he did his round in a leisurely trot, showing off his still straight topline and his lovely movement, which one wouldn't expect on a dog his size. He came second!
I was asked why one had to show an old dog like him with health issues. Well there never was the question of "having to be shown". Had he not been in such a good condition, he would have spend the day relaxing in our tent.
In my opinion the health and soundness of our breed is shown by it's old dogs. Is there something more lovely than watching an old dog in full coat? Young dogs with a straight topline and lovely typical movement can be seen rather often, but rarely in our Oldies. Some are just shown to gain their title when they just made the age limit for Veteran class, then they are clipped and will never be seen again.
This is such a waste!! In other breeds they would be more than happy to be able to see and show Oldies in a condition like ours!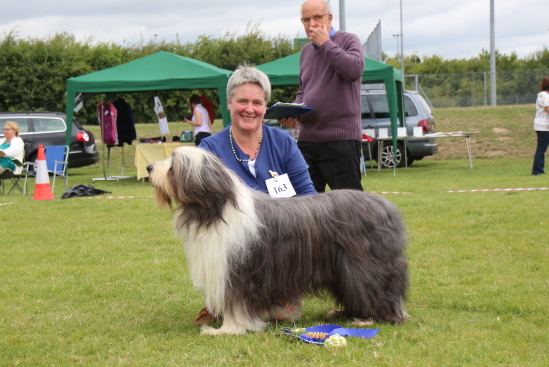 Und dann waren da noch die beiden Damen, Muffin und Toffee. Da ich ja nicht beide gleichzeitig ausstellen konnte, hat sich dankendswerter Weise Mike Hearsum bereit erklärt sie auszustellen. Beide (und Mike ;-) ) haben es toll gemacht!!
Muffin war nach den unguten Zwischenfällen im Ring wieder ganz "die Alte", fröhlich getragene Rute und immer Zeit findend in der Gegend herum zu schauen. Sie kam in der Open Bitch unter die letzten 8 und wurde später in der Special Open Bitch 4. oder Res.
Toffee hatte Spass. So kann man ihren Auftritt zusammen fassen :-). Vielleicht sollte sie sich die Zeit nehmen und sich irgendwann einmal ein dem Alter entsprechendes Fell wachsen lassen. Wie Baghira wedelt sie die ganze Zeit beim Laufen und im Stand mit der Rute und hat einfach nur gute Laune. Mir hat es Spass gemacht zu sehen, wie sie sich zeigt, vor allem da sie Mike ja nicht wirklich kannte, was auf ihre Freude jedoch keinen Einfluss hatte.
And then there were still Muffin and Toffee to go. As I had no chance to show both on my own, Mike Hearsum agreed to show Toffee. Both girls (and Mike ;-) ) did a lovely job!.
After the bad experience she had in the ring last year, Muffin was her old self again!!Cheeky, happy Miss Muffin showing her joy by flying her flag, moving lovely and as alwasy finding the time to have a good look around while moving. She made the cut in Open Bitch and later in Special Open Bitch was Res.
Toffee had fun, that's the summery of her appearance in the ring. Maybe she should finally decide to take some time to grow a coat fitting her age ;-). Like Baghria moving and standing her tail was wagging, showing off her good mood. I really enjoyed for once being able to watch her and see how well she did, most of all as she didn't really know Mike. they were a great team!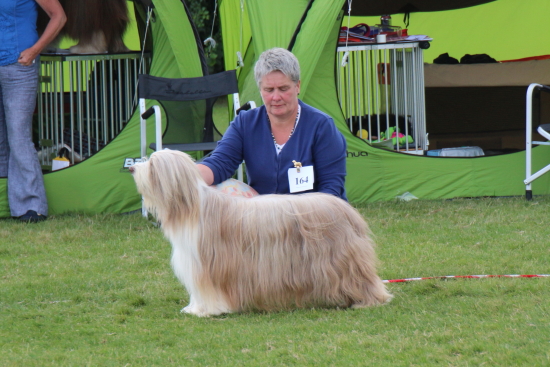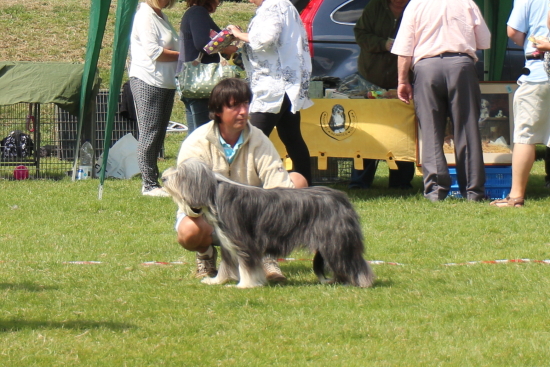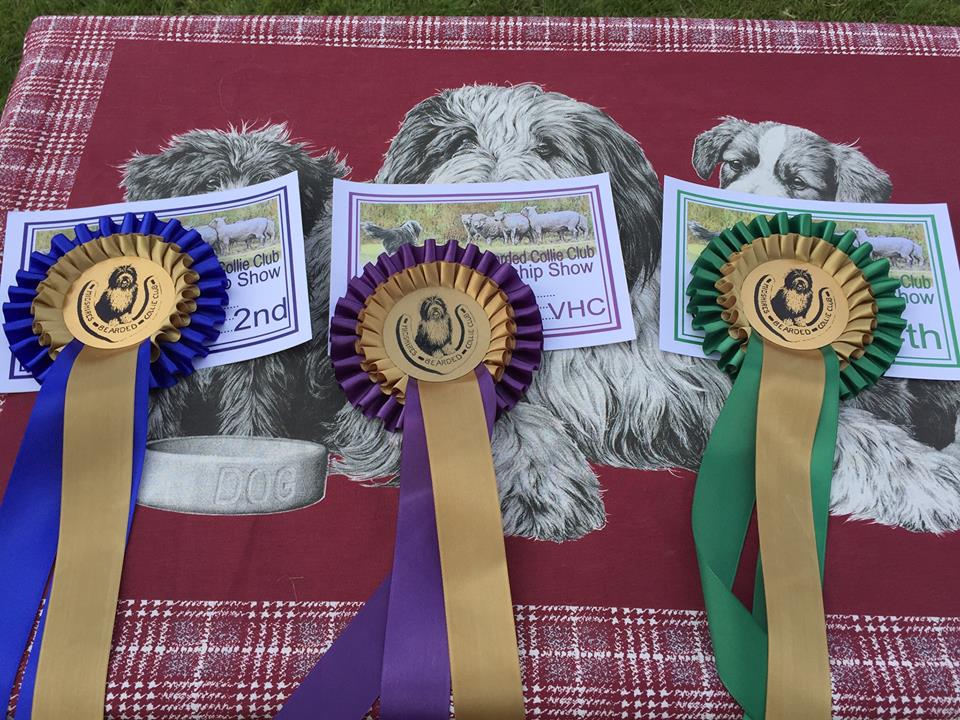 Nicht zu vergessen natürlich Mr Duffy, Liberty's Tast of Duffy's und Yvie Caldermist Heaven sent. Beide wurde in ihren jeweiligen Postgraduate Klassen 3.
Not to forget "Mr Duffy" Liberty's Tast of Duffy's and "Yvie" Caldermist Heaven sentand Yvie. Both came 3rd in their respective Postgraduate Classes.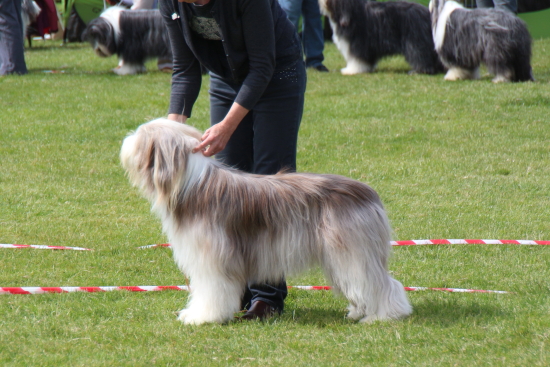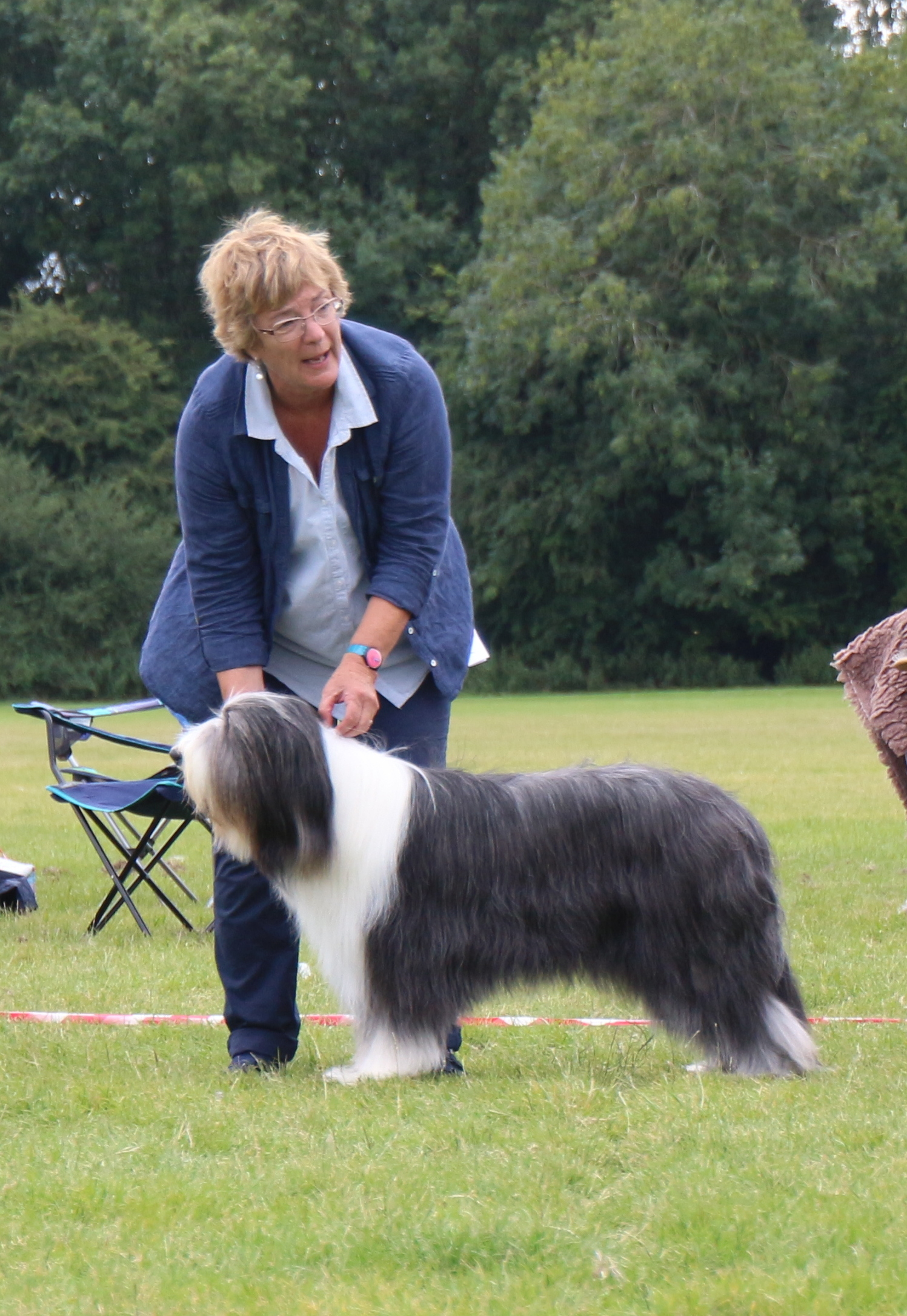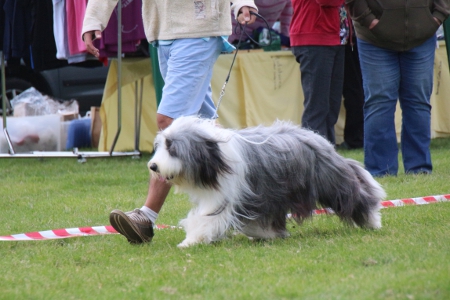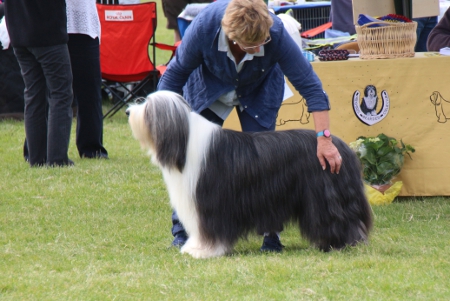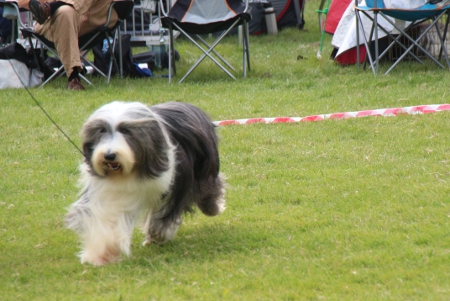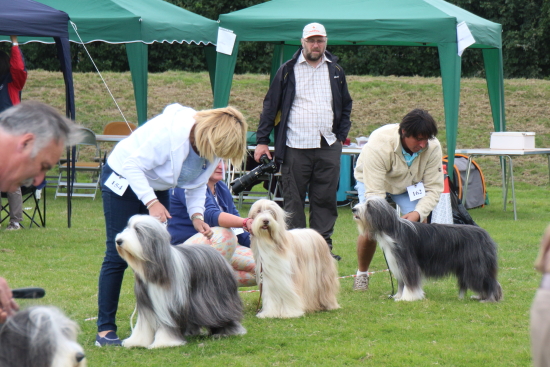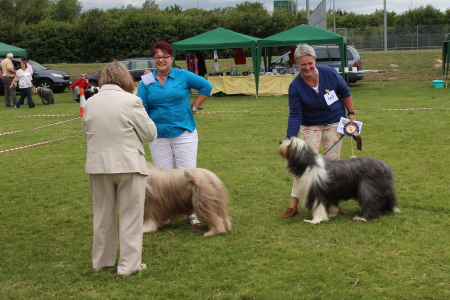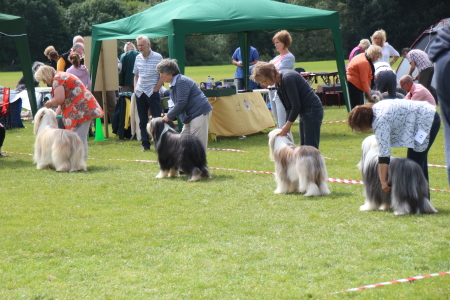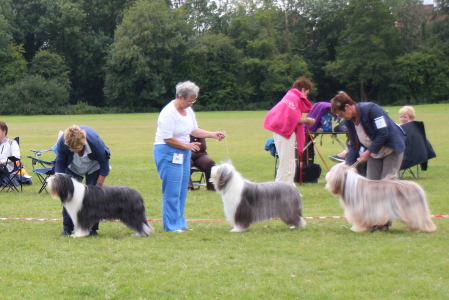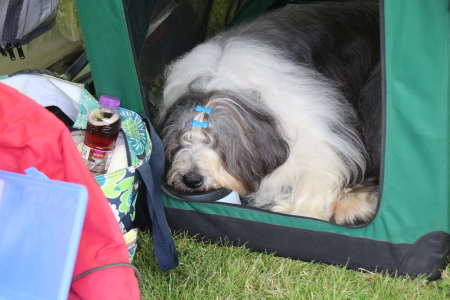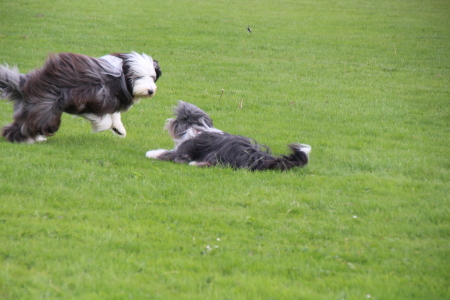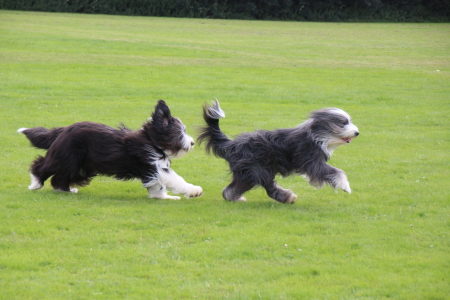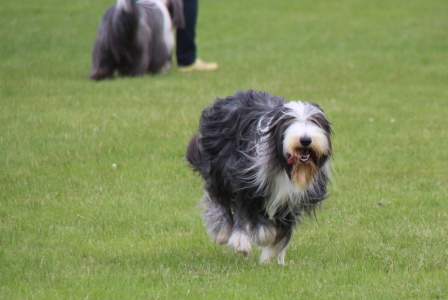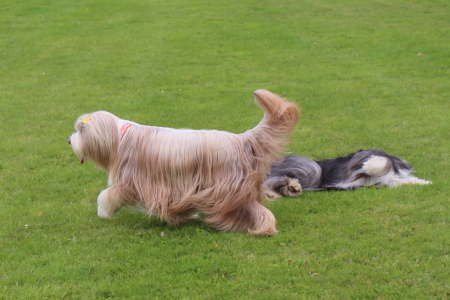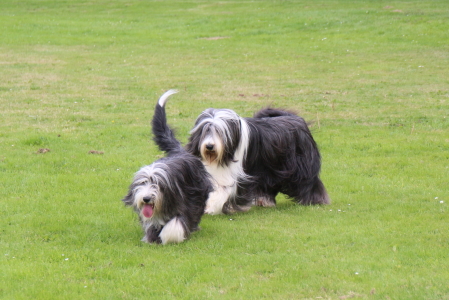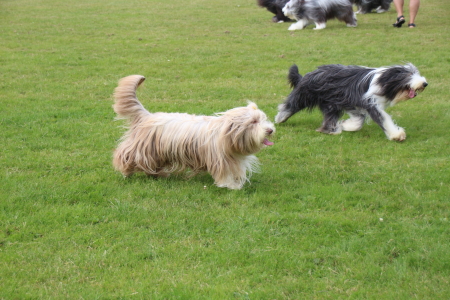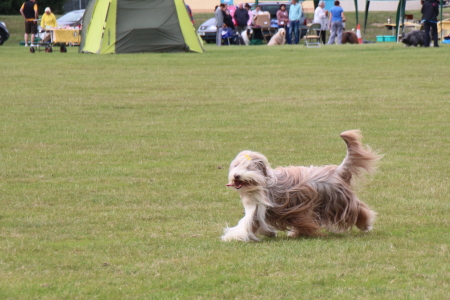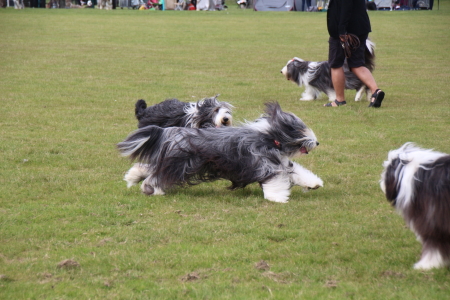 Am Sonntag nahmen sich Marian und Steve Zeit, so dass wir uns treffen konnten. So ergab sich die Gelegenheit nochmals Fotos mit Granny Beanie zu machen und auch nach 4 Jahren ihren Bruder Charlie Brown einmal wieder zu sehen. Es war ein wirklich genialer Sonntag wofür ich Marian und Steve unendlich dankbar bin. Ich habe die gemeinsame Zeit sehr genossen!!
Sunday Marian and Steve invited me to come and spend some time with them. This gave me the opportunity to once again take some photos of Granny Beanie and to see Muffin's brother Charlie Brown after more than 4 years. It was a lovely spend Sunday and I am really grateful Marian and Steve made this visit possible. I really enjoyed the time we spend together!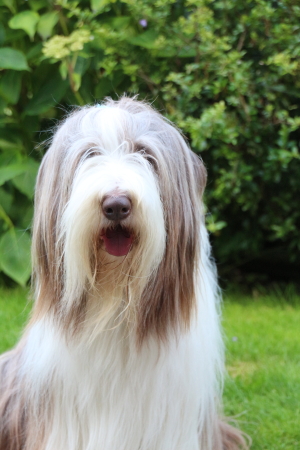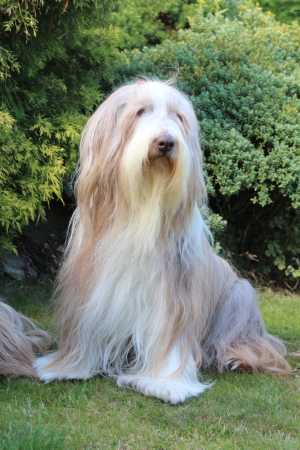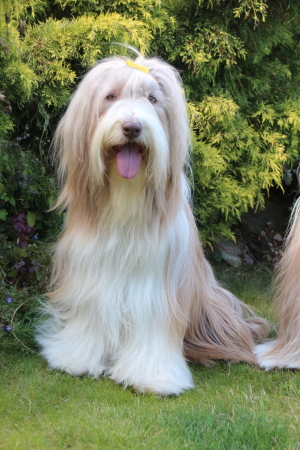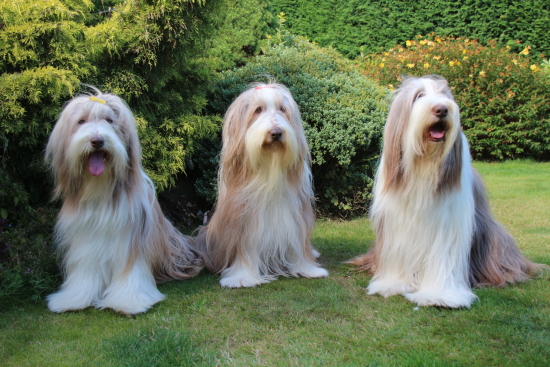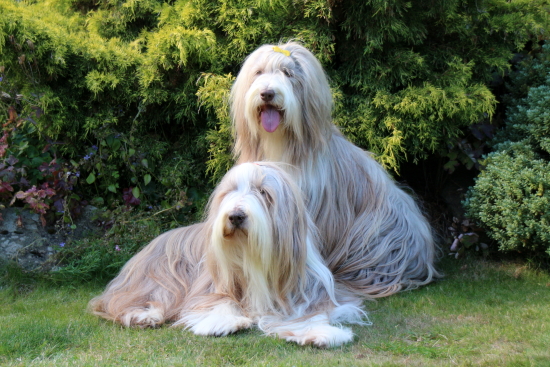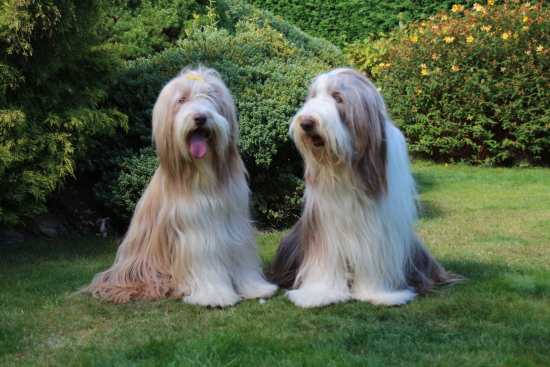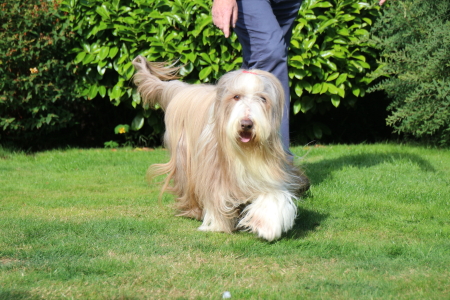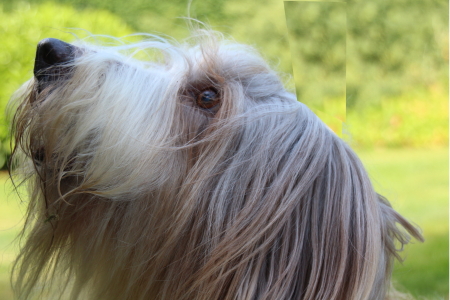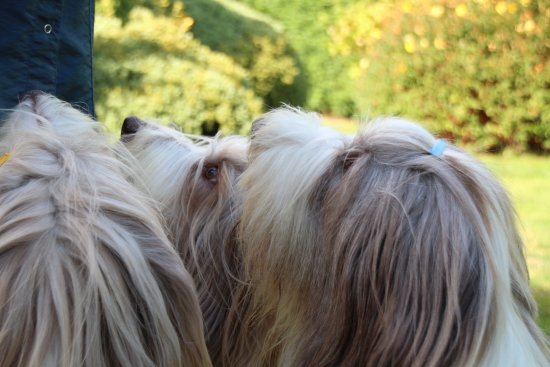 Und dann war der Kurztrip auch schon fast vorbei. Sonntag Abend ging es noch bis in die Nähe von Windsor, wir hatten mit Marian's Hilfe einen genial Camping an der Themse gefunden und ENDLICH durften die Beardies auch schwimmen gehen. am Montag Vormittag haben wir noch im Windsor Great Park halt gemacht, wo man wunderschön spazieren gehen kann, dann die Fähre und zurück nach Oye Plage. Hier haben wir einen ausgibigen Strandspaziergang gemacht, der in 2 Schaufeln voll Sand im WoMo endete.
Alles in Allem war dieser Ausflug über den Ärmelkanal genau das, was ich mir erhofft hatte. Wir haben eine wunderschöne Reise unternommen, Baghira konnte sie wie wir alle in vollen Zügen geniessen. Ich weiss es nicht, ob er uns noch einmal nach Oye Plage begleiten wird, aber ich habe viele schöne Bilder im Kopf, die mir auf alle Fälle beliben. Den Unkerufen mancher "Besserwisser" zum Trotz war dies die richtige Entscheidung! Danke allen, die diese Reise möglich gemacht haben, Susanne zu der Casper gehen konnte, meine Mutter (86Jahre) die Chocci nahm und so begeistert von diesem "wohlerzogenen, ruhigen, braven, aufs Wort folgenden " Hund war, dass es ihr schwer fiel ihn mir wieder zurück zu geben...ich kenne ihn nicht ganz so ;-) sowie Steffi, Werner, Schneewittchen und die Collies vom Neckarwiesenweg, die Balou aufgenommen haben. DANKE EUCH ALLEN!!
And suddenly our trip was almost over. We drove towards Calais with a stop near Windsor where Marian had found a lovely Campground near the Thames for us. Finally the Beardies were able to enjoy a lovely bath. Monday we did stop in Windsor Great Park, a lovely place to walk the dogs, before taking the ferry back to Oye Plage. Here we took our time for a lovely, long walk along the beach which resulted in quiet some sand in the Motor-home ;-)
This trip across the channel was exactly what I had been hoping for! We had a lovely time, Baghira did enjoy the trip as much as the rest of us. I don't know if he will come with us to Oye Plage again, but I do have lots of lovely pictures and memories in my heart and head which will stay for ever. In spite of some "well meaning" people and their fears, it was the right decision to take him along.
Thank you to everyone who made this trip possible, to Susanne who took Casper, to my Mum (86y) who agreed for Chocolate to stay with them and was so happy with this "well behaved, quiet, relaxed dog who never had to be told twice to obey" she almost didn't want me to have him back....I can't say, this is the Chocolate I know ;-) and to Steffi, Werner and Schneewittchen who took Balou to stay with them: THANK YOU ALL!!