März - April

19-30/04/15 Muffin ist läufig und wir haben uns auf den Weg nach England gemacht zum Decken. Das Ganze war eine sehr spontane Entscheidung und ich möchte mich bei allen bedanken, die dazu beigetragen haben, dass alles so gut geklappt hat. Zu aller Erst natürlich bei Diane Banks als Züchterin und bei Marian Appleby als Mitbesitzerin des Deckrüden Duffy, "Liberty's a Taste of Duffy's",, die diese Verpaarung vorgeschlagen haben, sowie bei der Mitbesitzerin von Duffy Annie Hearsum und ihrer Familie die alle ihre Termine an Muffin's Zeitplanung angepasst hat ;-).
Marian hat alles organisiert, auch die Deckhelfer Brenda White und David Hyde, die ebenfalls mit ihren Termine jongliert haben, um das Decken zu ermöglichen. Nicht zu vergessen Nina und Susanne, die Chocci und Casper ganz kurzfristig und länger als gedacht übernommen haben. Somit haben wir, Baghria, Phil, Toffee, Muffin und ich, uns auf die Reise nach Littlehampton gemacht.
Duffy ist ein wunderbarer Vertreter der Rasse, ein sehr entspannter, gelassener, ruhiger Beardie der aber auch "explodieren" kann. Ich hatte vergangenen Sommer das Glück seine Eltern, Wurfgeschwister und vor allem seine Großeltern kennen zu lernen. Einen besonderen Einfdruck hat sein Großvater Will "Am Ch Diotima Sea Eagle" bei mir hinterlassen, ich hätte ihn klauen können. Will wurde im Februar 14, es scheint der Jahrgang 2001 ein sehr guter gewesen zu sein, was man an Will und Baghira sehen kann ;-)
Miss Muffin finally decided to come in heat and rather suddenly I had to have a plan B. I really want to thank all people involved in making my dream come true. Against all odds" A special thanks goes to Diane Banks as breeder and Marian Appleby as owner of Duffy "Liberty's a taste of Duffy's" for proposing this mating and to Annie Hearsum and family who rearranged all their dates according to Miss Muffin's schedule ;-)
Marian organized everything including Brenda White and David Hyde who arranged their dates as well to give us a helping hand. I would like to thank Nina and Susanne as well, as they agreed to take Chocolate and Casper for the time being and even managed when we needed to stay longer than expected. At last Baghira, Phil, Toffee, Muffin and I set of towards Littlehampton.
Duffy is a lovely representative of the breed, he is a very lay back, relaxed Beardie but can "explode" as well. Last summer I was very lucky to get the chance to meet some litterbrothes and sister of Duffy, his parents and his grandparents. His granddad Will "Ch Diotima Sea Eagle" left a lasting impression on me, I fell in love with this old gentleman and could have taken him home with me. Will turned 14 in February, it looks like the year 2001 was a very special year with Will and Baghira being born back then;-)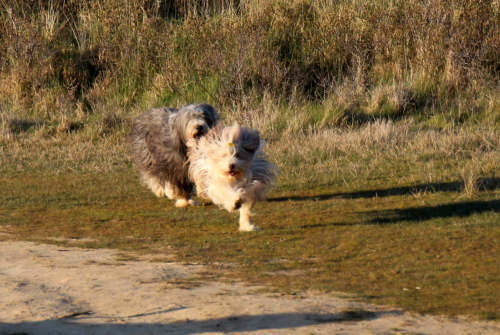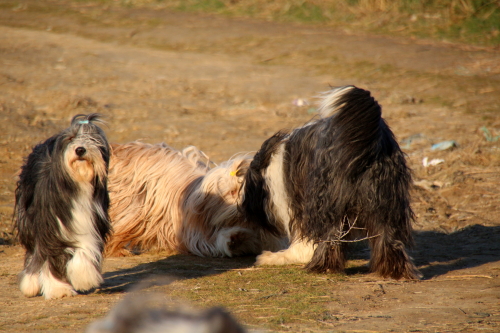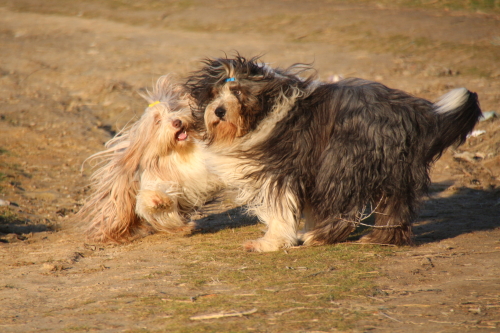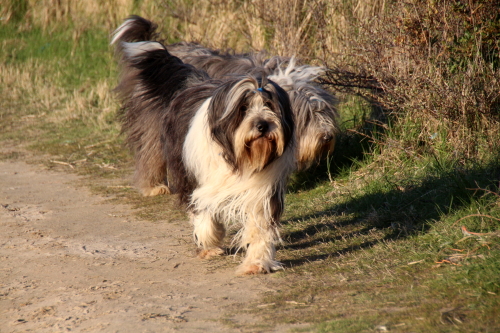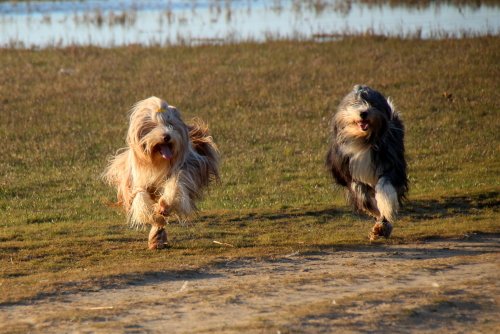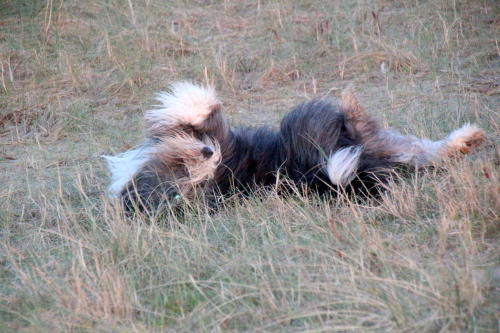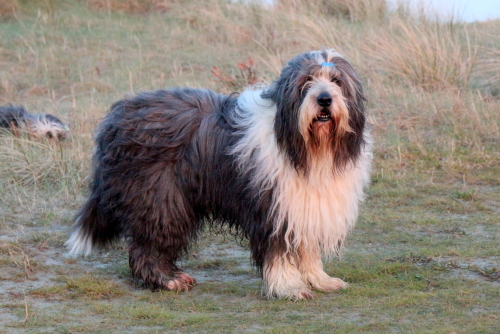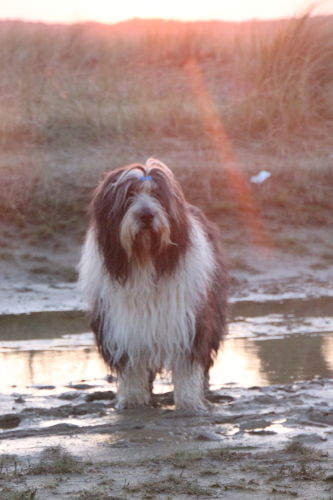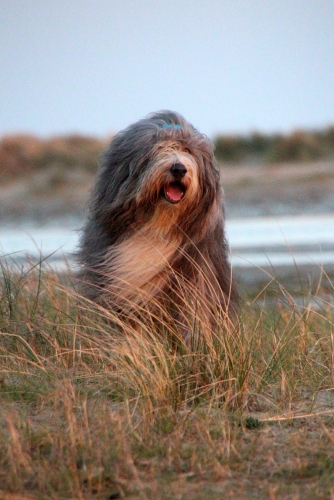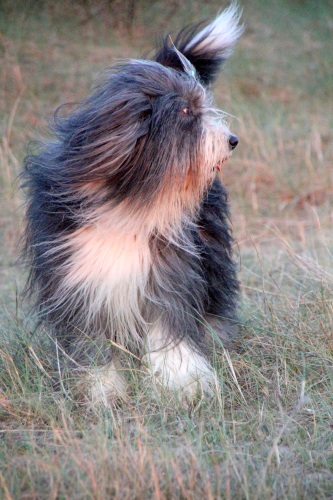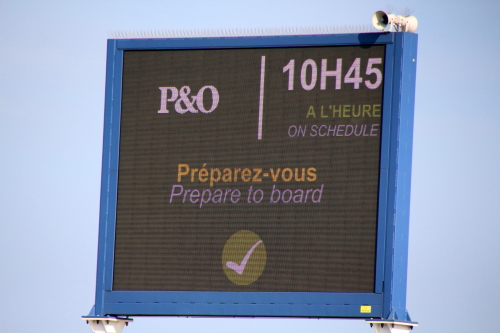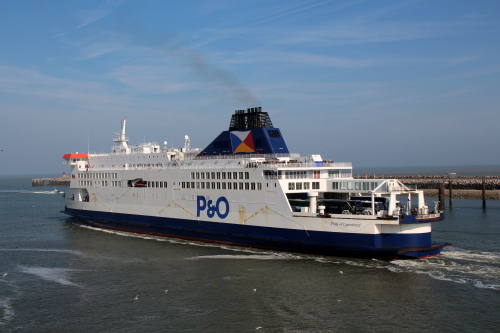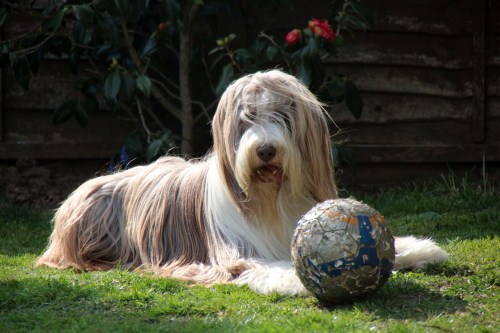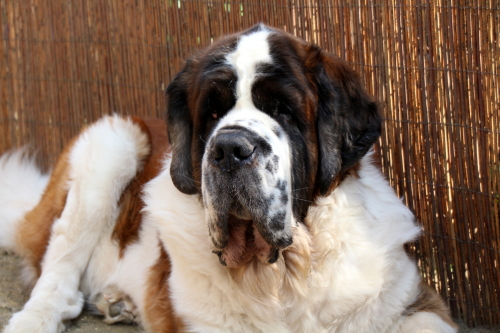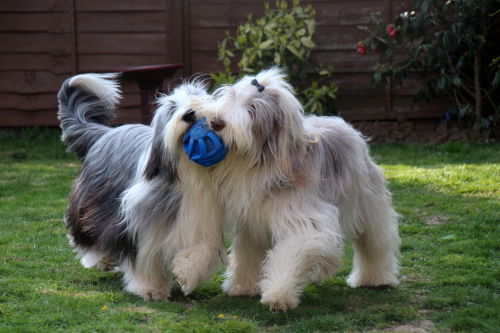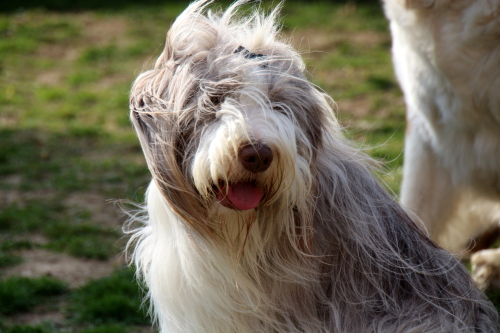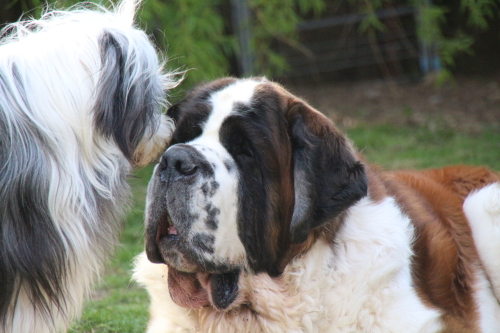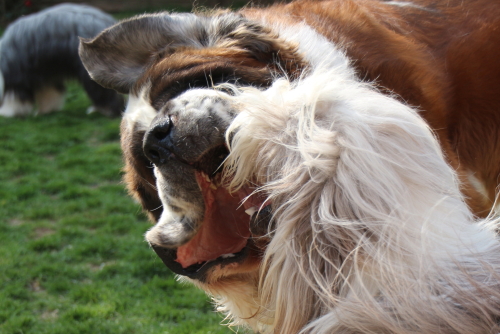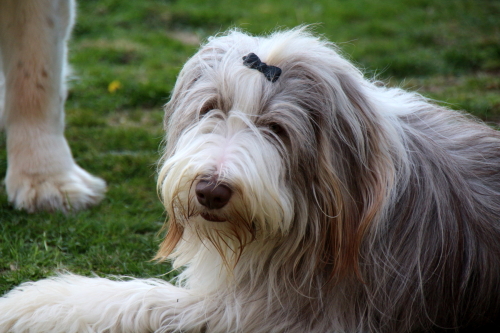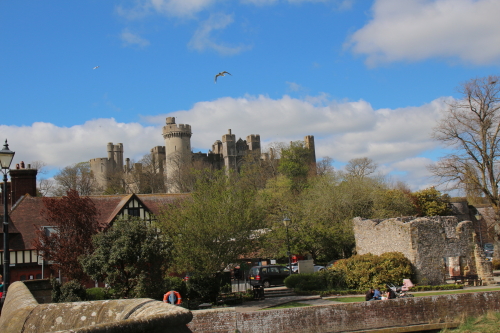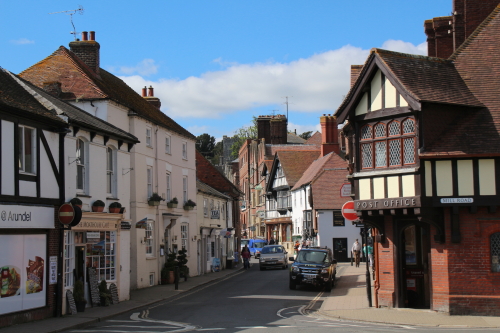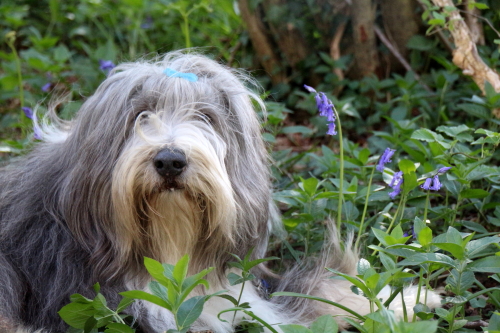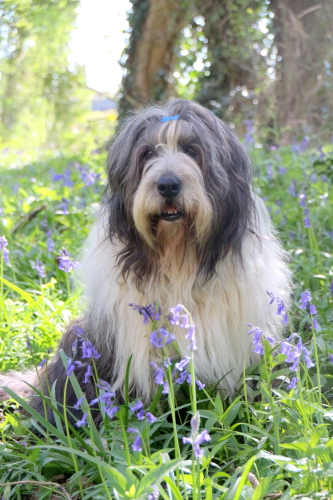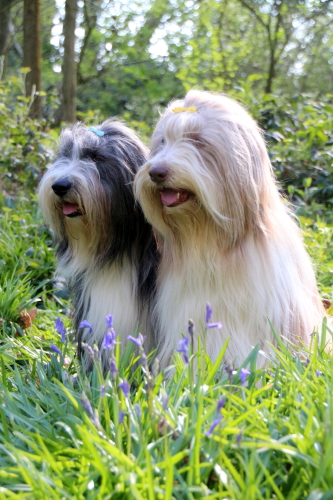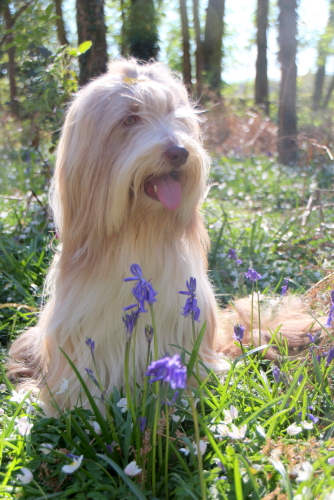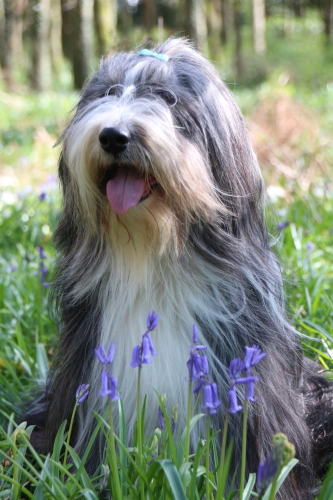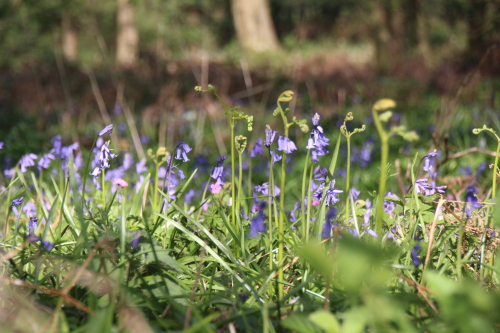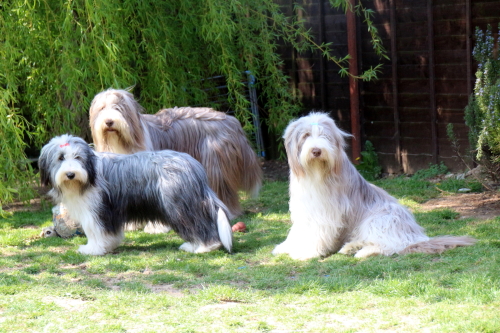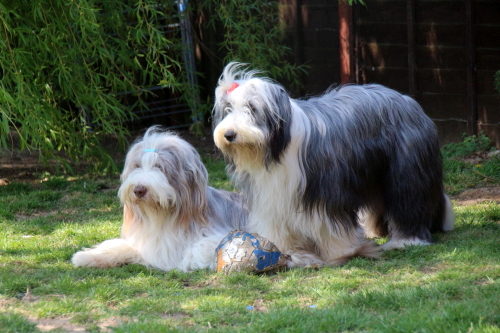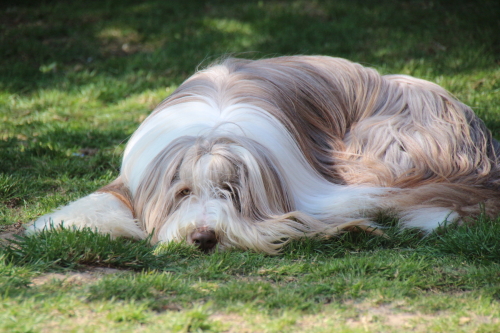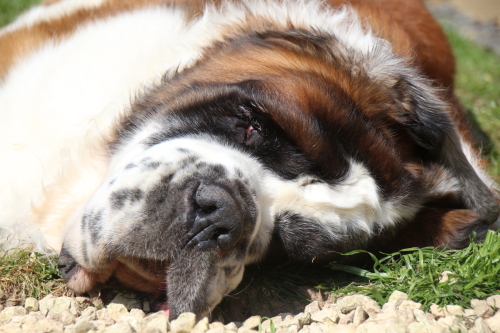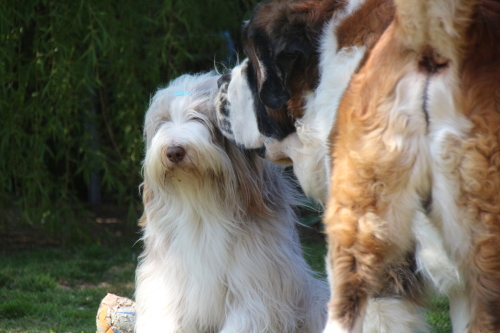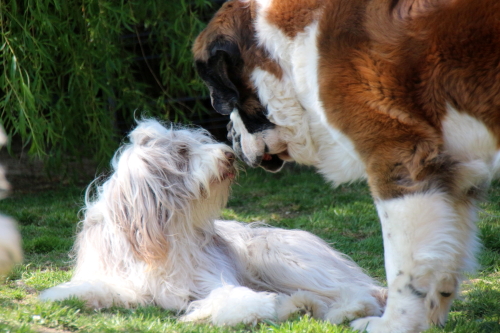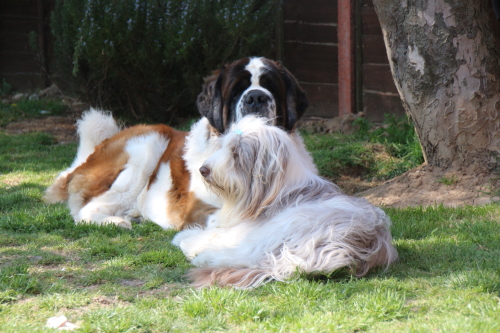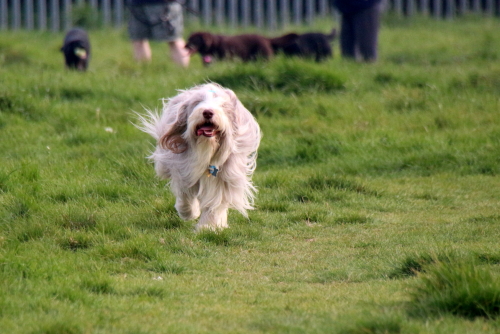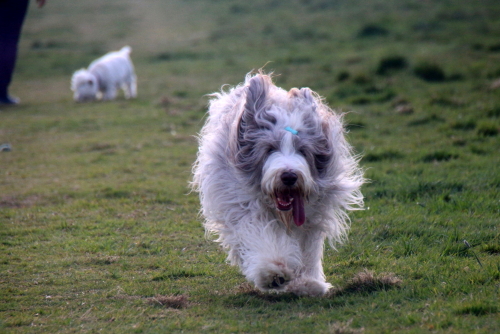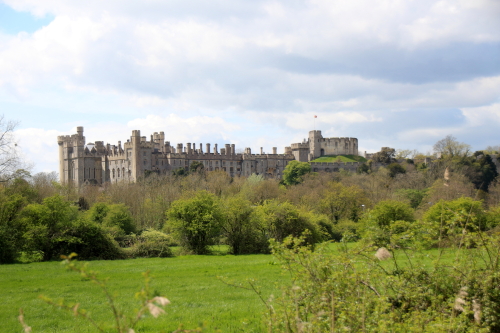 18/04/15 Baghira ist 13 Jahre und 10 Monate...wo besser kann man diesen Tag geniessen als am BODENSEE?!?!
Baghira turned 13 years and 10 mo today....is there a better place to spend this day than at LAKE CONSTANCE?!?!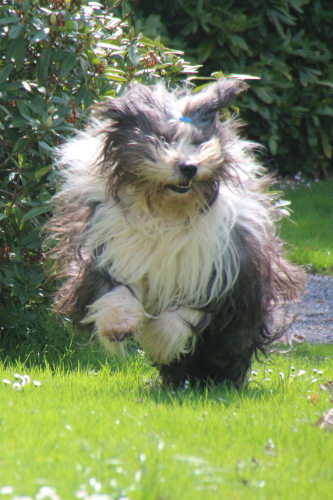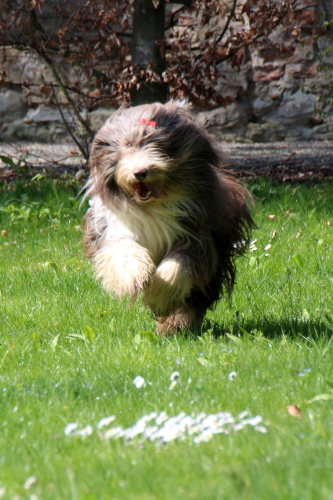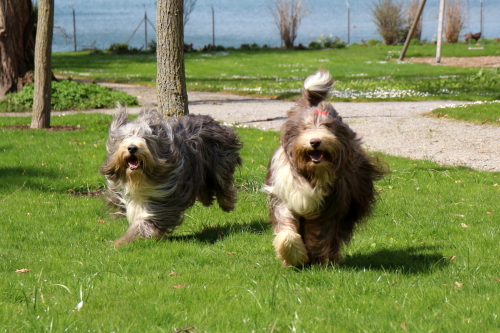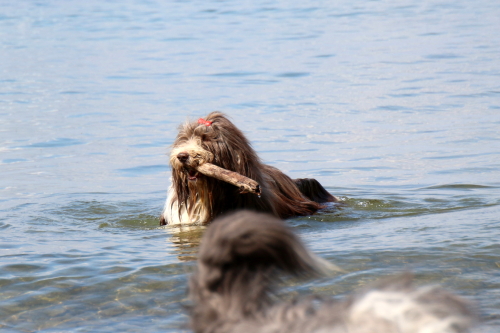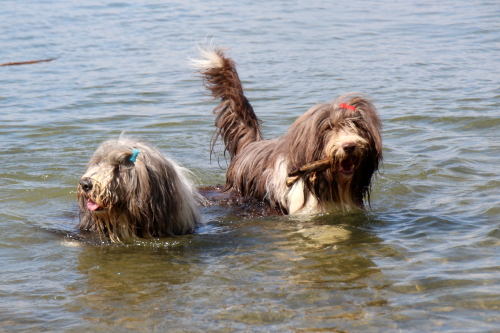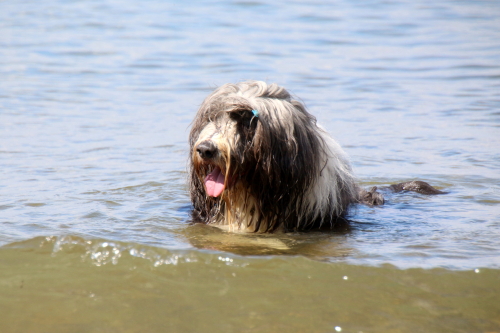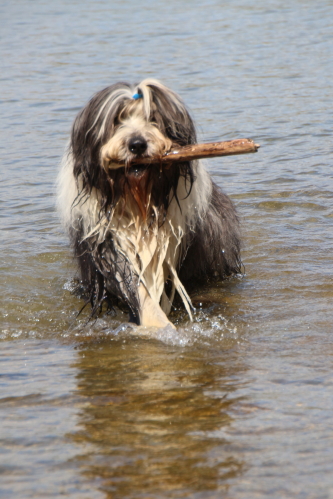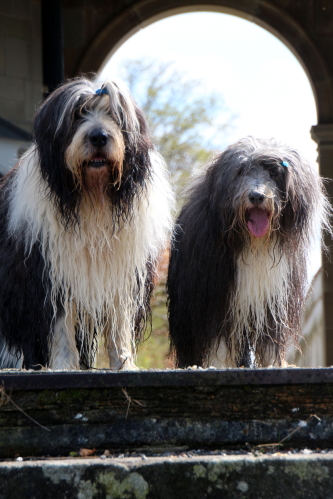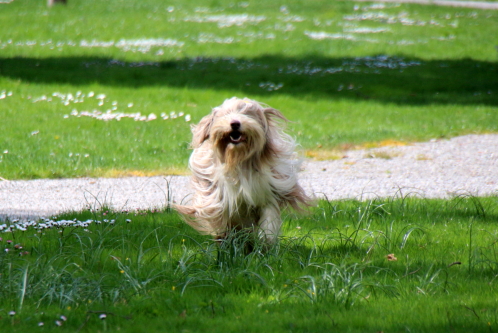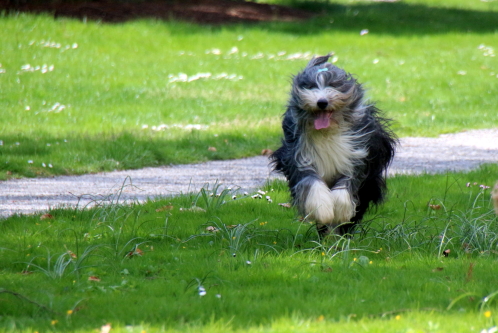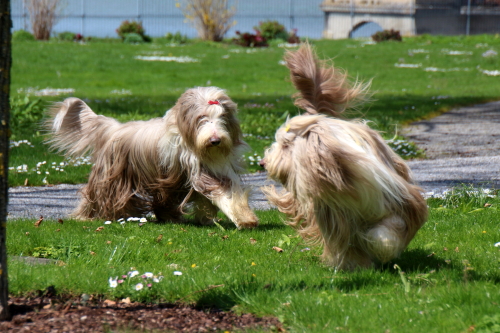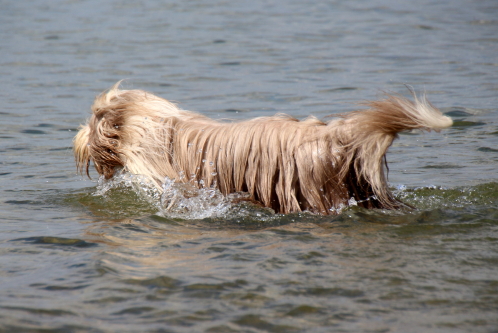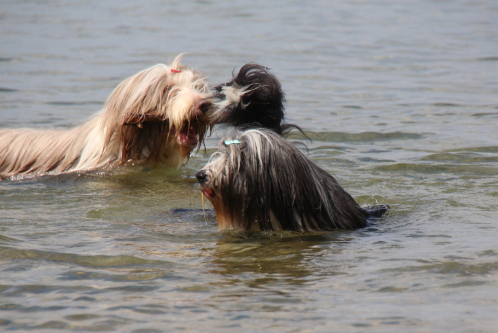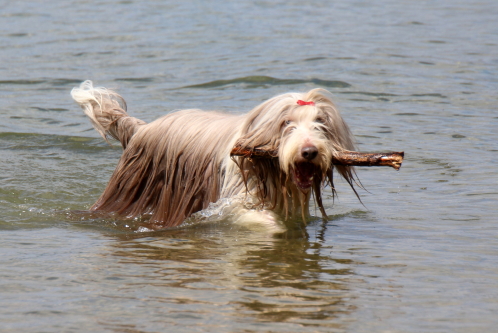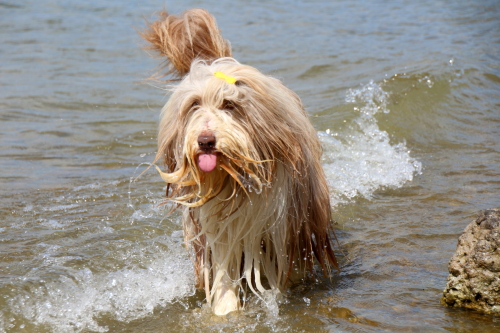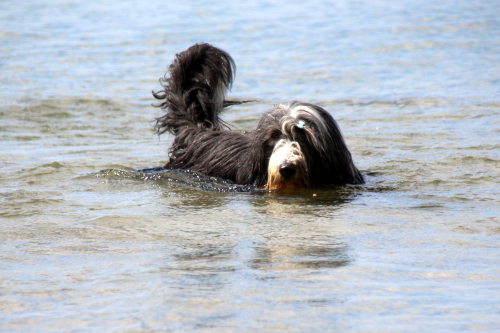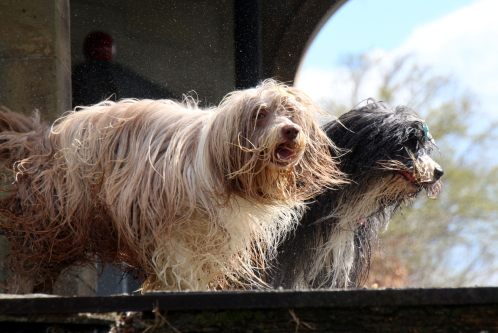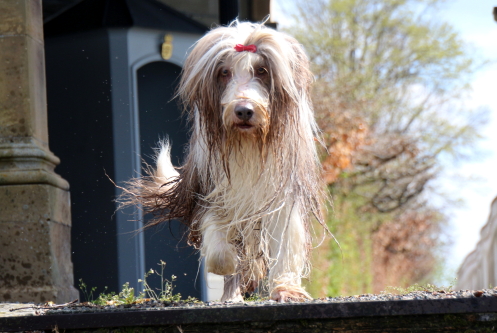 11/04/15 Wir waren in Altshausen und haben das wunderschöne Wetter genossen ;-)
We went to Altshausen and enjoyed the lovely sunny weather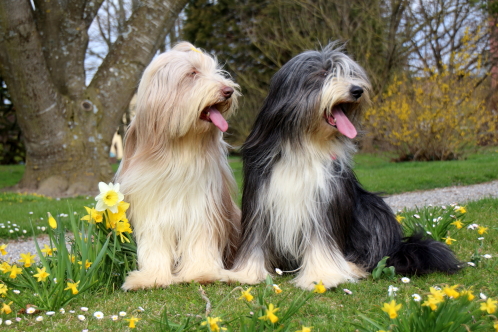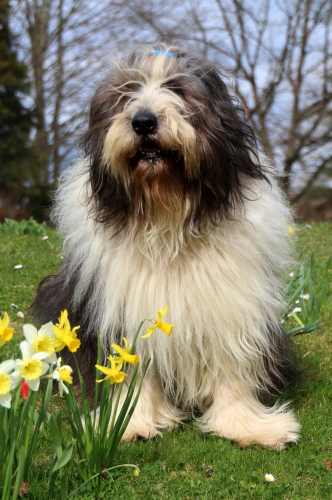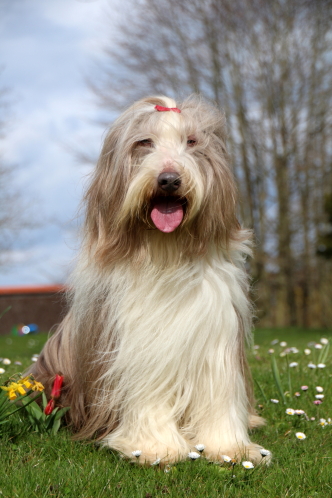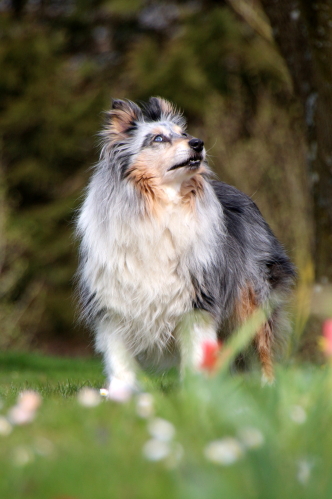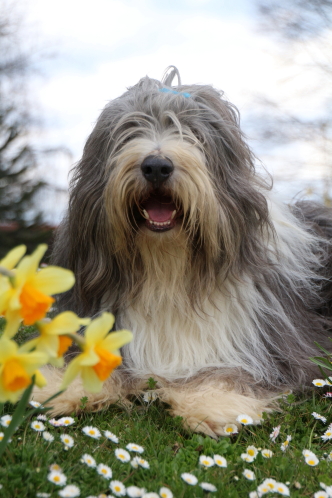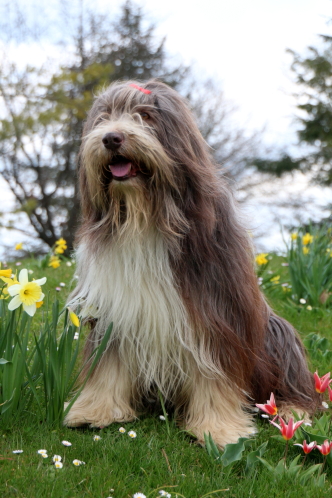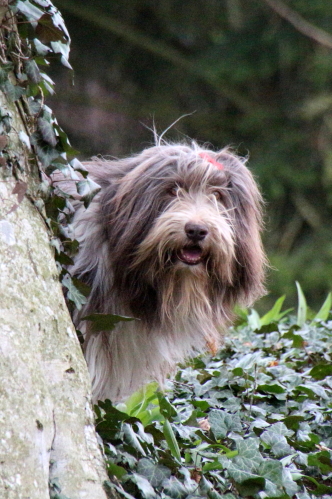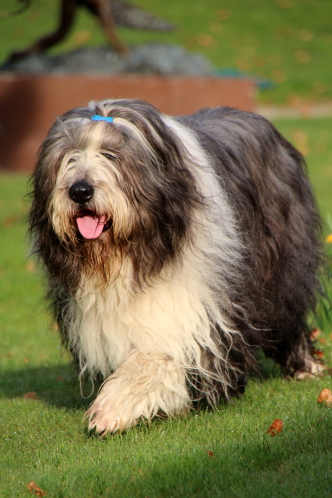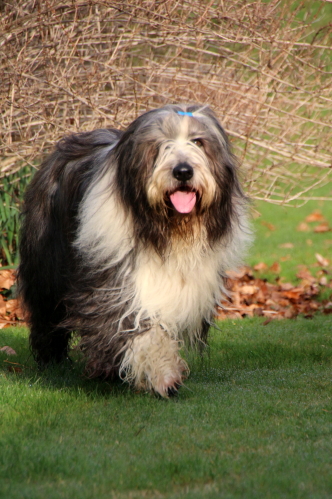 und dann war endlich FRÜHLING....and finally SPRING arrived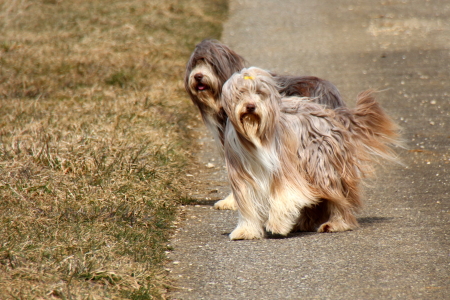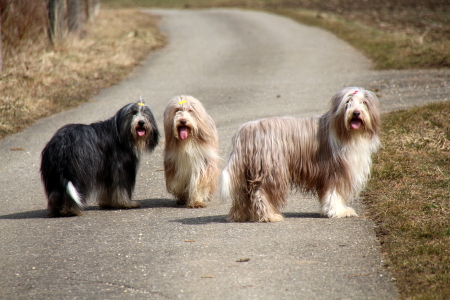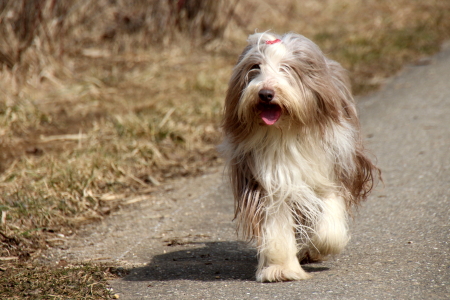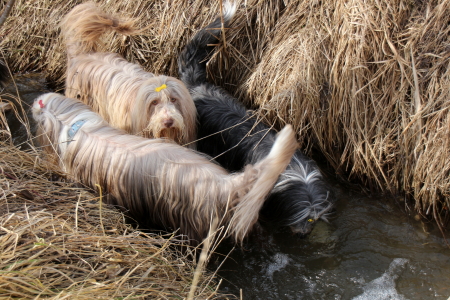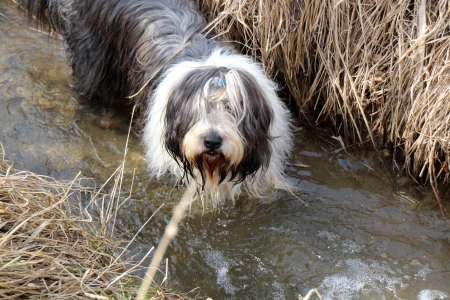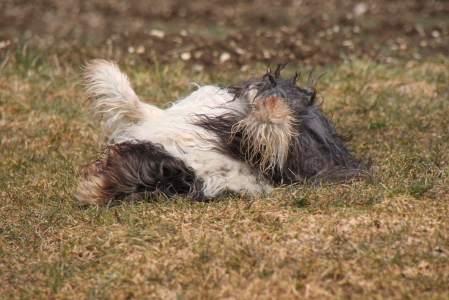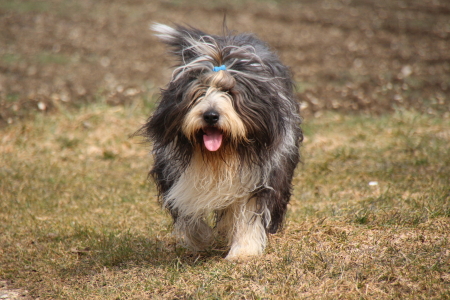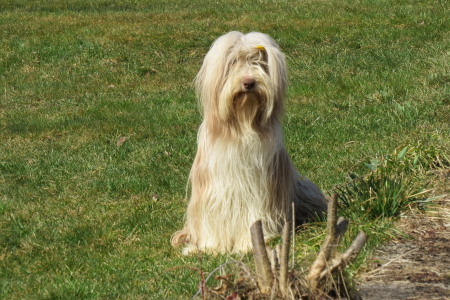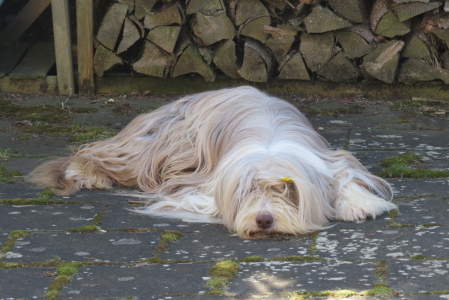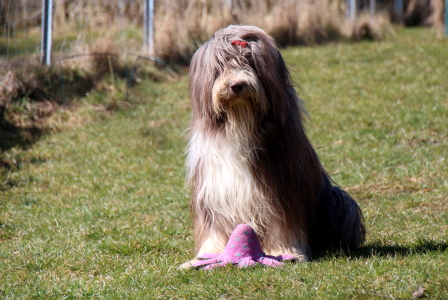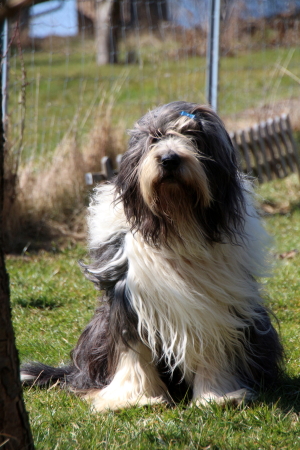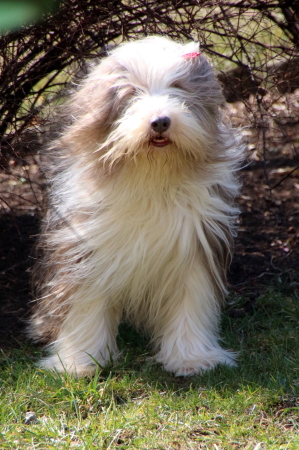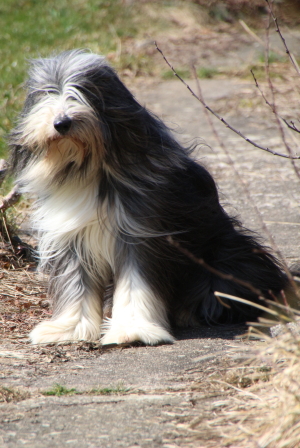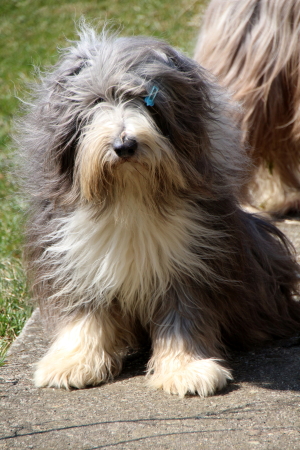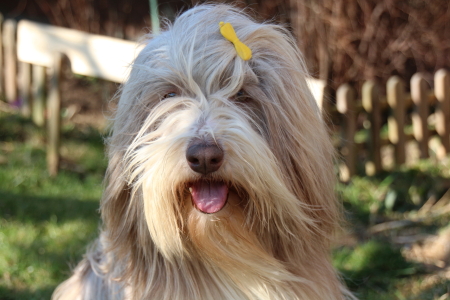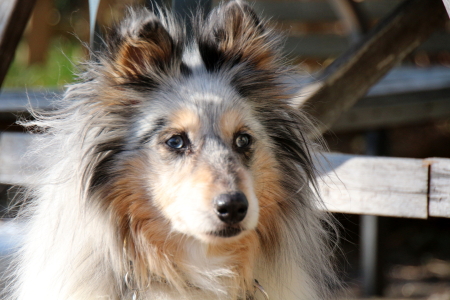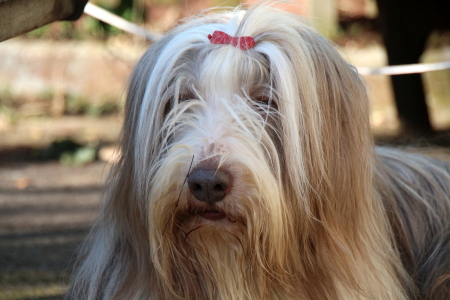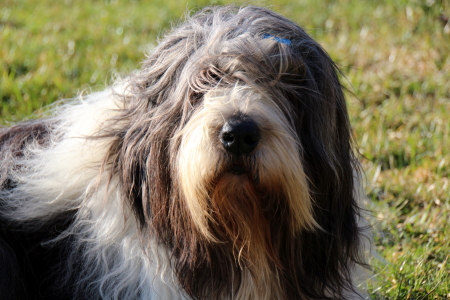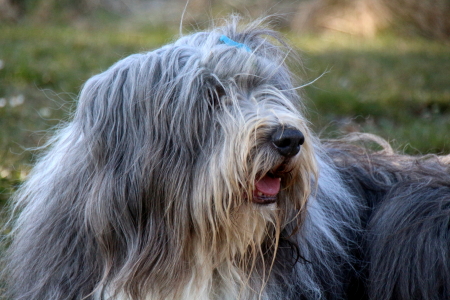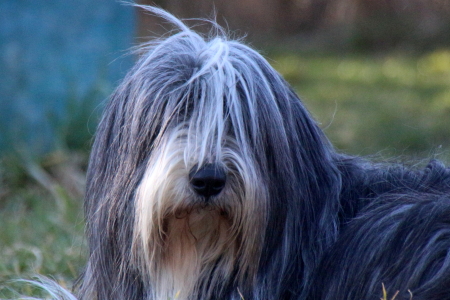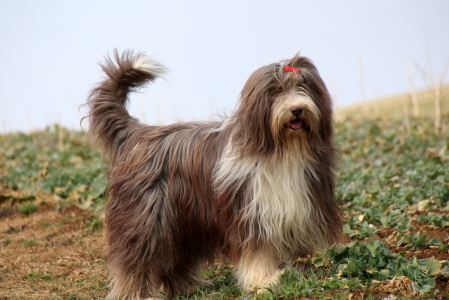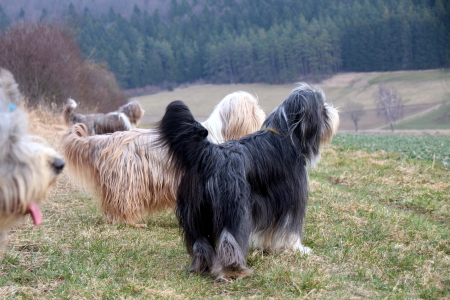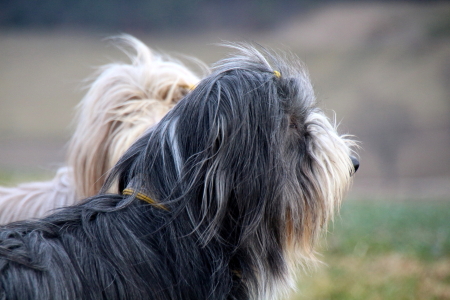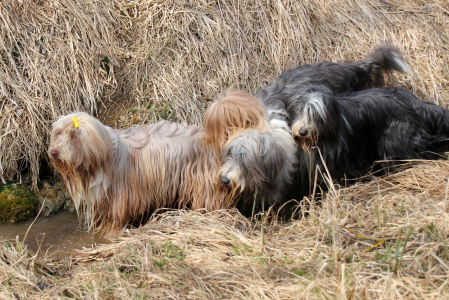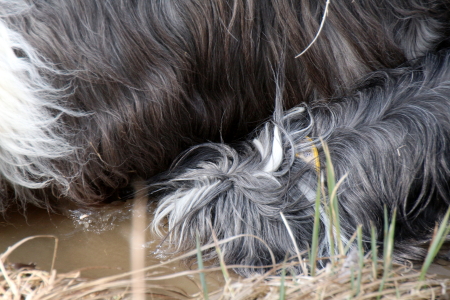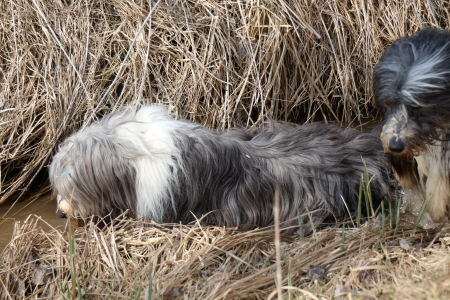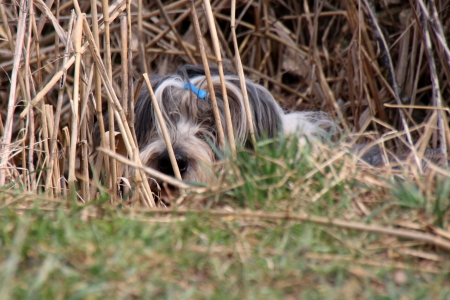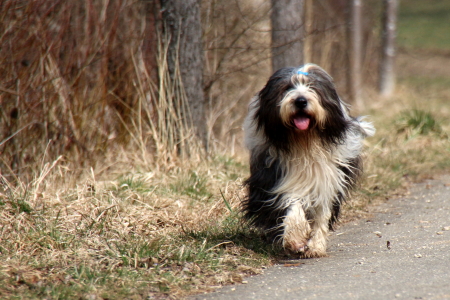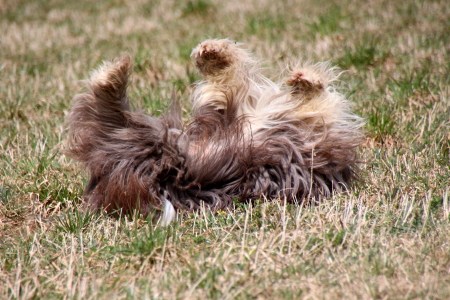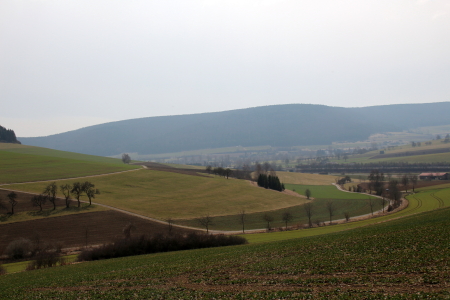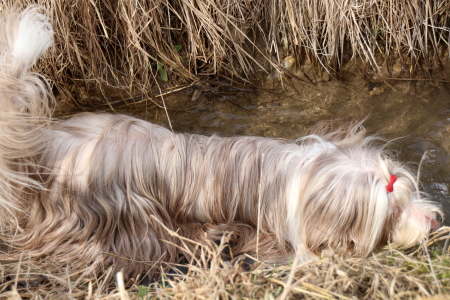 mehr hier / more here

18/03/15
Baghira is 13 und 9 Monate; 2 Monate nach seiner OP
Baghira is 13y and 9 mo; it's 2 mo post surgery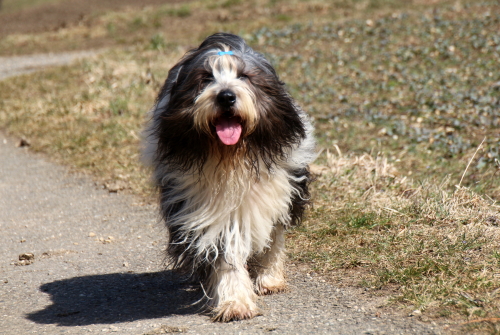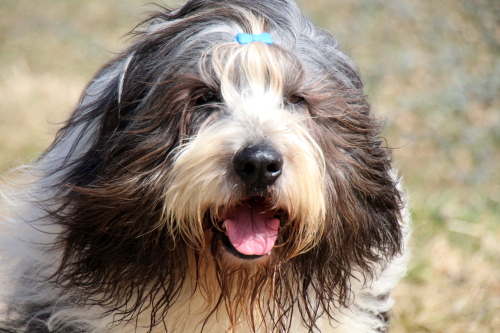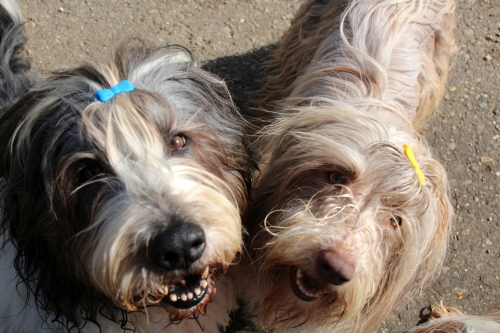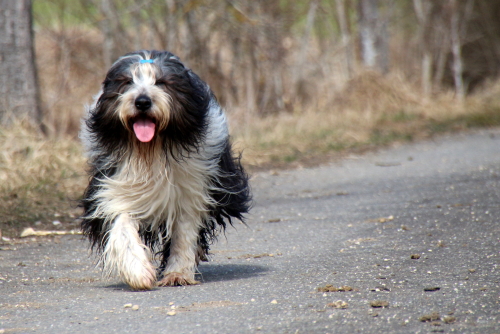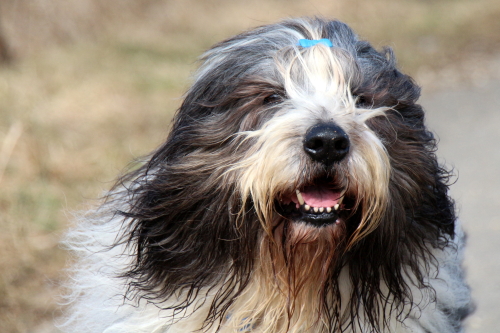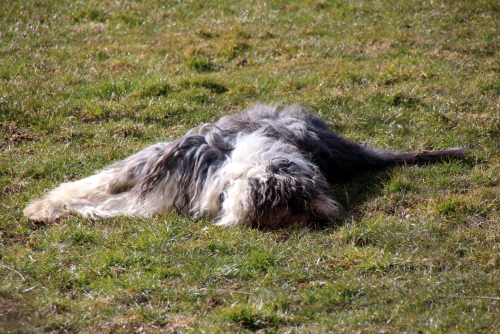 02/03/15 - 08/03/15 Wir waren in England und haben die Crufts besucht. Baghira, Phil, Toffee und Muffin durften mit. Wie immer haben wir in Calais die Zeit mit einem Strandspaziergang genutzt, aber OHNE Wasserbegegnung, dann ging es weiter gen England.
Again we went to England to visit Crufts. This time Baghira, Phil, Muffin and Toffee came along. As we did the last few times, we did stop in Calais and the Beardies were able to have a good run at the beach, only NO water this time.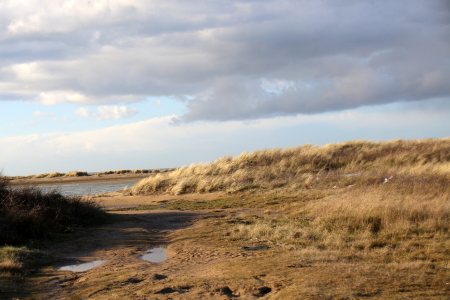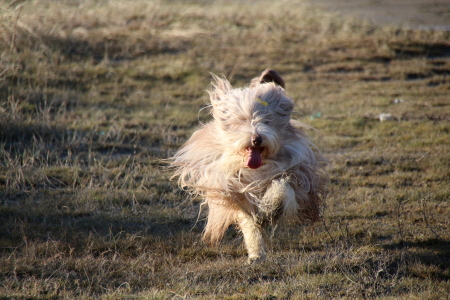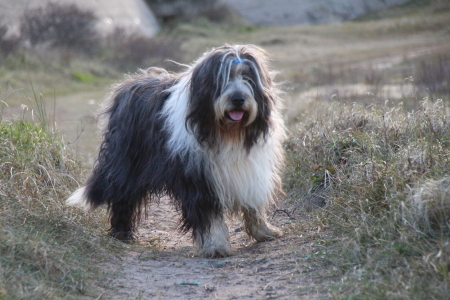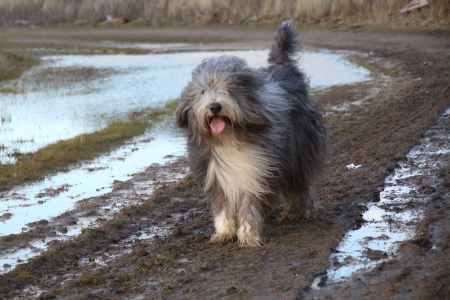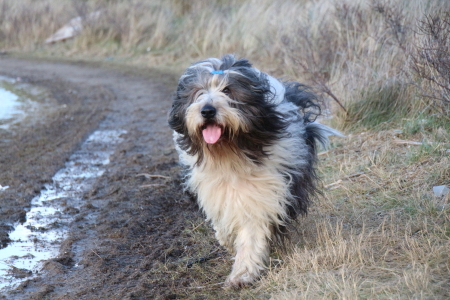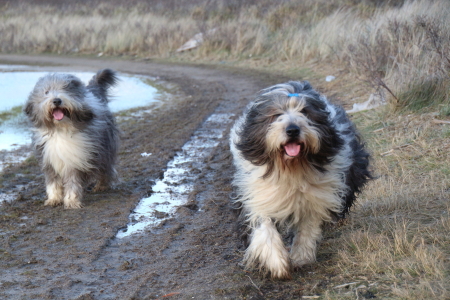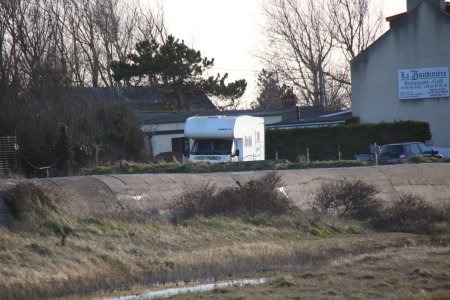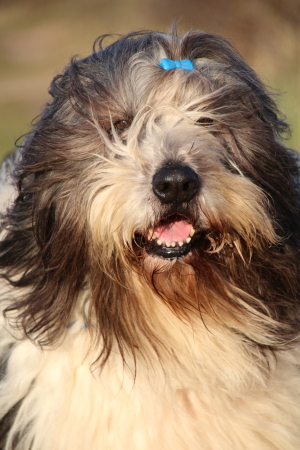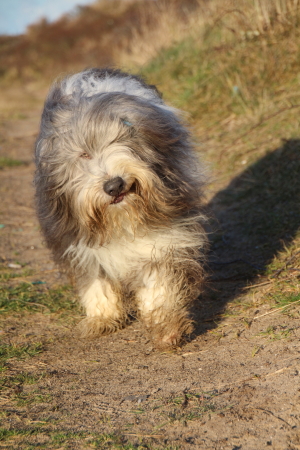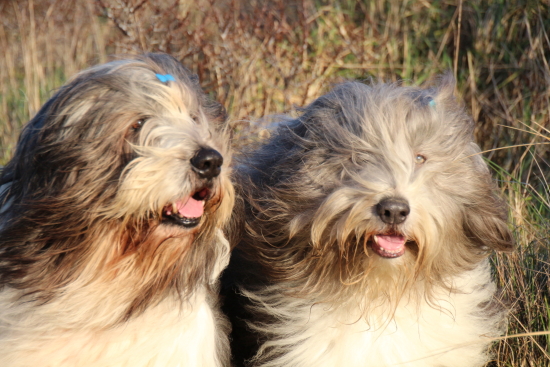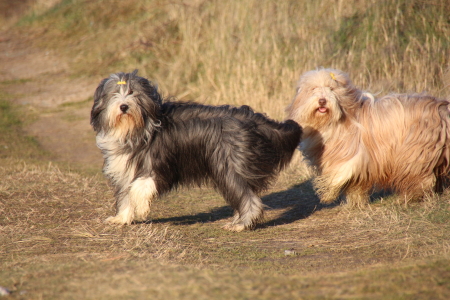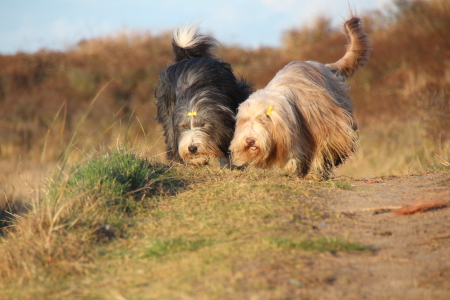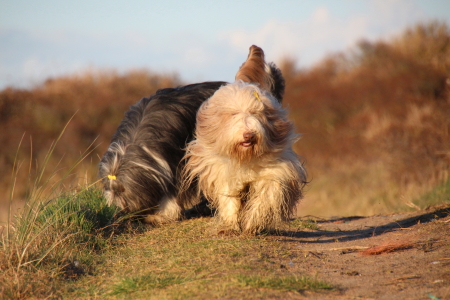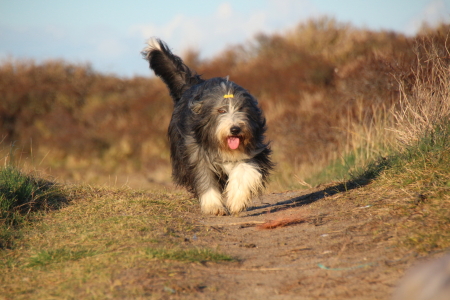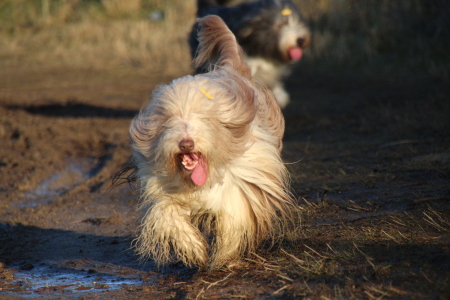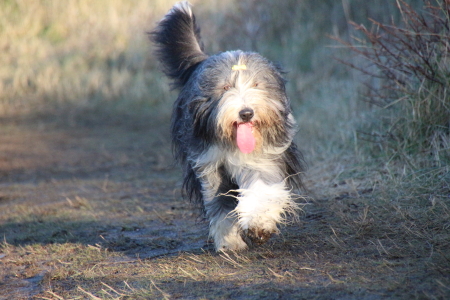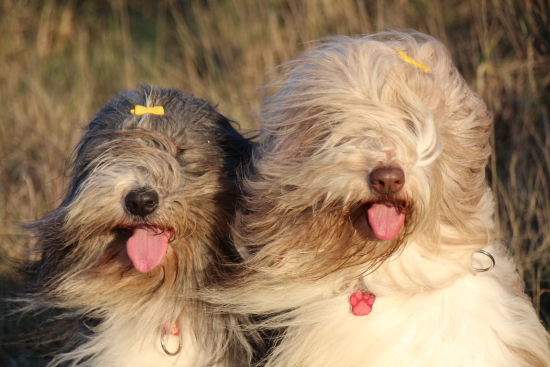 In Bristol hat Baghira eine Auszeit genommen und ist bei meiner Cousine geblieben, wir anderen sind weiter Richtung Birmingham. Am Nachmittag vor der Crufts hat uns Marian geholfen, die weissen Abzeichen wieder weiss zu bekommen. Und dann waren wir auf der Crufts. Phil zum ersten Mal in der Veteranen Klasse, aber die war nichts für ihn, er ist dafür noch vieeeeel zu jung....hüpfen und Spass haben war seine Devise. Muffin hat sich in der Offenen Klasse sehr gut benommen, es waren 26 teilweise sehr schöne Hündinnen in dieser Klasse vertreten.
Baghira stayed in Bristol with my cousin and we went on towards Birmingham. Marian had offered to help get the whites white again before Crufts. We were able to visit her in her lovely new home. Then we drove off to Birmingham where we attended Crufts. Phil was entered in Veteran Class for the first time....well he is much too young for this class, having fun and jumping around. Muffin did a lovely job in Open class, 26 bitches entered and with some really lovely bitches.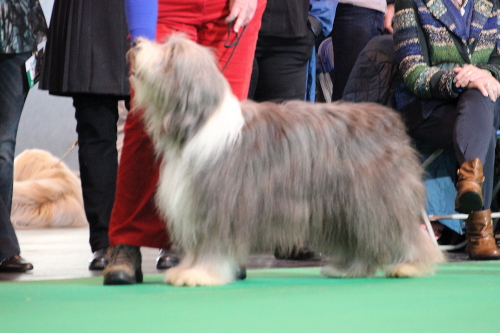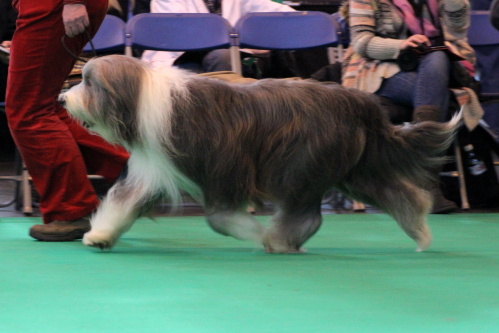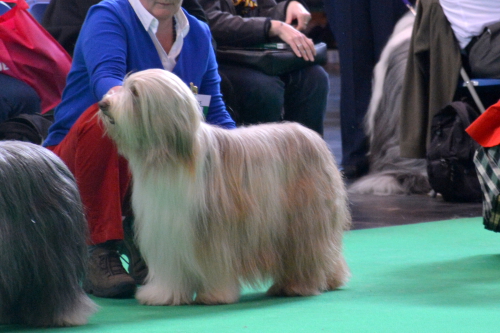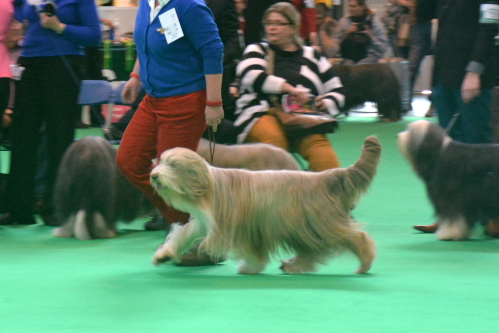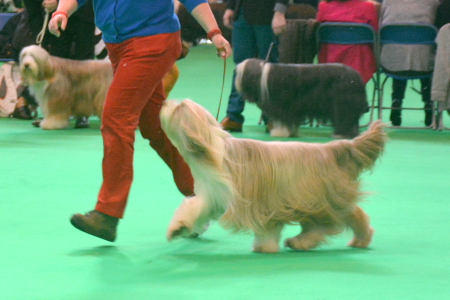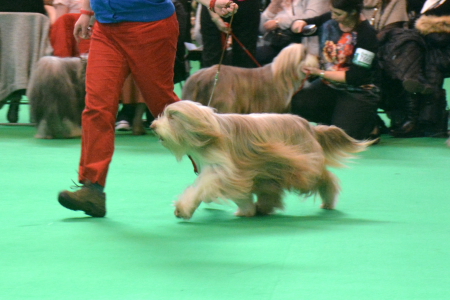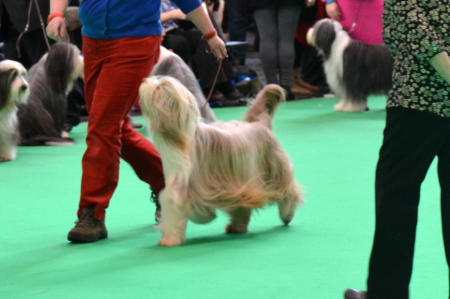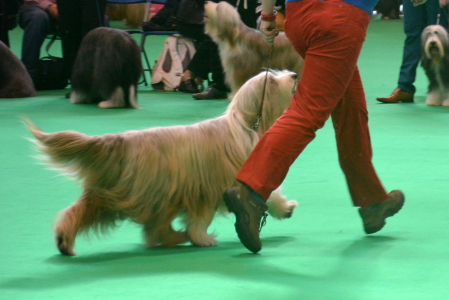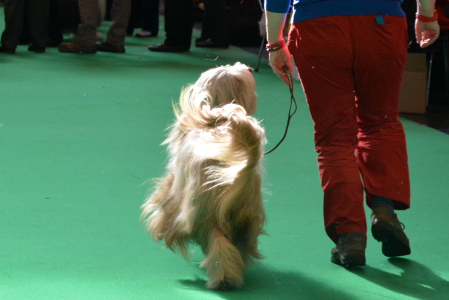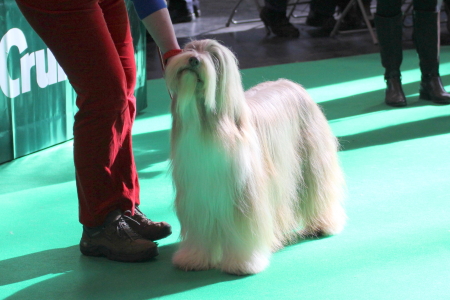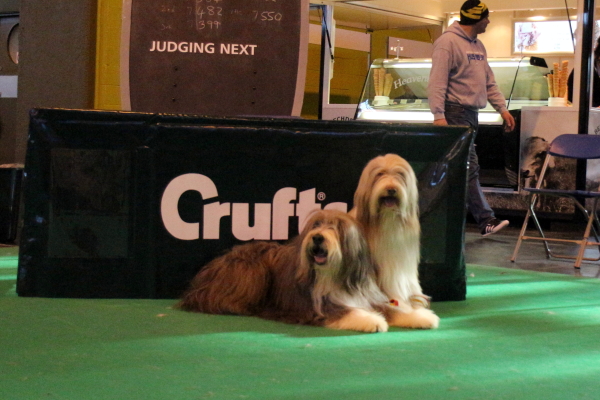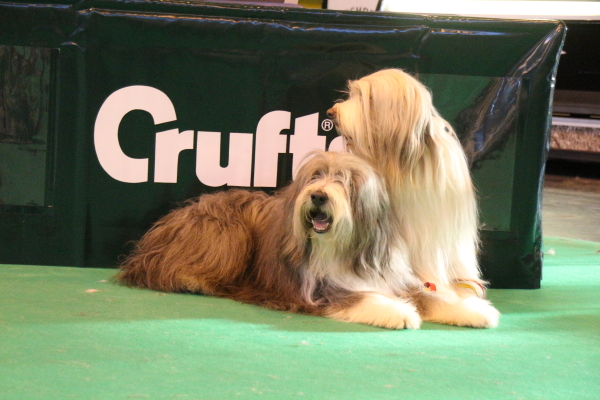 Danke an uwe Halter und Agnès Vernerey für die tollen Fotos!
Thank you to Uwe halter and Agnès Vernerey for the lovely photos!
Am Rückweg haben wir dann nochmals in Calais Station gemacht und dieses Mal durften sie am Morgen vor der Abfahrt um 7:00 ohne Einschränkungen am Strand entlang sausen und toben.
Wieder einmal ist die Zeit viel zu schnell vergangen! Es hat viel Spass gemacht alte Freunde zu treffen und neue Freunde zu machen. Wenn alles klappt kommen wir 2016 wieder :-)
On our way back we did stop at Calais once more and this time we went for a lovely morning walk at 7 am and the Beardies had the chance to run and roll as much as they wanted.
Once again time did pass much too fast! It was so much fun meetin old and new friends. I am already planning to come again in 2016 so hopfully we'll be able to!