Mai - Juni

20-22/06/14 Wir, d.h. Luise mit Anderl und ich mit Phil und Muffin furhen übers Wochenende nach Bled/Slo zur Doppel CACIB. Es war ein sehr schönes Wochenende, nette Mitreisende, geniales Wetter, wunderschöne Landschaft und das Ganze wurde getoppt von erfolgreichen Ergebnissen
We, Luise with Anderl and me with Phil and Muffin went for a weekend down to Bled/Slo for a double International All Breed Show. It was a lovely weekend, nice travel mates, lovely weather, beautiful scenery and it was topped by very successful show results.
Samstag/Saturday
Ch Philemon Paparazzi "Phil": Ex 1; CAC-Slo, CACIB, BOB
Ch Midlands-Corner Hazel Muffin "Muffin": Ex 1, CAC-Slo, R-CACIB
Sonntag/Sunday
Ch Philemon Paparazzi "Phil": Ex 1; CAC-Slo, CACIB, BOS
as Phil got the CAC-Slo on both days, he gained the title: Karawanken Winner
Ch Midlands-Corner Hazel Muffin "Muffin": Ex 2, R-CAC-Slo, R-CACIB
Ch Anderl vom Holledauer Bockerl "Anderl": Ex 1; CAC-Slo, CACIB, BOB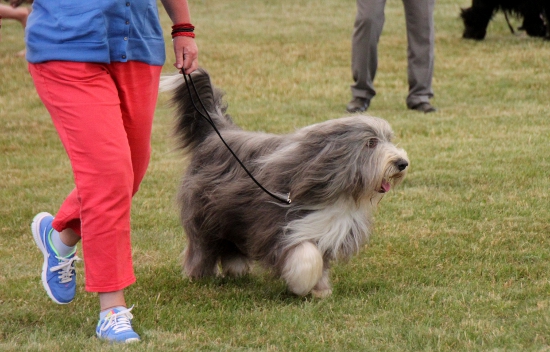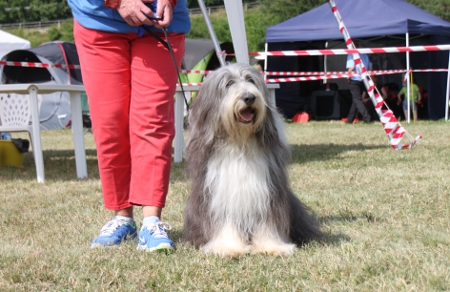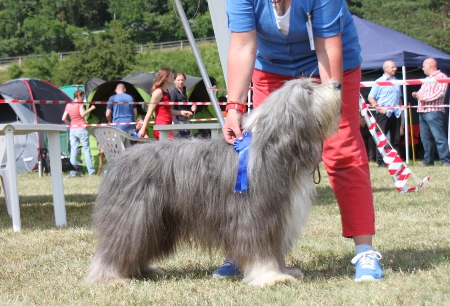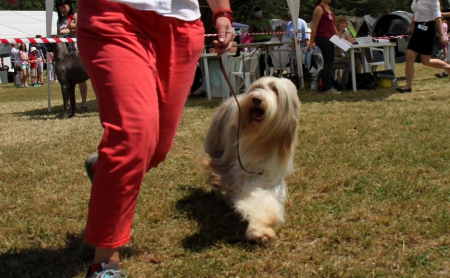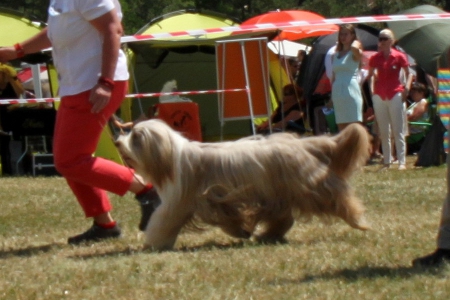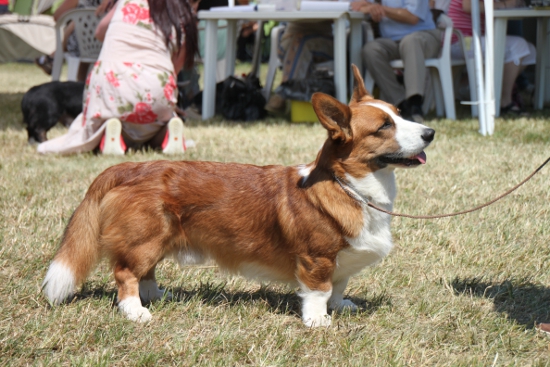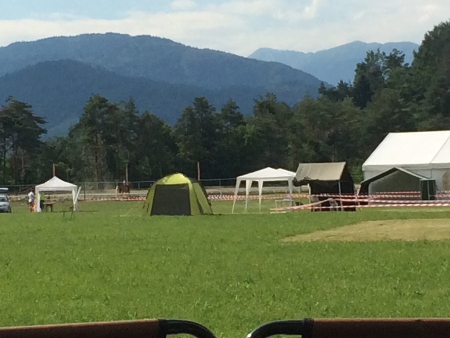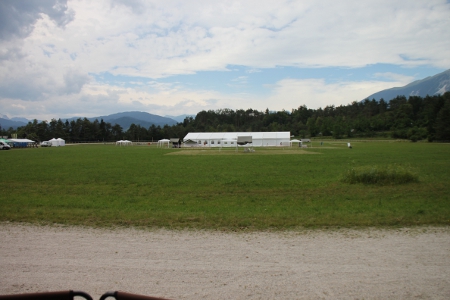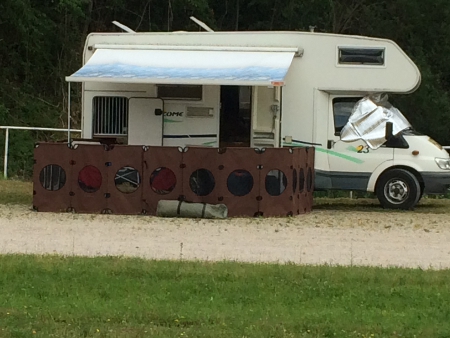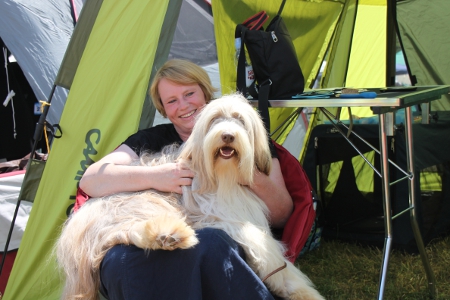 Miss Muffin and Irena
18/06/14
Happy Birthday Baghira, Casper

Baghira wird heute 13 Jahre alt. Er ist etwas ruhiger, schauft etwas mehr auf längeren Spaziergängen aber er ist immer noch vorne mit dabei wenn es um Rennspiele geht. Er passt auf die Meute und mich auf, wobei er nicht mehr ganz so gut hört und sieht, aber sobald ein anderer bellt, macht er mit seiner tiefen Stimme mit. Das Baghirchen ist milder geworden und gleichzeitig aber auch sturer. Mein Bärchen, bleib einfach wie Du bist, ich hoffe noch auf viele gemeinsame Ausflüge in die nähere und fernere Umgebung :-)
Baghira is turning 13 today. He is a bit less active, is breathing a bit harder on longer walks, but still is there when they are chasing each other. He takes good care of his pack an me, his hearing and seeing has seen better days but as soon as one of the others will bark he will join in with his loveyly deep voice. He is more stubborn but kinder than before.... Baghira, my little bear, just stay the way you are, I do hope for a lot more trips with you :-)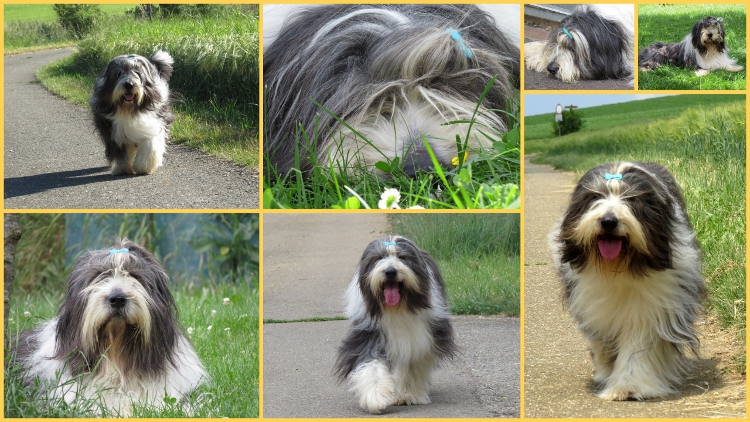 Casper hat heute seinen 10. Geburtstag. Er ist schmusig wie immer, nicht ganz so irr wie das Chocci aber er ist schon ein Casper, auch wenn das viele nicht glauben wollen. Er ist im Haus der ruhende Pol, kann aber auch mal "die Sau raus lassen". Er ist der, der egal wie das Wetter ist mit sauberem Fell heim kommt, aber er ist auch der, der sich in einem 15cm hohen Bach wälzt. Casper ist ein Casper und soll das auch bleiben!
Casper is celbrating his 10th birthday. He is cuddly as ever, not as crazy as Chocolate but he can be funny as well, even when most people won't believe me. At home he is the quiet on but outside he can be a real Beardie as well. He ist the one, no matter what weather we have to come home with still nice white markings but on the other side he is the one who manages to roll in 15cm water and get wet all over. Casper is a Casper and I hope he'll just stay this way!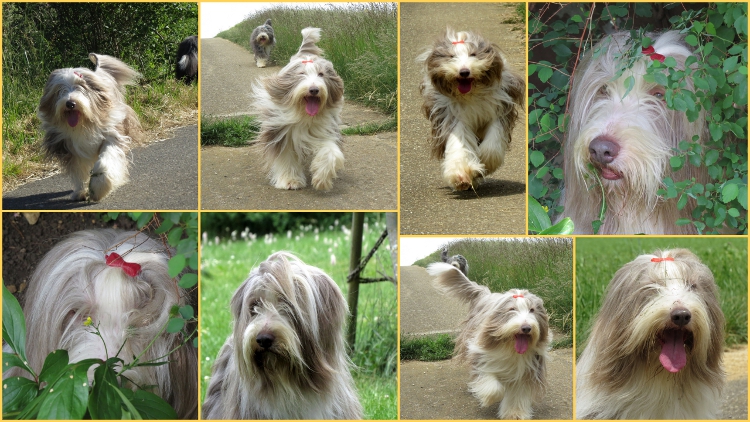 01/06/14 Wir waren auf der CAC in Bad Salzhausen. Diese Ausstellung ist immer richtig nett, das Ambiente genial mit dem Kurpark in dem man jederzeit mit den Hunden spazieren gehen kann. Dieses Mal durften alle mit und wir waren im WoMo unterwegs. Es war eine gemütliche Fahrt und im Kurpark haben wir ein schönes Plätzchen gefunden an dem wir stehen konnten: ab 11 hr stand das WoMo im Schatten einer Linde und war angenehm kühl.
We went to the Clubshow in Bad Salzhausen, which takes part in a nice park with lots of different older trees. You can always go for a nice walk with the dogs during the show. We took the Camper and had a lovely leisurely drive up with all the Beardies coming along. We found a nice place to stay under a linden tree and from 11 am on the Camper stood in the shade and was nice and cool.
Chocci durfte mal wieder in der Veteranenklasse starten und hatte viel Spass, er war alleine und erhielt somit Platz 1 ;-)
Chocci did start in Veteran Class and had lots of fun, as he was alone in his class he came 1st Place ;-)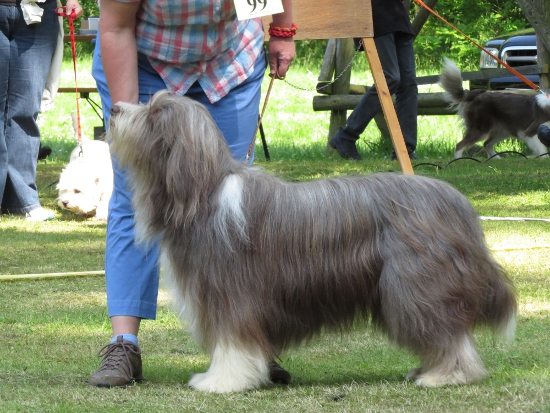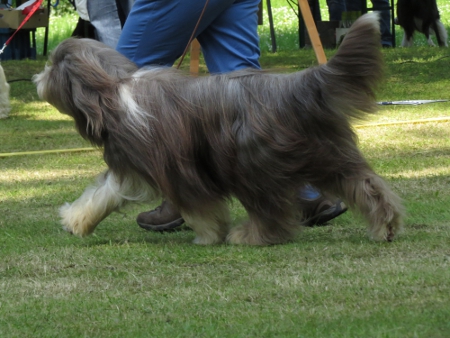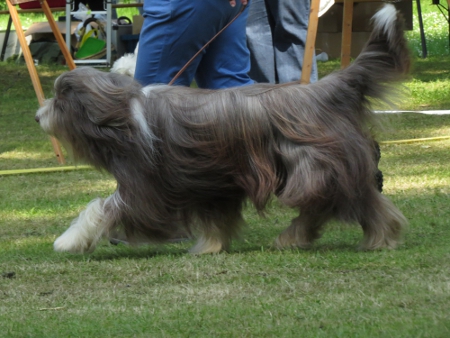 Miss Muffin war ebenfalls alleine, in der Championklasse und erhielt ein V1. Muffin hatte ebenfalls viel Spass und Freude und hat sich wieder ganz von ihrer frechen, fröhlichen Art gezeigt :-)
Miss Muffin started in Champion Class and was on her own as well. She had so much fun and did show her cheeky happy side again :-)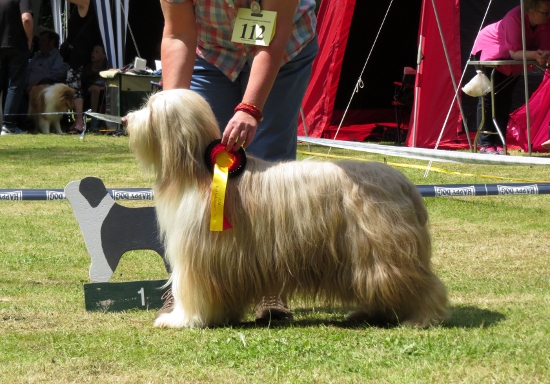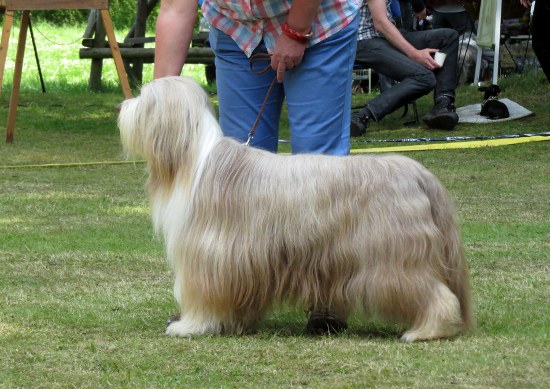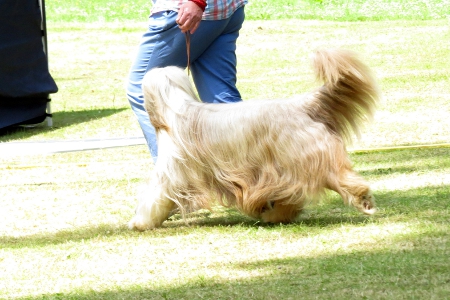 Zusätzlich durften beide zusammen in der Paarklasse starten. Es waren 4 Paare gemeldet, einmal Beardie ;-), zwei mal Border Collie und in Sheltie Paar. Miss Muffin und Chocci hatten viel Spass, haben sich wirklich vorbildlich benommen und wurden mit dem ersten Platz belohnt
Later the two of them did start in brace. There were 4 pairs, the Beardies ;-), two Border Collie couples and one Shetland Sheepdog couple. Miss Muffin and Chocci had lots of fun, did behave really well and were awarded first place.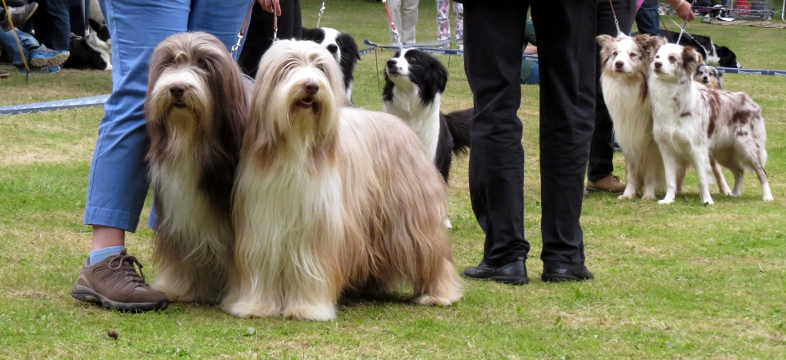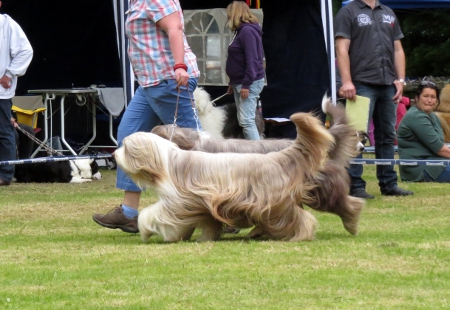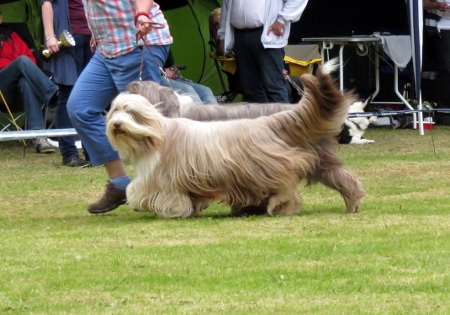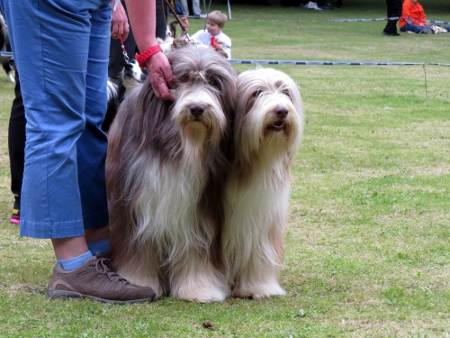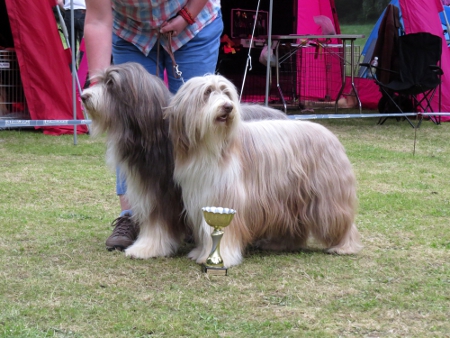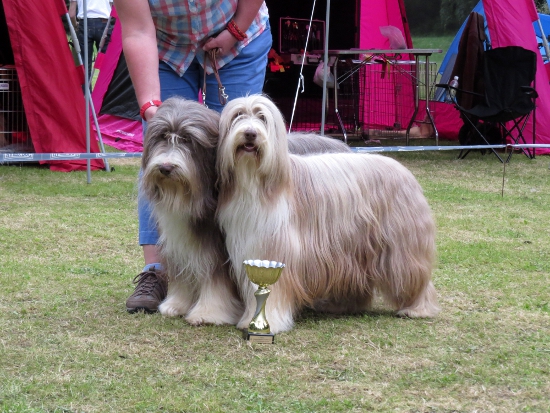 Es war mal wieder toll in Bad Salzhausen!!! Danke!
Once again we spend a lovely day in Bad Salzhausen!!! Thank you!
21/05/14 Happy Birthday CHOCCI

Mein irres kleines braunes Chocci ist heute 10 Jahre und benimmt sich immer noch als sei er keine 18 Monate :-) Bleib so, du Irrer
My little, crazy, brown Chocci is turning 10 and still behaves not a day older than 18 months :-) Just stay the way you are, you crazy Brownie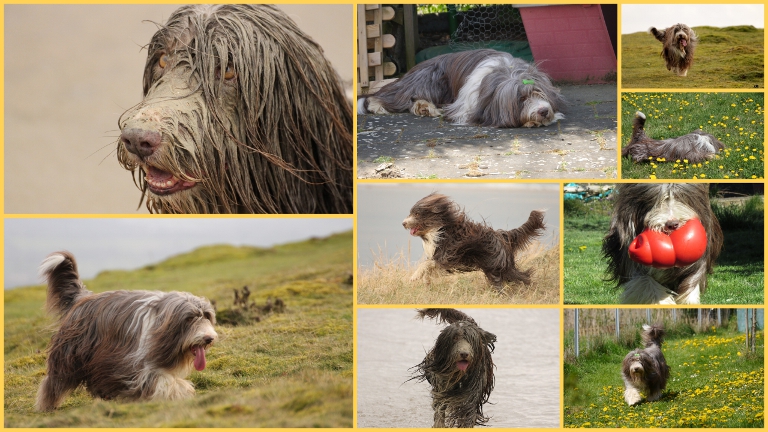 18/05/14
CAC Wiesental, Prämierung beste Ausstellungshunde der LG 2013

Dt.Ch VDH, Dt. Vet. Ch Holmsland Klit Finest Chocolate Chip, mein kleiner "Chocci" wurde bester Veteran der LG, seine Tochter "Toffee" Dt. CH VDH Romantikstreet Chocolate's Toffee war auf Platz 8 und Dt. Ch VDH, Club (CfBrH), Clubsiegerin Midlands-Corner Hazel Muffin, das kleine braune "Muffin" wurde bester Ausstellungshund der LG
Our branch of the Club does name the best shown dogs from the past year, each year at our lokal Club Show. Dt.Ch VDH, Dt. Vet. Ch Holmsland Klit Finest Chocolate Chip, my little "Chocci" was best Veteran, his daughter "Toffee" Dt. CH VDH Romantikstreet Chocolate's Toffee came 8th and "Miss Muffin" Dt. Ch VDH, Club (CfBrH), Clubsiegerin Midlands-Corner Hazel Muffin came first!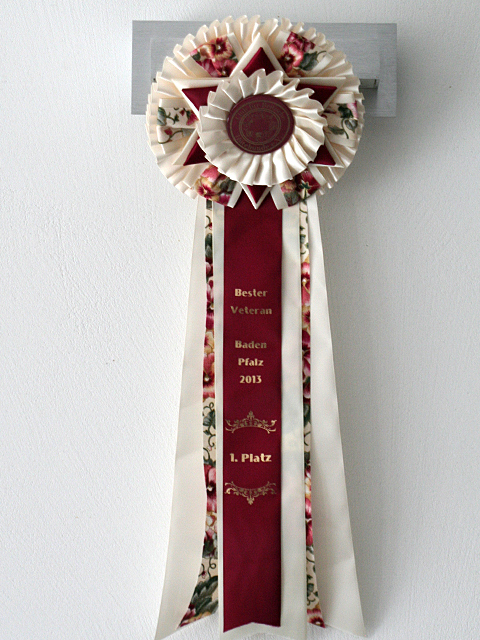 Bester Veteran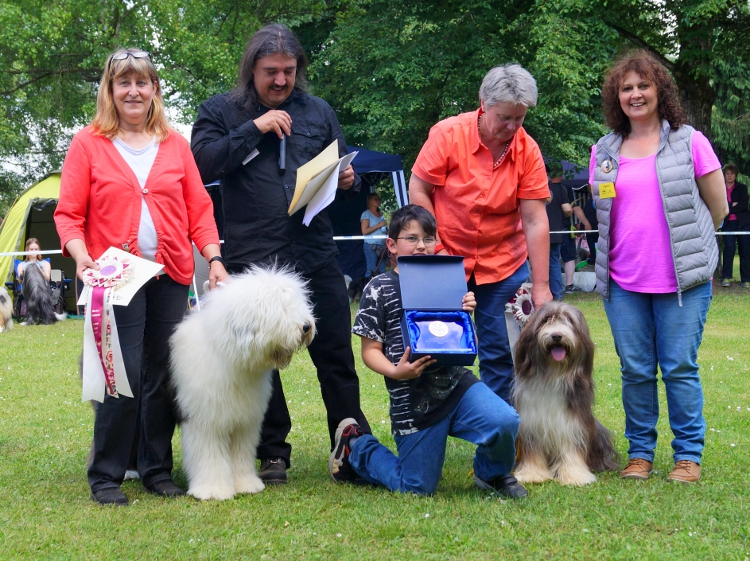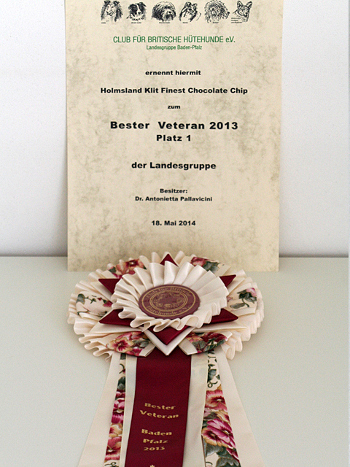 Bester Ausstellungshund