März - April

27/04/14
Happy Birthday Frl. Toffee, mein kleines Hexlein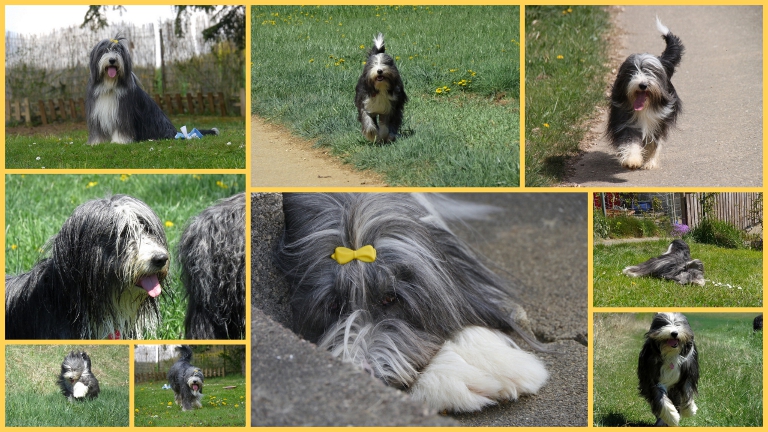 26/04/14 Es ist Frühling!!!! Der Löwenzahn blüht und auch die Rapsfelder, ich liebe diese Zeit wenn alles aufwacht. Diese Farben sind einfach genial, alles frisch grün, ganz viel gelb und dazwischen die Obstbäume. Und natürlich die Beardies ;-) Wir hatten ein paar wunderschöne Tage und ich konnte ganz viel Zeit mit den Beardies im Garten verbringen. Einfach herrlich!!!!
It's spring!!!! Dandelion is in full bloom, raps seed starts as well. I just love this time of the year, when nature seems to wake up. The colors are just great, bright new green and the yellow of the dandelion, inbetween the lovely colors of the fruit tree. And of course the Beardies ;-) We had some lovely sunny days and I was able to spend some time with the Beardies outside in the garden. Just great!!!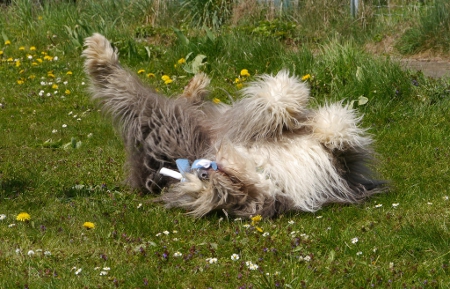 Phil - Muffin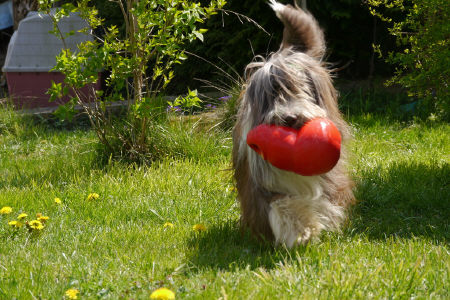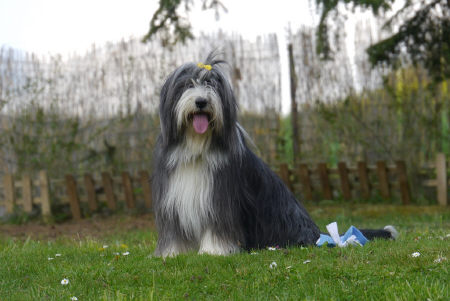 Chocolate - Toffee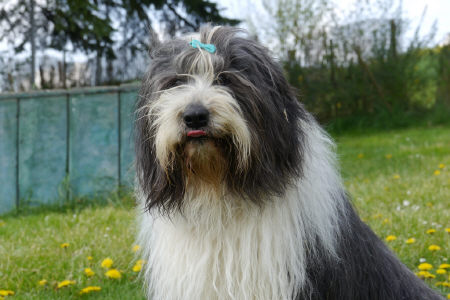 Casper - Baghira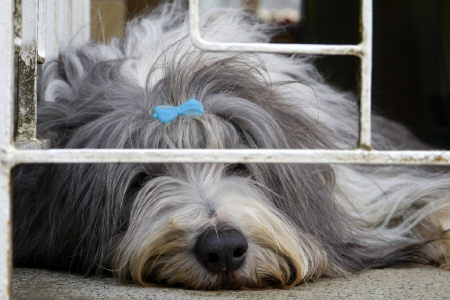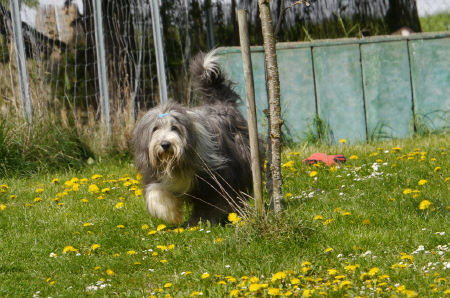 Phil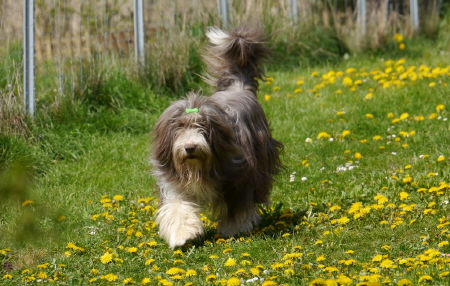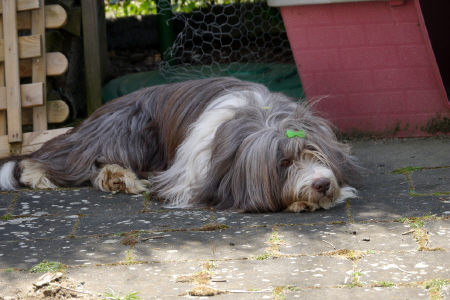 Chocolate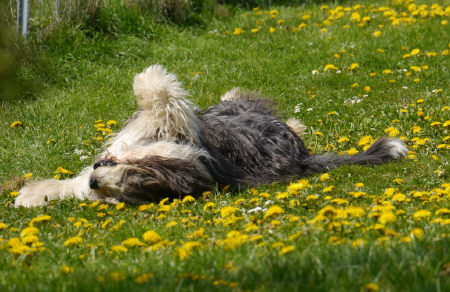 Baghira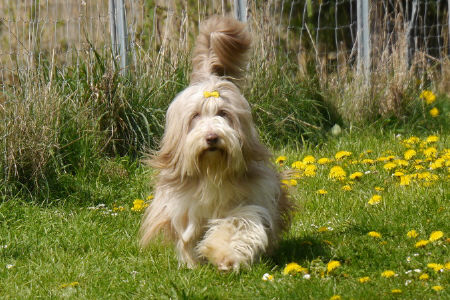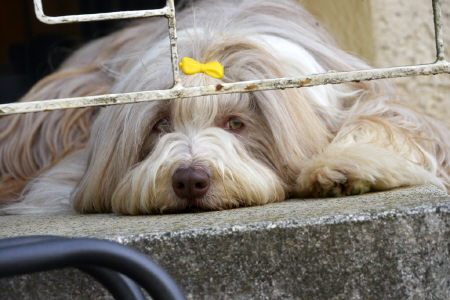 Miss Muffin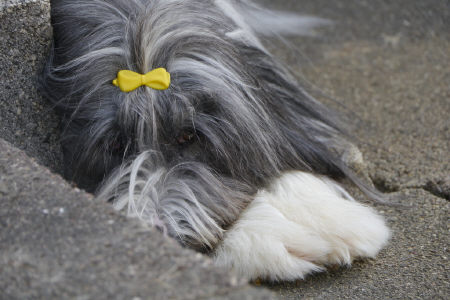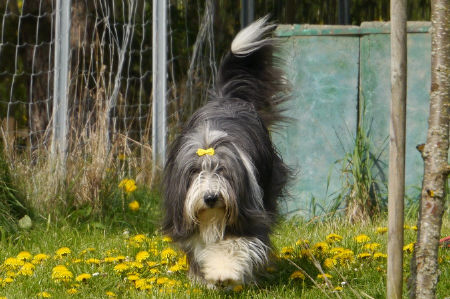 Fr. Toffee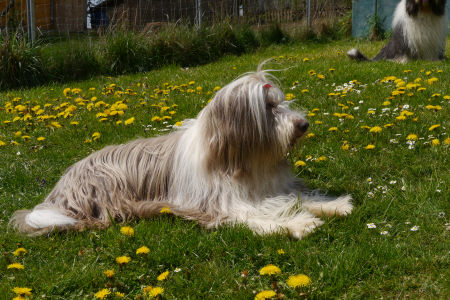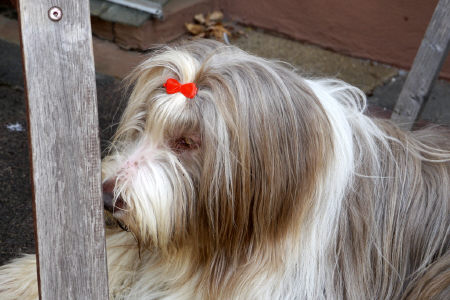 Casper
mehr/more:
17/04/14
06/04/14 Wir waren auf der CACIB in Colmar, Frankreich. Miss Muffin hat sich super benommen und nach einem V1 in der Championklasse das CACIb und anschliessend das BOB erhalten.
We went to the international all breed show in Colmar, France. miss Muffind idn't put a foot wrong and after winning Championclass with Exc. 1 she goot the CACIB and later was BOB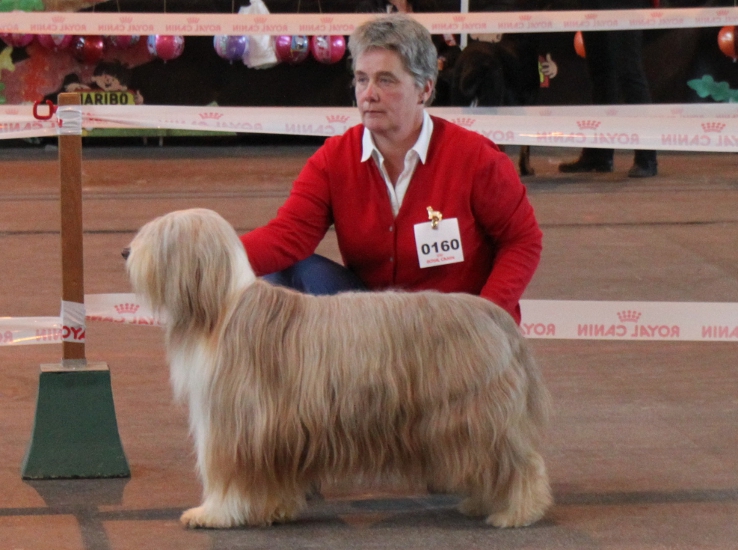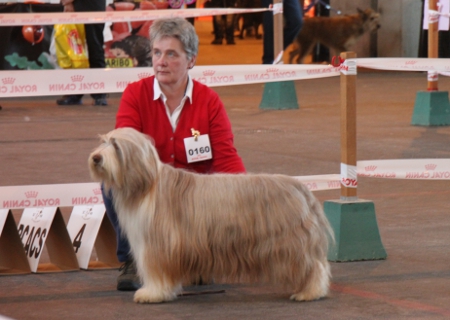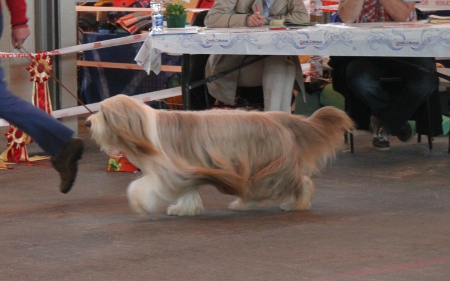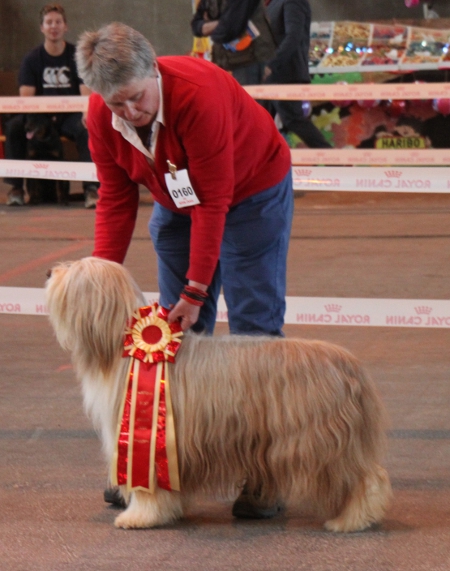 no, we didn't know the judge would bring a red rosette for the BOB ;-)
28/02-09/03 Nach einigen Anlaufschwierigkeiten haben wir es nach England geschafft. Wir, das heisst Iris Berndt, 5 Beardies und ich. Casper durfte in einer Damen WG Urlaub machen. Angefangen hat es mit einer Verpuffung in der heizungsanlage 30 min bevor ich los wollte. Dank des netten Heizungsmonteurs der Firma Degen konnte ich aber doch noch mit einer winzigen Verspätung los. Dann Iris bei Ursel abgeholt, Casper bei Bettina abgegeben und im Stau auf der A8 gestanden. trotzdem kamen wir am Abend in Belgien an wo wir übernachteten. Und hier das zweite Problem, eine Dichtung war undicht und das Wasser stand im Wohnmobil. Also musstenw ir dieses Problem am Samstag Morgen reparieren lassen. Dann weiter nach Calais, wo uns weder der böige, kalte Wind noch der Regen von einem ausgedehnten Spaziergang abhalten konnte. Die Beardies hatten ihren Spass durchs Wasser zu toben und sich im Sand zu wälzen
After some difficulties we made it to England. We being my friend Iris Berndt, 5 Beardies and me. Casper stayed with Bettina and her two girls for a short vacation as well. First problem, my heating gave up due to some dirt inside and only because of the nice mechanic I was able to leave just a tiny bit later than planned. So I went to meet Iris, leave Casper with Bettina and off we went. It being Friday afternoon we were stuck on the Autobahn, but finally made it to Belgium via Luxembourg. Here the second problem arose, we had water inside the Campervan as some sealing was broken. Well a nice Belgian did repair it the next morning and finally we arrived at Calais. Neither the cold wind nor the rain were keeping us from going for a nice, long walk along the beach, the Beardies had a ball and enjoyed running in the water and rolling in the sand.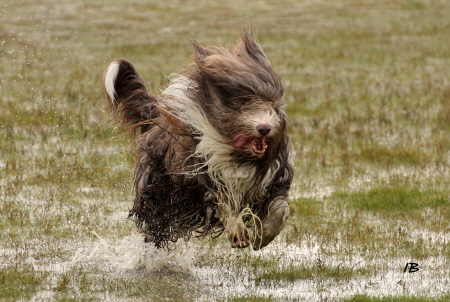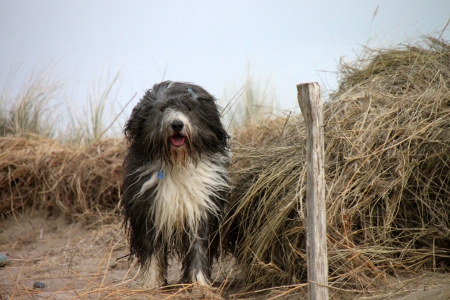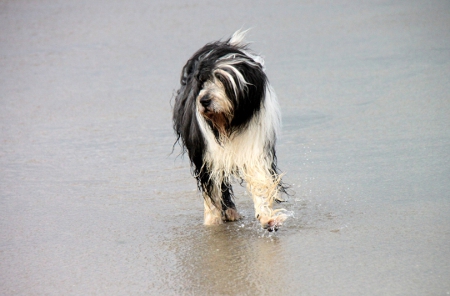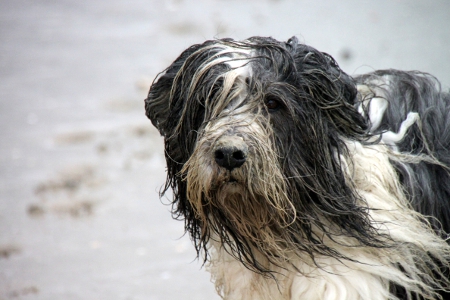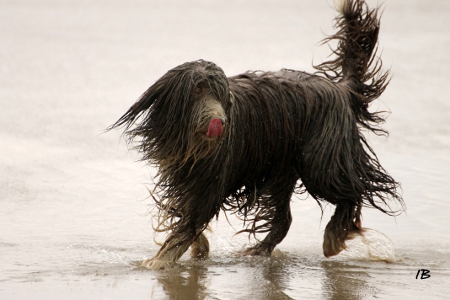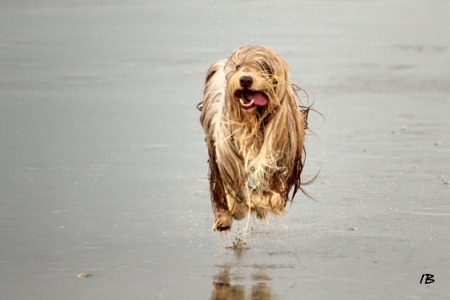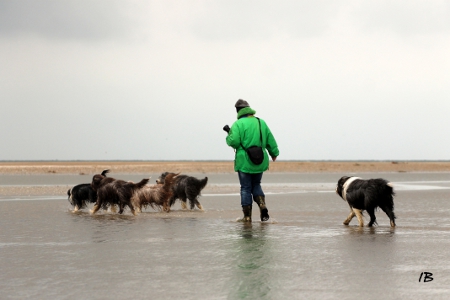 02/03/14 Nachdem wir geplant hatten um die Mittagszeit den zug zu nehmen, waren wir schon früh am Morgen mit dem Hunden am Strand, damit sie sich nochmals so richtig austoben konnten.
As we had planned to take the Eurotunnel around noon, we went for an early morning walk with the Beardies along the beach.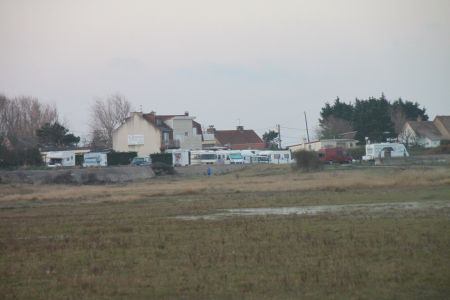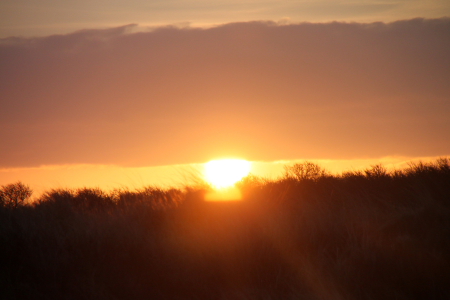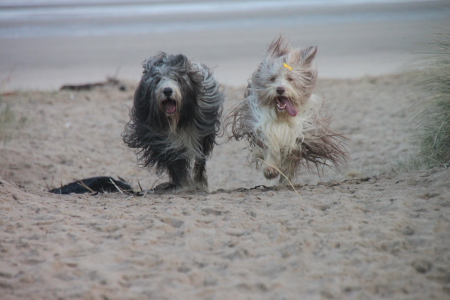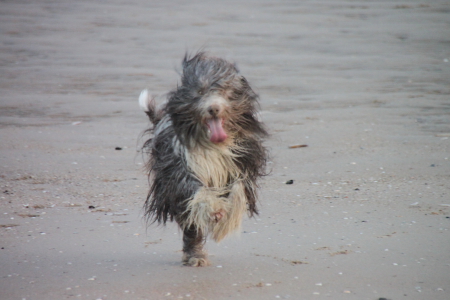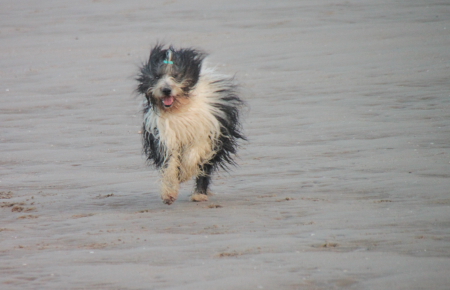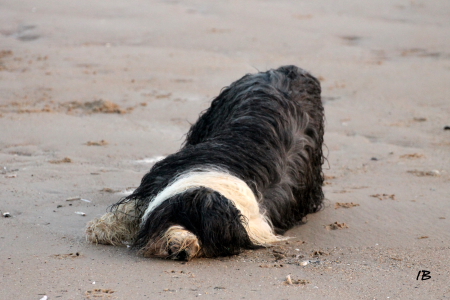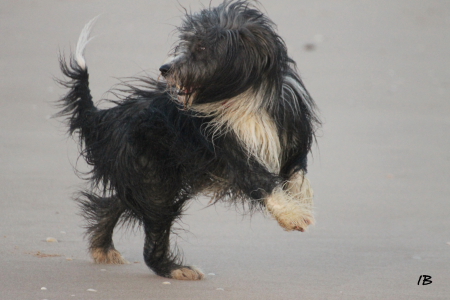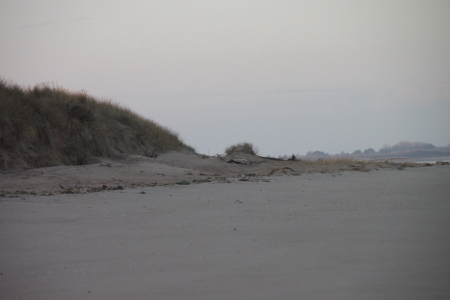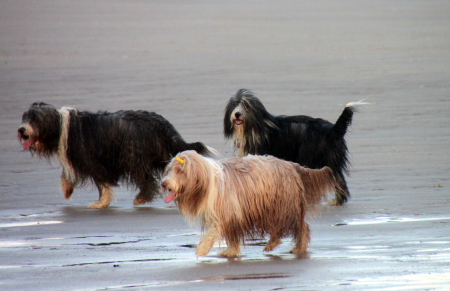 Nach einem kurzen Vortrocknen und Entsanden ging es dann ans terminal und die Tierarztkontrolle. Und hier schlug dann die katastrophe so richtig zu: Muffin's Microchip war kaputt und nicht mehr abzulesen, was bedeutete, dass wir nicht fahren konnten. Völlig genervt und frustriert fuhren wir zurück zum Standplatz und machten einen letzten Spaziergang, bevor es dann ganz zurück gehen sollte. Aber durch den Wind ist mein Zorn verraucht und wir haben uns entschlossen "nur" 400 km (statt 800) nach Voerde zu dem Tierarzt zu fahren, der Muffin kannte und bereit war ihr am Montag Morgen einen neuen Chip zu setzen.
After we did dry the Beardies a bit and got rid of some of the sand we went to the Eurotunnel Terminal and the vet check. And here Disaster really caught us: Miss Muffin's microchip was broken and un-readable and therefore no way to travel ti England. Very frustrated and angry we went for one last walk along the beach before we were to set of back home.... Well the walk did clear my mind and we decided to "just" drive back 400 km (instead of 800) to Voerde where the vet knew Muffin and did agree to implant a new microchip on Monday morning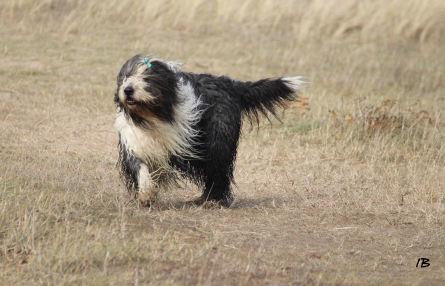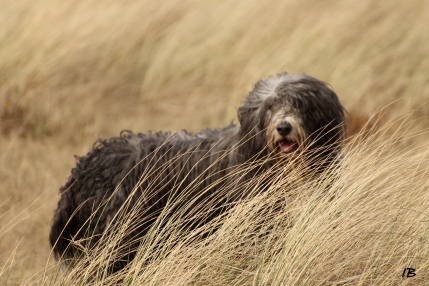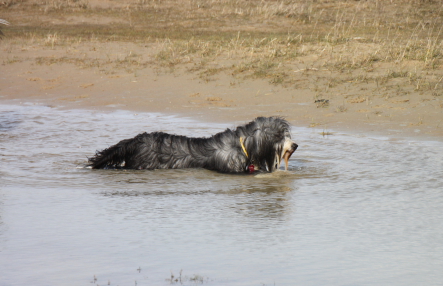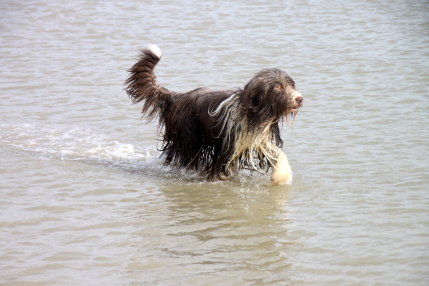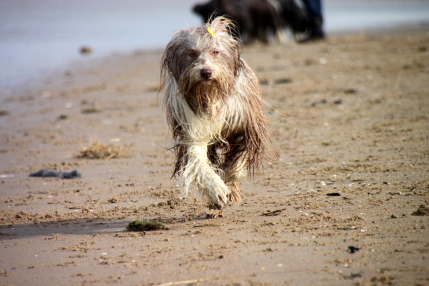 03/03/14 Erneut in Calais haben wir nochmals einen Spaziergang am Strand gemacht, wahrscheinlich dachten die Beardies wir sind völlig verrückt. Fahren 800 km in der Gegend rum, nur um am gleichen Platz zu enden.... Auf alle Fälle haben wir am Nachmittag dann die Fähre von Calais nach Dover genommen, dieses Mal ohne größere Probleme. Für das Toben am Stran erhielt Muffin einen Schutz am Hals, ich wollte keinesfalls ein Risiko eingehen und den neuen Chip womöglich noch verlieren ;-)
Arriving in Calais once more we went for another long beach walk. The Beardies probably thought I was totally crazy, driving around 800 km just to arrive in the same place again..... Just in case so Muffin wouldn't loose her new microchip while enjoying the beach, she got a nice bandage around her neck.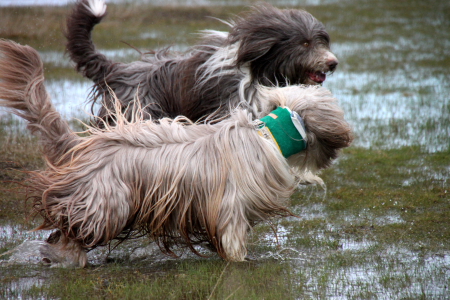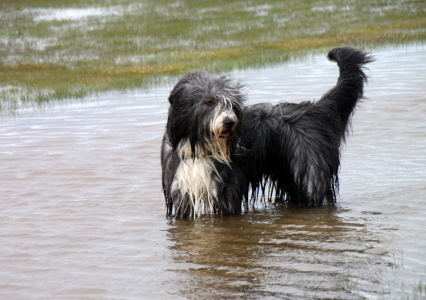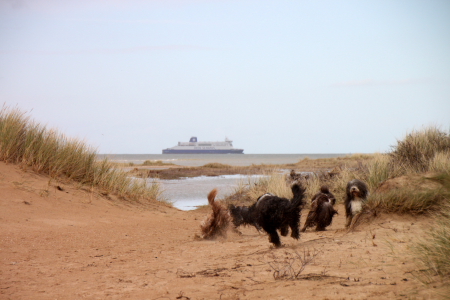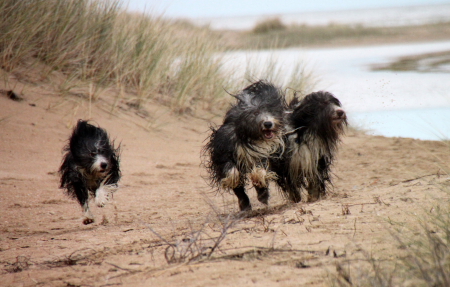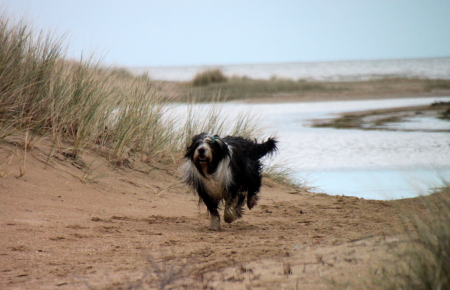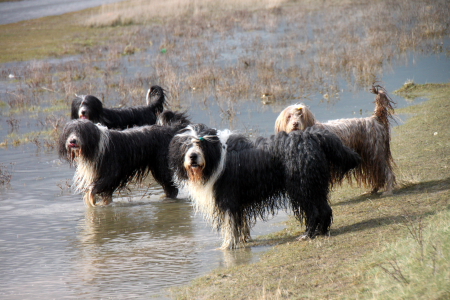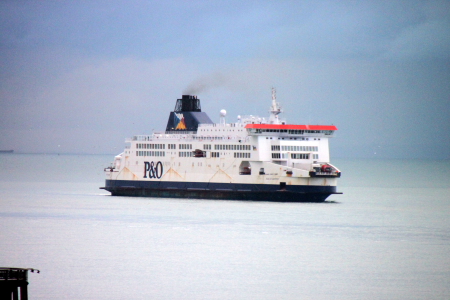 04/03/14 Ich hatte ein Treffen mit Marian und Steven Appleby verabredet um ihnen nach Langem Muffin mal wieder zu zeigen ud um "Granny Beanie" zu treffen. Auf unserem Weg nach Malvern haben wir uns Glostershire Cathedral angesehen, wirklich imposant. Dann ging es in die Malvern Hills wo wir nach einem gemütlichen Mittagessen einen wunderschönen Spaziergang unternommen haben. Anschliessen ging es zu einer gemütlichen Tasse Tee zu Marian und Steven und wir trafen Beanie. Ja, jetzt kann ich verstehen, warum mir Marian, Tami und Diane immer sagen, Muffin sei wie ihre Großmutter!
I had 3 aims for this journey: meeting Marian, Steven and Granny Beanie, enjoying a trip to Crufts and having a holiday Baghira would enjoy. Marian had agreed on a walk in the Malvern Hills and on our way to Malvern we did stop at Gloucester to see Ggloucester Cathedral. A very impressive building. Then we went on to meet Marian and Steven. We had a lovely lunch and later went for a nice walk in lovely countryside of the Malvern Hills. Afterwards we came home with Marian and Steven to meet "Granny Beanie", had a nice cup of tea and some more talking. It was a lovely day!!
05/03/14 Auf dem Weg nach Birmingham haben wir in Stratford-upon -Avon und Warwick Halt gemacht. Wir haben uns den Ort und Shakespeare's Geburtshaus in Stratford-upon-Avon angesehen und anschliessend Warwick Castle. Sehr beeindruckend!
On our way to Birmingham we visited Shakespeare's birthplace and the town of Stratford-upon-Avon and later did stop to see Warwick Castle. Very impressive!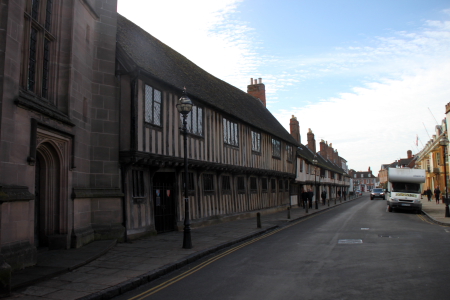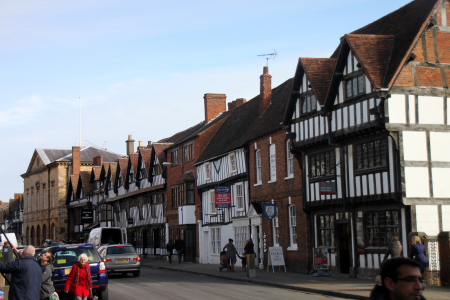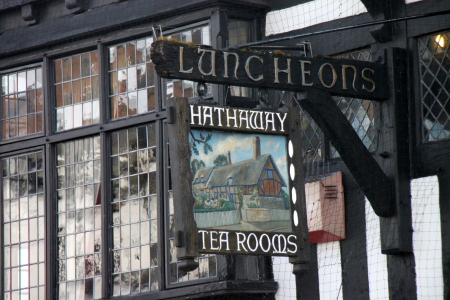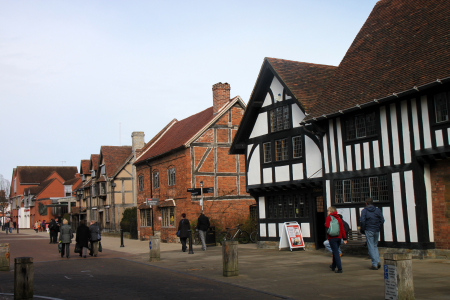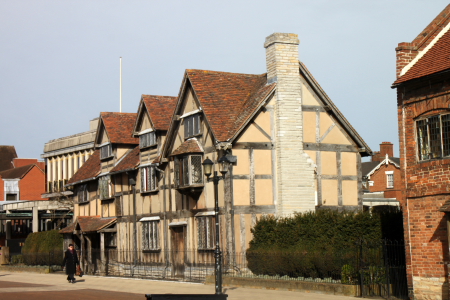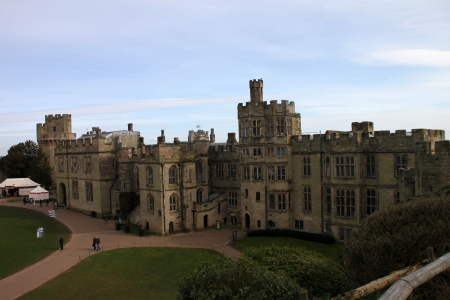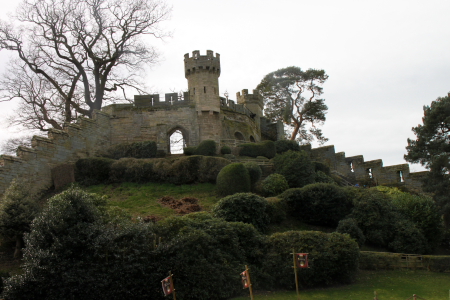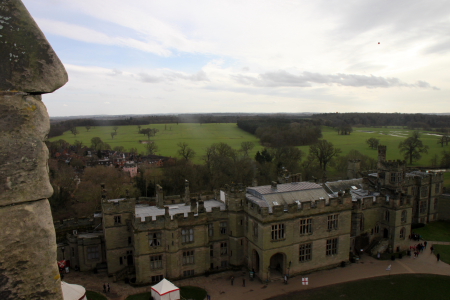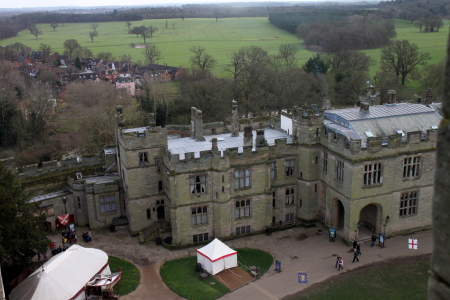 06/03/14 CRUFTS....der einzige Regentag! Wie immer sehr beeindruckend so viele Beardies auf einmal zu sehen. Fotos habe ich nur von Beanie (Ch Brenriga Gift Wrapped For Diotima), Ali (Brenriga Wrapped in Ribbons) ihrem Bruder Ronny (Brenriga Wrapped in Gold For Zoesta), ihrer Mutter Kiri (Diotima it's a Wrap At Brenriga) und Zeeva (Ch Diotima's Heart of Gold).
CRUFTS...the only day it did rain. As always, it's lovely to see so many Beardies in one place. I only took photos of Beanie (Ch Brenriga Gift Wrapped For Diotima), Ali (Brenriga Wrapped in Ribbons) iher brother Ronny (Brenriga Wrapped in Gold For Zoesta), her mother Kiri (Diotima it's a Wrap At Brenriga) and Zeeva (Ch Diotima's Heart of Gold).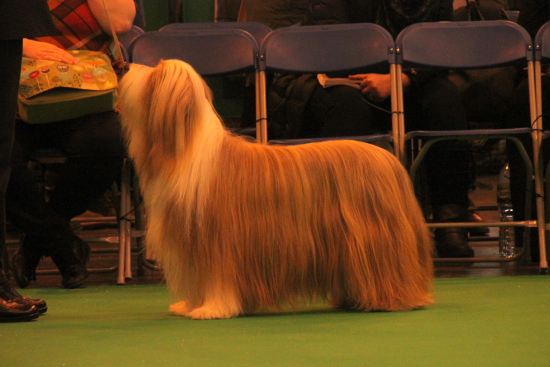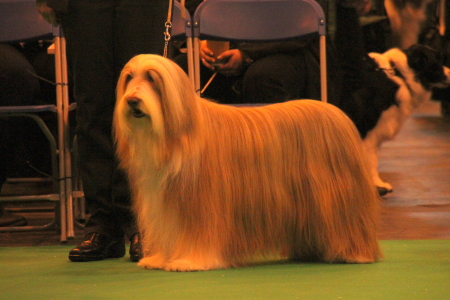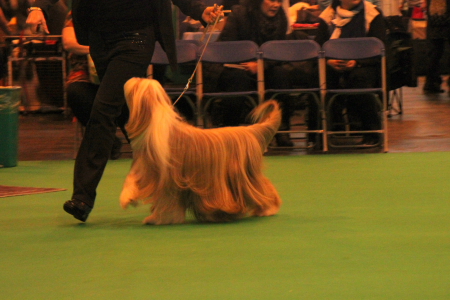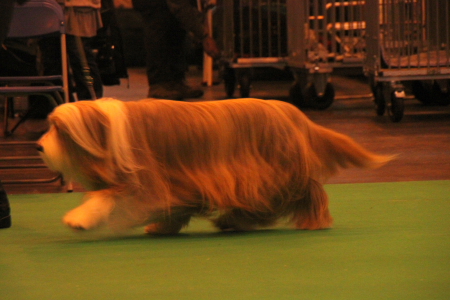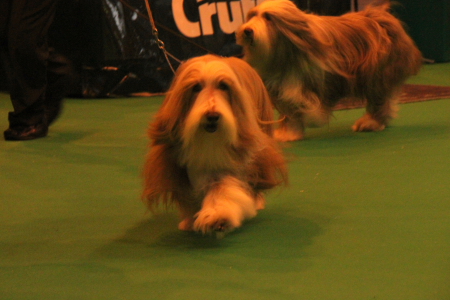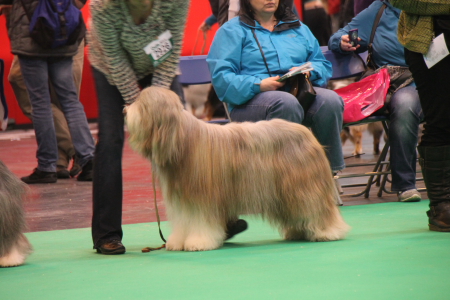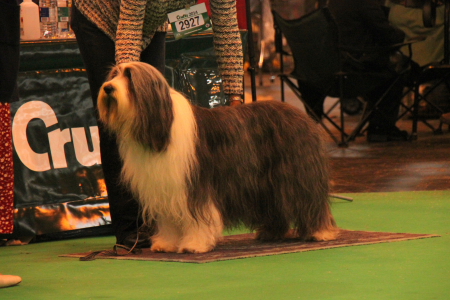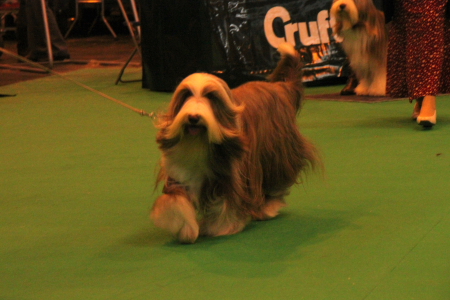 07/03/14 Und schon ging es wieder gen Süden um den Zug nach Calais zu nehmen und dann weiter bis nach Hause. Unterwegs haben wir uns noch Stonehenge angesehen.
In Folkestone gab es dann nochmals probleme mit der Überfahrt. Da wir die Hinfahrt ja nicht nutzen konnten und eine Überfahrt mit der Fähre neu buchen mussten, sei die rückfahrt auch nicht mehr gültig....aber wir sollten uns keine Sorgen machen, die Dame am Infostand würde einen Weg finden. Und das tat diese sehr hilfsbereite, freundliche und kompetente dame auch. Sie erjklärte mic auch, dass ich nur hätte online gehen müssen, das Abfahrtsdatum ändern und nichts weiter wäre passiert....etwas was mir die Mitarbeiter in Calais nicht gesagt hatten, sei es aus Unwissenheit oder Desinteresse....
And our vacation did finally end, we were on our way back to catch the train to Calais and drive home. On our way we did stop at Stonehenge.
In Folkestone we were told as we hadn't used the train to come over, the return ticket was not valid anymore....but the lady at the help-center would find a way. Well this lady was really friendly, helpful and competent! She told me I only should have gone to the Internet and changed the date of my departure and no more problems....something the staff in Calais either didn't care to tell or didn't know....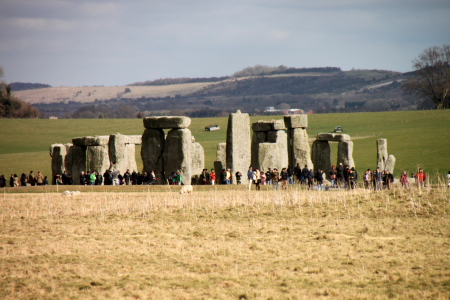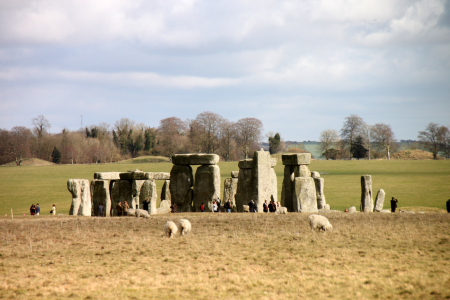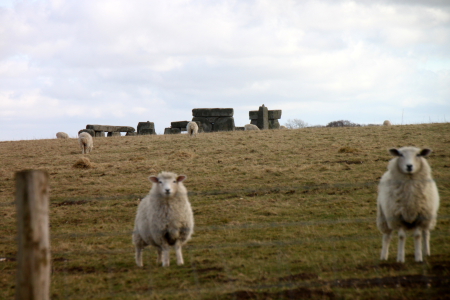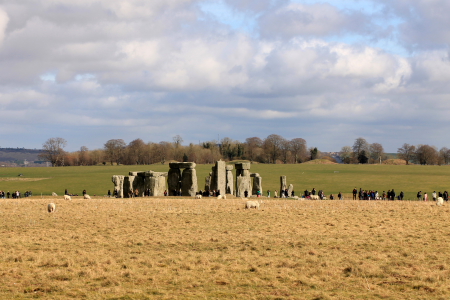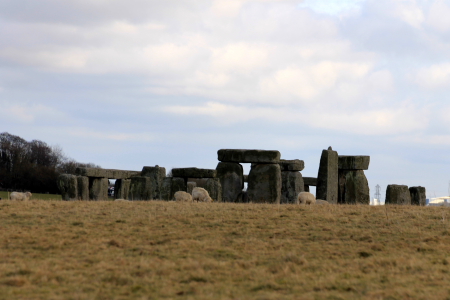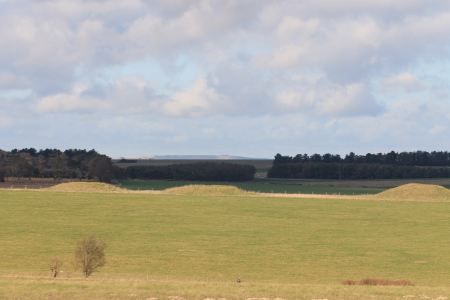 08/03/14 Als wir nachts angekommen waren hatten wir dicken Nebel, der war dann am Morgen auch noch da. Aber das hat uns nicht davon abgehalten, noch einen letzten ausgedehnten Spaziergang zu unternehmen. Und die Beardies hatten ihren Spass. Sie sind gerannt und getobt und haben sich ohne Ende gewälzt...die Folge: wir haben auf der ganzen Heimfahrt immer wieder schaufelweise Sand aus dem Wohnmobil entfernt. Aber sie waren erledigt und somit ganz froh längere Zeit schlafen zu können.
Trotz aller Widrigkeiten hatten wir eine geniale Reise, das Wetter war bis auf einen Tag wirklich genial, die erste Reise mit dem Wohnmobil hat Spass gemacht. Ich hatte Gelegenheit nette Freunde wieder zusehen, daneben auch meine Cousine in Bristol besucht, ich hoffe Iris musste nicht zu sehr frieren, mir war immer eher zu warm ;-) Die Beardies hatten ihren Spass, das Baghirchen mit seinen knapp 13 Jahren hat alles super mitgemacht und es war ein Freude ihn rennen und toben zu sehen. Mal sehen, wann es uns wieder auf die Insel verschlägt...
When we arrived in Calais during the night we had really thick fog, which didn't lift before we left the next morning. But this didn't keep us from going for another long walk along the beach. The Beardies really enjoyed this walk once more, lots of running, chasing and rolling in the sand. Well we left sand along our way, at every stop we did clean the Campervan a bit more. The Beardies were rather happy to be able to sleep on our way back.
All in all it was a really great journey, despite all our troubles. We had some lovely weather, only raining on Crufts day and traveling with the Campervan for the first time was really fun. It was great to meet friends again, I saw my cousin in Bristol as well. I do hope Iris wasn't too cold, for me the temperatures were really fine ;-) The Beardies had lots of fun and it was a really joy to see Baghira who'll be 13 in a few months enjoying the trip and running with the others without any problems. We'll see when it'll be the next time I'll be visiting GB again....