September - Oktober
27/10/12 OK, die Wettervorhersage war (leider) richtig....sie haben den ersten Schnee des Winters vorhergesagt und sie haben ca 10-15 cm vorhergesagt. Warum nur muss das auch wirklich stimmen??? Ich hasse es, wenn ich morgens von meinem Bett aus OHNE Brille oder Linsen schon den Schnee erkenne! Und wenn es dann noch den ganzen Tag schnei, was gibt es da Schöneres als ein Feuer im Schwedenofen und eine Tasse heissen Tee (und ein Buch). Was für ein Glück, dass es mit den Winterreifen noch geklappt hat ;-)

Well the weather forecast was right...they predicted the first snow for this winter and they predicted 4 to 6 inches of it. But why did they have to be right??? I hate it when the first thing I see in the morning, even WITHOUT my glasses or lenses is white stuff falling from the sky. And it didn't stop the whole day. Well on a day like this there is nothing better than having a nice fire going and enjoying a nice cup of tee 8and a book). Lucky me, i got my winter tires in time ;-)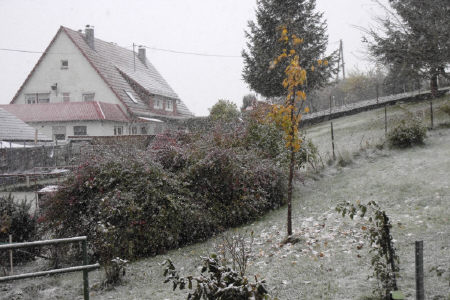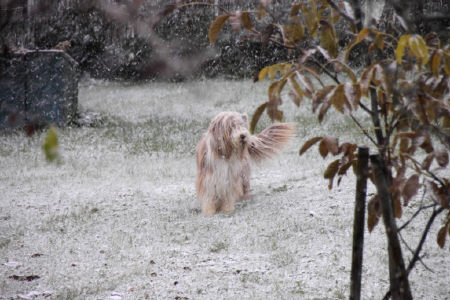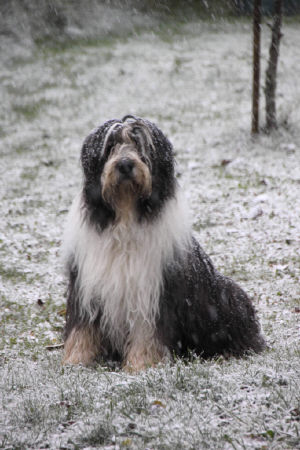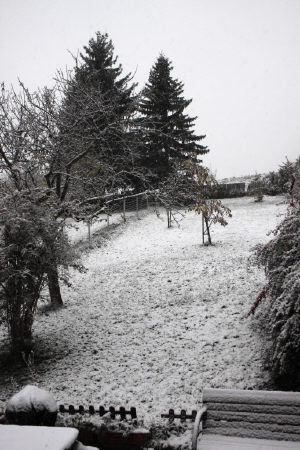 8:00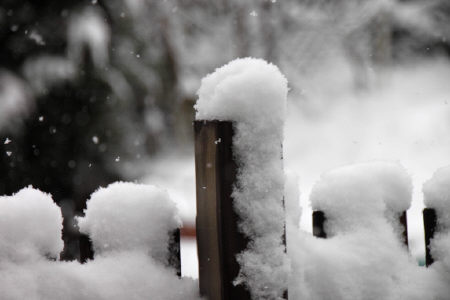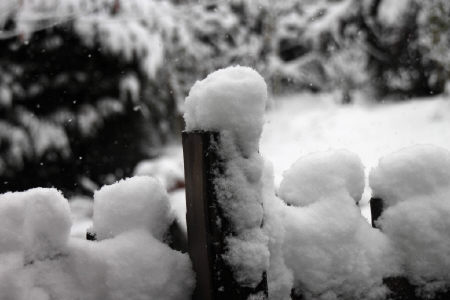 10:00 - 13:00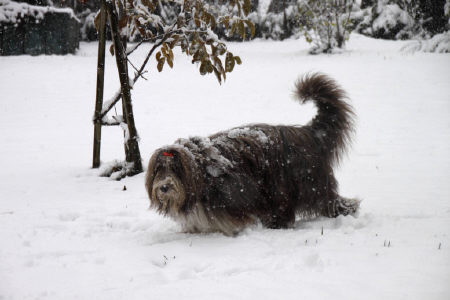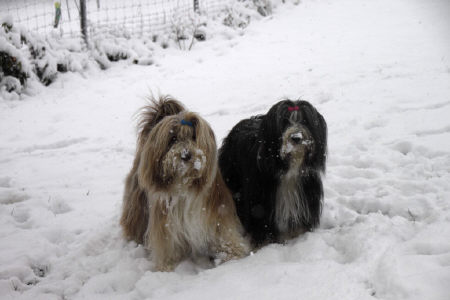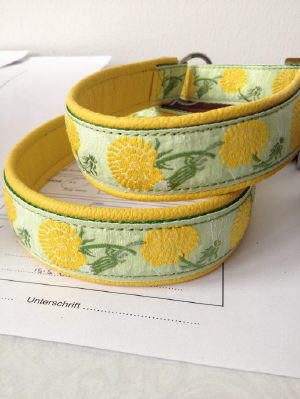 der nächste Sommer kommt bestimmt, Danke Ursel
next summer is coming for sure,thanks Ursel
17/10/12 und noch ein wunderschöner Spaziergang am Wasser. Mehr hier
and another lovely walk across the fields and along the creek More here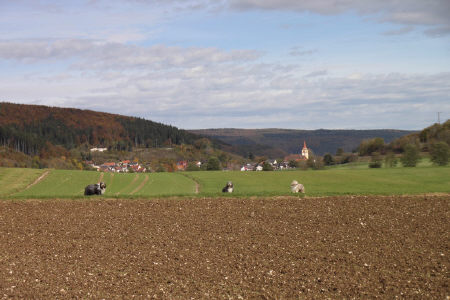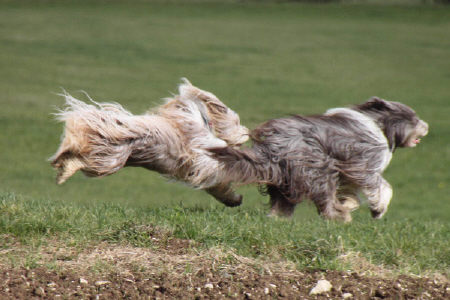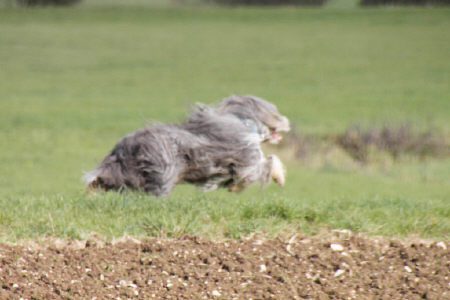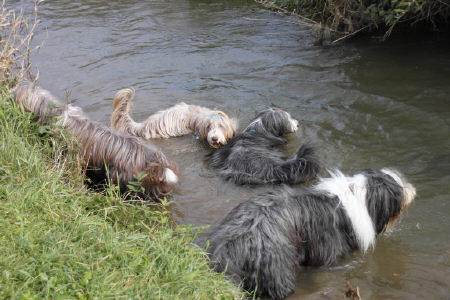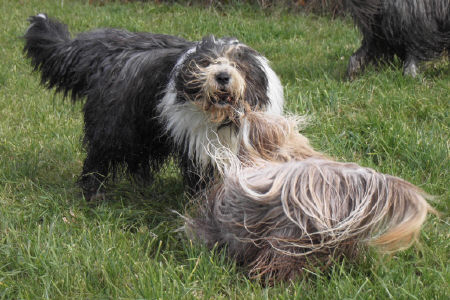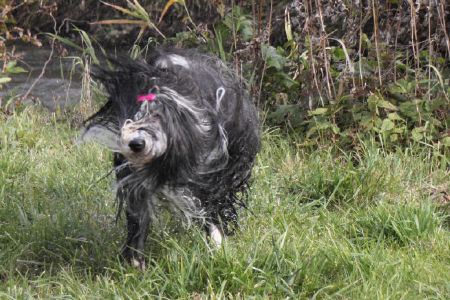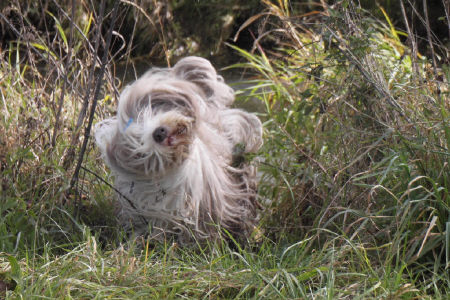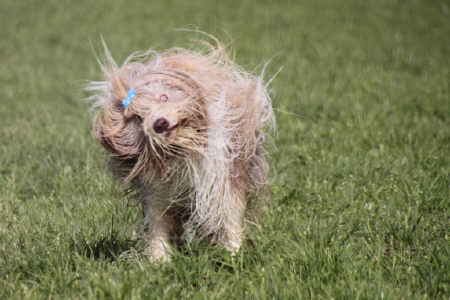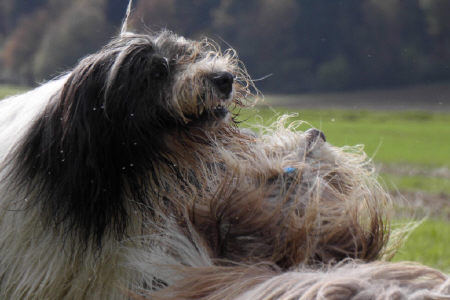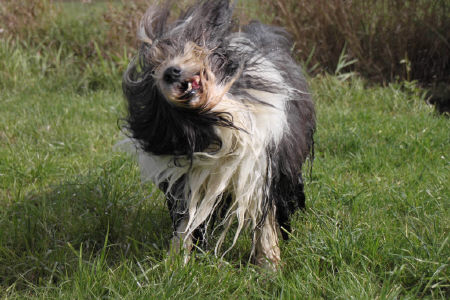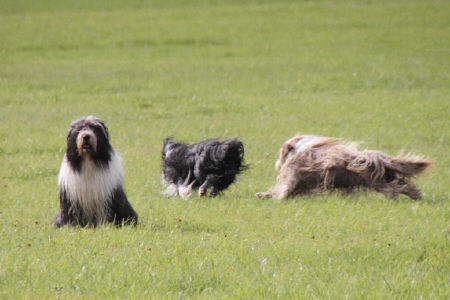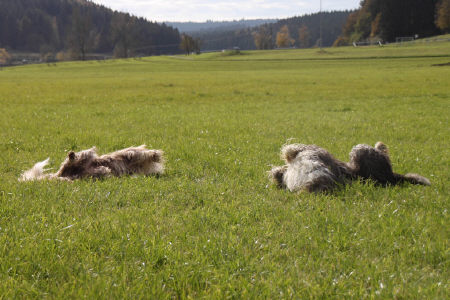 14/10/12 Da ich Mittwoch an Phil's Geburtstag nicht viel zeit für einen schönen, langen, nassen ;-) Spaziergang hatte, haben wir das heute bei herrlichem Herbstwetter nachgeholt. Eigentlich war es kein Herbstwetter sondern fast Sommer! Wir sind wieder einmal über die Wiesen entlang des Baches spazieren gegangen, wobei die Beardies mehr im Wasser waren als auf trockenem Boden. Auf alle Fälle haben sie "Phil's Geburtstags Spaziergang" sehr genossen
As I didn't have the time for a nice, long walk on Wednesday, Phil's Birthday we took the chance today. It was a lovely day, lots of sunshine and it felt more like summer than like autumn. We went across the fields along our little creek. The Beardies had lots of fun on "Phil's Birthday Walk" and were moving more in the water than on dry ground.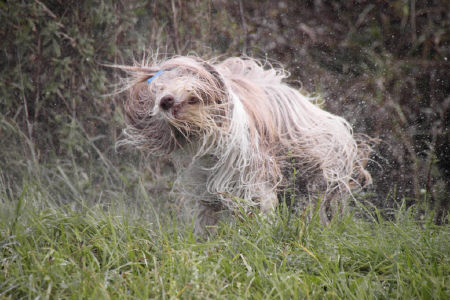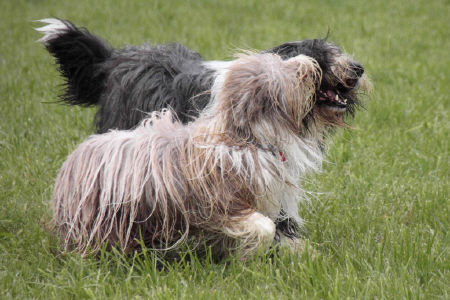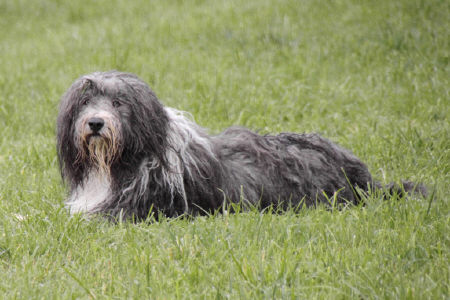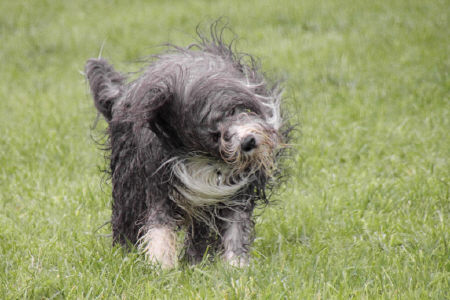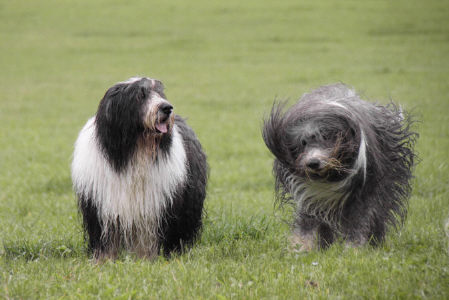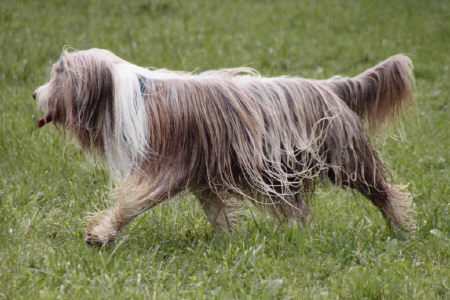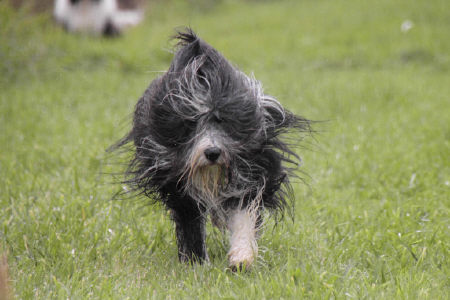 10/10/12
Phil ist 5 Jahre alt
Phil turning 5 years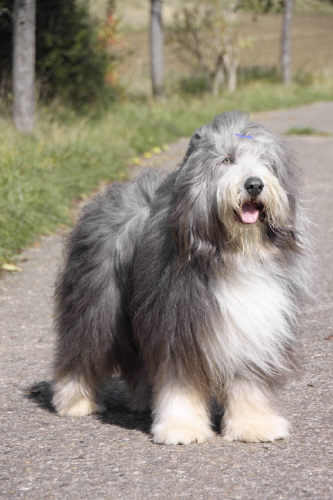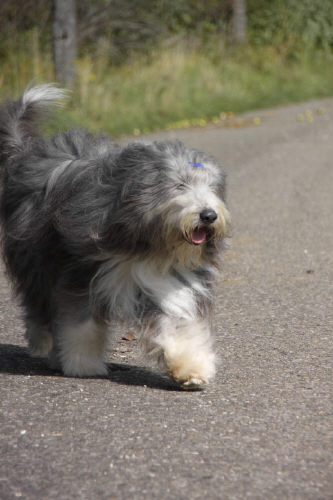 Phil ist und war mein Traum in Blau. Keiner weckt einen wie er, mit langer Zunge und kalter Nase, keiner ist so stürmisch wie er wobei er aber gleichtzeitig zumindest versucht sanft zu sein.
Philli ist mein kleiner blauer Bär. Danke Kerstin für dieses sanfte Balubärchen!

Phil was and still is my Dream in Blue. There is no other like him when it comes to waking you in the morning with a very long tongue and a very cold nose, there is no other like him when it comes to greeting you, boisterous and at the same moment he at least tries to be gentle.
Phil is my little blue bear! Thank you Kerstin for this gentle bear in blue
27/09/12 Manas hat mir nochmals die Hunde gemalt, ich finde sie sind einfach toll geworden! Die Rahmen sind gefunden und nun muss ich "nur" noch entscheiden, wo ich sie aufhängen möchte
Manas painted the Beardies again and I think he did a fabulous job! The frames are bought and now I "only" have to decide where to hang them.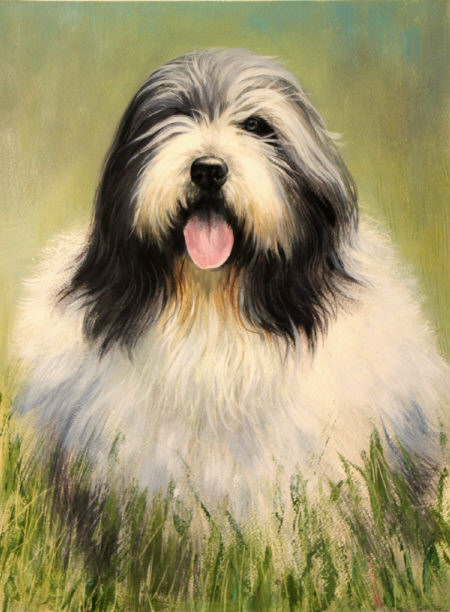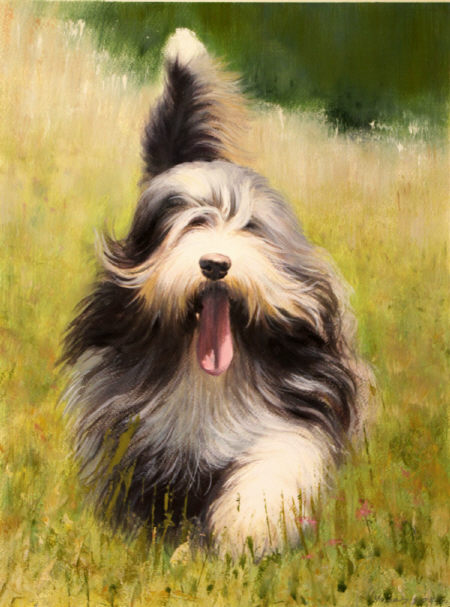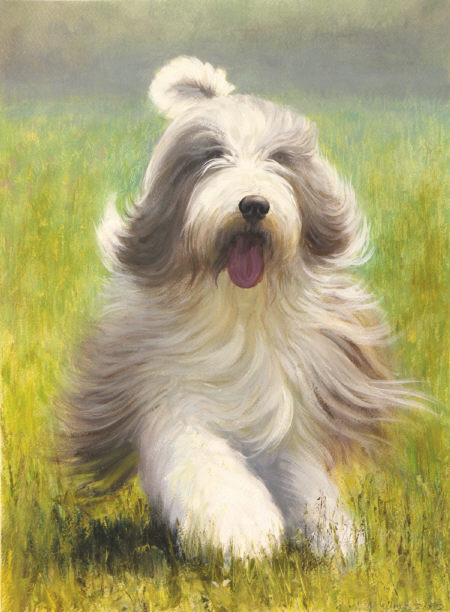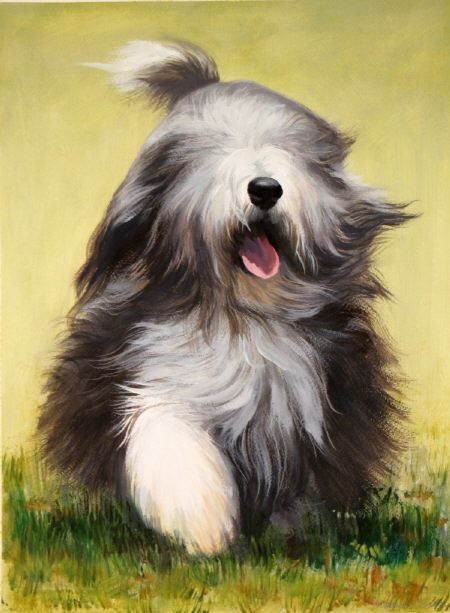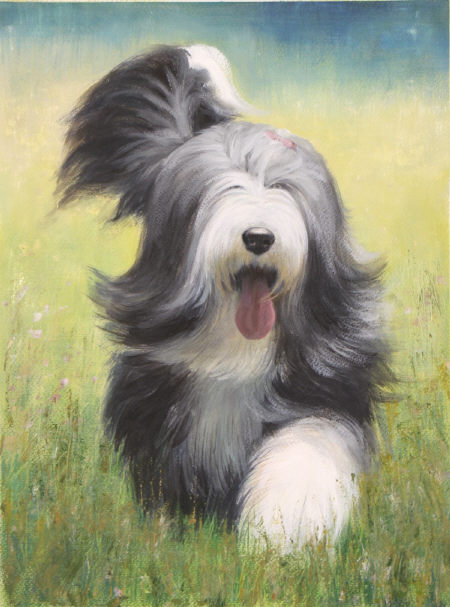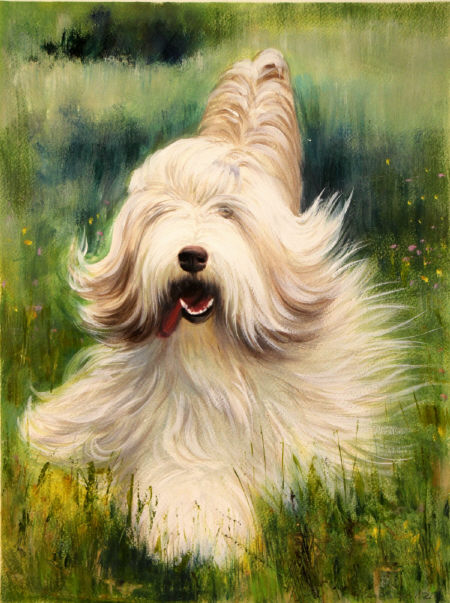 25/09/12 Es wird herbst, da führt kein Weg dran vorbei. Wobei wir uns wirklich nicht übers Wetterbeschweren dürfen, hatten wir doch um die mittagsezit fast immer T-Shirt Wetter. Leider ist "unsere" Rennwiese nun ganz umgeackert worden, aber bevor dies passiert ist, konnten die Beardies noch ein paar mal über den Stoppelacker rasen und sich ausgibig wälzen. Jetzt haben wir auf der anderen Seite des Tals eine Wiese gefunden wo die Beardies wieder aus Herzenslust rennen und toben können.
Autumn is coming and nothing will stop it. Well we were really lucky with the weather, almost always the sun was shining during our noon walks and it was like summer again. It's sad but they did plow "our" lovely green field where the Beardies loved to run and chase. Before it was plowed they enjoyed some good rolls in the stubble-field. I was able to discover another nice green field on the other side of the valley and now they can run and chase each other again.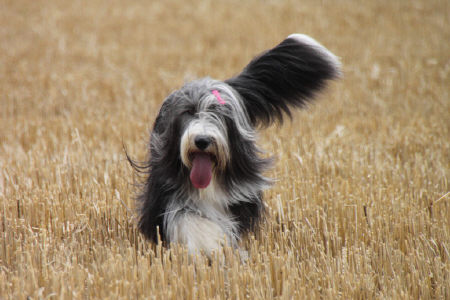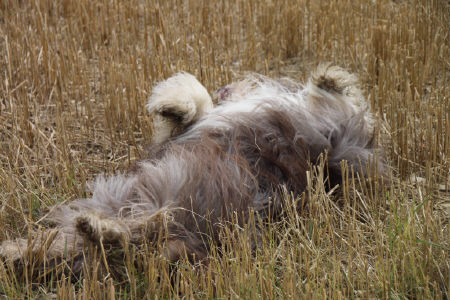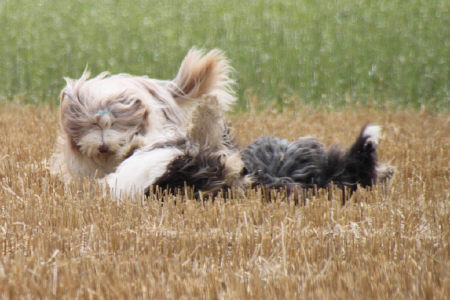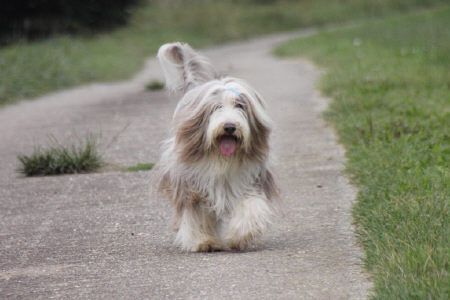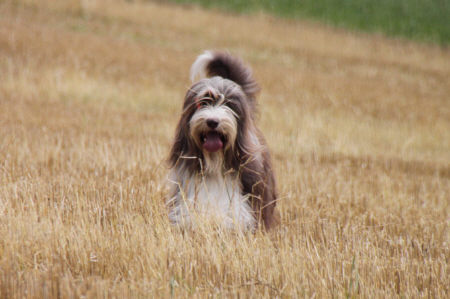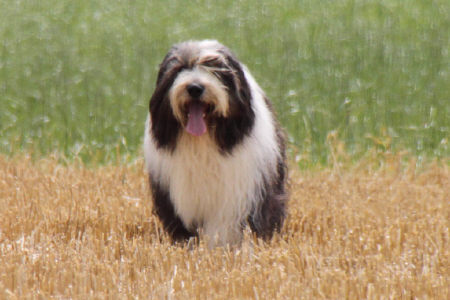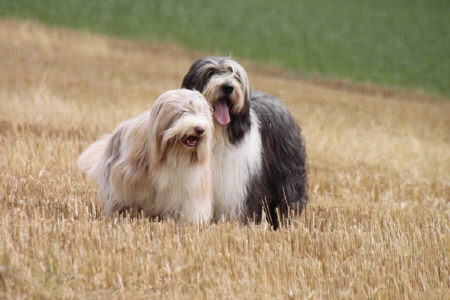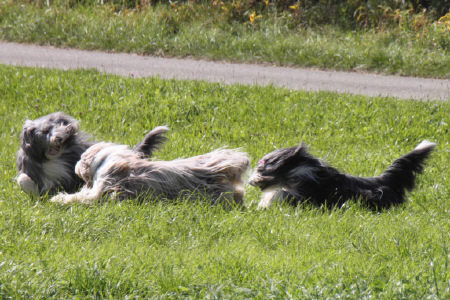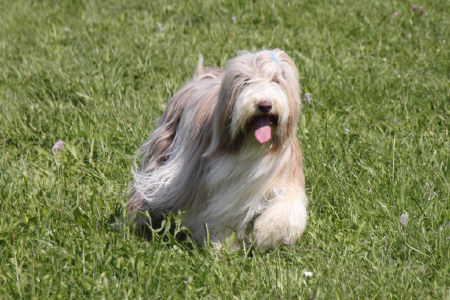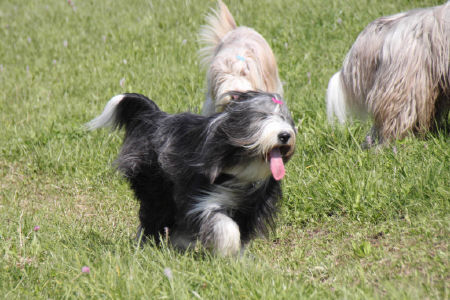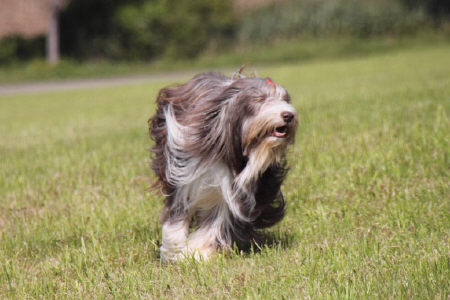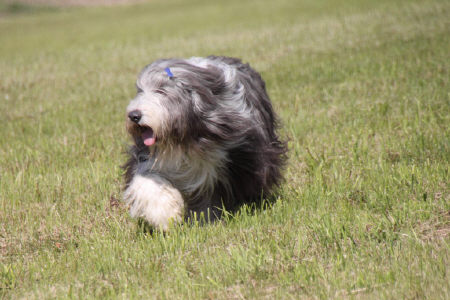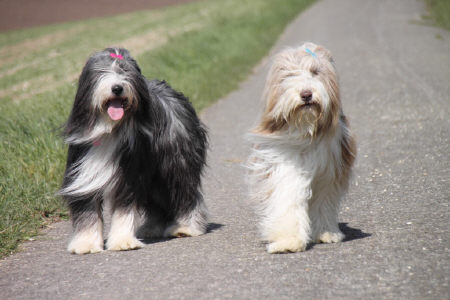 01-02/09/12 Wir waren nochmals ein Wochenende unterwegs. Dieses Mal durften Casper und Phil bei Bettina und ihren beiden Beardie Damen bleiben und haben dafür gesorgt (v.a. Phil) dass Bettina nicht den ersten Urlaubstag verschläft ;-). Baghira musste als Wächter mit (dann traut sich keiner in die Nähe des Autos wenn ich schlafe und er Wache hält), Chocolate, Toffee und Muffin hatte ich auf Ausstellungen gemeldet. Chocolate und Toffee am Samstag auf der CACIB in Gießen, wo Chocolate in der Championklasse ein V3 erreichte und Toffee in der Offenen Klasse ein V2.
Sonntag waren dann nur noch die beiden Damen dran, Chocci und Baghira durften im Schatten liegen und sich erholen. Da nun beide in der Offenen Klasse starten und Martina leider Krankheitsbedingt nicht ihr Toffee zeigen konnte, hat mir kurzfristig Anja ausgeholfen. Toffee und Anja haben sich gut geschlagen und Toffee erhielt ein V3. Muffin hatte Spass. Muffin hat alle Register gezogen und ihren Charm spielen lassen und gewann die Offene Klasse. Aber damit nicht genug, sie erhielt das BOB. Beim BIS hat sie sich nach 2 lagen Ausstellungstagen wirklich super geschlagen, aber die Konkurrenz durch den Bobtail war dann doch zu stark. Mr. Moore meinte sie und der Bobtail seien seine beiden Favoriten gewesen. Glückwunsch an den Bobtaill!
Again we spend traveling around. This time Casper and Phil didn't come along but preferred to spend the weekend with Bettina and her two Beardie girls. They (mostly Phil) tried to make sure, Bettina wouldn't oversleep on the first day of her vacation ;-) Baghira came along as watchdog, he is the best you can imagine. No one would dare come near my car when I sleep in there with Baghira keeping watch. Chocolate and Toffee I had entered at the international all breed show in Gießen, where Chocolate was Exc. 3 in Champion class and Toffee Exc. 2 in open bitch.
Sunday Baghira and Chocolate spend relaxing in the shade while the girls were entered in the Club show under Australian Judge Chris Moore (Perfu). Sadly Martina couldn't come show her Toffee as she fell sick on Friday but Anja stepped in and she and Toffee were placed Exc. 3 in Open Bitch. But Sunday was Muffin's day. She really enjoyed the show and did everything to charm Mr. Moore. She won Open bitch and later went on to win BOB. Late in the afternoon after 2 days spend at shows she really pulled herself together and did a lovely job in the BIS competition. In the end the OES won, Mr. Moore said the two of them had been his favorites. Congratulations to the OES!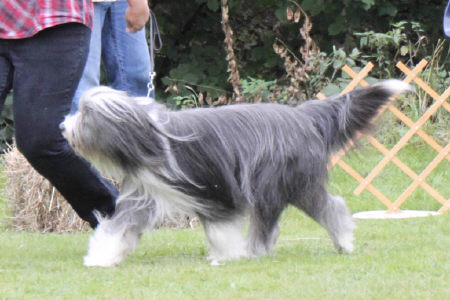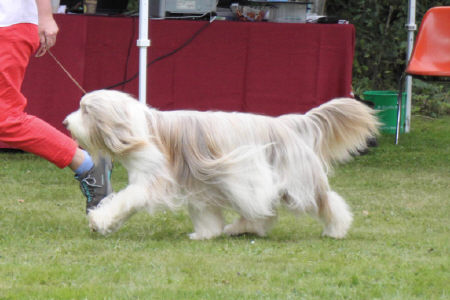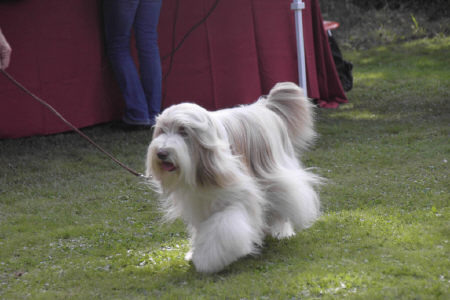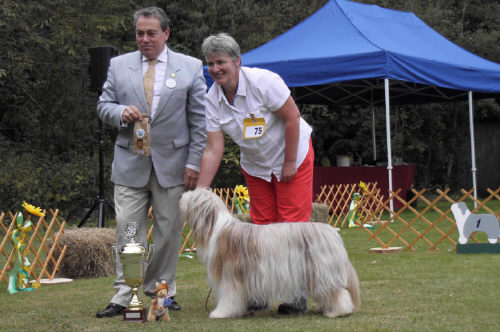 Es war ein wirklich schönes Wochenende, gekrönt durch das kleine Känguru dass Muffin fürs BOB vom Australischen Richter Mr. Chris Moore erhielt!
We spend a really great weekend and the lovely kangaroo Muffin got for her BOB from the Australian judge Mr. Chris Moore was just the icing!