März - April
29/04/12 Am Wochenende waren wir ausstellen. Es fand die CAC Schau unserer Landesgruppe in Wiesental statt. Gerade rechtzeitig kam auch das schöne Wetter, na ja vielleicht sogar etwas zu schnell: +32° am Samstag und auch am Sonntag waren es immer noch +28°. Es waren viele Freunde da und so war es wieder einmal eine sehr schöne, angenehme Ausstellung. Zum ersten mal habe ich eine Paarklasse vorgeführt, Muffin und Casper sind sich farblich so ähnlich, dass es eine Schande wäre sie nicht zusammen zu zeigen. Casper "musste" also in den Ring, etwas auf das er gerne verzichtet, hat er doch dann noch die Championklasse gewonnen. Muffin erhielt V3 in der Zwischenklasse, und in der Paarklasse wurden die beiden 2.
We went to the Club Show in Wiesental, and somehow the weather just in time changed to a lovely Summer weekend; 32° on Saturday and still 28° on Sunday. I met lots of friends and again it was a lovely weekend meeting friends and showing. For the first time I showed in Brace class, Muffin and Casper having almost the same color at the moment, something not to miss. Therefore Casper "had" to be shown, something he could do without. But he won Champion class, Muffin came Exc. 3rd in Intermediate and in Brace class they came second.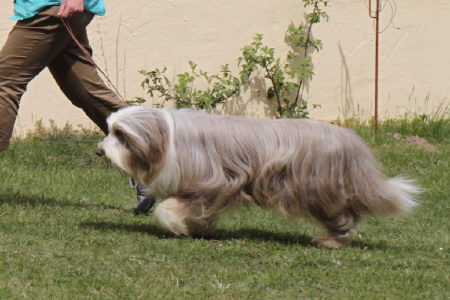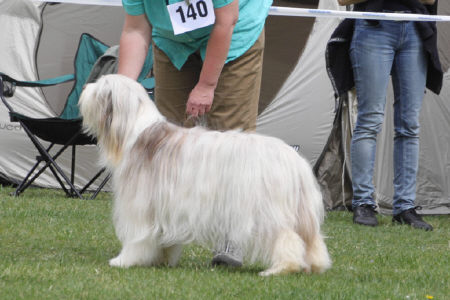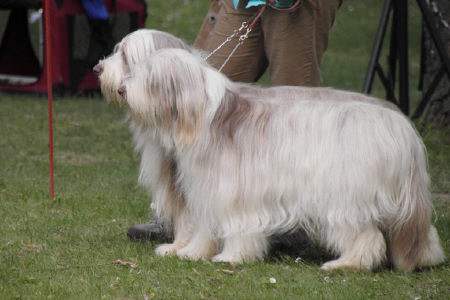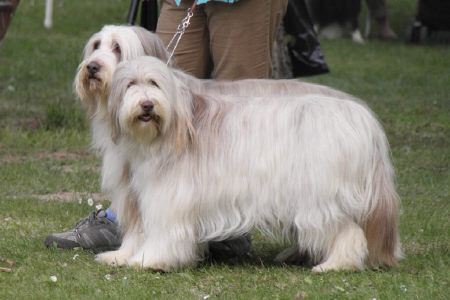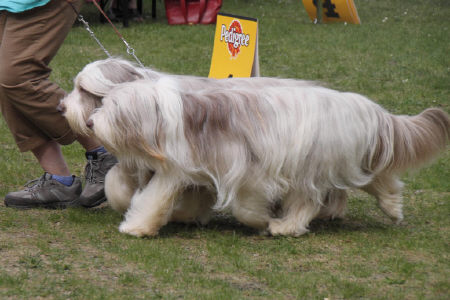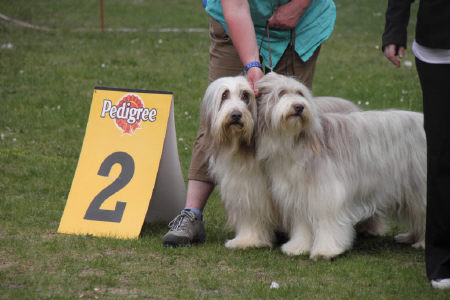 27/04/12
Toffee wird 2 Jahre
Toffee turning 2
mein kleines schwarzes Mäuschen ist heute 2 Jahre alt geworden! So langsam erinnert sie sich, wo sie ihren Pelz gelassen hat und wird eine richtig hübsche kleine Dame. Immer noch liebt sie es bei den Spaziergängen vorne weg zu rennen und die anderen zum Jagen auf zu fordern, sich in den Bach zu legen und es zu schaffen bei 15 cm Wasser 100% nass zu werden: dafür wälzt man sich im Wasser und steckt den Kopf unter Wasser. Zu Hause aber ist sie eine absolute Schmusemaus. Sie ist ein richtiges Chocci Kind und ihm in so vielen Dingen sehr ähnlich.
Today my little black girl is turning 2 years old! Finally she seems to remember where she left her coat and develops into a loveley little female. What she loves most is to be the first one running so the others will chase her, she loves to lay in the little creek and will be 100% wet even if there is only 6 inches of water in it by rolling from side to side and putting her head under the water. At home she is just a lovely little cuddling Beadie. She can't deny her daddy and reminds me so much of him.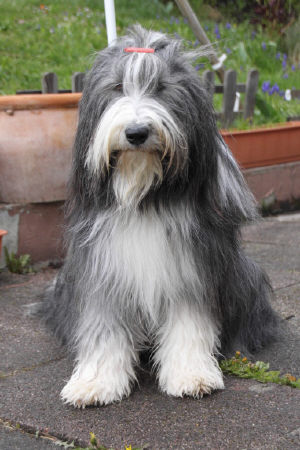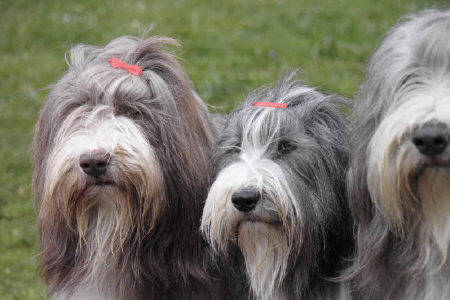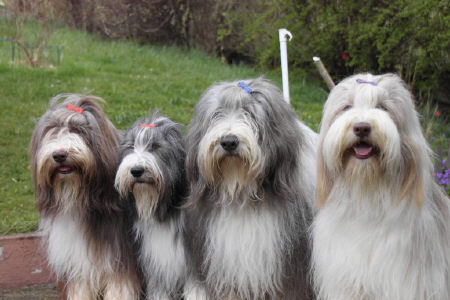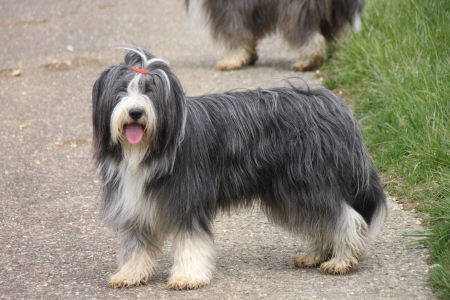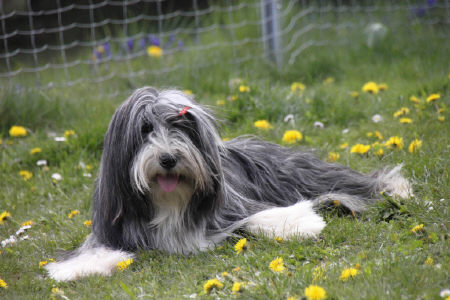 Toffee wird 2 / Toffee turning 2

Endlich Sonne / Finally sunny again
12/04/12 In den letzten 14 Tagen hat der frühling nun so richtig Einzug gehalten. Aber auch der April zeigt sich von seiner besten April-wetter Seite: mal sonnig und warm, dann kalt und Schneeregen, dann wieder grau und Niesel, dazwischen ein Gewitter u.a. mit Graupelschauer. Nun ja zumindest füllen sich die Regentonnen und das Gras wird immer höher und schön grün.
During the last two weeks spring made a big progress. but on the other hand April weather is the same as always: one day nice and sunny and warm, the next gray and cool or even cold with sleet and occasionally a thunderstorm. But at least I can collect rain water for my garden and the grass gets greener by the minute. The trees get tiny leaves and start flowering.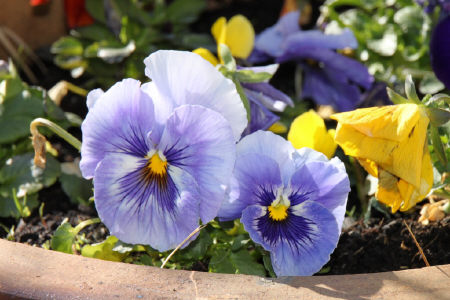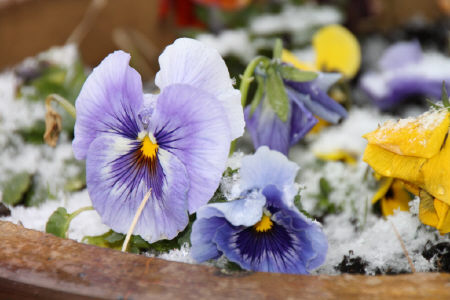 ohne Schnee (li) und mit Schnee (re)
Without snow (left) and with snow (right)
Hier hat sich auch einiges getan, mein Garten ist nun in einen Herren- und einen Damenteil (auch harem genannt) geteilt. Diese Aufteilung wird wohl nur immer mal von Nöten sein, wie auch jetzt, denn Toffee ist läufig. Momentan zieht sie eine Rüdenfreie Umgebung vor, mal sehen ob Miss Muffin sich entschließen kann demnächst auch läufig zu werden.
Finally with the big help of Peter my garden is now divided in two parts, one for the males and one for the females (sometines called harem ). I might use the two parts only occasionally when the girls come into season, like at the moment Toffee. Now I am waiting for Miss Muffin to decide what she'll do. For the moment Toffee enjoys a male free home.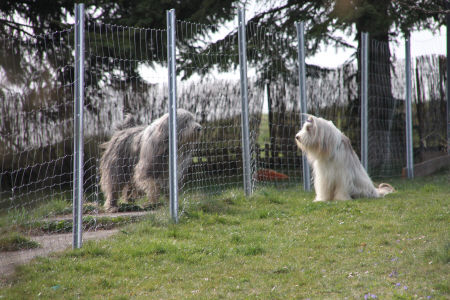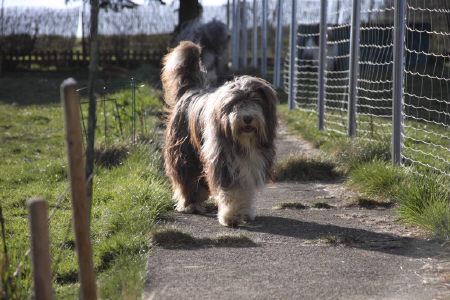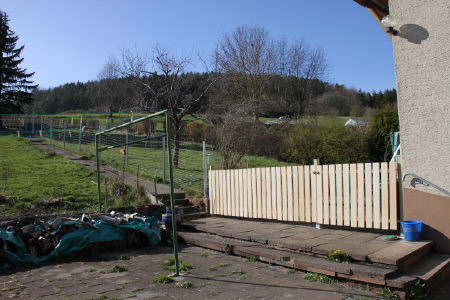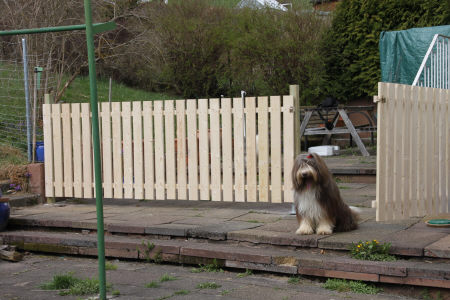 Socks hat sich gut gemacht, sie hat kein so spitzes Gesichtchen mehr und füllt so langsam ihr Fell aus. Sie ist eine sehr freundliche Katze, auch mit den anderen Katzen hat sie zumindest kein problem.
Socks is looking great, she did gain some weight. Her face is more round by now and her coat is not hanging as loose as it did before. She is very friendly with everyone and even the other cats don't bother her.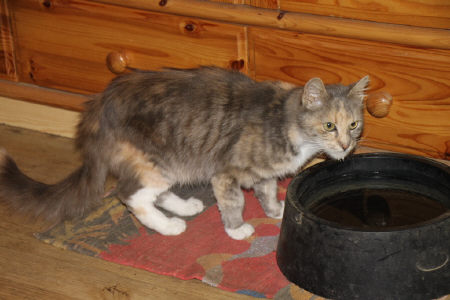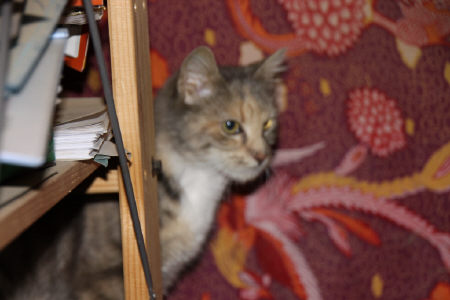 mehr Fotos more fotos:
mein Garten - my Garden
Spaziergang - Beardiewalk
Katzen - Cats
Ostern - Easter
30/03/12 Vor einer Woche ist eine halb verhungerte, verflohte und wahnsinnig nette Katze bei uns aufgetaucht. Sie hat sich Sarah gezeigt wohl in der Annahme, dass Sarah schon das richtige Zuhause für sie finden wird..... Und sie hatte tierärztliche Betreuung dringend nötig wie sich am Montag heraus stellte. Socks hatte eine fette Pyo und seit sie operiert wurde, geht es ihr schon viel besser. Anfangs hieß sie noch "Miss No Name" was sich aber zu "Socks" geändert hat, da sie 4 weiße Socken und eine creme farbene Schwanzspitze hat.
So eine Katze habe ich noch nicht erlebt. Die Beardies sind ihr absolut sympathisch, vom ersten Moment an! Sie ist einfach zwischen ihnen herum spaziert und Muffin hat ihr dann das Haus gezeigt. Mal sehen, sollte Socks sich entscheiden raus zu gehen, dann darf sie bleiben, ansonsten werden wir ihr ein Zuhause suchen bei dem sie drin bleiben kann.
A week ago a almost starved, flea infested and very friendly cat showed up. She decided to come to Sarah expecting Sarah to find the right home for her.... And she was in desperate need for free vet medical treatment having a very nasty pyometra. At first i called her "Miss No Name" but changed it to "Socks" as she has 4 white socks and a creme tail tip.
She is a very amazing cat, having had no problems with the Beardies from the beginning. She just moves among them like she grew up with them. Muffin took her around showing her the house. If "Socks" decides to be an outdoor cat she can stay, if she'd prefer to be an indoor cat we'll find her a loving home.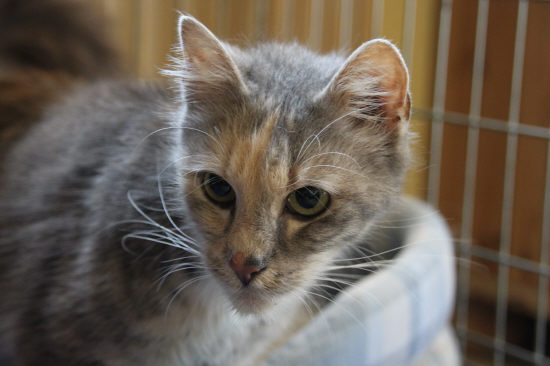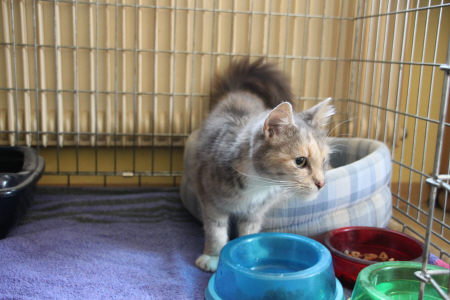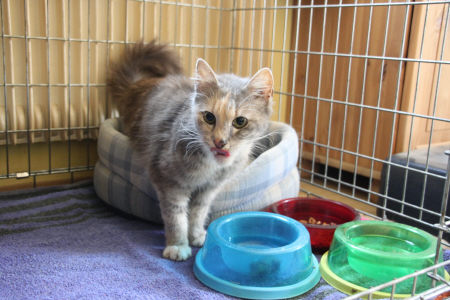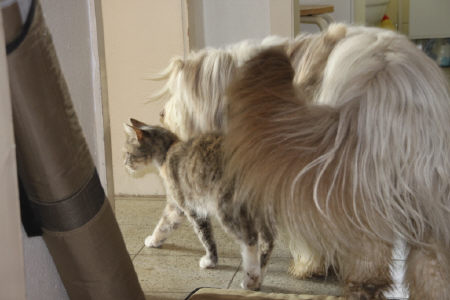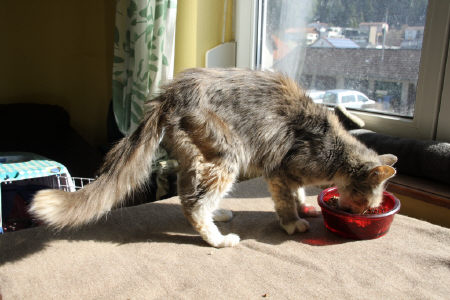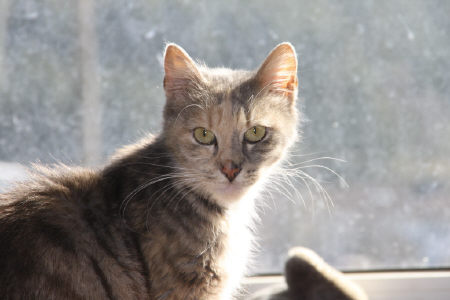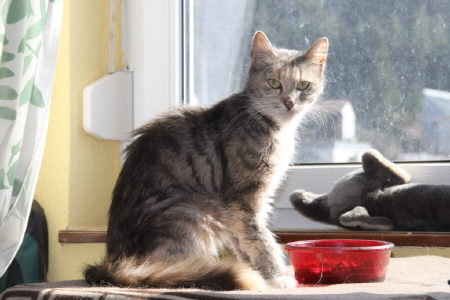 20/03/12 Heute ist Frühlingsanfang!!!!!! Und der Regen von gestern hat die Wiesen schon etwas grüner werden lassen und auch die ersten Blättchen sind zu sehen.
Today is the first day of spring!!!! Yesterda's rain made the grass look a bit greener and even the first tiny little leaves can be seen at the bushes.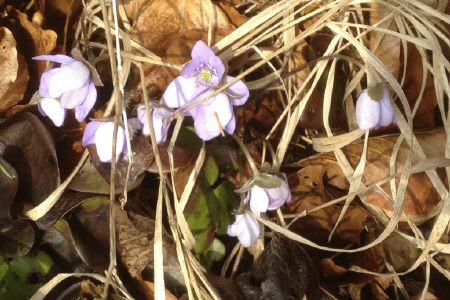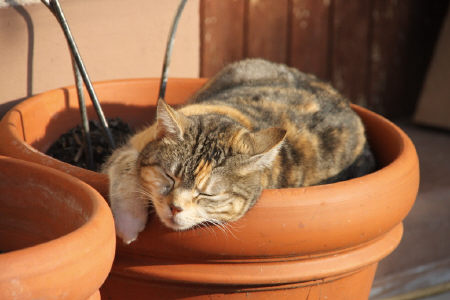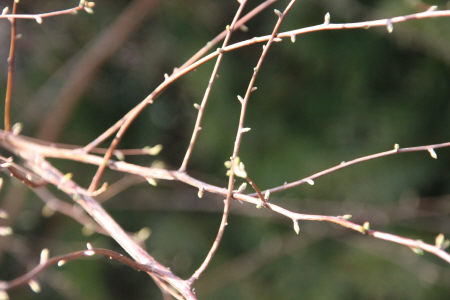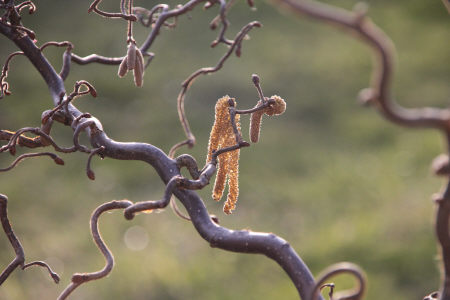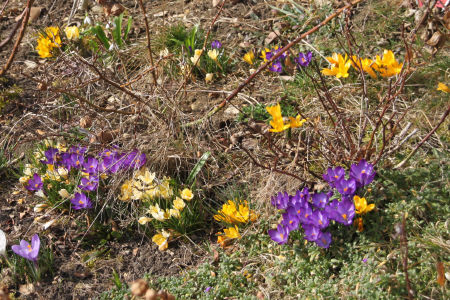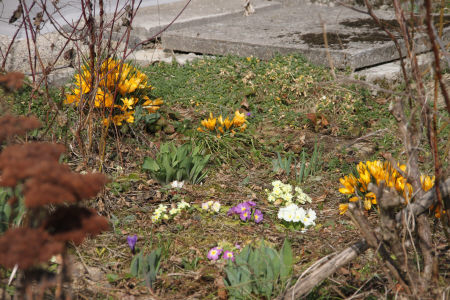 18/03/12Sili hat entdeckt, dass wenn die Beardies sauber und trocken sind, man mit Muffin ganz gut spielen kann, denn Muffin passt auf, dass sie Sili nicht weh tut. Aber Silis Kondition ist nicht ganz so gut wie die der Beardies und wenn ich dann Toffee von der Leine lasse gehen die Rennspiele los und Sili kann wieder etwas zu Atem kommen ;-).
Sili realized the Beardies -especially Muffin- can be fun when they are nice and clean for once. She lovels playing with Muffin who takes special care not to hurt Sili. Well Sili seems to lack fitness and when I let Toffee run free she and Muffin will chase each other and Sili can regain her breath ;-)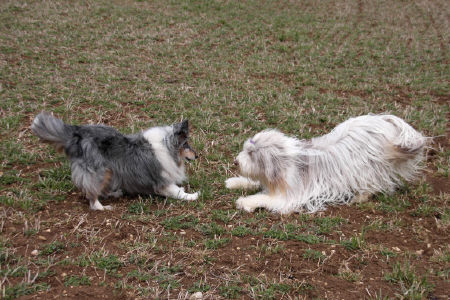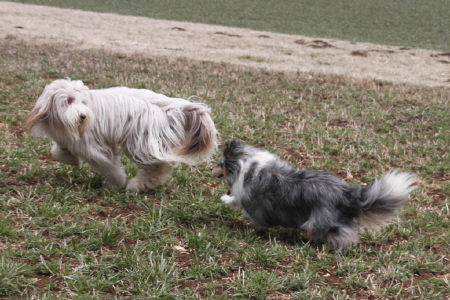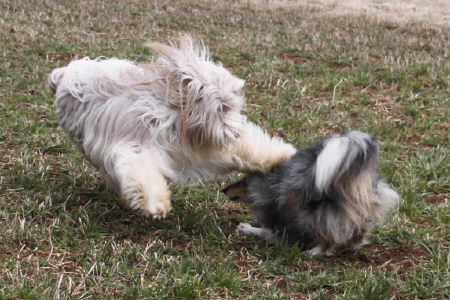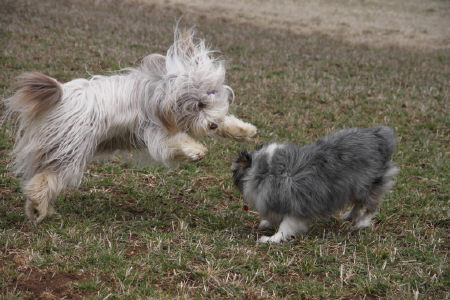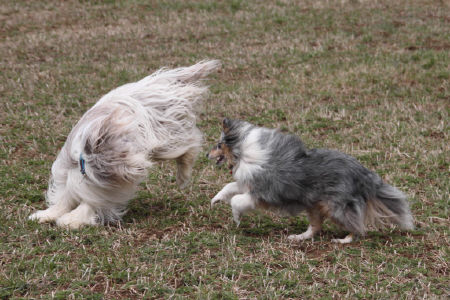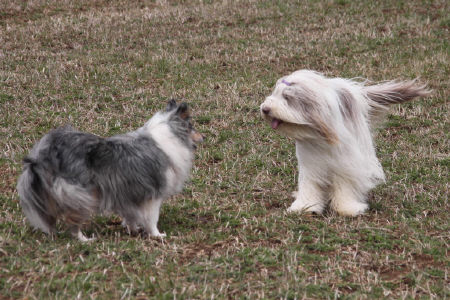 15/03/12 Wir waren auf der Crufts....und wir hatten Spass! Am Hin- und am Rückweg haben wir wieder in Calais am Strand angehalten und die Beardies durften toben. Es waren jedoch nur Baghira, Toffee und Muffin dabei, aber auch sie hatten ihren Spass!
We went to Crufts....and it was fun! On the way to and back from Crufts we stopped in Calais and the Beardies had the opportunity to run at the beach. I only took Baghira, Toffee and Muffin with me but they enjoyed themselves.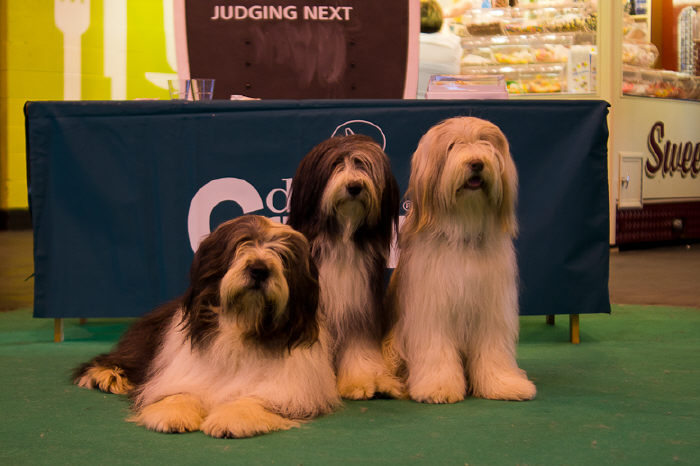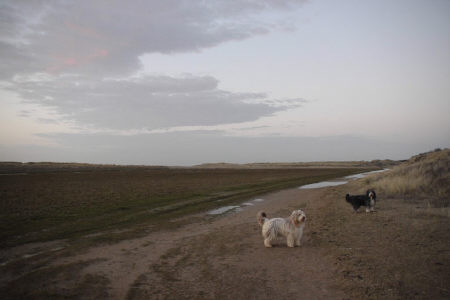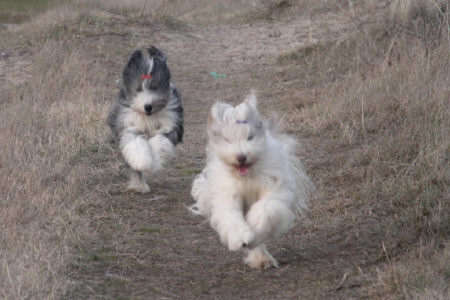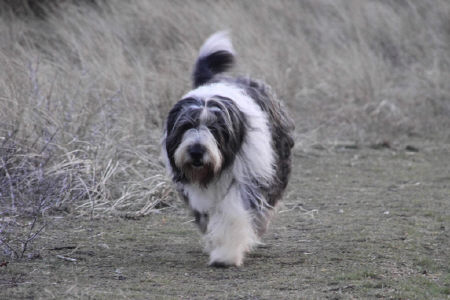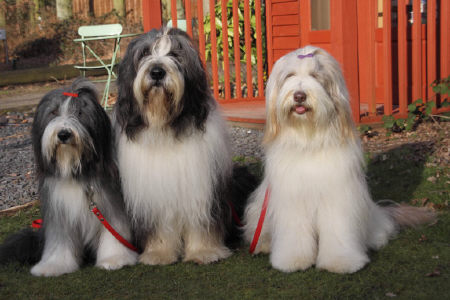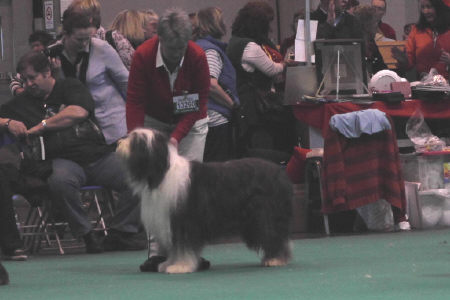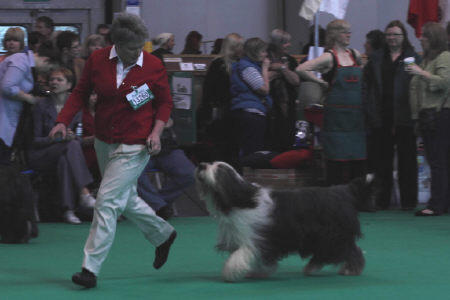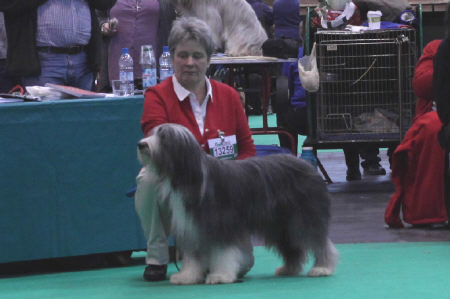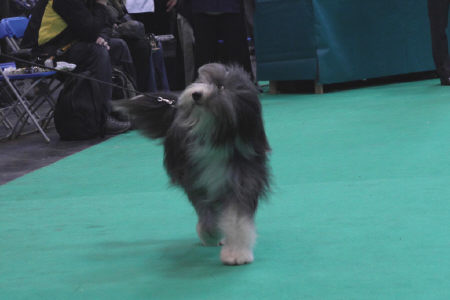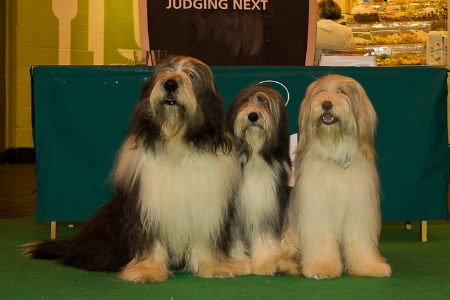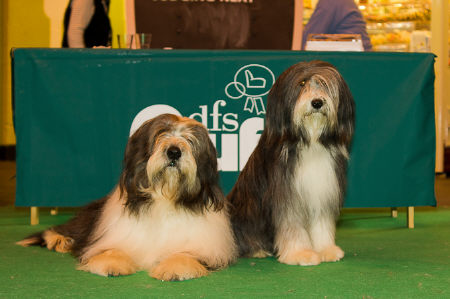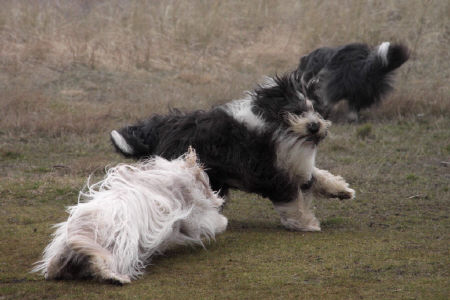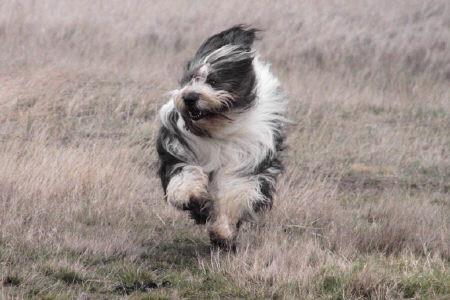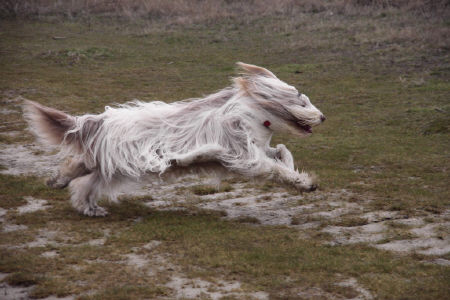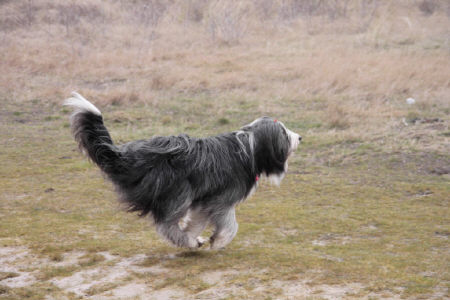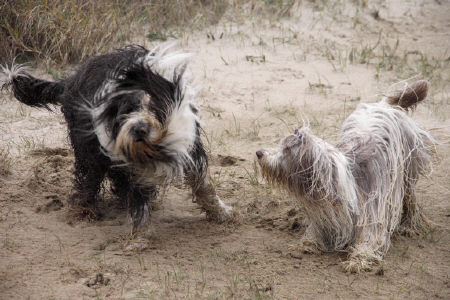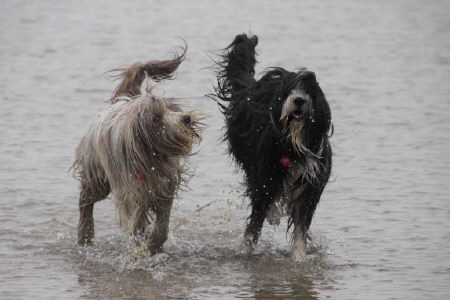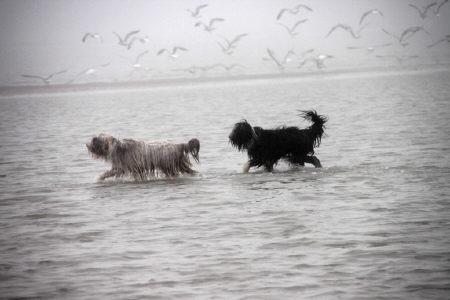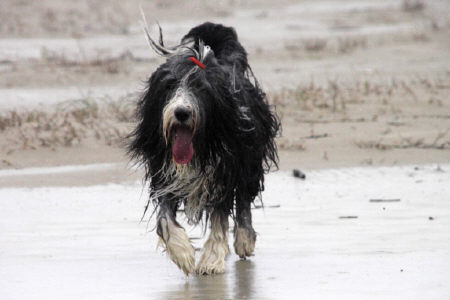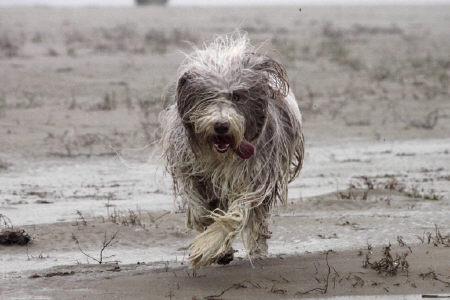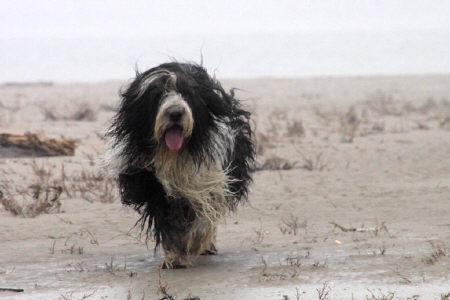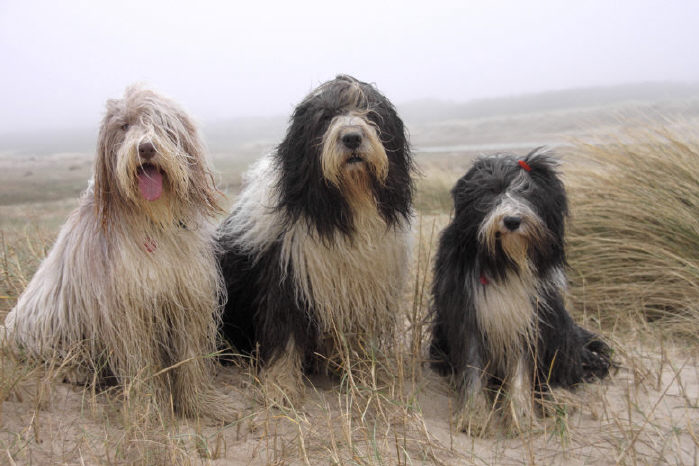 01/03/12 Es ist soweit, der Frühling ist nicht mehr aufzuhalten. Es ist einfach genial, wenn man wieder die Haustüre offen stehen lassen kann und die Beardies können die Sonne im Garten genießen. Jetzt muss es nur noch richtig grün werden :-)
Finally it looks like spring is just aroud the corner. It's lovely to be able to leave the door open most of the day and the Beardies can now again enjoy the sun outside in the garden. Now we only need some green grass instead of the brown leftovers from last year :-)
https://picasaweb.google.com/104569537426392187888/SpringFruhling
https://picasaweb.google.com/104569537426392187888/EnjoyingTheSunDieSonneGenieEn
https://picasaweb.google.com/104569537426392187888/SiliPinemanorBeautifulBasilica