Juli - August
30/08/11 Am Wochenende war ich in Saarwellingen. Annett und Tino kamen mit ihrem Wohnwagen und auch Kerstin und Andreas waren da so haben wir ienen gemütlichen Abend mit Grillen verbracht. Am Sonntag kam dann noch Christel, Baghira konnte es gar nicht fassen, als er plötzlich die Stimme von Christel gehört hat. Es war eine sehr gut organisierte Ausstellung, das Wetter war meiner Meinung nach perfekt, etwas Wolken, etwas Sonne und angenehme Temperaturen.
Die Beardies haben sich super benommen, sowohl die Drei Aussteller als auch die 3 Begleiter. Als erster durfte Chocolate mit in den Ring und wurde mit V2 beurteilt, Muffin erhielt ein V1 und Toffee stand ihr nicht nach, sie erhielt ebenfalls ein V1. Zum Abschluss wurde Muffin noch Bester Junghund der Schau.
Alles in Allem ein gemütliches Wochenende unter Freunden.
Last weekend I went to Saarwellingen. On Saturday I met with Annett, Tino, Kerstin and Andreas and spend a nice, relaxed evening together. The next day Christel joined us, something Baghira really enjoyed. The show was well organized and the weather was just right: sunny spells, clouds and nice temperatures. The Beardies behaved really well, the 3 I didn't show and the 3 I showed. Chocolate was placed Exc. 2, Muffin won Junior Class with Exc.1 and Toffee did the same and won Intermediate with Exc. 1. Later Muffin was Best Junior in Show as well.
A lovely weekend spend with friends!
21/08/11 Warum nur immer diese Extreme....erst Regen ohne Ende und schon eher kühl und jetzt weiss man nicht mehr wohin weil es so heiß ist. Nun ja einen Ausweg kennen wir ja ganz gut: den Bodensee .-)
Why always theses extremes?? First it was raining all the time and really kind of cold and now one doesn't know where to go because of the heat. Well there is one place we know really well where you can "survive" the heat: Lake Constance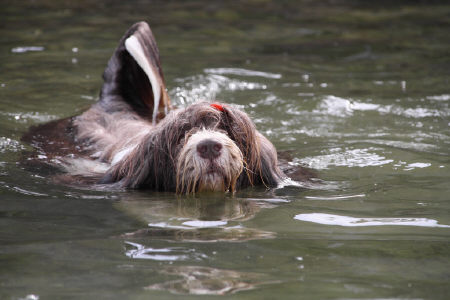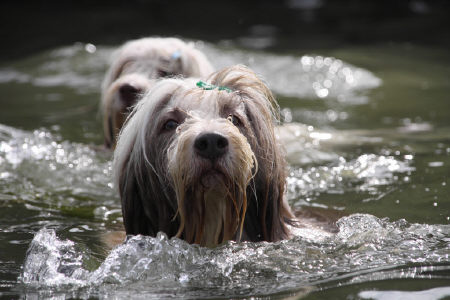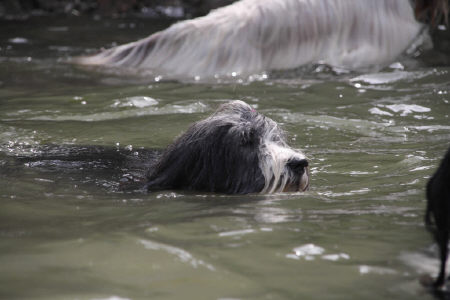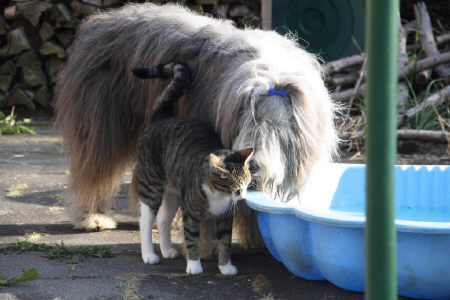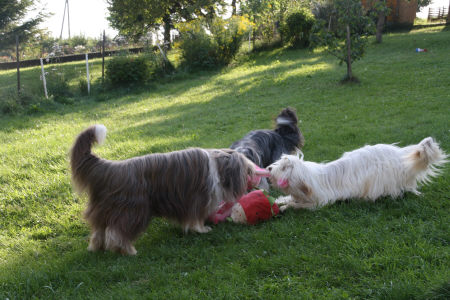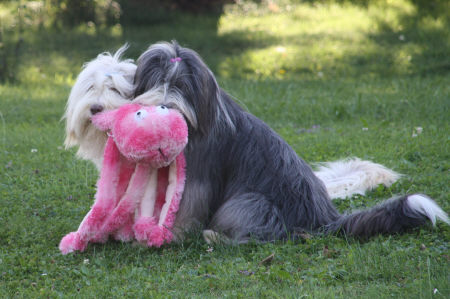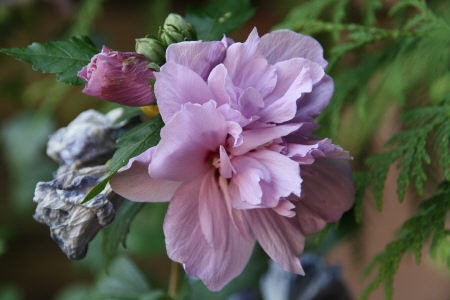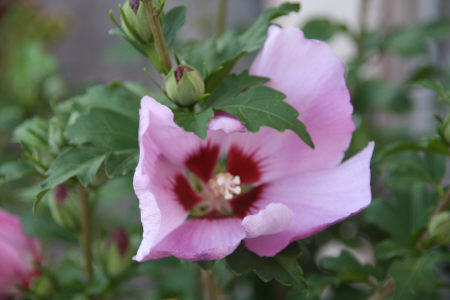 Dieses Jahr blüht der Hibiskus zum ersten mal seit ich ihn vor 3 jahren gepflanzt habe! Und einer ist sogar gefüllt
the Hibiscus is with flowers for the first time since I planted them 3 years ago!
18/08/11 Letztes Jahr habe ich auf der CAC in Berlin für Toffee ein rosa Schwein gefunden, dieses Jahr gab es einen rosa Occtupus für die beiden Damen :-)
Last year I found a pink piggy for Toffee at the show in Berlin, this year I found a pink Occtopus for the girls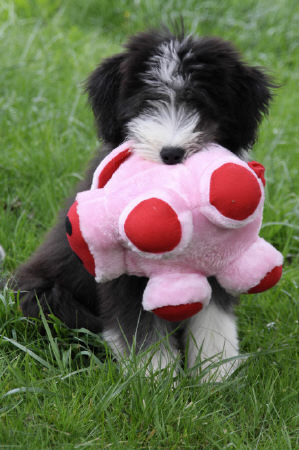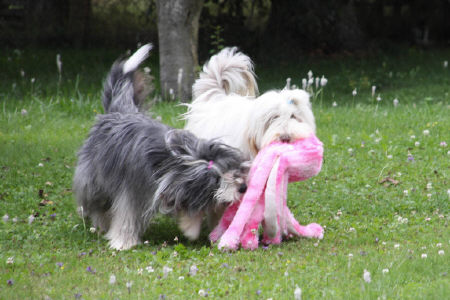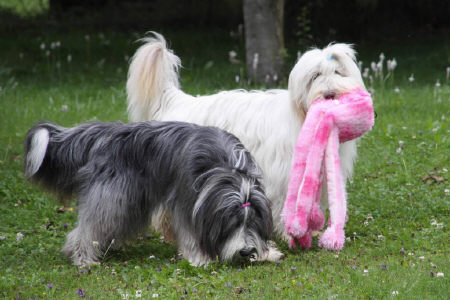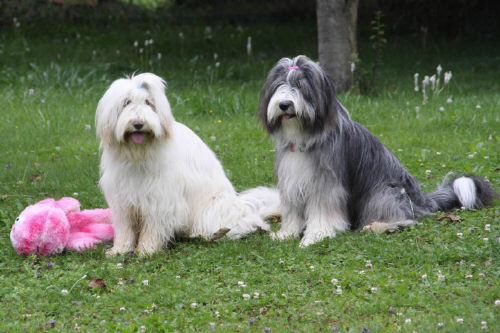 16/08/11Wir haben ein schönes Wochenende in Berlin verbracht. Wenn Berlin nur nicht ganz so weit entfernt wäre.... Aber zum Glück liegt ja Annett am Weg und hat einen wunderbaren Stellplatz neben ihrem Garten und so konnte ich dort übernachten. Danke Annett.
Letztes Jahr hatte ich schon viel Spass in Berlin, daher habe ich mich entschlossen auch dieses Jahr wieder zu kommen und das war die richtige Entscheidung. Vielen Dank an Berlin, es hat wieder viel Spass gemacht! Der Abend war nett, wir haben viel gelacht, der Hundeplatz ist super und das Wetter hat ja auch wieder fast bis zum Ende gehalten.
Danke an Jolla, dass Du eingesprungen bist und Frl. Sili vorgeführt hast. Ihr habt das toll gemacht, vor allem, da Sili wahrlich nicht der Ausstellungscrack ist und Jolla eigentlich nicht kannte. Sili wurde 4. in der Veteranenklasse. Sie hat brav abgenommen und zeigt sogar schon den Ansatz einer Taille! Sili kam ja vor 2 Jahren über Sheltie in Not zu uns und durfte in Berlin ihre Züchterin Sarah Boyd wiedersehen. Sili ist nicht so irre wie die Beardies wenn sie ihre jeweiligen Züchter sehen, aber für ihre Verhältnisse hat sich sich irre gefreut :-)
We spend a lovely weekend in Berlin. Only the distance is rather far, but as Annett is living on the way, I was able to stop over night at her place. She has a lovely spot near her garden where I can park my car and sleep.
Last year I went to Berlin for the first time and enjoyed it there so I decided to come again this year. Thank you Berlin for a lovely weekend. The evening before the show was really nice and we did laugh a lot, the show was really nice and even the weather almost stayed nice till the end.
Thank you, Jolla for showing Miss Silli for me. You two did a great job! Sili didn't know Jolla and isn't a very experienced show dog. She was 4th in Veteran class. I am really proud of her as she is now showing the beginning of a waist, thanks to her diet and the Beardies running with her. Sili came from Sheltie rescue 2y ago to my mother and in Berlin she had the chance to meet her breeder, Sarah Boyed again. She is not as crazy as the Beardies when they meet their breeders, but when you know her, she did act crazy when seeing Sarah:-)
Ich konnte Sili nicht selber zeigen, da gleichzeitig die Beardies dran waren, Chocolate erhielt ein V3, Muffin ein V1 und Toffee ein V4.
I wasn't able to show Sili as I had to be in the Beardie ring at the same time, Chocolate was placed Exc. 3, Muffin Exc. 1 and Toffee Exc. 4.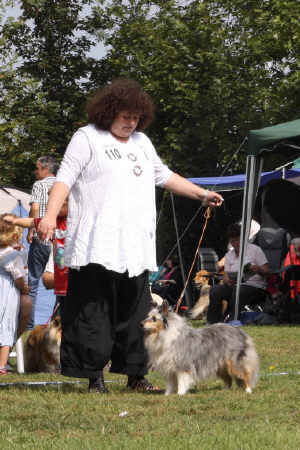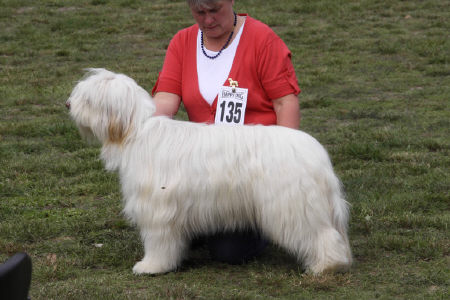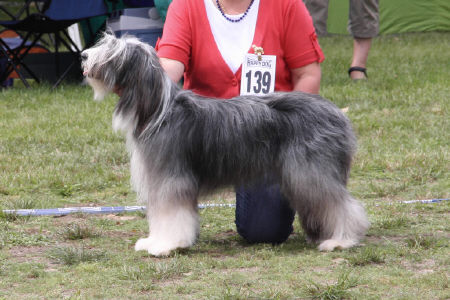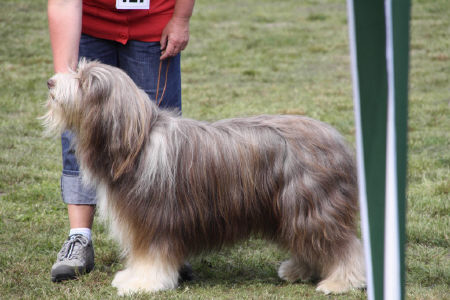 Toffee wartet auf Annette's Schoß auf ihren Einsatz
Toffee waiting for her turn in the ring with Annette
13/08/11 Nach einer unruhigen Nacht sind wir bereit für unserer Fahrt nach Berlin. Unruhig, da Frl. Sili gestern die Beardies dazu angestiftet hat, Futter zu klauen. Es waren nur die getrockneten Karotten, aber die Folgen waren v.a. für Phil nicht ganz so angenehm. Die 3 Damen, Sili, Toffee und Muffin haben zwar auch Karotten ohne Ende von sich gegeben, aber den größten teil hat wohl Phil gefressen.....
Die Folge ein abendlicher Besuch bei meiner Kollegin um Phil mit der Hilfe von Apomorphin dazu zu bringen seinen Magen zu entleeren. Er hat 700 g von sich gegeben, weitere 1,5 kg fand ich am Morgen hier im Haus und noch weitere 2,5 kg habe ich im Garten eingesammelt, wobei die von Phil und den Damen stammten!
Phil hat heute Morgen keinen Apetit ;-)
We spend a rather restless night before leaving for Berlin at noon. Restless as the little hungry Sheltie showed the Beardies how to counter-surf....well she only found the dried carrots, but the result was a rather restless night mostly for Phil. The three girls did have their share and I found lots of carrot droppings in my garden, but Phil probably had most of the dried carrots. well he really felt bad and I had to call my colleague to help Phil empty his stomach with a little help of apomorphine. He got rid of about 700g of carrot mash , another 1,5 kg I found in my house this morning and another 2,5 kg in the garden, but here the girls did leave some, too.
This morning Phil isn't hungry....;-)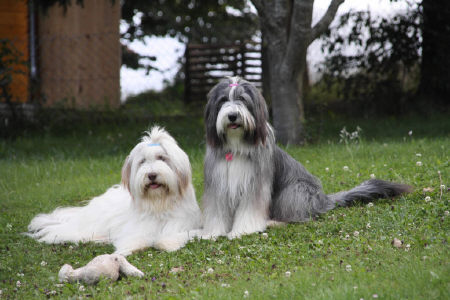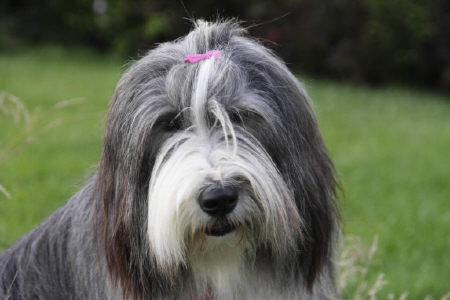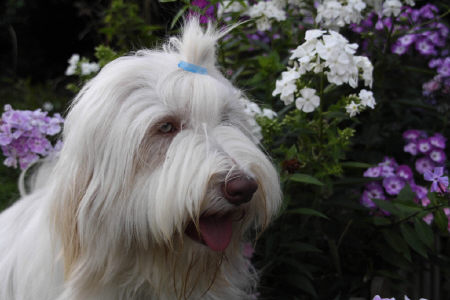 30/07/11 Wir haben Phils Neffen und Nichten besucht
We visited Phil's nephews and nieces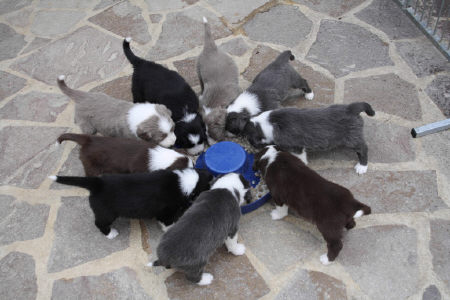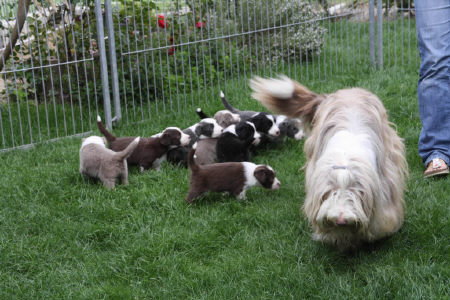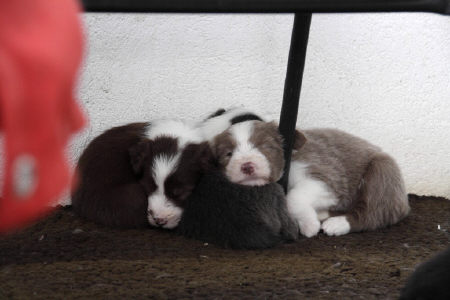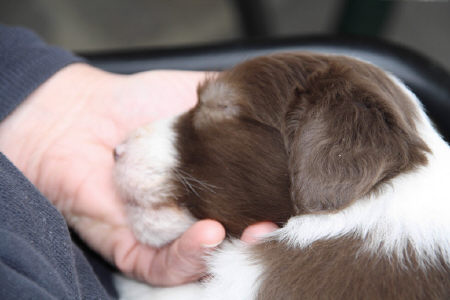 27/07/11 Es ist geschafft, alle 1900 Fotos sind gesichtet und auf 770 Fotos in 11 Alben reduziert:
Finally I finished sorting my 1900 fotos, they are reduced to 770 in 11 albums:
Trip to GB, near Calais: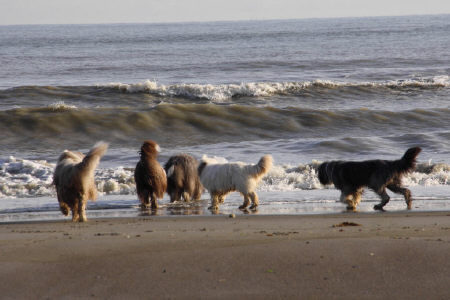 Avebury, across wales to Aberaeron: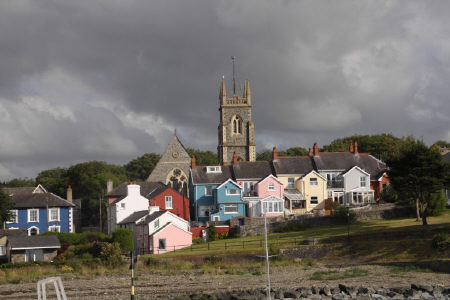 Along the coast: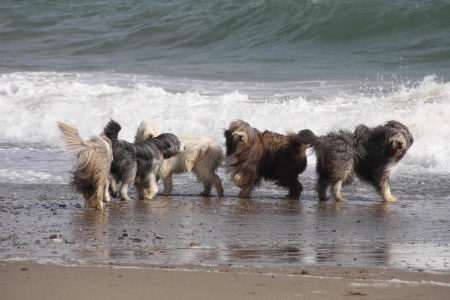 Snowdonia:
Anglesey: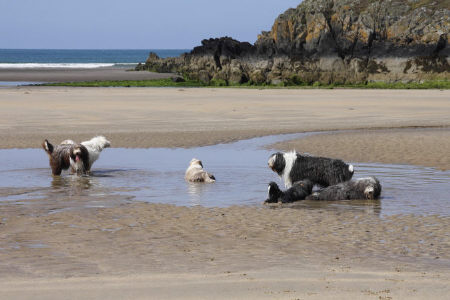 Beachfun: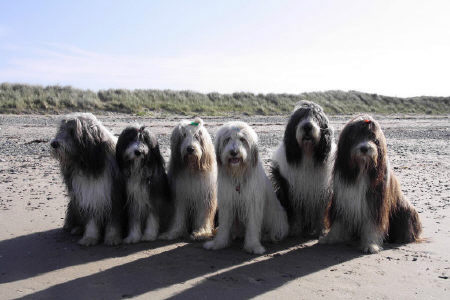 Abererch to Welshpool, Powis Castle: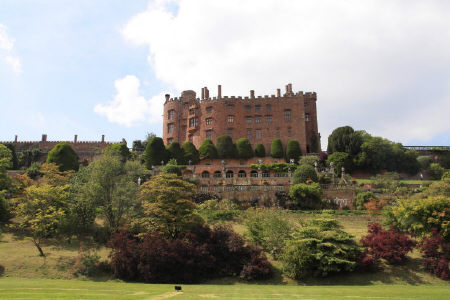 Much Wenlock: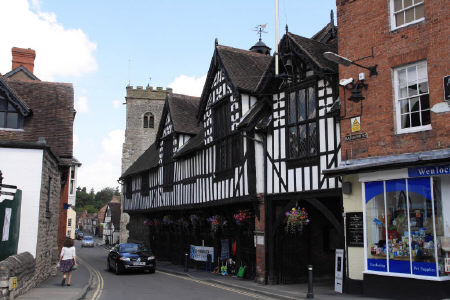 Muffin meeting her British relatives: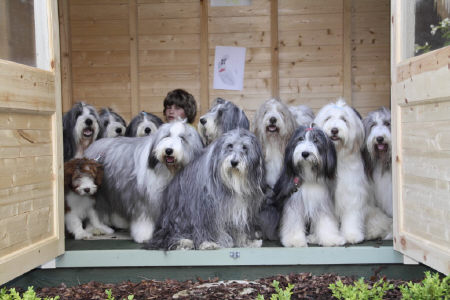 Malvern to Folkestone: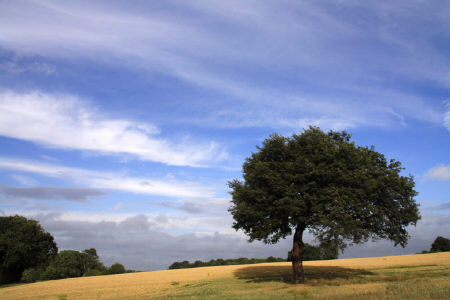 Calais, last walk along the sea: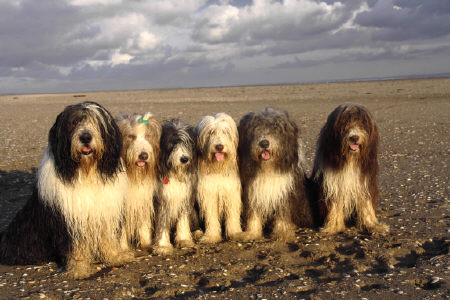 23/07-24/07/11 Wir waren auf der CACIB in Augsburg und auf der CAC in Buchloe....es war nass aber schön. Augsburg war zum ersten Mal Veranstaltungsort, schade dass die Fläche so unsinnig genutzt wurde, Aussteller mussten sich auf engstem Raum bis an die Ringe quetschen, die Ringe waren vielleicht für Zwergrassen ausreichend aber sicherlich nicht für Hunde die größer als Kniehöhe erreichen. Hauptsache man hat 4m Freifläche zwischen den Ausstellern und quetscht alles in eine Halle.... Baghira gewann die Veteranenklasse, Chocolate erhielt ein SG 2 und Muffin ein V"
Buchloe hat uns dagegen entschädigt, auch wenn der Wechsel zwischen Schauern und kurzen Sonnenperioden nicht wirklich nötig gewesen wäre. Chocolate und Muffin erreichten je ein V2, Toffee ein V
We went to two Dogshows at the weekend, the international show in Augsburg took place for the first time. It's always sad when they squeeze everyone into one hall, no room for dogs or people and most of all tiny rings which would have been sufficient for toy breeds. Baghira won Veteranclass, Chocolate was placed VG 2 and Muffin Exc. 2
Buchloe on the other hand had nice and spacious rings but the permanent change of rain and sunshine wouldn't have been necessary. Chocolate and Muffin were placed Exc.2, Toffee Exc
22/07/11
Muffin hat Geburtstag!
It's Muffin's Birthday!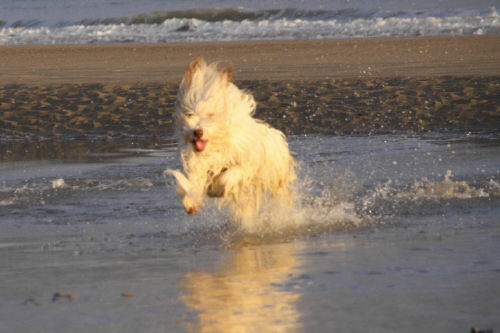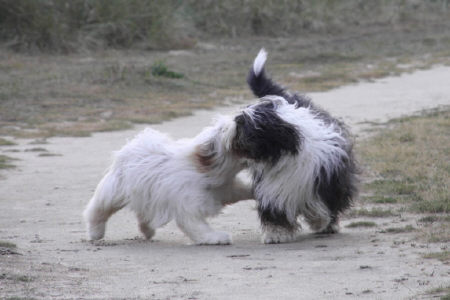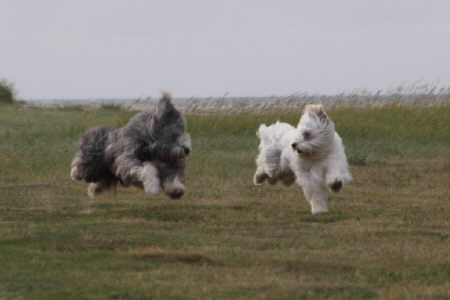 Muffin ist eine süße kleine Hexe, ob mit Baghira, ihrer wahre Liebe ,im Flug mit Phil ihrem großen Kumpel für allen Unsinn
Muffin is a lovely gild, deeply in love with Baghira, always up to some fun with best buddy Phil


oder nach einem Bad im Meer mit ihren 3 besten Freunden Toffee, Phil und Chocolate: sie ist immer gut drauf
or after a bath in the sea with her 3 best friends Toffee, Phil and Chocolate: she's always in a good mood.
01/07/11 - 19/07/11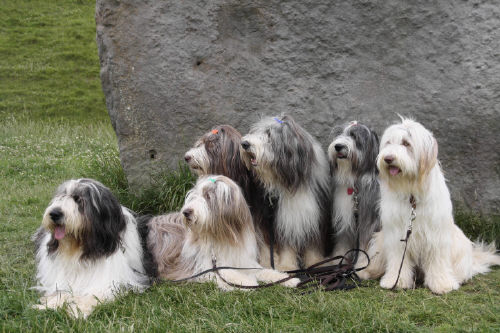 Wir waren in England und Wales im Urlaub!!!
We have been on a holiday in England and Wales!!!
Es war mein erster Urlaub seit 3 Jahren und der erste mit allen Beardies und ich kann nur sagen: es war TOLL!!! Wir hatten wunderbares Wetter, 2 Tage Regen in England ist echt nicht viel, wir haben viele nette Menschen kennen gelernt und wir haben viel erlebt. Wales ist ein wunderbares Land mit einer tollen Natur die meinen Beardies mit dem vielen Wasser sehr entgegen gekommen ist. Am meisten haben mich die alten Baumbestände beeindruckt, wenn man auf Weiden alte Linden, Eichen oder Buchen sieht, Alleen wie wir sie hier schon nicht mehr kennen, da alles abgeholzt wird, damit die irren Raser sich nicht um die Bäume wickeln....
This was my fist holiday for the past 3 years, the first with 6 Beardies and I can only say it was great. The weather was fine, well 2 days of rain in Britain isn't really bad, we met lots of nice and helpful people and I took so many lovely impressions back with me which will last for a while. Wales is a great country with a beautiful nature and with all the water they have, just THE place for my Beardies ;-). What made the biggest impression on me were all those old, big trees either in the fields or along the orads, something you'll find very rarely back here. Here there are almost no trees along the orads left because of all the crazy drivers so they won't hit a tree....
Da mich die Praxis ganz schnell wieder eingeholt hat, werde ich die Fotos in aller Ruhe in den nächsten Tagen bearbeiten (immerhin ca 1900) und nach und nach bei Picasa einstellen. Bisher gibt es folgende Alben:
As work is calling I will sort the pictures during the next few days (well there are ablut 1900 to sort) and will load them to picasa. So far the following albums can be found:
Avebury, quer durch Wales/across Wales
entlang der Küste/along the Coast