Mai - Juni
01/05/10
Wir planen ein Beardie Wochenende mit Working Tests
mehr siehe unter Aktuelles
26/06/10 Die Welpen sind 8 Wochen alt und ziehen in den folgenden Tagen zu ihren Familien, wo sie schon sehnsüchtig erwartet werden. Sie haben sich super gemacht und Dank der super Familien integrierten Aufzucht wurde der Grundstein für ein optimales Beardie Leben gelegt.
The puppies are 8 weeks old and will be moving to their new families during the next few days. They developed into lovely little Beardies thanks to the work and efforts of Martina and her family. Now it's up to the new families to encourage these basics.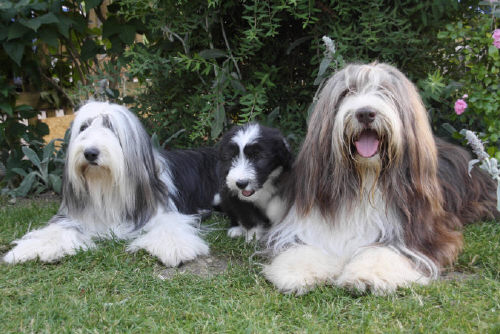 Shannon, Toffee und Chocolate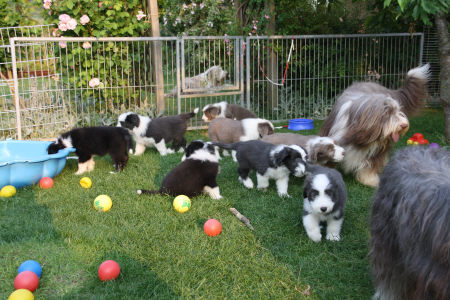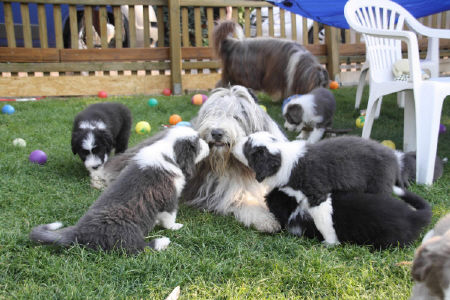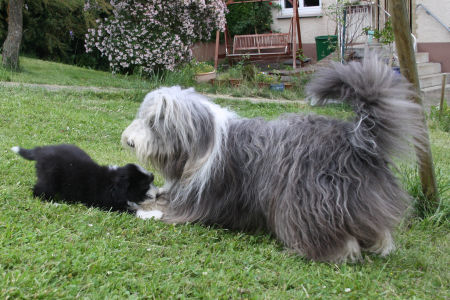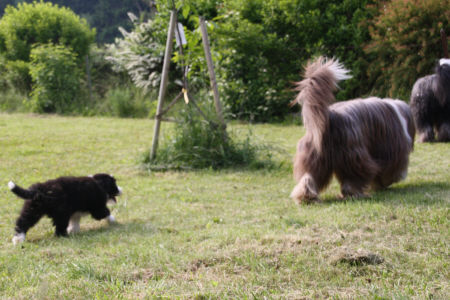 18/06/10
Heute haben diese beiden Geburtstag
Today it's their birthday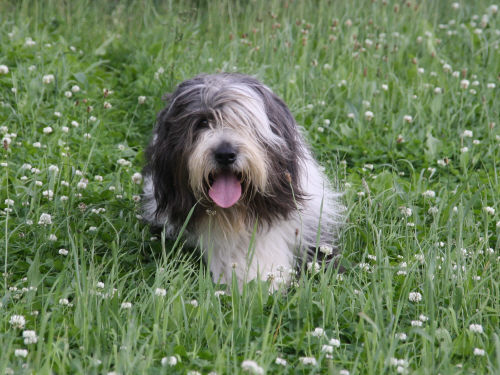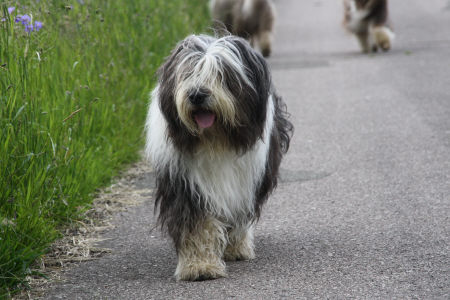 Baghira, 9 Jahre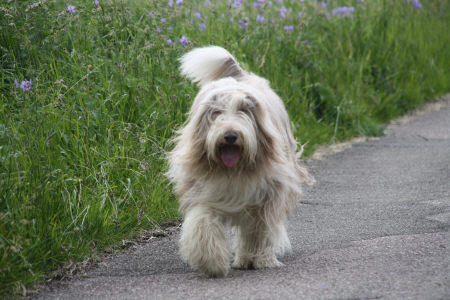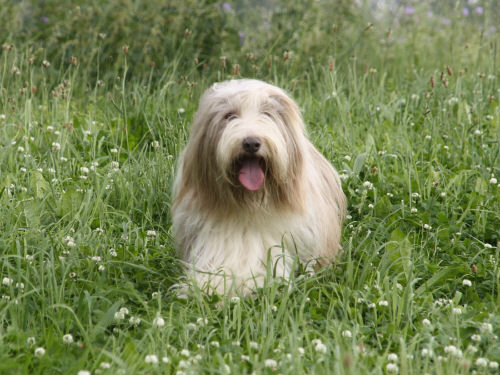 Casper 6 Jahre
Zum Glück habe ich die Fotos gestern noch am späten Nachmittag gemacht, keine 10 min später fing es an zu regnen und bisher sind 90 l/m2 herunter gekommen....
Lucky me, I took these pictures yesterday late afternoon. About 10 minutes later it started raining and we got more than 90 l/m2 since then....
15/06/10 Heute ist Lucca Philipp 8 Monate alt geworden. Die 8 ist im Chinesischen eine Glückszahl, wie auch der Drache ein Glücksbringer ist
Today Lucca Philipp is 8 months old. And in China 8 is a lucky number and the Dragon is supposed to be a lucky charm, too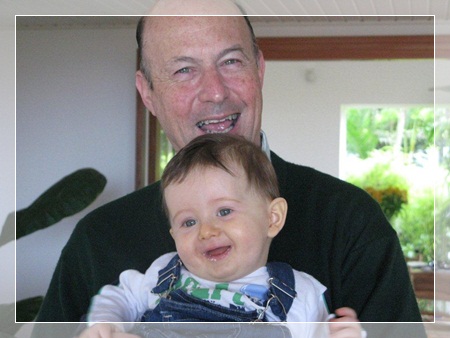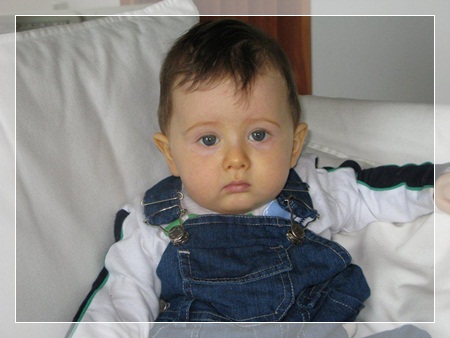 Alles Gute, Kleiner Mann!!!
11/06/10 Die Welpen sind Wochen alt und Christel Pera sowie Kerstin Selle haben sich bereit erklärt uns die Welpen kritisch und ehrlich genau zu beschreiben und zu bewerten. Vielen, vielen Dank, wir haben wieder so viel gelernt! Es ist für uns schon ein großes Glück und eine unschätzbarer Gewinn, das ihr uns an eurer Erfahrung teilhaben lasst. DANKE!!
Es war der bisher heisseste Tag des Jahres, die Welpen haben den Garten genossen und trotz Hitze standen sie brav am Tisch.
The puppies are 6 weeks old and Christel Pera (Pahari, breeder, Beardies since 1979) as well as Kerstin Selle (Philemon, more than 20 years in Beardies, breeder and judge) agreed to evaluate each of the 9 for us. This was a great experience and we are grateful to have had two very experienced people tell us what they saw in each one. They gave us a honest, sincere and critical opinion, something we really appreciated. THANK YOU!!
It's been the hottest day this summer sofar and the puppies enjoyed the garden. Inspite of the heat they were very cooperative on the table.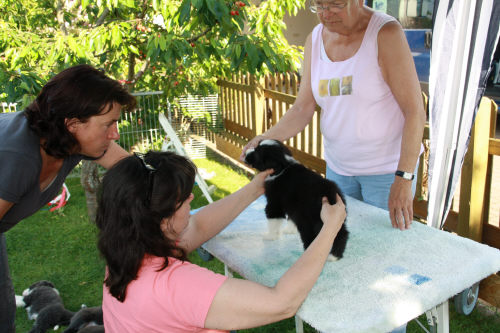 Martina, Kerstin und Christel mit Chocolate's Toffee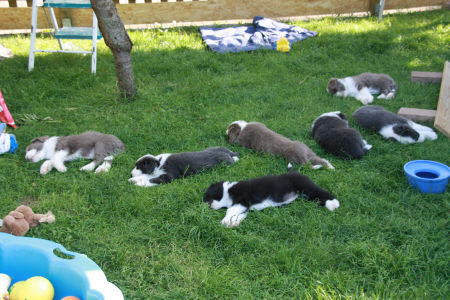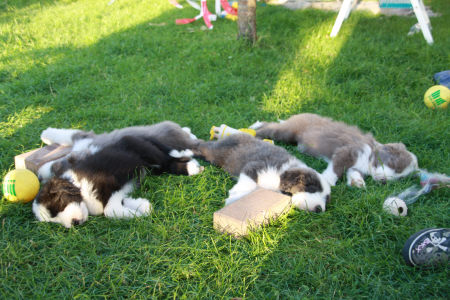 mehr Fotos hier(Welpen) und hier(Album)/ more pictures here(Puppy page) and here(Album)
05-06/06/10 Wir waren mal wieder etwas in der Republik unterwegs ;-)....Wir waren in Buchloe und in Bad Salzhausen. Da ich in Buchloe mitgeholfen habe, hat Janine Jost Phil mit absoluter Perfektion ausgestellt und ein V1 mit ihm erreicht. Nach der Ausstellung sind wir dann nach Bad Salzhausen "weiter gefahren" und hier erhielt Phil ein unplatziertes V.
Trotz der Hitze und der langen Zeit unterwegs haben sich meine Herren vorbildlich benommen - nicht wie ein unerzogener Border, der im Vorbeigehen einen meiner beiden Braunnasen gepackt hat. Aber manche Leute haben weder ihre Hunde im Griff noch können sie sich fürs Fehlverhalten ihrer unerzogenen Hunde entschuldigen....
ABER wir haben ansonsten einen wunderschönen Sonntag mit Freunden verbracht und meine Herren hatten alle Möglichkeiten zu schmusen. Danke Kerstin fürs fotografiern!
This past weekend we were on the road again ;-).... First we went to a dog show in Buchloe and the next day in Bad Salzhausen. As I was helping in Buchloe, Phil was shown by Janine Jost to absolute perfection and gained a Exc. 1. The next day he got an unplaced Exc. The dogs behaved very well despite of spending 2 days travelling in the heat. Not like some Bordercollie which had a go at one of my Brownies....well some people don't know how to control their dogs and worse can't even say "sorry".....
BUT we spend a lovely Sunday with friends and my boys got all their cuddles they wanted :-)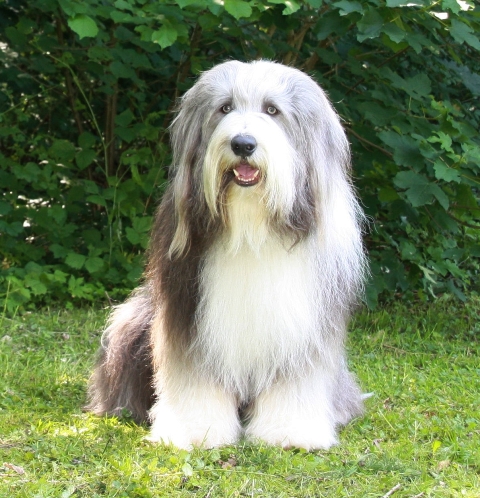 31/05/10 Wir haben ein schönes Wochenende verbracht. Zuerst, da es ja am Weg lag ;-) haben wir die Chocci Nachkommen besucht und dann waren wir in Gießen, Phil erhielt ein V3. Das Wetter war zwar durchwachsen, aber es war ein nettes Wochenende mit Freunden.
We spend a nice weekend. First as we were passing by anyway ;-) we went to see the puppies, already 4,5 weeks old. Then we drove on to Gießen to the Dog show there. Phil was placed Exc 3. The weather could have been better, but nevertheless it was a nice weekend spend with friends.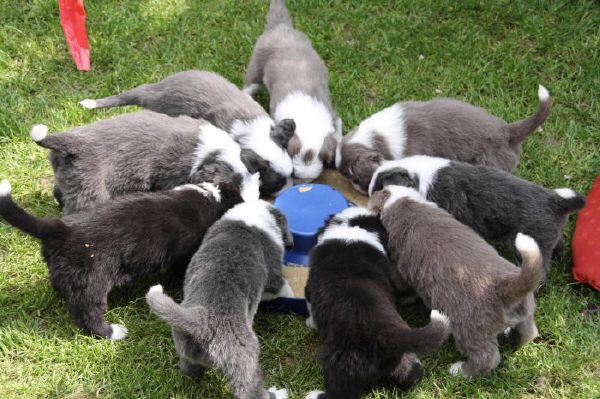 25/05/10 Die letzten beiden Tage waren wunderbar sonnig und eher heiß, also sind wir heute an den Zusammenfluss von Brigach und Breg gefahren und die Herren haben dort im Wasser getobt....jetzt sind sie zufrieden und schlafen. Phil liegt am Rücken und träumt laut bellend und knurrend ;-)
These last 2 days it was really nice, sunny and rather "hot" for the dogs. Therefore we went to where Brigach and Breg meet to be called Danube from then on. The boys were really having fun in the water....now they are happy and sleeping. Phil is laying on his back, barking and growling while dreaming ;-)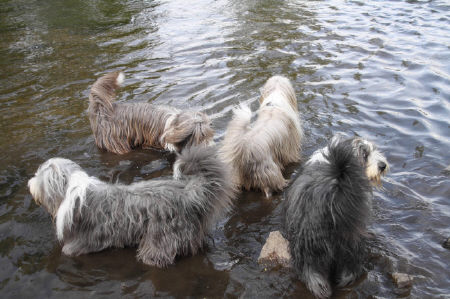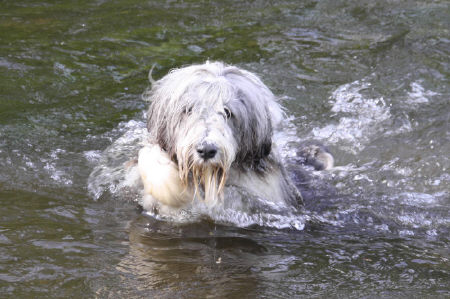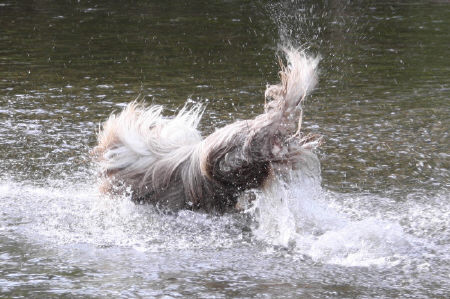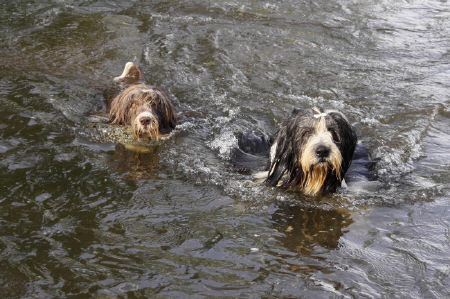 20/05/10
Chocolate hat Geburtstag....it's Chocolate's birthday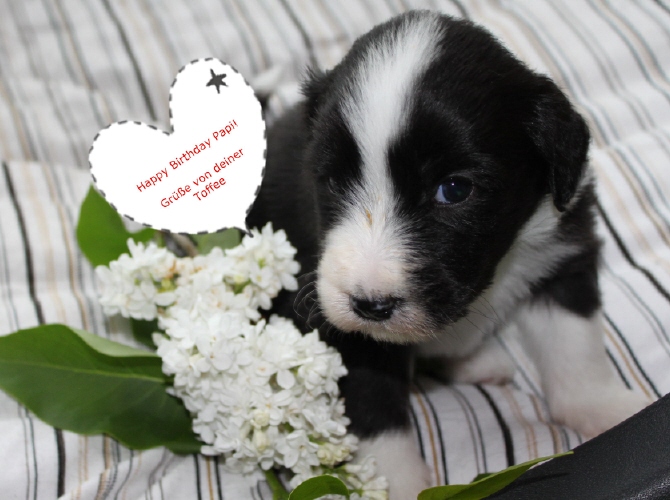 heute ist nur er wichtig ;-) today he is the most important ;-)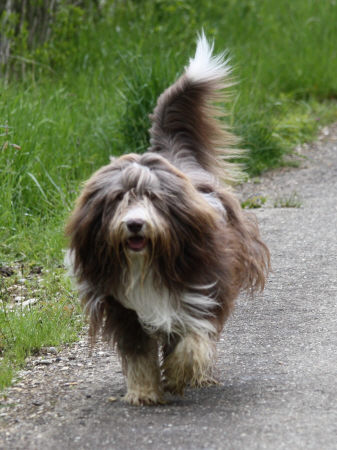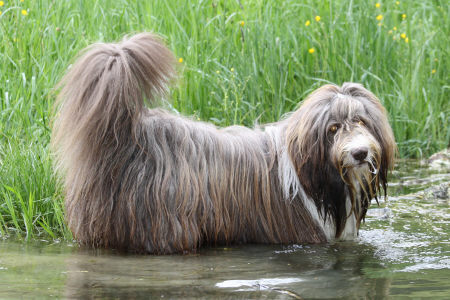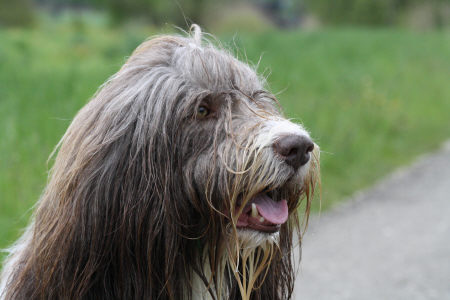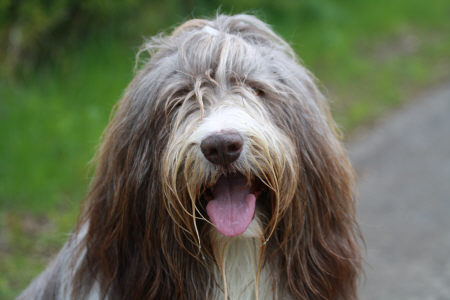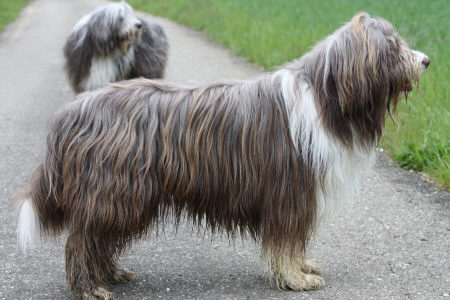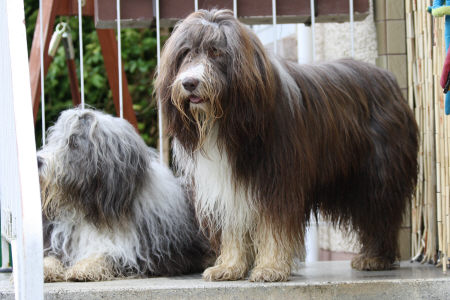 und die Statisten beim heutigen Geburtstags Spaziergang....and the others which accompanied him on his birthday walk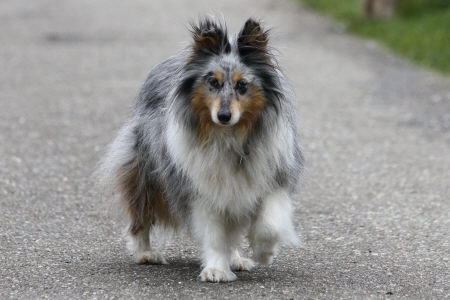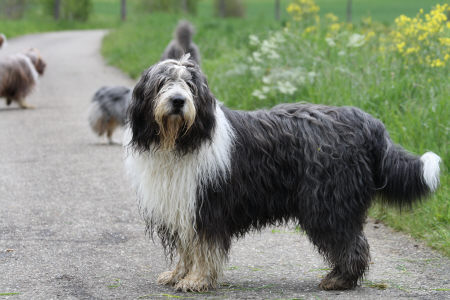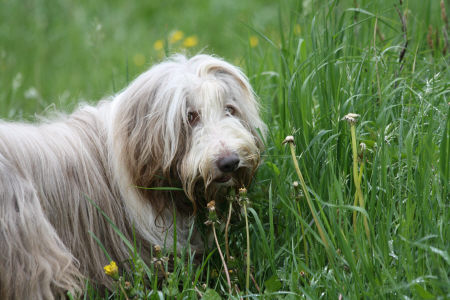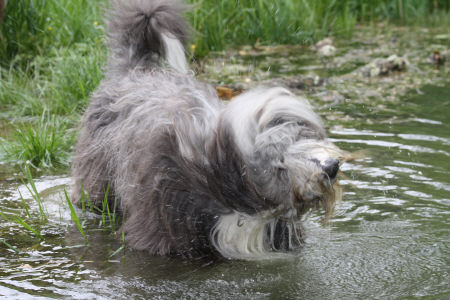 14/05/10 Freie Tage sind dazu da, dass man Besuche macht, die Welpen sind 2 1/2 Wochen alt.....Holidays are made for visiting friends (and puppies ;-) ), the puppies are 2 1/2 weeks old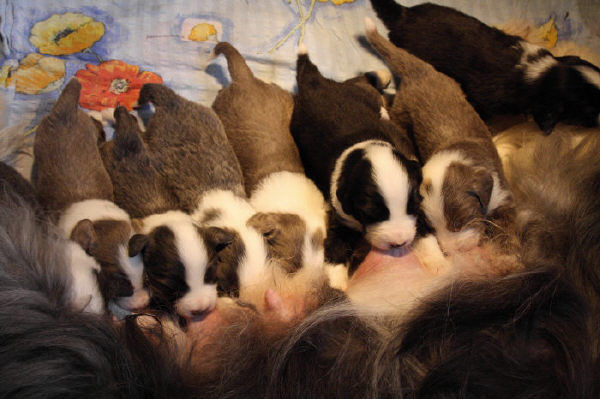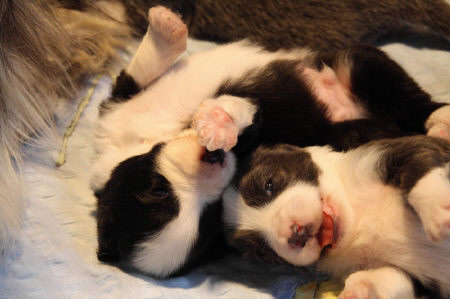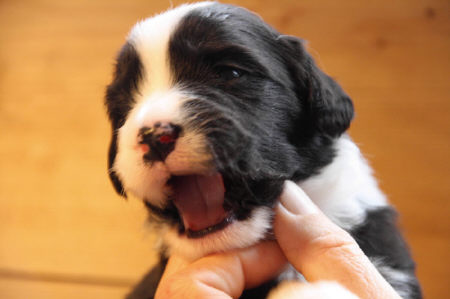 Chip und Cute Emma....................................................Chocolate's Toffee
12/05/10 Die Welpen sind 2 Wochen alt! Toffee hat als erste mit 10 Tagen die Augen offen gehabt....vorwitzig oder schlau? Schlau, denn so viele Brüder muss man doch "im Blick haben", oder?
The puppies are 2 weeks old. At the age of 10 days Toffee was the first to open her eyes. Just being nosy or intelligent? I'd say intelligent as with so many brothers she needs to "keep an eye" on them!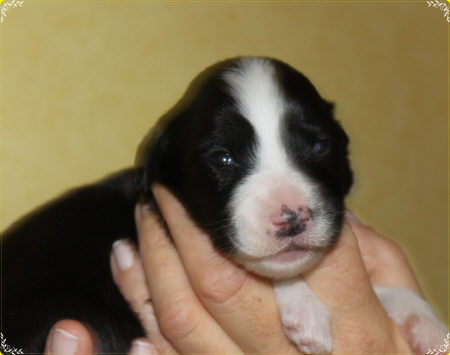 08/05/10 Nachdem es die letzten Tage nur geregnet hat, war es heute wieder sonnig(er)....aber immer noch recht kühl.
It has been raining the last few days, but today it was sunny, sunny but still rather cool.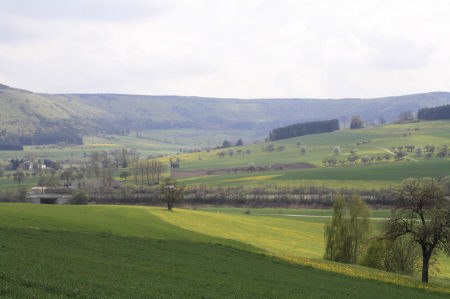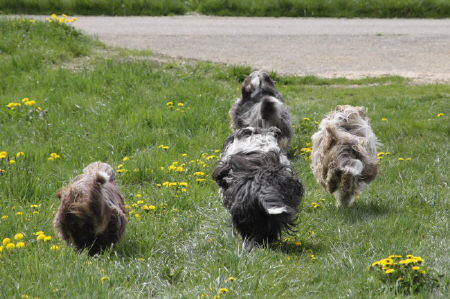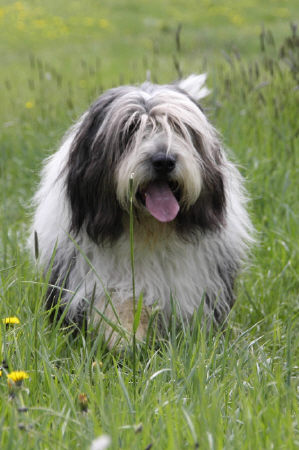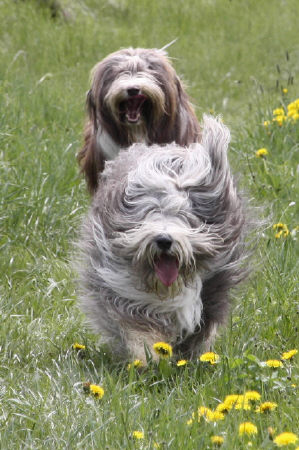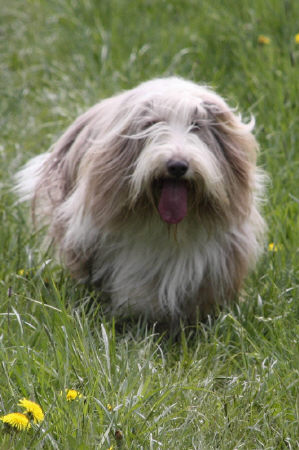 03/05/10 Ich habe meinen "Gemüsegarten" angelegt:-) und das wunderschön üppig blühende Mandelbäumchen fotografiert.
I planted some vegetables :-) and the little Almond tree is in full bloom, the little "tree" to the right is a cherry.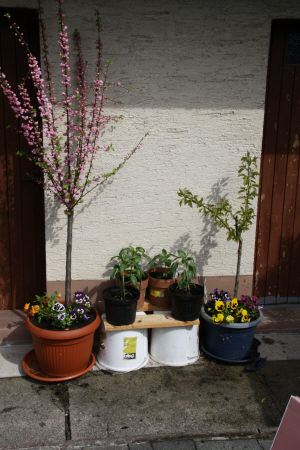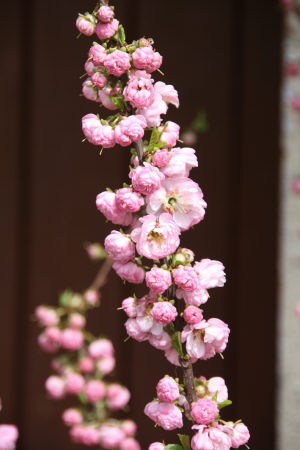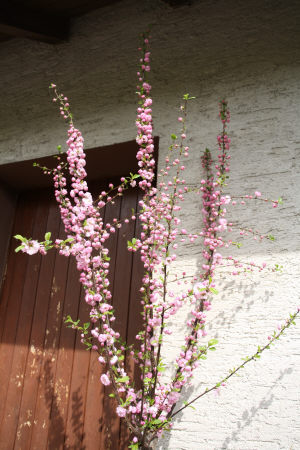 Mandelbäumchen - Almond tree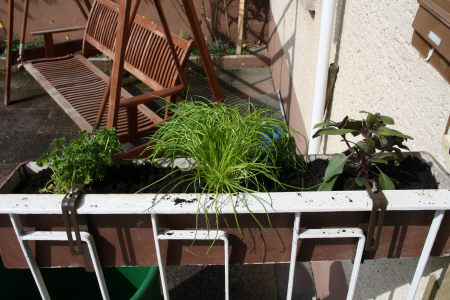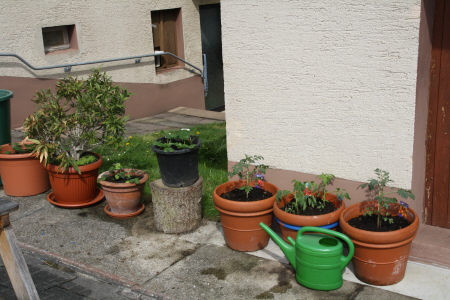 li.Petersilie, Schnittlauch und Basilikum vor der Haustüre left Parsley, Chives and Basil in front of my entrance
re. 3 mal Erdbeeren und Tomaten right 3 pots of Strawberries and 3 pots with tomatoes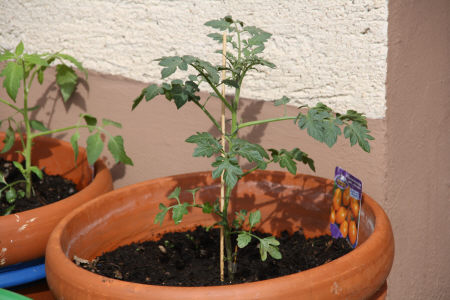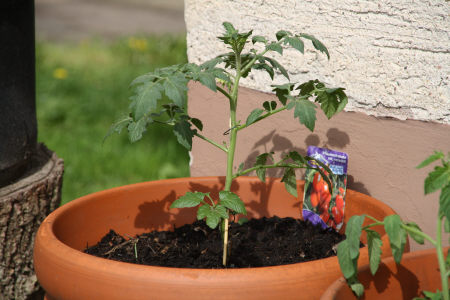 verschiedene Tomatenpflanzen different tomatoes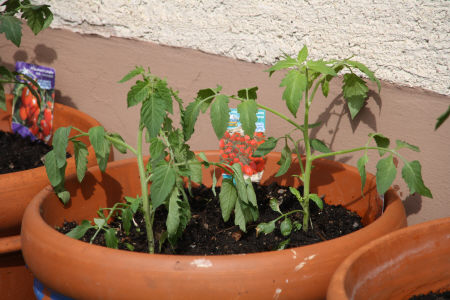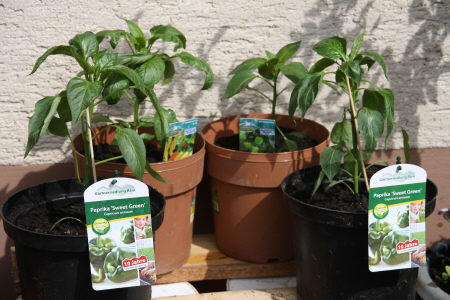 li Tomate und rechts 3 verschiedene Paprika left Tomatoes and right 3 different paprika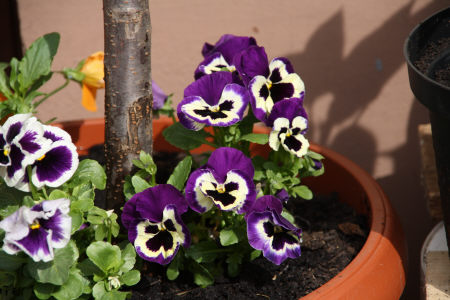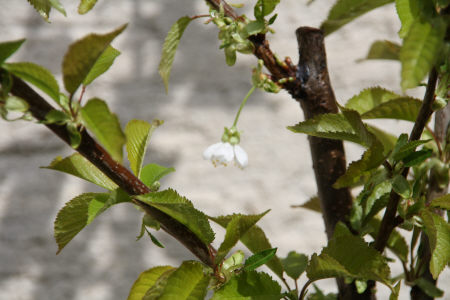 Die Zwergkirsche hat ganz vereinzelt Blühten the little cherry has just a few flowers
02/05/10
Ich habe heute zusammen mit Christel Pera die 4 Tage alten Welpen besucht.
Today Christel Pera and I visited the 4 days old puppies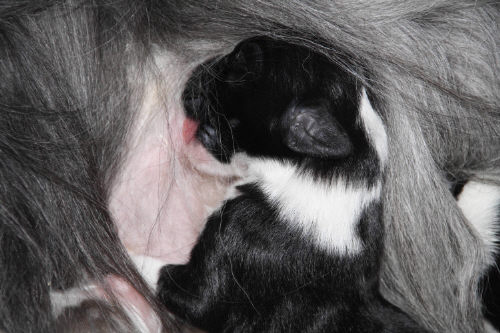 Romantikstreet Chocolate's Toffee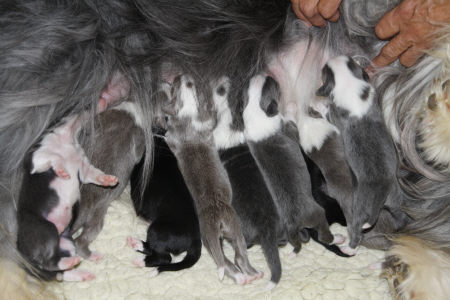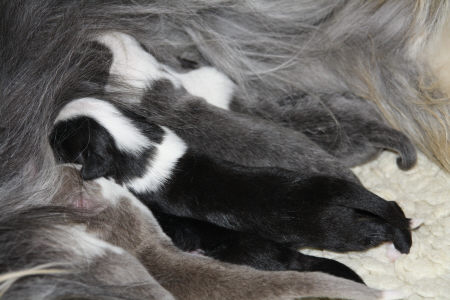 mehr hier/more here
und auf der Welpenseite and see puppy page