September - Oktober
29/10/08 und keine 3 Tage später.... just 3 days later....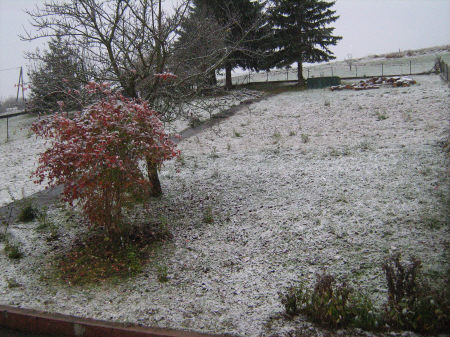 und als wir dann um 22:00 zurück kamen hat es immer noch geschneit
and when we came back at 10 p.m. it was still snowing!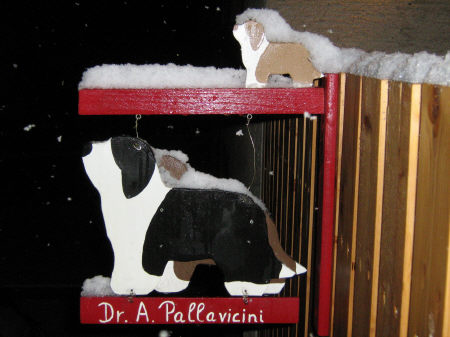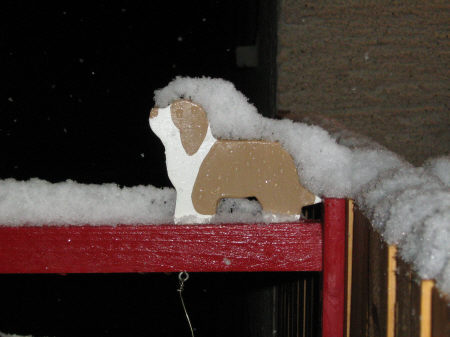 sogar das Beardie Schild bekam einen Schneeüberzug
even the Beardie Sign was covered with snow
Herr Namenlos, der wahrscheinlich "Kleiner Schreihals oder Scream" heißen wird, lebt sich ganz gut ein. Er faucht die Herren zwar noch an, aber auch das wird weniger, zumal sie das nicht irritiert.
The little tom ca without a name will probably be called "kleiner Schreihals or sream" as he is yelling all the time. He is getting used to living with us, still growling at the dogs who in turn ignor it.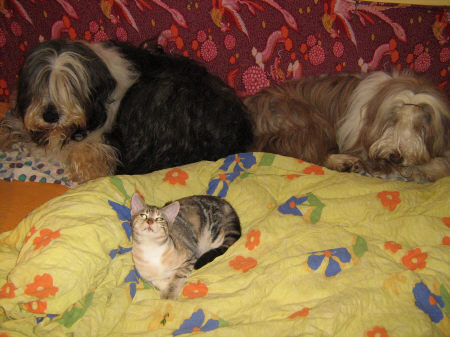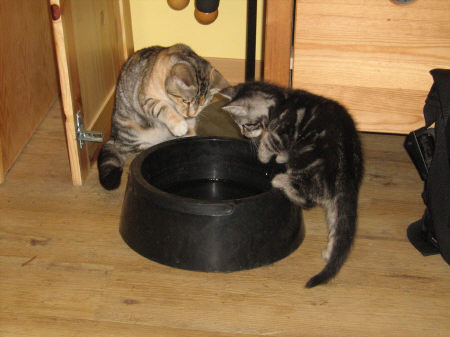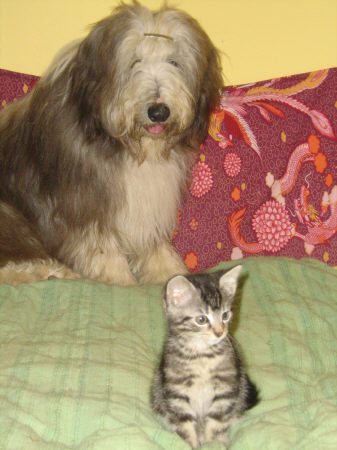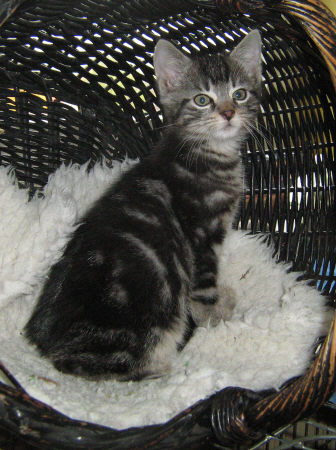 Ricola und Phil....sie teilen sich sogar den Hundekuchen.....Ricola and Phil...they even share the dog biscuit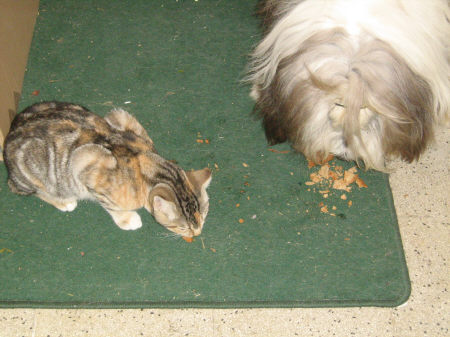 26/10/08
Wir haben Kerstin getroffen und die Gelegenheit genutzt....
We met Kerstin and took the chance for a nice picture....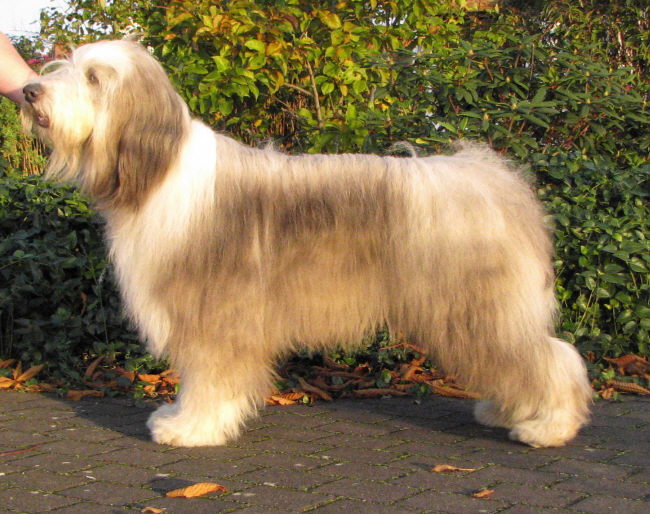 Philemon Paparazzi
Ricola bekommt Unterstützung durch einen kleinen Tigerkater. Sein Name steht noch nicht fest, wir arbeiten noch daran. Momentan knurrt Ricola den Kater an und der Kater faucht und knurrt die Hunde an. Das wird, zumindest mit Ricola wird es schon immer entspannter. Momentan toben sie im großen Zimmer....
Ricola gets support by a little tomcat. For the moment without a name, but we are working on a fitting name. For the moment Ricola is growling at him and he is growling at the dogs. But they'll all get along pretty soon, I'm sure. At the moment the little boy and Ricola a running around the large room....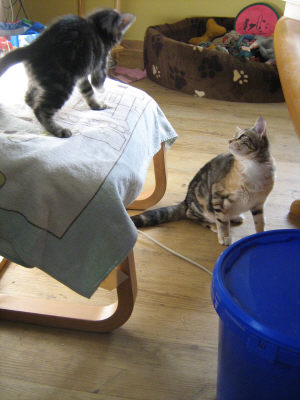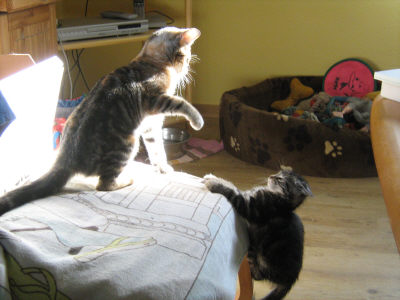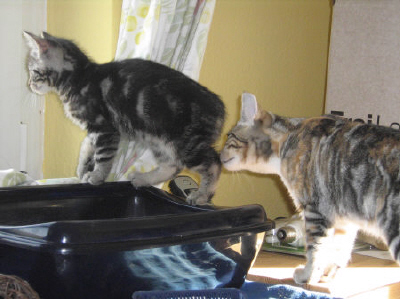 24/10/08 Endlich schaffe ich es mal alle frisch gebürstet zu fotografieren. Leider war es da noch nicht sonnig. Später war es sonnig aber wir waren zwischenzeitlich spazieren...
Finally I managed to take a picture of all the 4 boys after I did their coat. Well it wasn't sunny then but after our walk I did another picture in the sun....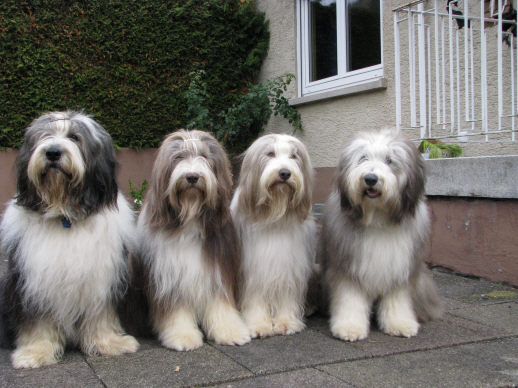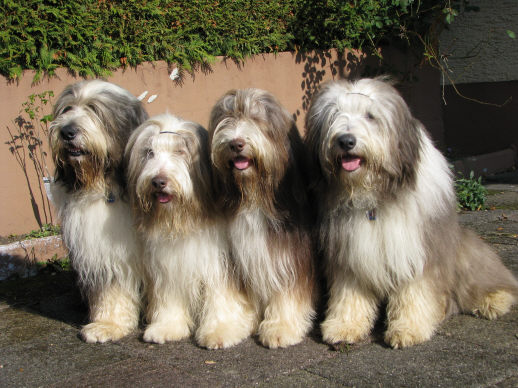 20/10/08 Am Wochenende waren Chocolate und Phil in Dortmund. Beide haben ein "V" erhalten und sich wirklich brav benommen.
Ricola und Phil sind ein Herz und eine Seele.....oder ist sie nur einfach endlich ein Opfer dass er nach Belieben abschlecken kann. Und wenn sie nicht stillhalten will, dann hat er ja eine ganz kleine zarte Pfote, die er auf sie legen kann.
We went to Dortmund on Sunday and both Chocolate and Phil received an Exc. They behaved really good.
Phil loves Ricola, well maybe because she is the only one at the moment who doesn't object his big, wet tongue. And when she tries to run he puts one of his tiny paws to keep er hin place.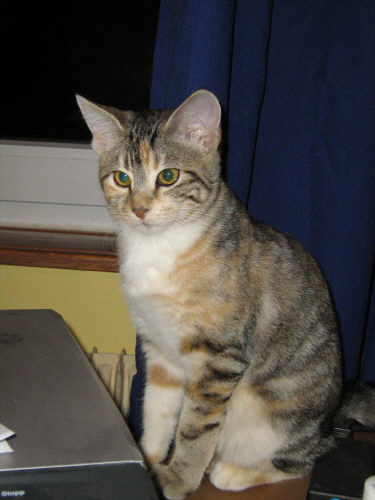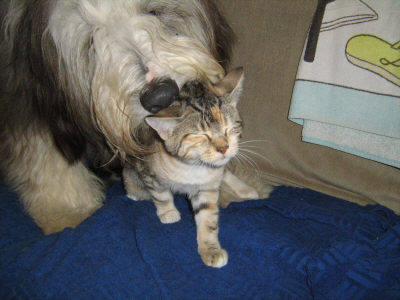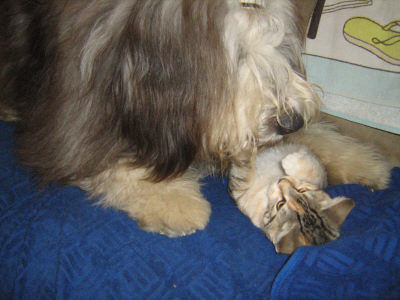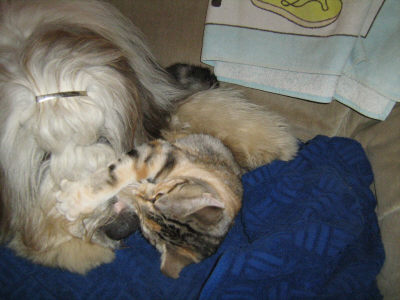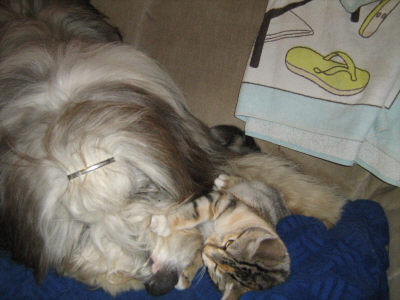 13/10/08 Knapp 3 Tage und Ricola hat die Männer im Griff. Sind sie zu aufdringlich, gibt sie ihnen einen leichten Hieb auf die Nase - Baghira konnte es gar nicht fassen, dieser Zwerg, kleiner als sein Kopf und so frech..... aber die Herren akzeptieren sie. Und Ricola erobert ihr neues Zuhause und den Hundewassernapf :-)
Just 3 days and Ricola tells the boys the way. If they are too nosey, she gives them a pat with her paw - Baghira couldn't believe this little thing, even smaller than his head but such a cheeky fellow....well the boys accept her. And Ricola is discovering her new home and the dogs water dish :-)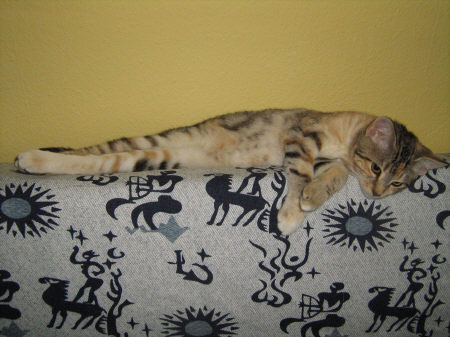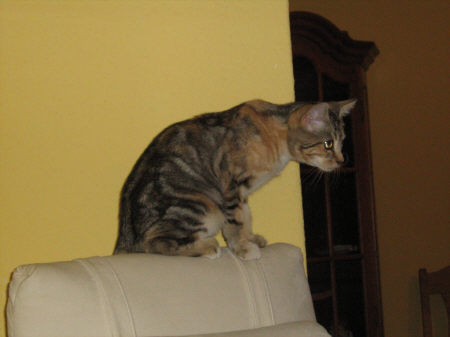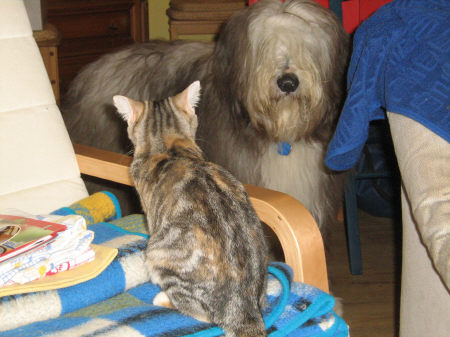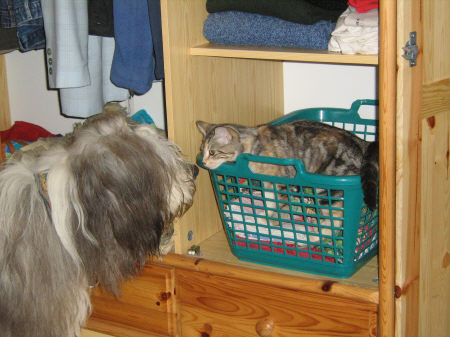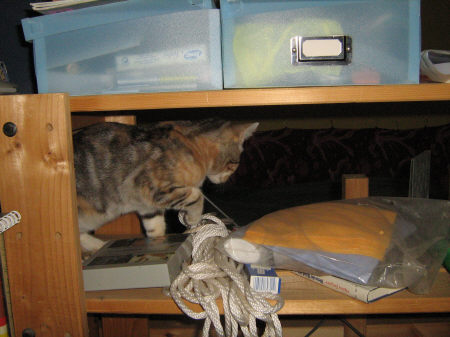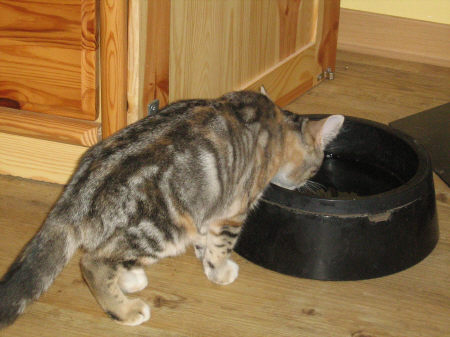 10/10/08
Phil ist ein Jahr alt und Ricola zieht ein
Phil is turning 1year old and Ricola is moving in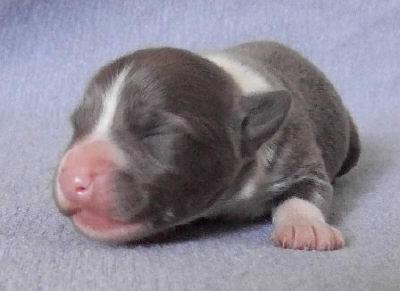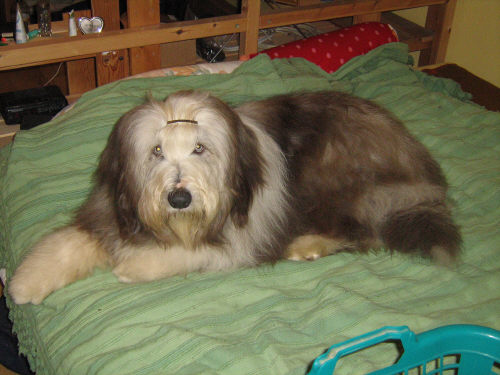 es ist kaum zu glauben, was 365 Tage doch verändern
Isn't it amazing what 365 days can change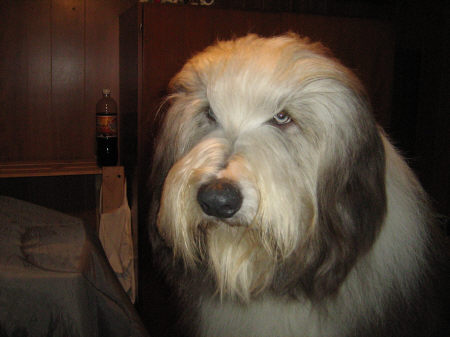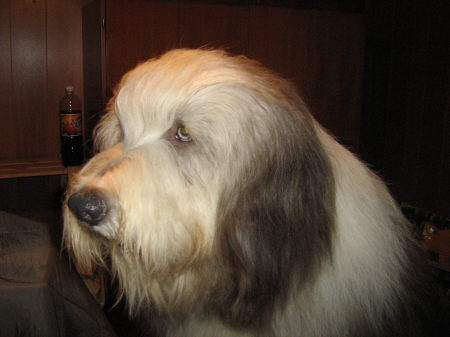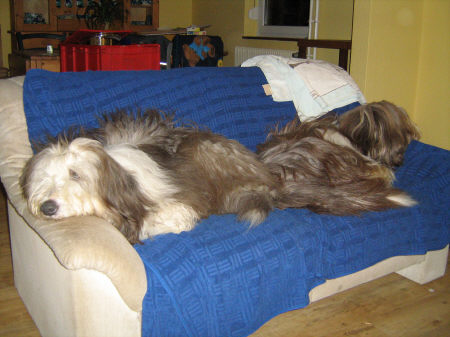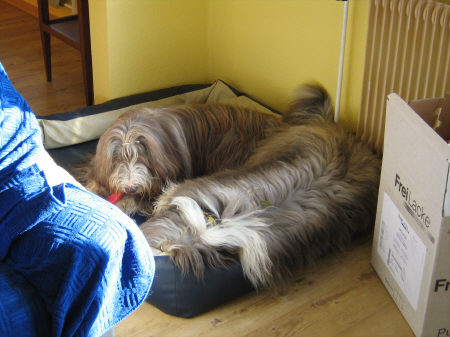 Chocolate und Phil, Meister und Lehrling....
Chocolate and Phil, master and apprendice.....
UND..
Ricola
Schweizer Bahomi / Swiss Bahomi
(Bahomi= Bauernhofmischling / Mongrel from a farm)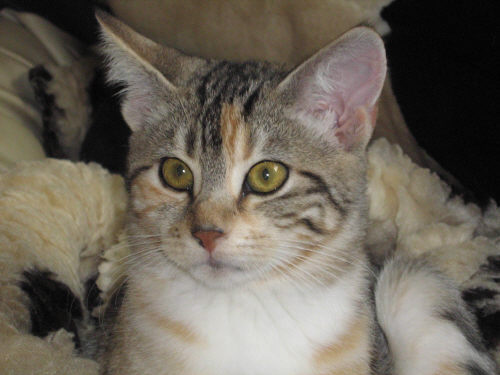 als kleine Immigrantin aus der Schweiz musste sie den passenden Namen bekommen....sieht sie nicht so aus, als ob da 13 Kräuter mitgemischt hätten?
as a little Swiss immigrant she had to get the apropriate name.....and doesn't she look like 13 herbs did mix (Ricola being a famous Swiss candy made of 13 herbs, look it up at google)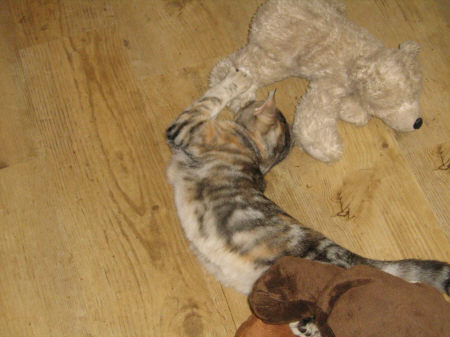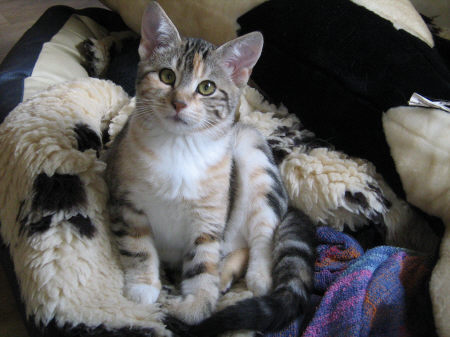 Ricola hat sich in aller Ruhe das Haus angesehen und gleich mal die Stofftiere von Phil für sich beansprucht. Ebenso fand sie es toll, sich in den großen Hundebetten ein zu kuscheln
Ricola took her time to have a good look around the house and took Phil's animals to play with. And she enjoyed the big dog places to find a nice soft place to sleep in.
04/10/08 Wir haben es geschafft, wir sind umgezogen. Noch herrscht das Chaos und ich suche meine warmen Pullis, aber das wird....
We made it! We moved into our lovely house with the big garden. At the moment I am still searching for my winter clothes, but we made it.
Wir hatten unseren ersten Besuch zum Ultrashallterin und das Ergebnis?! Mein Chocci wird Vater.
Wenn man diesen Kindskopf sieht, der nie Zeit hat für was auch immer,ist es kaum zu glauben, aber hierfür hat er sich Zeit genommen. Anfang September bei unserer Fahrt nach Kaltenkirchen haben wir in Weikersheim einen Zwischenstop eingelegt, der sich als sehr fruchtbar erwiesen hat. Die Welpen werden im Zwinger "Romanticstreet" Anfang November erwartet.
We had our first visitors for an ultrasound and the result?! There are going to be little Choccis at the beginning of November.
When one sees this silly boy, who never has time for anything, you wouldn't believe it, but this time he took his time. On our way up north to the dog show in Kaltenkirchen, at the beginning of September, we had a stop over at Weikersheim. The puppies are due beginning of November, Kennel "Romanticstreet"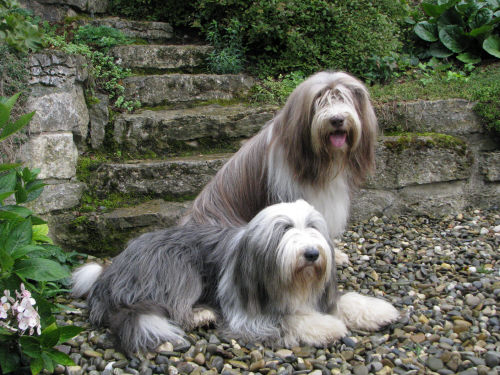 06-09-08:
Holmsland Klit Finest Chocolate Chip und Shannon vom Wartberg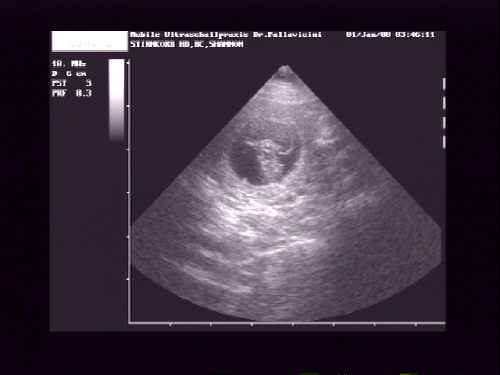 04-10-08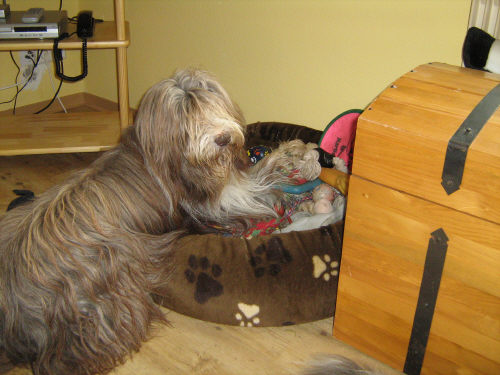 Chocci ist sich über die Tragweite seines Besuchs nicht ganz im Klaren....
Chocci didn't realize the importance of his visitor....
01/10/08 - 04/10/08
Umzug....so langsam wird es wohnlich
Moving....it starts to feel like home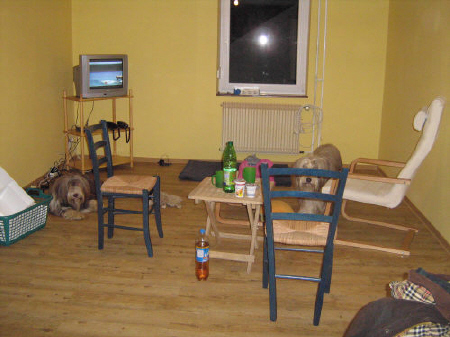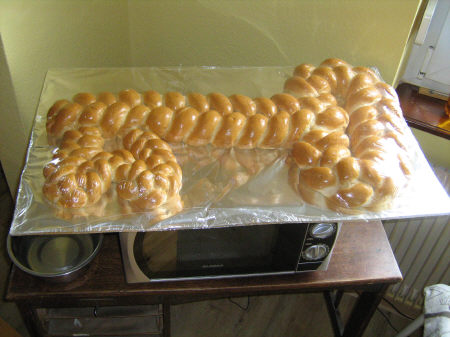 ein Schlüssel zum Einzug - a "key" for our new home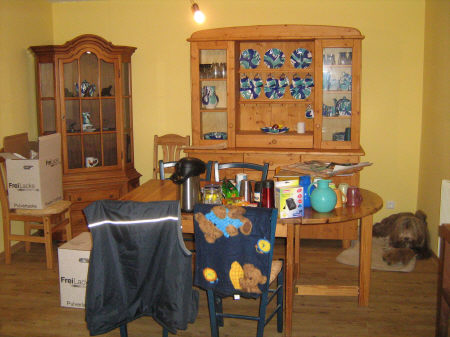 was ein paar Stunden doch ausmachen - after a few hours of working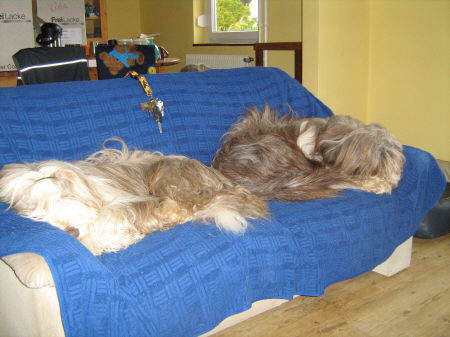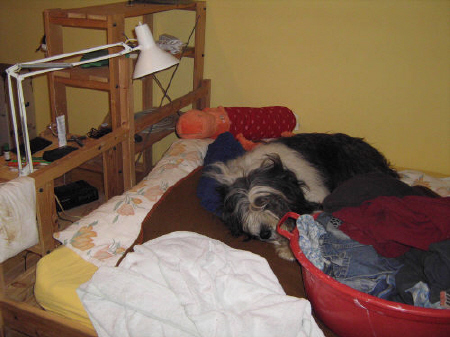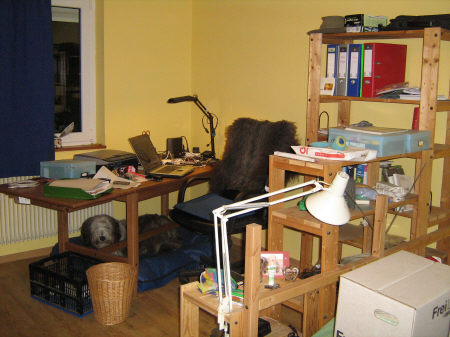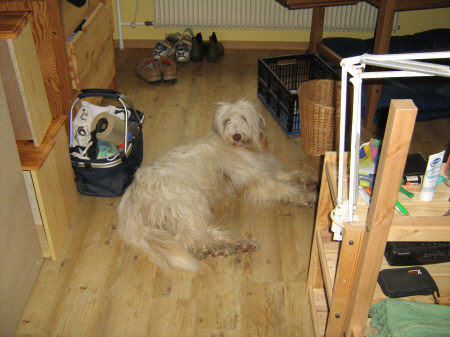 die Hunde finden so langsam ihren Platz, sogar Phil's Schwester Kate, die mit Shannon zu Besuch kam
the dogs are finally finding their favourite place to saty, even Phil's sister Kate, she came to visist with Shannon for her ultrasound

28/09/08 Noch ist nicht alles erledigt, aber wir nähern uns dem "Tag X": Umzug am 03.10.08. Wer noch Kapazitäte frei hat, kann gerne helfen ;-). Meine Mutter wird Szegedinger Gulasch sowie Kartoffel Gulasch für uns zubereiten.
Münte hatte leider keine Chance mit uns alt zu werden, er hat im Tierheim die Katzenseuche erwischt und ist daran gestorben. Ich habe mich aber entschieden, dass ich es doch versuchen möchte und nun warten wir nur noch darauf ins neue Haus zu ziehen, damit eine kleine Samtpfote bei uns einziehen kann.

We are not finished so far, but "The day" will soon be there: Oct. 3rd I am planning to move....If someone doesn't know what to do with his/her spare ime, you are most wellcome to help ;-). My mother will prepare some Szegediner Gulasch and some potatop gulasch.
Münte didn't have a chance to grow old with us as he got infected by Parvo in the shelter. Never the less I decided a little kittenw ill move in with us and now we are only waiting for the new house to be finished so it can stay with us.
14/09/08 Im Moment gibt es viel zu tun: der Umzug muss vorbereitet werden, in unserem zukünftigen Zuhause muss noch die Farbe an die Wand, die Böden müssen gemacht werden, die Küche wartet auf den Zusammenbau und die Praxis möchte auch betreut werden. Zum Glück haben wir einen großen Garten der Dank Peter einen genialen Zaun zur Strasse bekommen hat :-) und so können die Herren nun "ihren" Garten in Besitz nehmen. Sie liegen dann ganz zufrieden vor dem Haus, hin und wieder schaut einer vorbei was ich so mache, aber bisher haben sie beim Streichen noch nicht geholfen. Tja, wenn alles klappt, sind wir in 3 Wochen umgezogen!
At the moment there is a lot to do: our moving to the new house has to be prepared, in the new house the walls need some new paint, the floors need to be done, the kitchen waits to be put up and my practice has to be taken care of, too. Well lucky us, we do have a nice big garden, some plants are waiting to be planted...., but with the lovely fence Peter made, the dogs now can enjoy "their" own ground. They started to put their markings and while I am working inside, they are waituing patiently outside,from time to time checking my work. So far I managed painting without their help. Another 3 weeks time and we'll be staying in our new house!
Die Veränderungen können sich sehen lassen.....the changes just in one room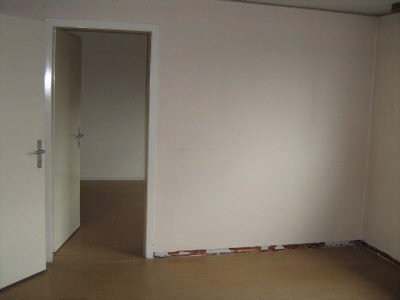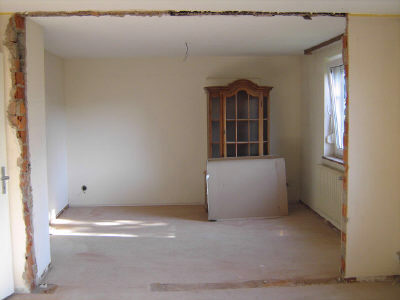 Originalzustand ........in the beginning - Wand herausgebrochen.....wall pulled down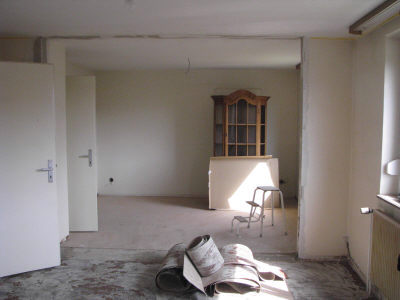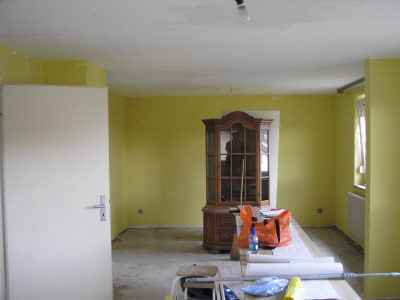 Wand verputzt und Boden entfernt.....Wall plastered and floor taken out - nachTapezieren und Streichen....after painting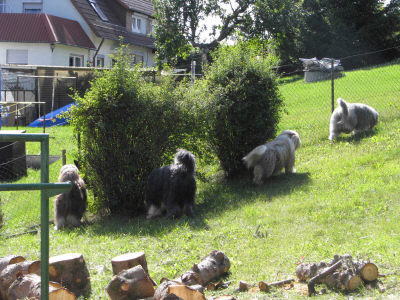 die Herren erobern "ihr" Reich.... the boys discover their "territory"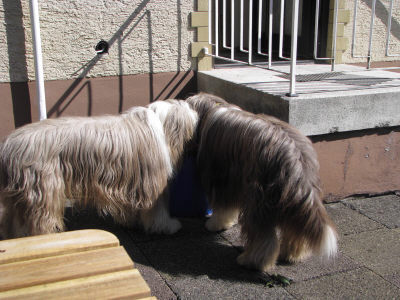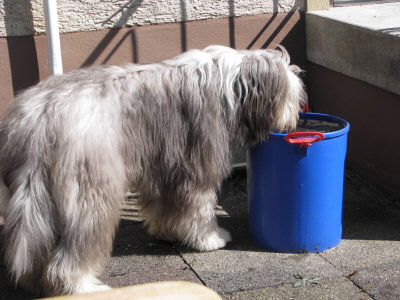 eigentlich ist es nur eine kleine Regentonne.....normally it's just a little bucket to collect the rainwater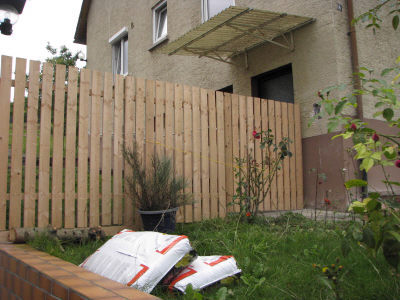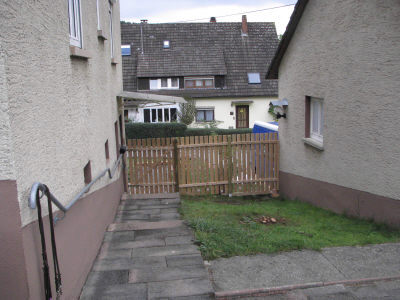 Der Zaun, Peter's Meisterwerk.....The fence, Peter's masterpiece
08/09/08 Chocolate hat seine beiden blauen Zöglinge Phil und Gracie auf einen Ausflug gen Norden mit genommen....
Phil took his two blue pupils, Phil and Gracie along on a trip up north....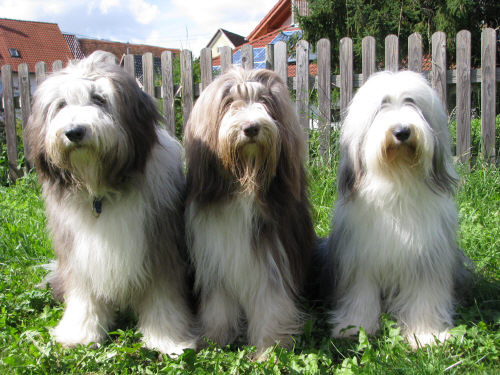 Phil - Chocolate - Gracie
Zuerst haben wir uns mit Ella und Frazier sowie Phils Schwester Kate getroffen und nachdem sie ausgiebig getobt hatten ging es Richtung Norden.
First we met Ella and Frazier and Phils sister Kate and after they had a good time running around together we set off towards Hamburg.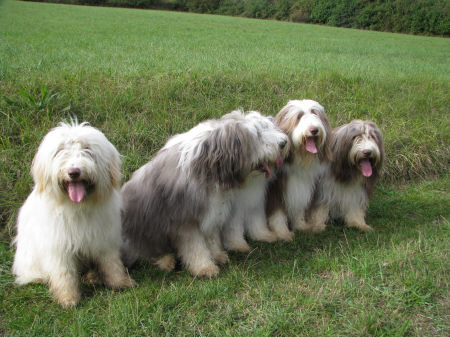 Kate - Phil - (Gracie, kaum zu sehen) - Frazier - Chocolate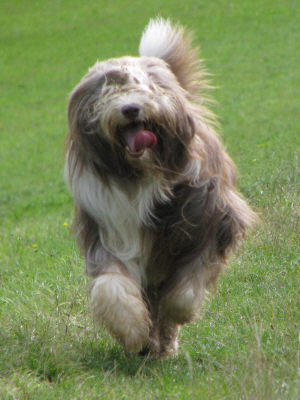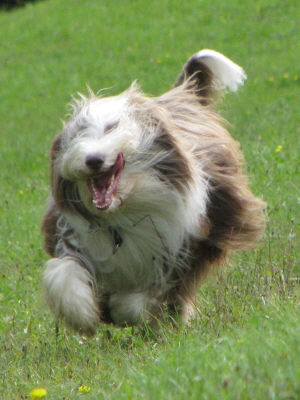 Chocolate und Frazier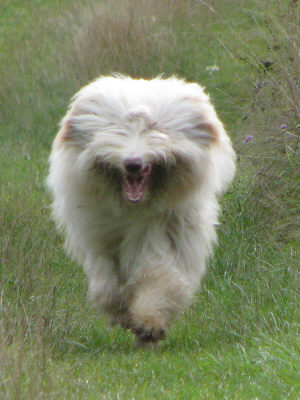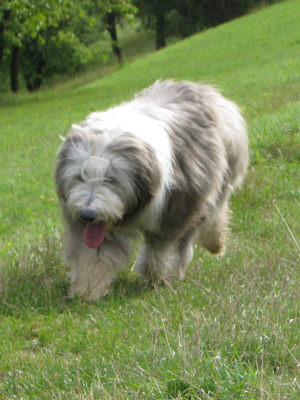 Kate und Phil
Im Norden haben wir neben vielen lieben, netten Beardie Leuten auch noch mit Kayla (Philemon Sweet Secrets) von Melanie etwas Verwandschaft getroffen. Da wir zur Ausstellung dort waren, war es leider nichts mit Toben am Meer, aber das holen wir sicherlich beim nächsten Mal nach.
Up north we met lots of nice people and with Kayla (Philemon Sweet Secrets) and Melanie we even met some relatives. As we had been up there for a show, they could't go for a run along the sea, but next time we'll make up for it.

Kayla und Melanie
.Chocolate ist seinen beiden Blauen mit gutem Beispiel voran gegangen und hat die Offene Klasse gewonnen, Phil sowie Gracie und auch Frazier erhielten je ein V2. Wir hatten ein richtig nettes Wochenende und würde auch gerne wiederkommen, wenn es nicht gerade am anderen Ende Deutschlands wäre. Aber wer weiß? ;-)
Chocolate was a very good example and won his class, Phil, Gracie and Frazier all came in second. We had a lovely time up north, we'd love to come again, only problem it is the opposite end of Germany ;-)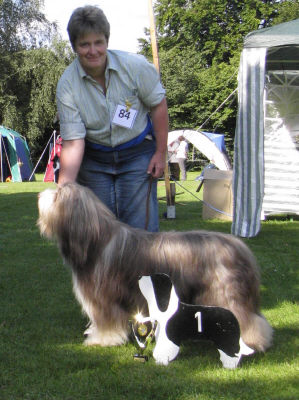 Chocolate - Phil (11 Monate)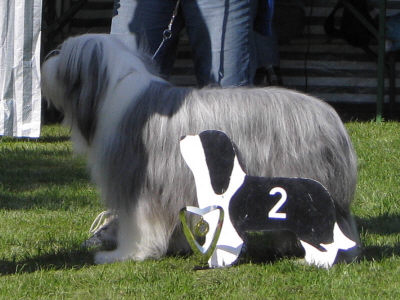 Gracie (21 Mon)