März - April
26/04/08 Wir haben Caspers Sohn Topper besucht. Er ist ein kohlrabenschwarzes Männchen, quirrlig und voller Energie. Er hüpft und springt und war der Ansicht er sei immer noch ein Schoßhund und hätte Platz auf meinem Schoß....das hat auch geklappt.
We made a trip to visit Casper's son Topper. He is a really black little fellow, full of energie and mischief. He was jumping around, having a good time and is still believing he's small enough to fit on my lap....well he managed.
20/04/08 Das war ein wunderbares Frühlingswochenende! Gestern ein kurzer Schauer am Morgen, dann war es eigentlich schön, heute in der Früh etwas Frost und später wunderbar warm. Nach dem Bürsten haben wir einen schönen Spaziergang im Ried unternommen, natürlich am Bach und an der Donau entlang :-) So langsam haben die Bäume und Büsche einen grünen Schimmer und die ersten Löwenzahnblüten sind auch schon zu sehen. (mehr)
This has been a wonderful spring weekend. Yesterday we had a short shower but later the sun came out and it was a nice and warm day. Today a little bit of frost in the morning, but later it was really nice and warm. After brushing the dogs, we went for a nice walk along the little creek and the Danube, it was really fun :-) Slowly the trees seem to have a green cover and the first dandilion can be found. (more)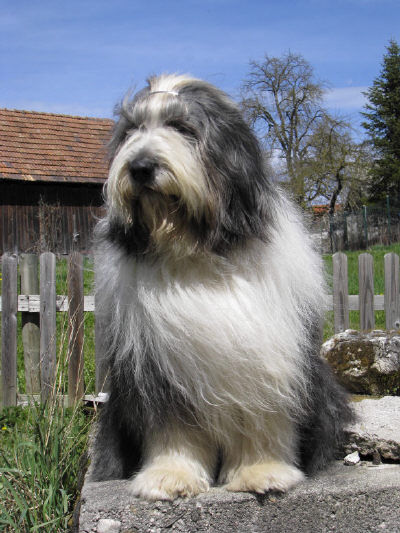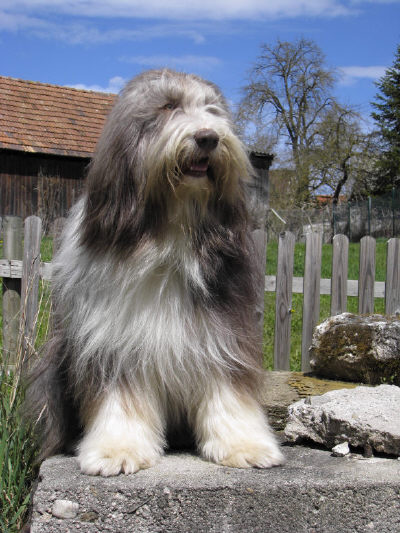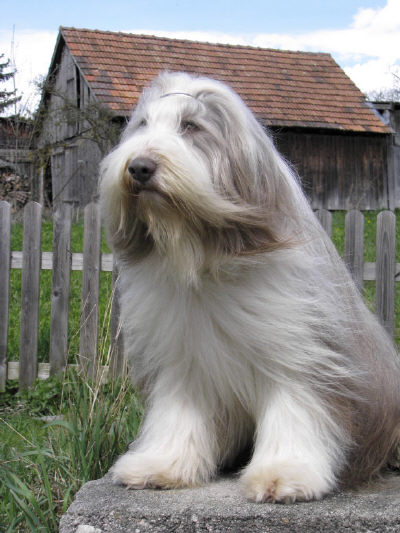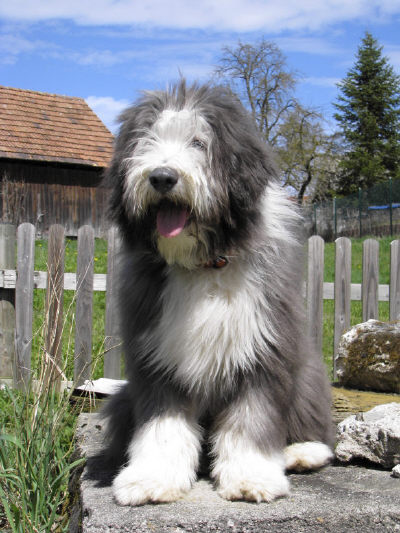 17/04/08 Gestern sind wir im Schneckentempo die ersten 50 km Richtung Stuttgartgefahren da der Winter meinte er müsse es uns noch einmal zeigen, heute scheint die Sonne und wir genießen sie. (mehr)
Yesterday we were almost crawling up to Stuttgart as winter came back once again, but today is nice and sunny. We had a nice walk, enjoying the sun and water. (more)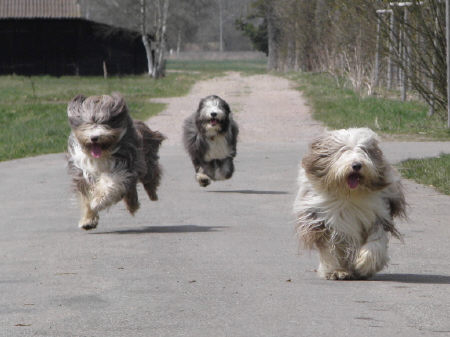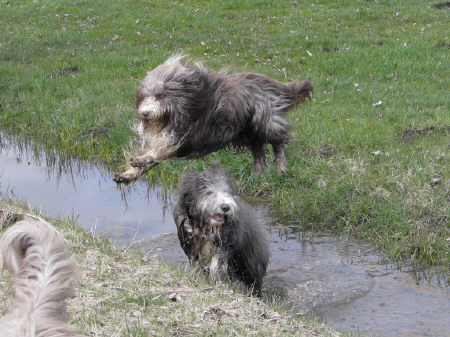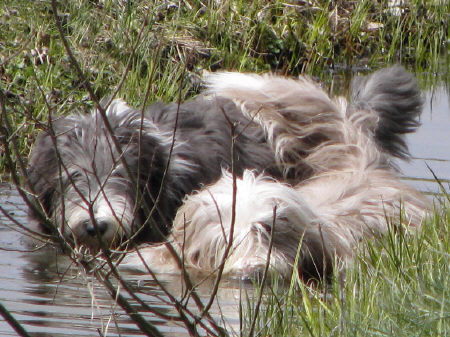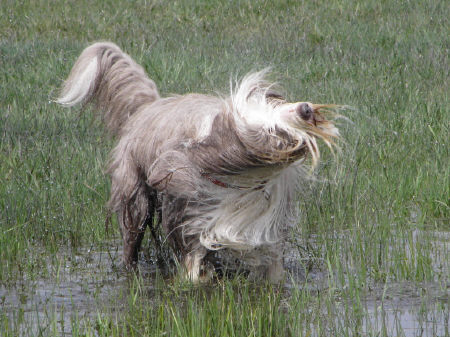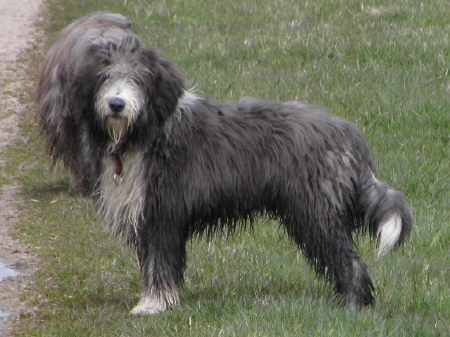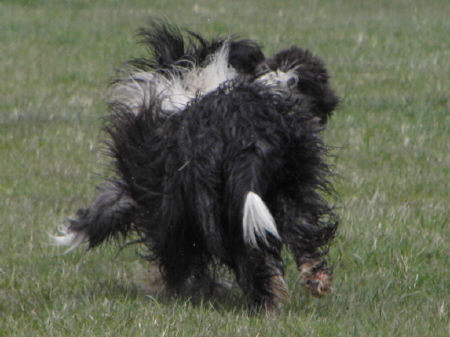 12/04/08 Wir waren zuerst Phils "kleine" Schwester Kate besuchen, ein guter Anlass auf halbem Weg die Beine zu strecken
First we went to see Phil's "little" sister Kate, she lives halway and we took the chance to have a good run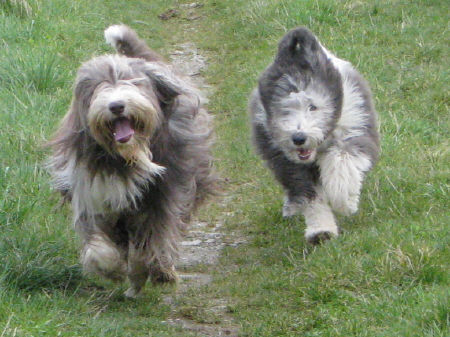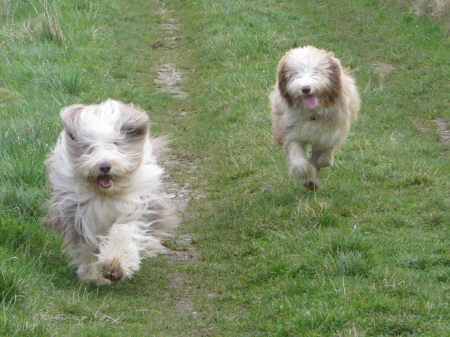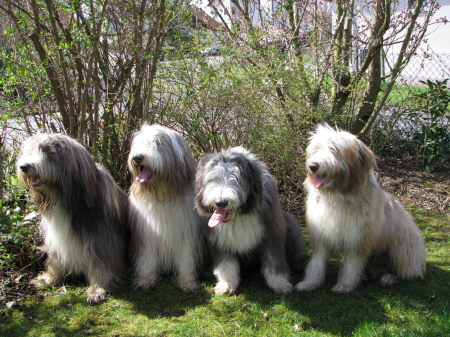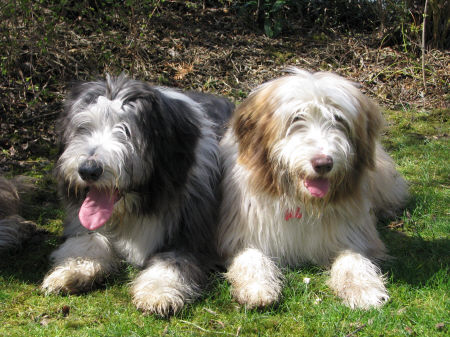 Shannon war lange nicht so vom Besuch begeistert wie Kate und zog es vor, nicht mit aufs Foto zu kommen
Shannon didn't like the visitors and decided not to come and sit for a picture
Anschließen ging es weiter zu Kerstin und Andreas und Phils Verwndtschaft
later we went on to visit Kerstin and Andreas and Phils family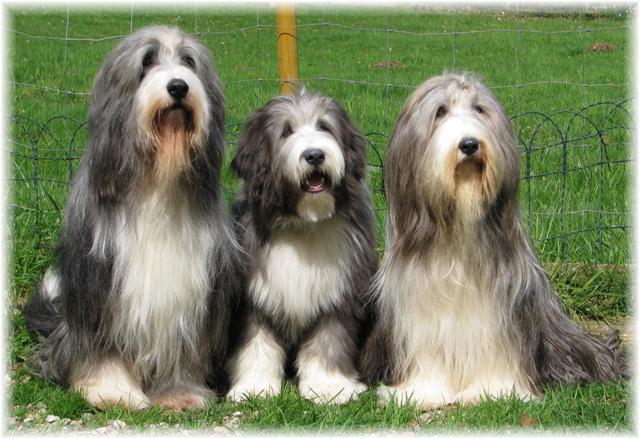 Phil und seine Eltern "Theo" Pipadene Roving Reporter und "Megan" Philemon Pricess
Phil and his parents "Theo"Pipadene Roving Reporter and "Megan" Philemon Princess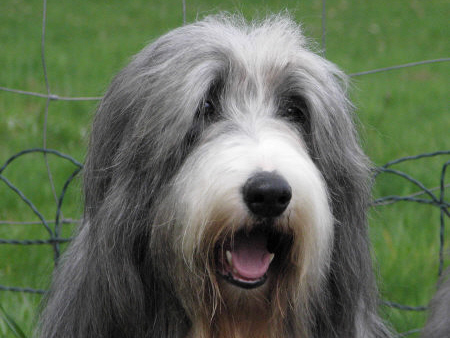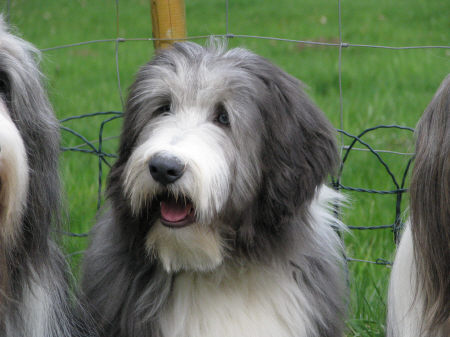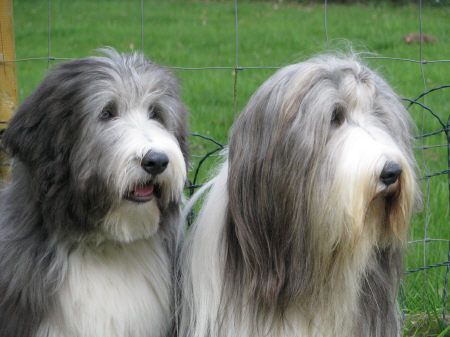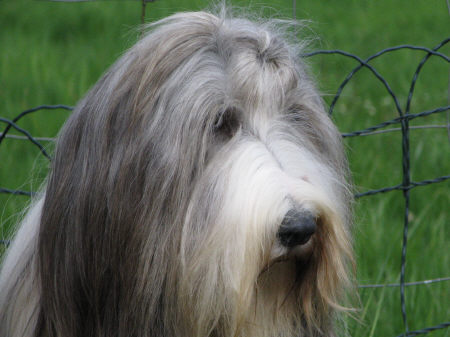 DAS ist Megan und DAS ist der Grund warum es ein Megan Kind sein musste! Sie ist einfach klasse!!
THIS is Megan and THIS is the reason why it had to be a little Megan pup! She's just great!!
10/04/08 So schnell vergeht die Zeit, jetzt ist das kleine blaue Männchen schon 6 Monate alt...
Time is running and the little blue boy is already 6 months old...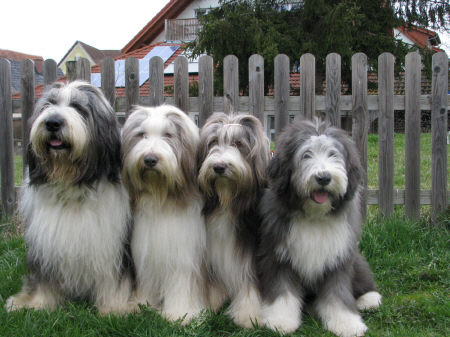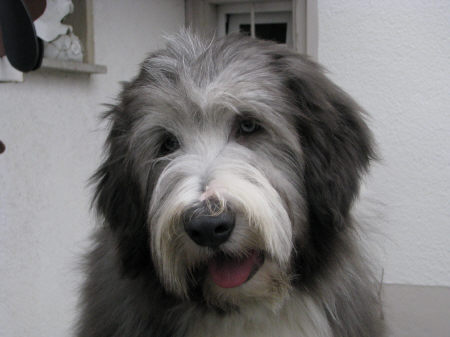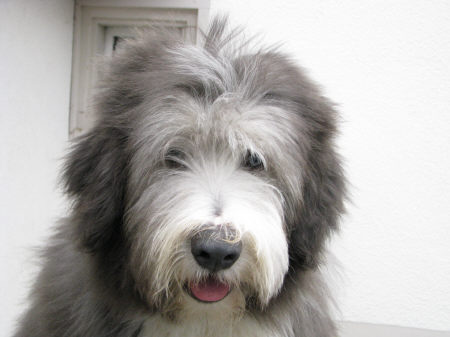 frisch gebürstet - und schon wieder geschüttelt, aber jetzt wird es ernst.....
just done - and already he did shake, but now we are getting serious....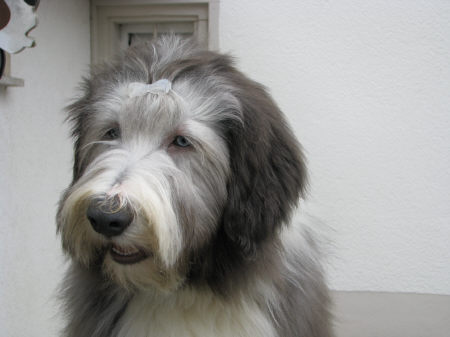 seine erste Haarspange, mal sehen wie lange sie hält ;-)
his first hairclip, we'll see how long it's going to stay in place ;-)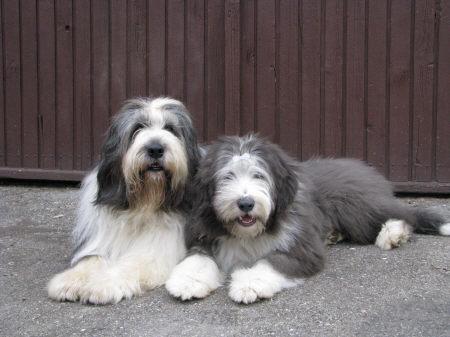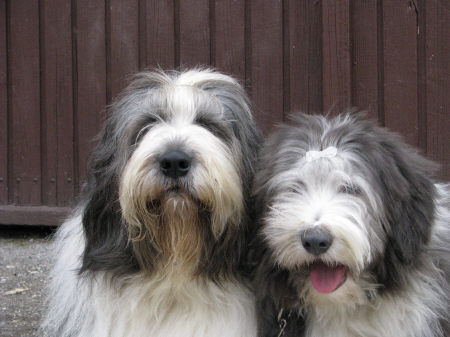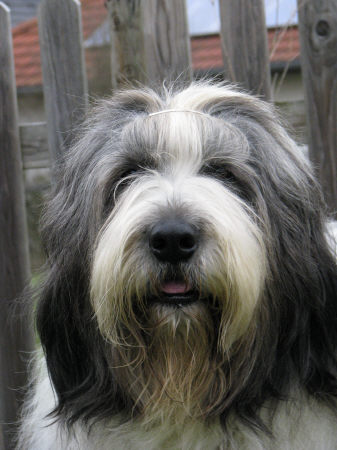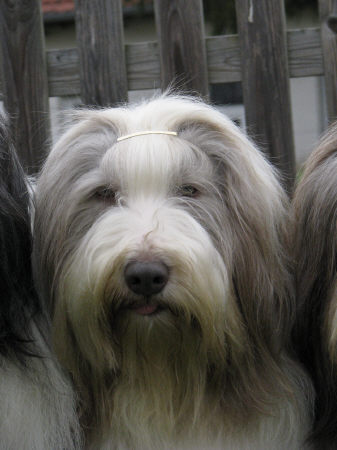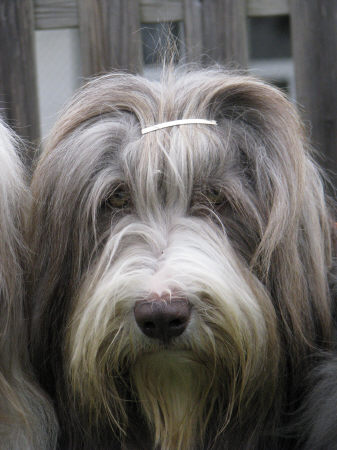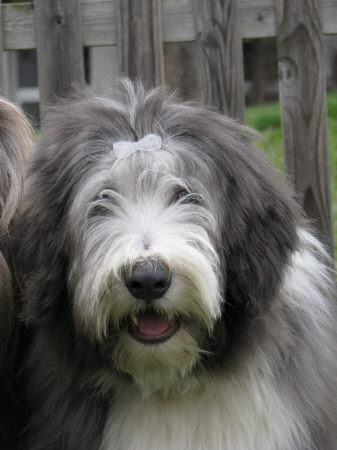 05/04/08 Diese Woche war eher anstrengend, nicht nur für mich, knapp 1500 km waren für uns alle eine Herausforderung. Vor allem für Phil, der zum ersten Mal 5 Tage am Stück mit uns unterwegs war. Aber ausser einem angeknabberten Hundekissen hat er es gut gemacht. Die Pausen haben wir mit schönen Spaziergängen ausgefüllt.
This past week has been rather tiring for all of us: 1500 km is a lot. Most of all for Phil, as this was the first time he came along in the car for 5 days in a row. But he only had a go at his pillow otherwise he was really good. The breaks inbetween we used for nice walks in the lovely countryside.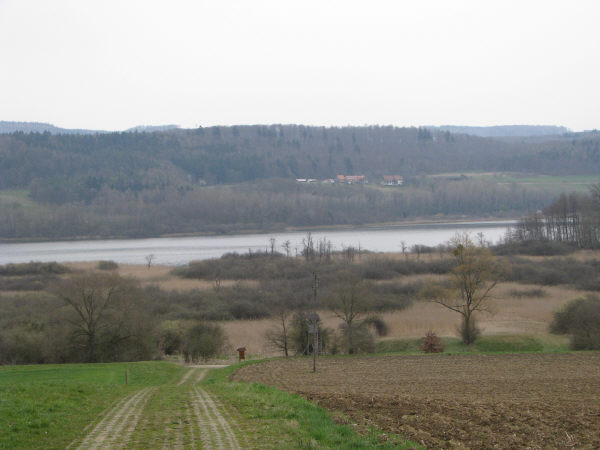 Der Mindelsee, nahe dem Bodensee, wir haben ihn nicht ganz umrundet, so lange war die Pause nicht
Mindelsee, near Lake Constance was a bit too large to walk all the way around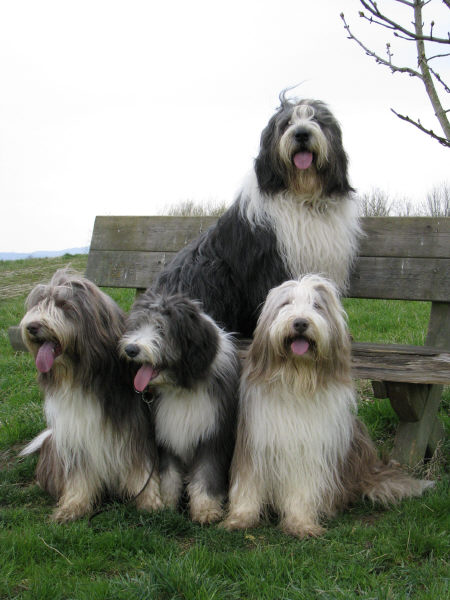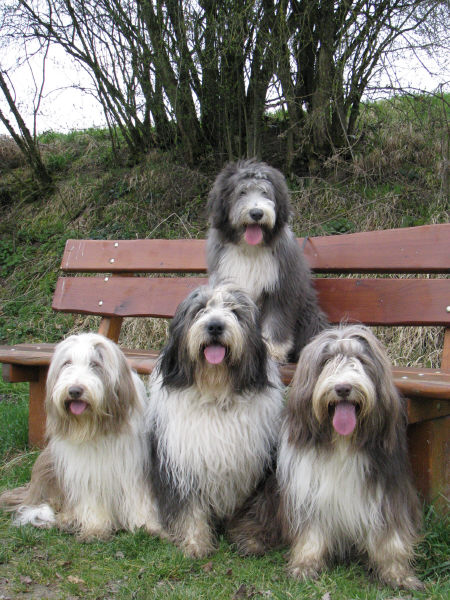 29/03/08 Ja, das ist das was die Herren genießen... That's what the boys enjoy....
27/03/08 Nachdem ich über Ostern mehr Schnee schippen musste als den gesamten Winter, taut nun alles weg. Na ja dafür können die Herren dann wieder in der Donau baden gehen.
As I had to do more snow shoveling over the Easter weekend than during the whole winter 2007/2008 now it all turns into mud....but never mind, now the dogs can go for a swim in the Danube, again
Für Kerstin und Andreas: Phil 5 1/2 Monate alt....mit dem Glücksschwein, dass Baghira 2001 geschenkt bekommen hat
For Kerstin and Andreas: Phil 5 1/2 months old....with the little Pig for luck, Baghira was given in 2001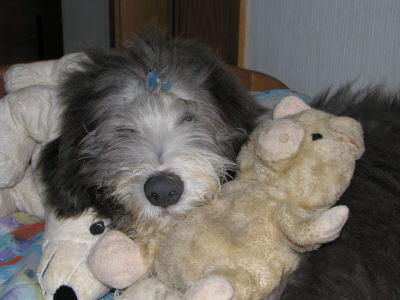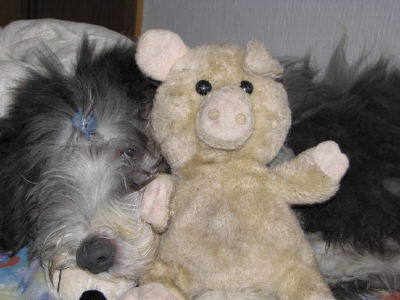 DAS war Ostern 2008!
Easter 2008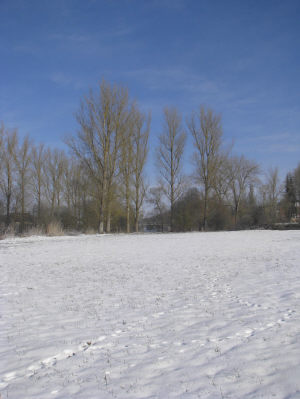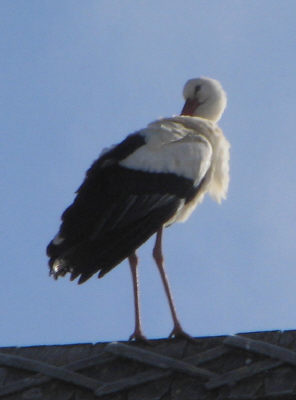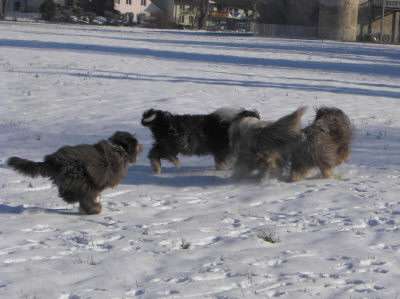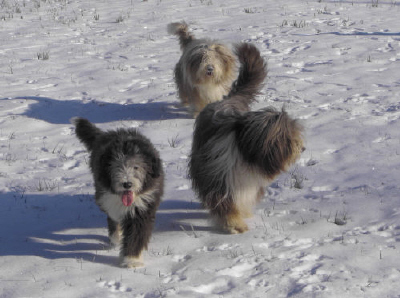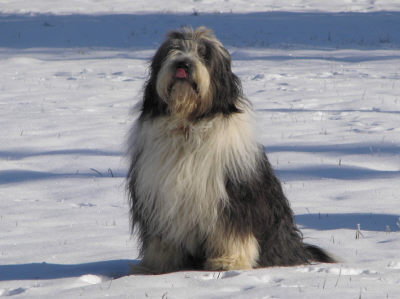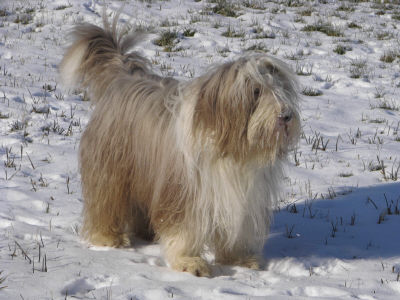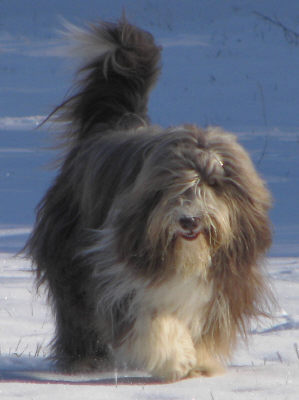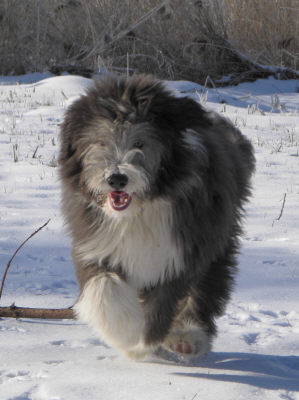 21/03/08
Wir wünschen Frohe Ostern
We would like to wish a Happy Easter Weekend
eigentlich sollte das unser Osterfoto werden - this should have been our Easter picture: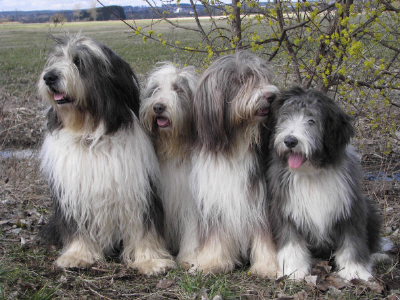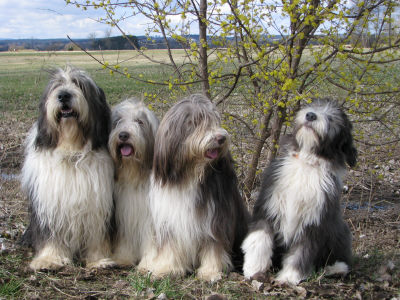 ABER letzte Nacht passierte folgendes.....BUT last night this happened....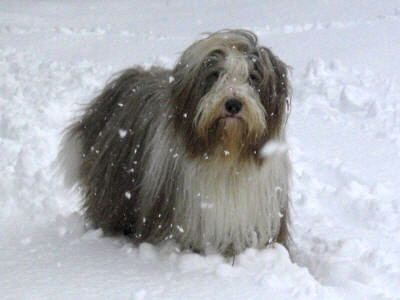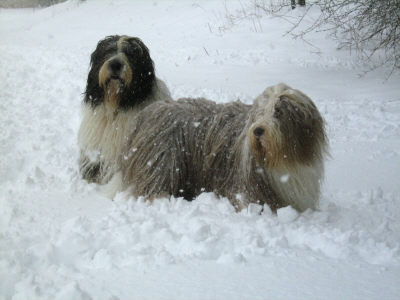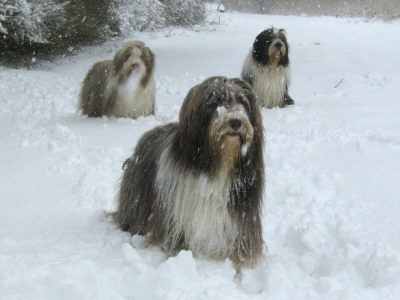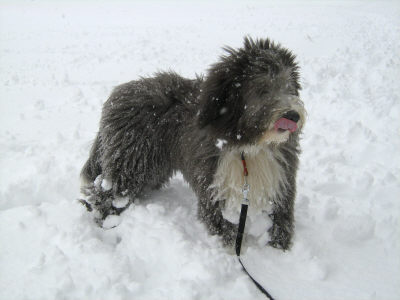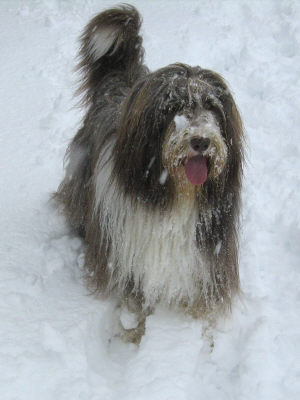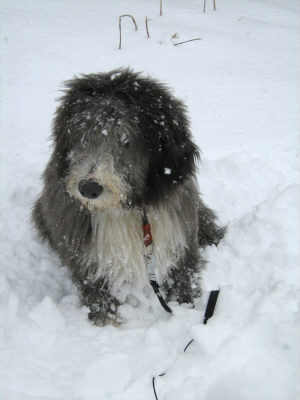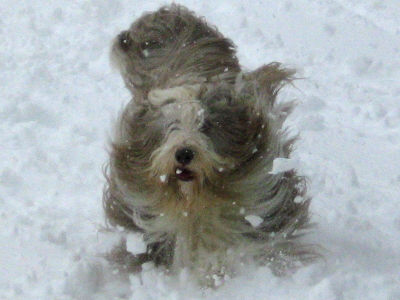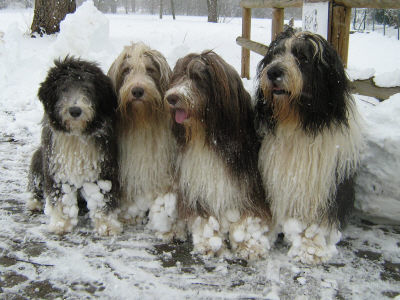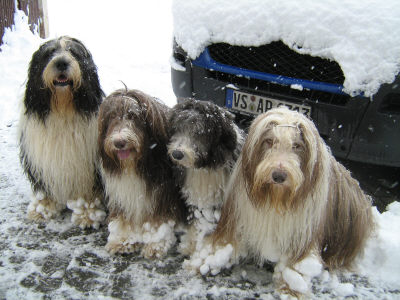 nun ja, dann findet man die Ostereier einfacher - well now the eggs will be found easily....
16/03/08 Wir waren in Offenburg und haben Gracie, Brigitte, Ella..... getroffen (die Reihenfolge stellt natürlich keine Wertung dar :-) ). Gracie hat in der Jugendklasse V3 errreicht. Dieses Mal habe ich die Gelegenheit nicht verpasst, Chocolate mit seinen beiden blauen Zöglingen zu fotografieren.
We went to Offenburg to the Dog Show and met with Gracie, Brigitte, Ella.... (the order of course doesn't show a rating ;-) ). Gracie was placed Ex.3 in Youth class. This time I managed to have a picture taken of Chocolate and his two blue pupils.

Phil - Chocolate - Gracie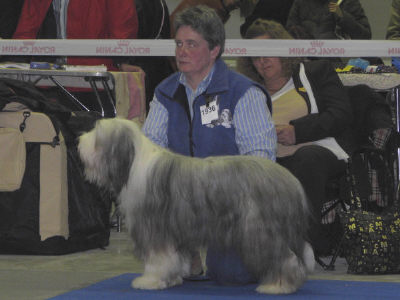 Gracie

15/03/08 Zuerst haben wir die Sonne genossen, was natürlich einen Abstecher in die Donau bedeutet..... später trocken und sauber
First we had a nice walk in the sun, meaning they went for a swim in the Danube..... and later dry, nice and clean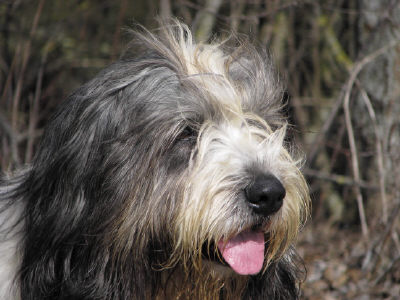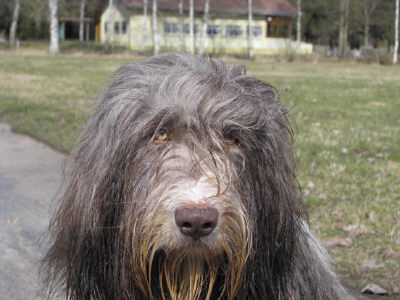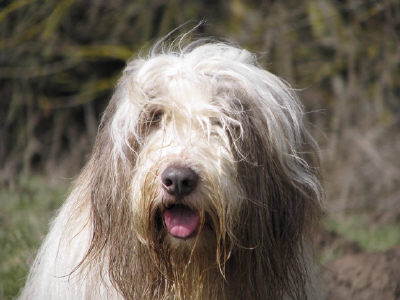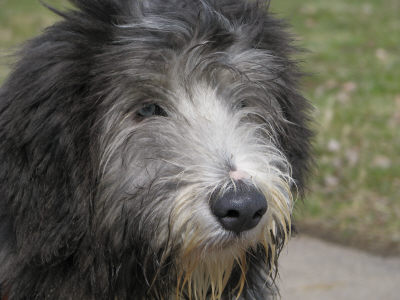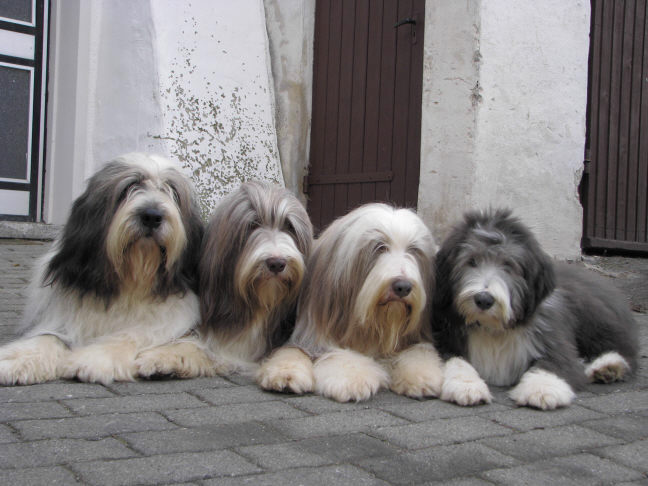 mehr Bilder/more pictures: www.photoblog.com/bradiba
"Schwein gehabt"
Gracie im April 07 mit 4 Monaten und Phil im März 08 mit 5 Monaten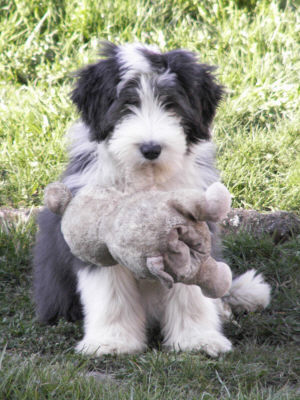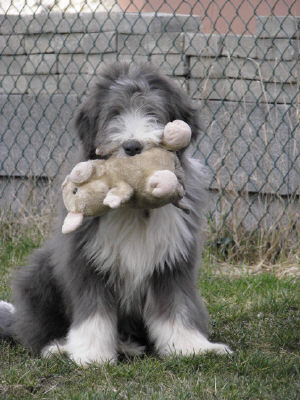 Gracie April 2007, 4 months old, - Phil March 2008 5 months old
10/03/08 Phil ist nun schon 5 Monate alt. Er hat seine gesamte vordere Front der Milchzähne gewechselt, wiegt etwas über 20 kg und hat eine Schulterhöhe von 50 cm...wo ist nur die Welpenzeit hin???
Phil is now 5 months old. He has changed the front row of his teeth, his weight is a bit over 20 kg and he is 50 cm high...why did his puppyhood pass so fast??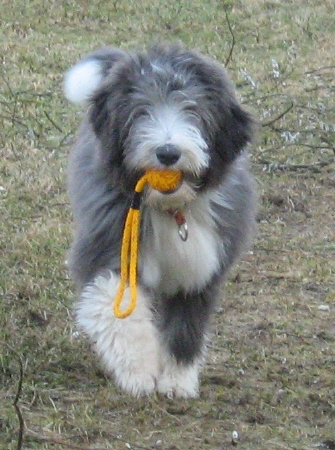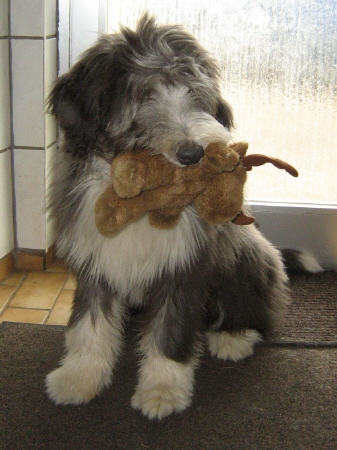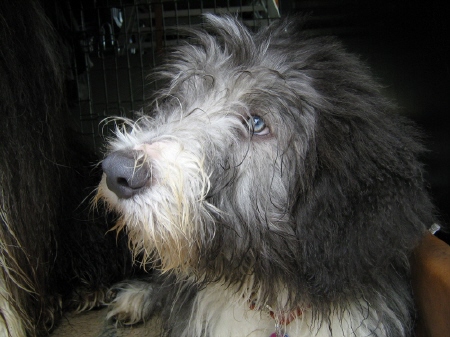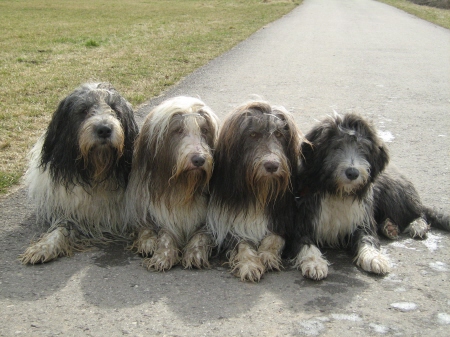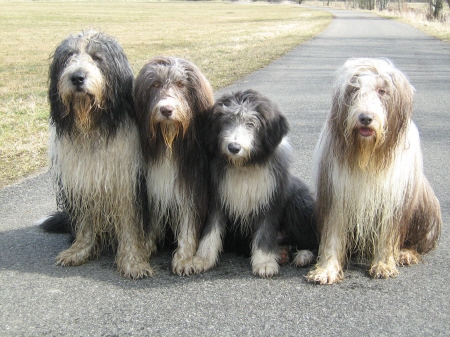 07/03 - 09/03/08
Links zu Crufts Fotos:
http://gallery.site.hu/u/xta/WookieeGang/crufts2008 Fotos von Kriszta Heger
http://picasaweb.google.cz/glenalbyn/Crufts2008 Fotos von Jana Jezkova jnr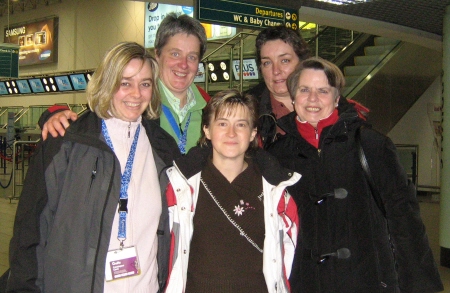 Wir waren in Birmingham auf der Crufts.
Das vergangene Wochenende haben wir uns in Birmingham getroffen und es war für uns alle der erste Besuch der Crufts. Es gab viel zu sehen, einiges das uns im Gegensatz zu den deutschen Ausstellungen aufgefallen ist, wie z.B. SAUBERE Hallen, super große Ringe die komplett mit Teppich ausgelegt waren, nettes, hilfsbereite Mitarbeiter und -in unserem Fall- viele, viele Beardies.
Last weekend we met in Birmingham and visited Crufts. It was the first time for all of us and it was a great experience. We noticed a few differences to German shows: CLEAN halls, nice, big rings with carpet all over, nice and helpful staff and -very important for us- lots of Beardies.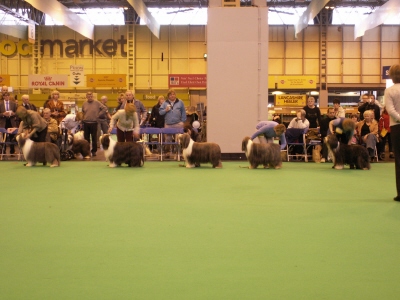 "Hundeauslauf in der Halle" - große Ringe mit Teppichboden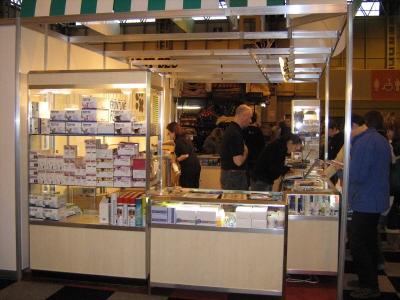 Sehr interessant fand ich auch, dass es mehrere Verkaufsstände mit Veterinärmedizinischen Produkten gab, die bei uns NICHT frei verkäuflich sind...
These stands with veterinary medicines one would't find in Germany as some of these products can't be sold outside a vet pracice...


06/03/08 Phil ist nun schon fast 5 Monate alt....und schon so ein großer Junge...man sollte die Zeit anhalten können.
Phil is going to be 5 months old in 4 days time....and such a big boy already....one should be able to stop time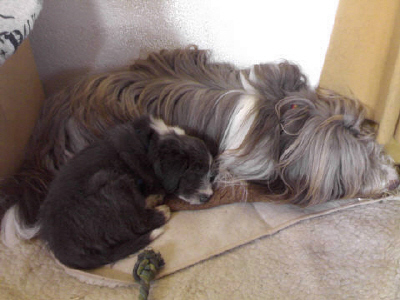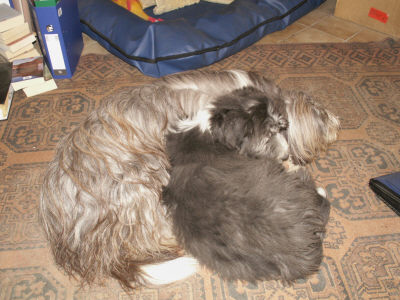 Dezember 2007 - Februar 2008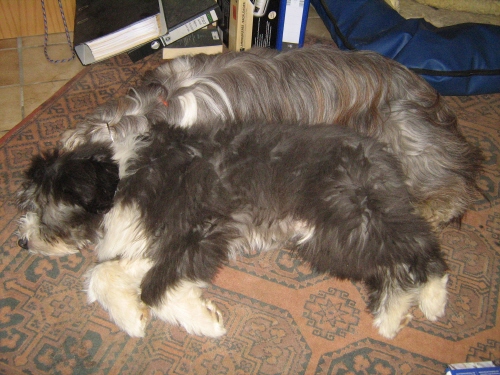 März 2008
05/03/08 Wie man sehen kann kam letzte Nacht einiges an Schnee herunter kam. Natürlich haben die Herren die -7°, den Wind und den Schnee sehr genossen :-)
As you can see we got some snow last night. The dogs enjoyed the weather a windy-7° very much.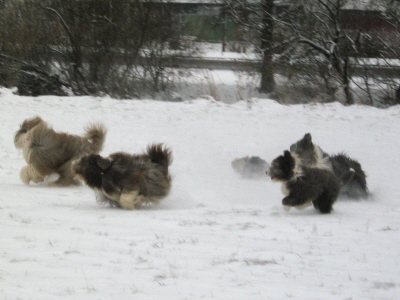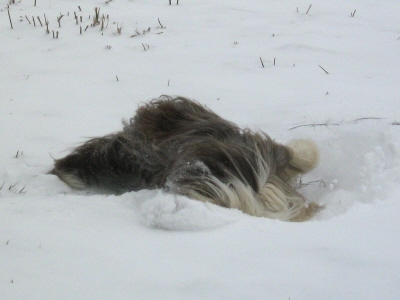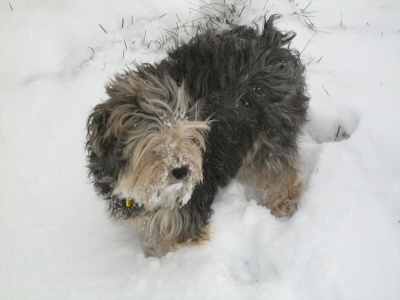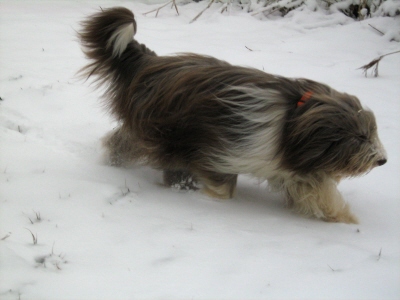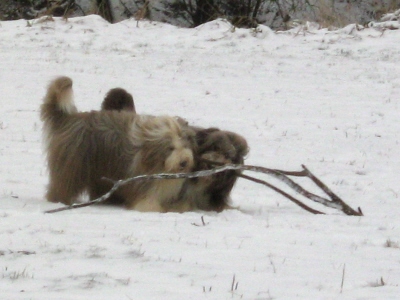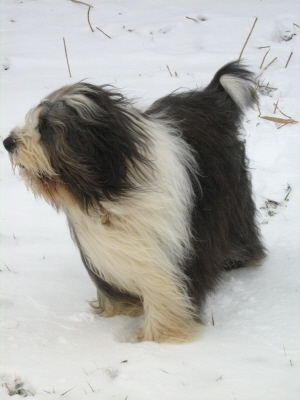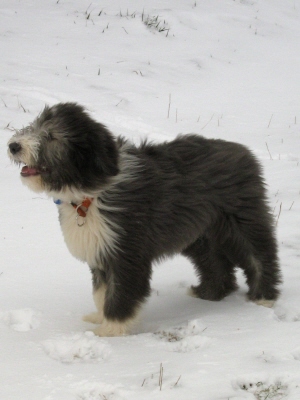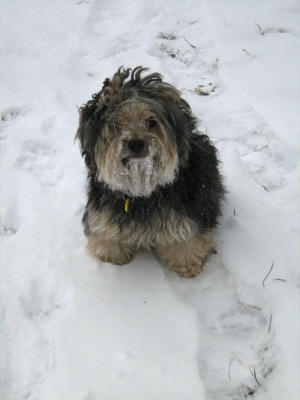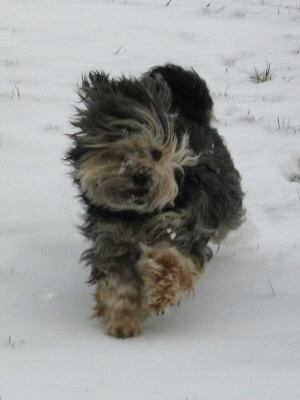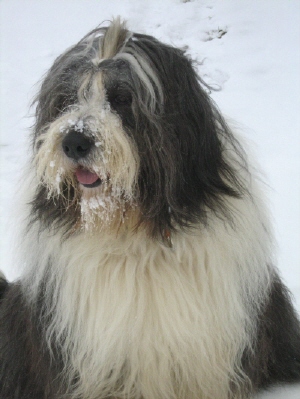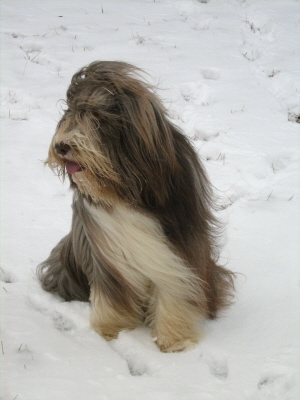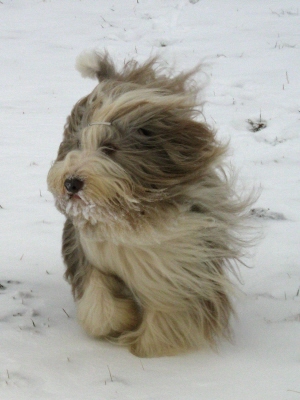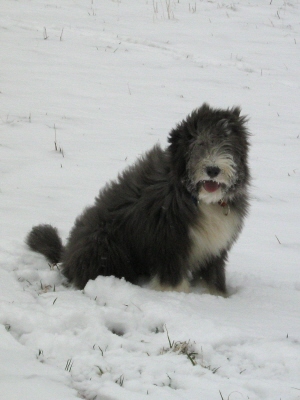 04/03/08 Nachdem ich am Wochenende nicht dazu kommen werde, habe ich heute die Herren gebürstet. Da es draussen schneit, haben wir im Haus Fotos gemacht. Bei Casper ist es unmöglich ihn mit offenen Augen zu fotografieren, wenn ich den Blitz benutzen muss.
Es ist schon fast erschreckend, wie schnell sich das kleine blaue Männchen entwickelt.
As I won't have time at the weekend, I did the 4 boys today. As it is snowing outside, I took the pictures inside. Casper I don't seem to be able to take pictures with flash and him not closing his eyes. It is really frightening, how fast the little blue boy is growing.