Januar - Februar
24/02/08 Am Morgen haben wir noch etwas Rauhreif, aber trotz Donau keinen Nebel und kurze Zeit später ist es herrlich warm, so dass die Donau über Mittag eine willkommene "Abkühlung" bietet.
Primelchen ist wohl ganz gerne bei uns, auch wenn sie viel autofahren muss, sie fordert Phil zum Spielen heraus und knurrt wie der kleine "Löwe" der sie ist :-).
Early in the morning all is kind of frozen, but even living at the Danube we are lucky, no fog so far. Later the sun comes out and it's nice and warm, the dogs are happy to be able to have a cool bath in the Danube.
Primelchen seems to like staying with us, even when she has to come along on our trips in the car. She loves playing with Phi and growls like the little "Lion" she is :-)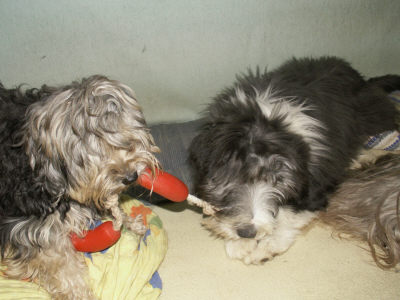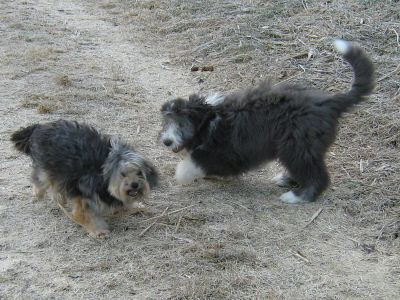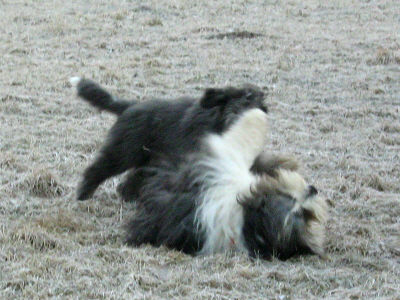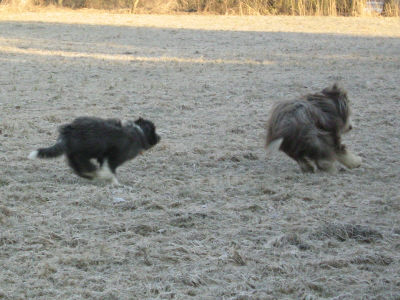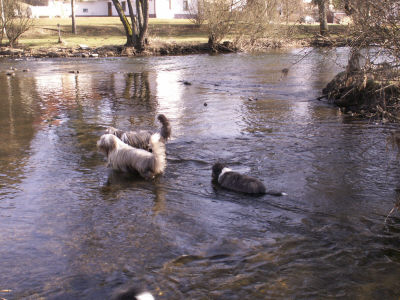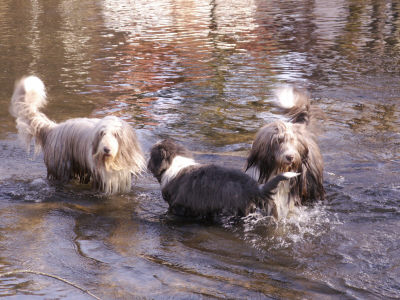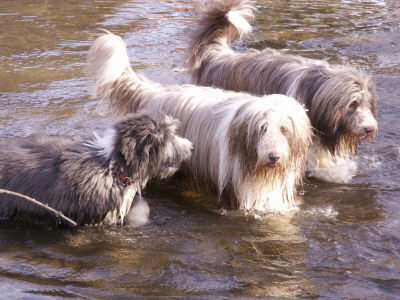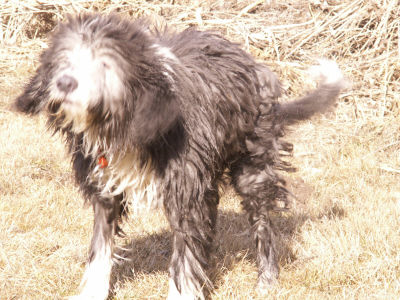 20/02/08 Vorher - nachher :-)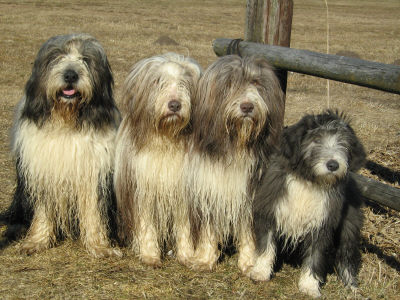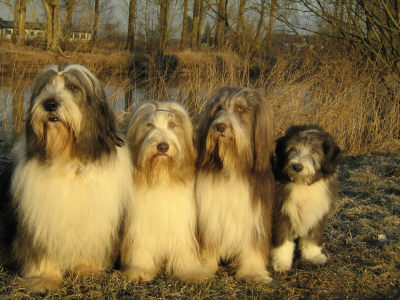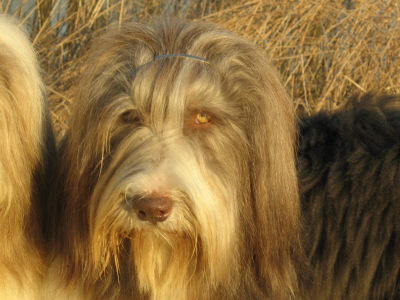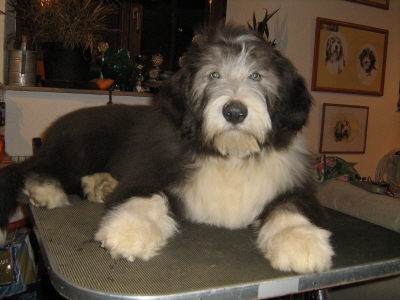 :-)
17/02/08 Ich kann schwimmen.... I know how to swim....

Die "junge" Donau knapp 3 km nachdem sich Brigach und Breg sich vereinigt haben
This is the Danube, just 3 km after Brigach und Breg united to form it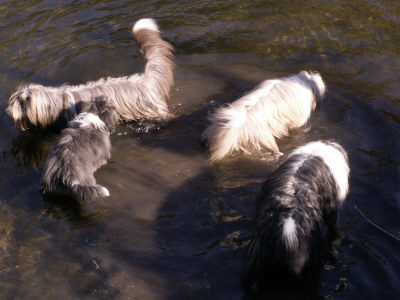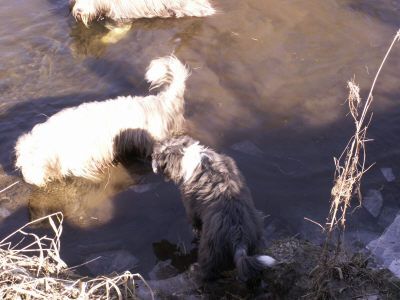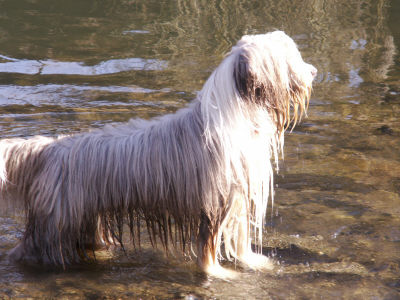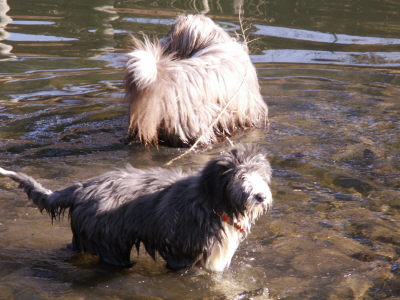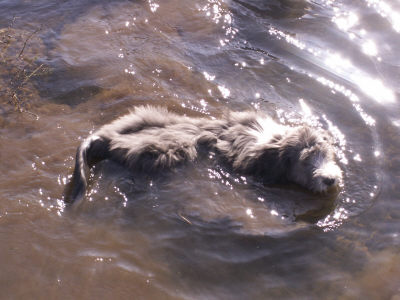 Phil schwimmt in der Donau - Phil swimming in the Danube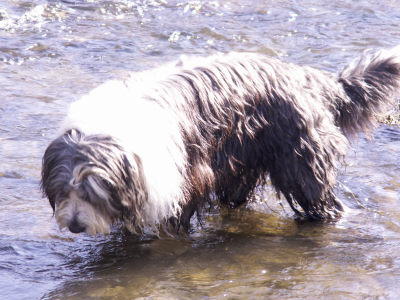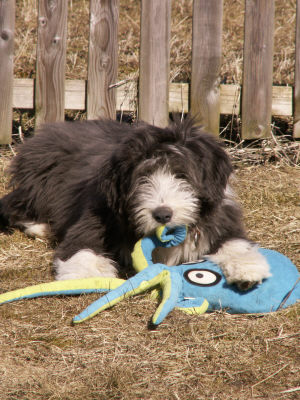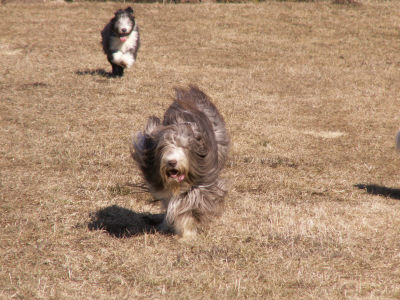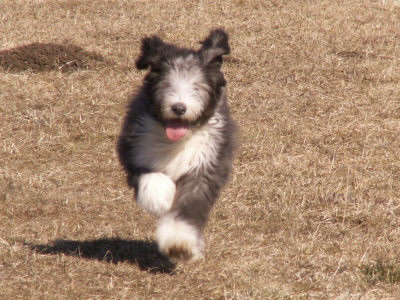 16/02/08 Heute Morgen, kurz nach 7:30: man darf sein warmes Bett keinen Moment aus den Augen lassen....ansonsten: "Wegen Überfüllung geschlossen"...
Today just shortly after 7:30 a.m.: one shouldn't leave the warm bed out of eye for even a second.....otherwise, there isn't room anymore....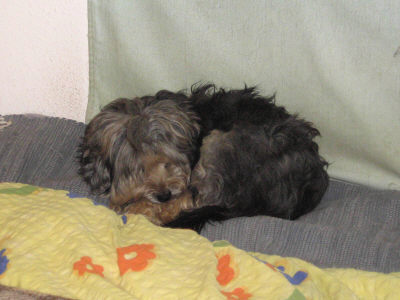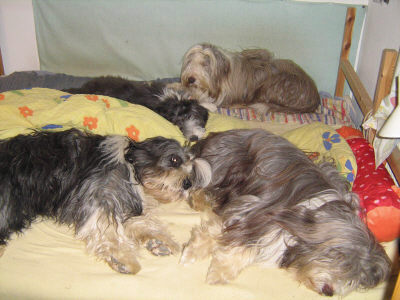 10/02/08 ....und schon ist er 4 Monate alt und hat sein halbes Leben bei uns verbracht.... :-))
.....and suddenly he is 4 months old and spend half his life here with us.... :-))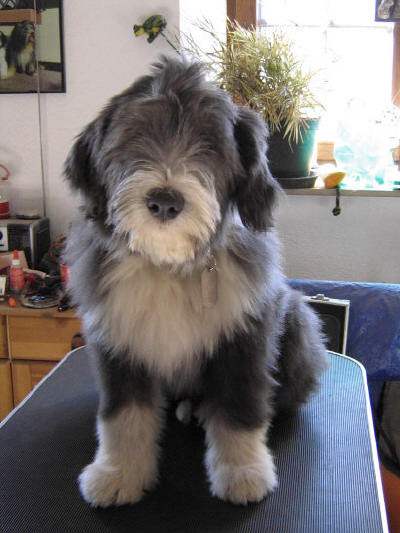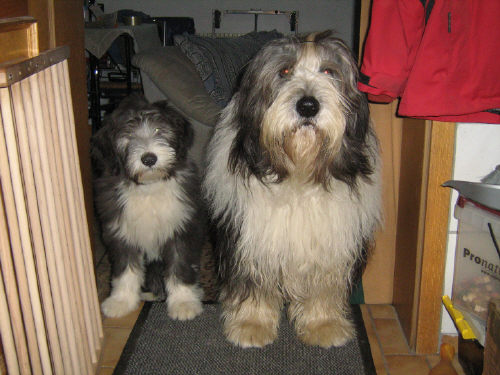 die beiden "Schwarzen" - the two "Black boys"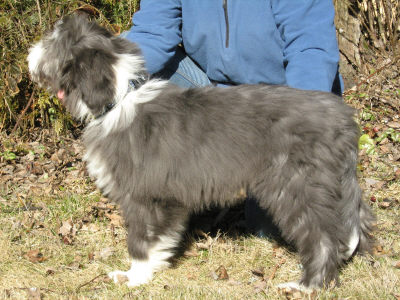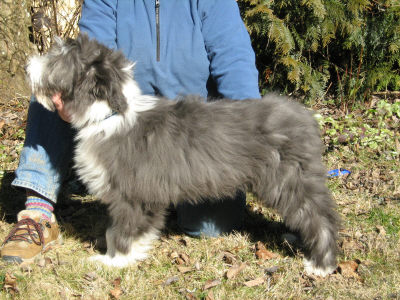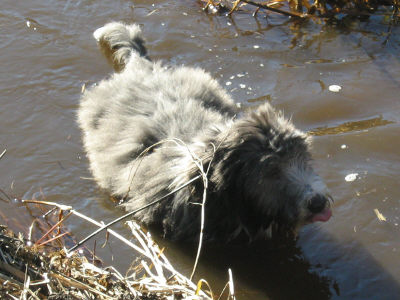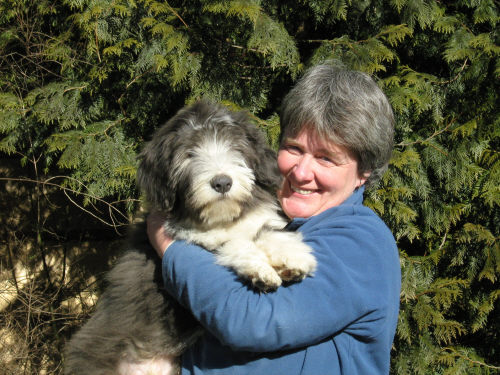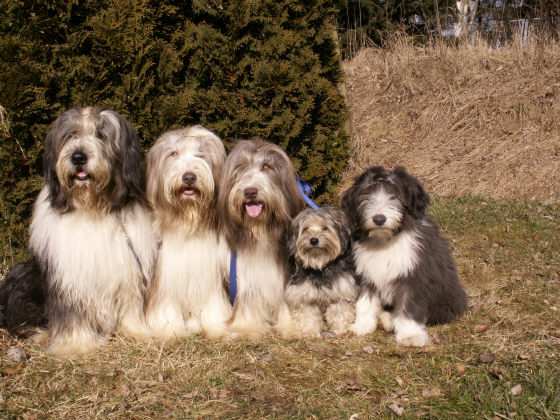 07/02/08 Ok, man sieht sie nicht unbedingt, aber trotzdem gab es für jeden meiner Herren und auch fürs Primelchen ein neues Halsband....Leder mit Gurtband und Borte. www.amarokonline.de
O.k. they are hard to see, but never the less, all of them recieved a new collar, Primelchen even a leash.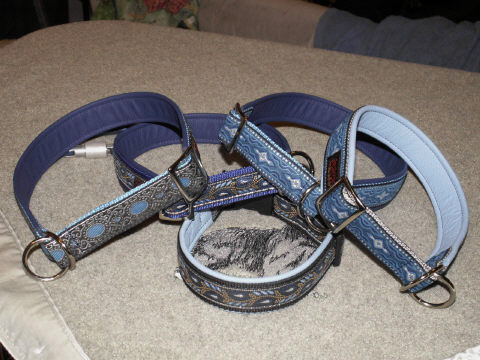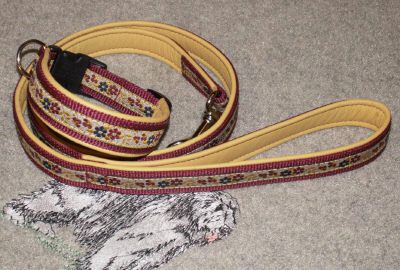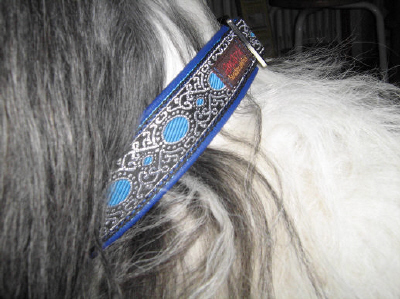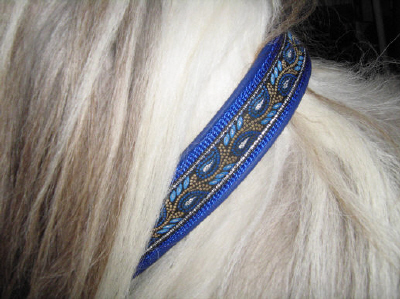 Baghira - Casper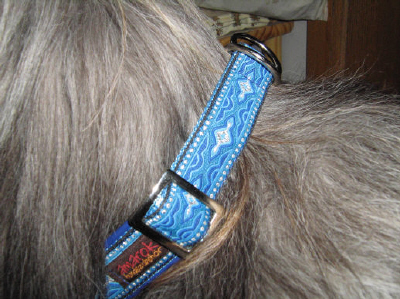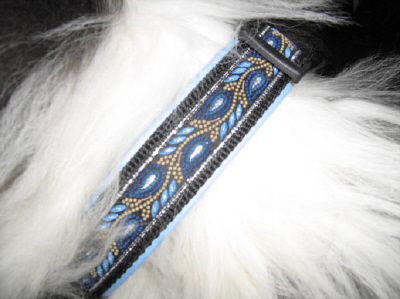 Chocolate - Phil Welpe, ein Geschenk!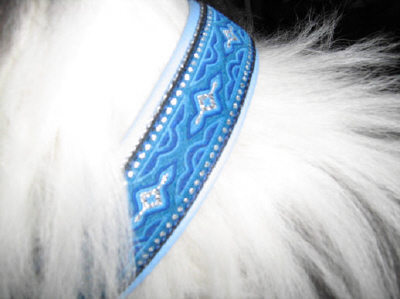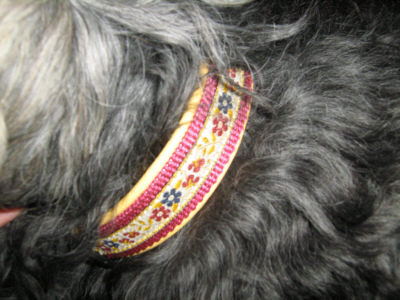 Phil wenn er mal älter ist - Primelchen
Phil hat zwei Halsbänder, wobei das eine eine Geschenk von Ursula ist. Wenn er dann mal älter ist bekommt er das andere, das die geleiche Borte wie Chocolate hat, ist er doch Chocolates Schatten
Phil is lucky and he got 2 collars, the first one being a gift of Ursula. Once he's grown a bit more, he'll have the second, with the same braiding as Chocolate, Phil being Chocolate's shadow
02/02/08 Heute Früh sind wir im Schneetreiben spazieren gegangen, dann haben sich Sonne und Schnee abgewechselt, aber wie man sehen kann hat sich die Sonne durchgesetzt!
During our first walk today it was snowing, later it was alternatively the sun shining and snowing, but as you can see the sun did win.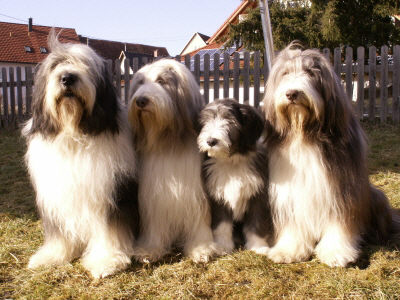 Wie ich festgestellt habe, hat Phil seine ersten gut 5000 km schon hinter sich gebracht. Momentan ist er mit Chocolate und Casper in der Box und Primelchen leistet Baghira Gesellschaft.
I just noticed, Phil traveled his first 5000km with us. He is staying with Chocolate and Casper in one box and Primelchen is in the other one together with Baghira.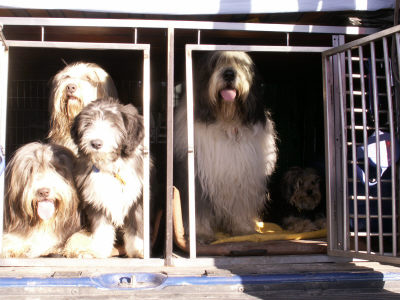 Ja,ja, der kleine Mann ist schon richtig groß geworden, aber trotzdem liegt er immer noch gerne bei Chocolate!
Phil did grow a lot during the last few weeks, but still he enjoys laying next to Chocolate!
12.12.2007 - 02.02.2008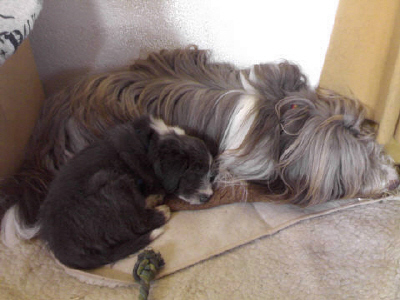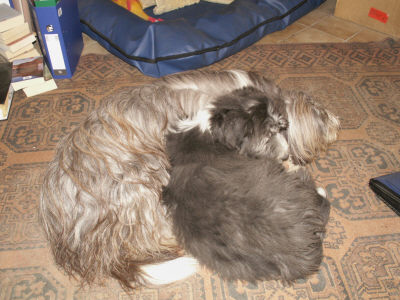 31/01/08 Es hat uns "kalt" erwischt.... nun ja eigentlich ist ja Winter und eigentlich ist das hier ja die "kalte Baar"...
Well there it is: snow for the first time in 2008....not much but the dogs love it!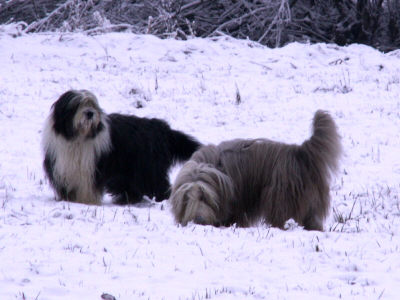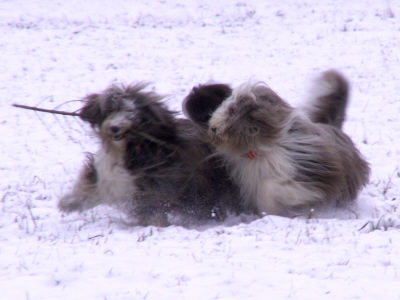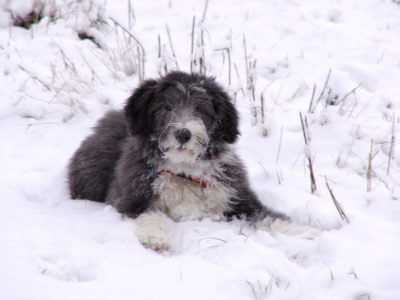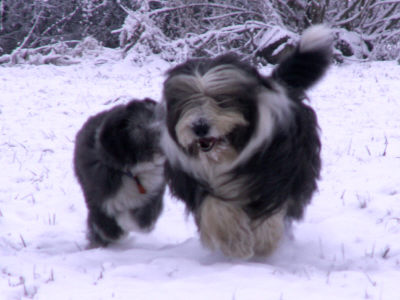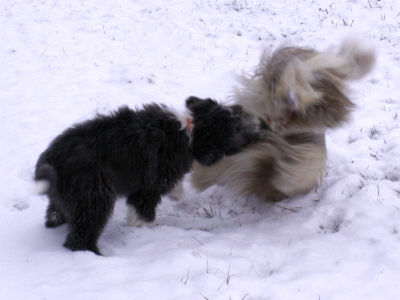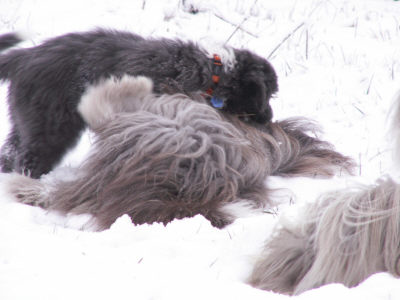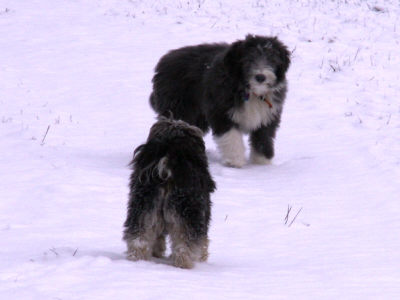 Phil kann sich nicht entscheiden: Schnee - Baghira - Casper - Chocolate - oder doch Primelchen?
Phil can't make his mind up: snow - Baghira - Casper - Chocolate - or rather Primelchen?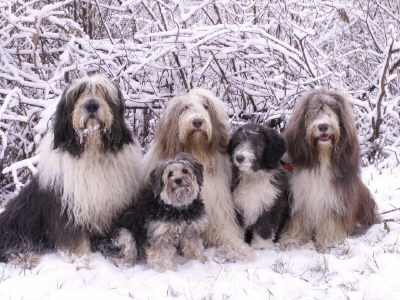 Primelchen hat ihren Winterurlaub angetreten ;-)
Primelchen started her winter vacation ;-)
27/01/08 Wir waren in Emmendingen und haben Caspers Sohn "Topper Harley vom Spinneratz" gesehen. Er ist ein richtig schmucker kleiner Mann und lebt sogar fast um die Ecke bei einer netten, internationalen Familie mit 2 Kindern.
We went to Emmendingen to meet "Topper Harley vom Spinneratz" one of Casper's lates offspring. He is a really lovely little boy living almost around the corner with an international family with 2 little kids.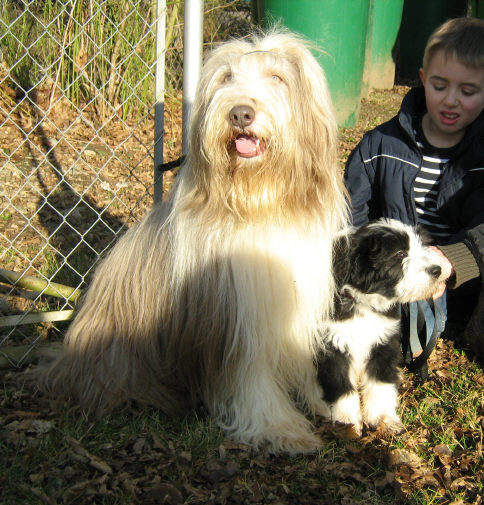 Für Baghira war es natürlich der Hit "seine" Christel zu sehen und auch noch bei ihr zu übernachten. Er ist wie ein sibirischer Tanzbär auf seinen Hinterpfoten herumgesprungen und konnte sich kaum beruhigen.
Seeing "his" Christel and staying overnight at her house was the highlight for Baghira. Like a Siberian dancing bear he was jumping on his hindlegs trying to reach Christel.
26/01/08 Diese Woche war es ja so "heiss", dass die Herren mal wieder schwimmen waren. Vor lauter Neugierde ist Phil abgestürzt und saß plötzlich auf der "falschen" Seite des Baches, aber er hat es wieder zurück geschafft.
Well it seems like spring arrived (hopefully no more snow) and the dogs felt so hot they went for a swim. Phil being curious just fell into the little creek and suddly was on the wrong side. But he made it back again.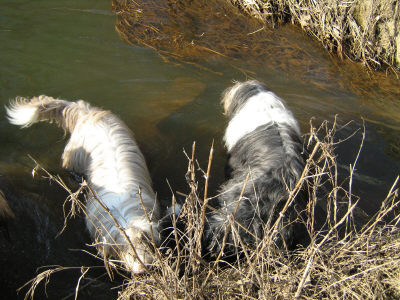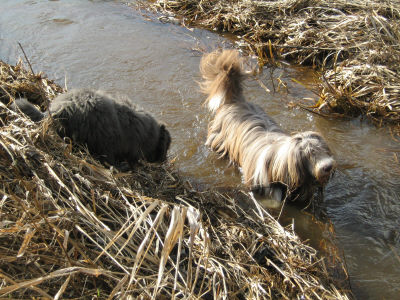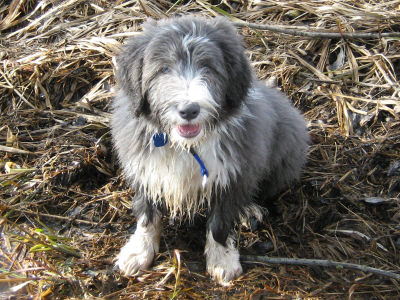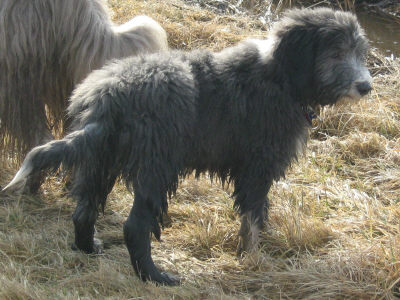 Diesen Biber habe ICH zum Geburtstag bekommen (nicht wahr, Ella, Janine) aber er wurde zweckentfremdet. Ist mal kein Ikea Stofftier zur Hand dann finden die Herren schon den einen oder anderen Ast..
This beaver was MY birthday gift, but Phil and Chocolate love it, too. And if there isn't a toy around, they find something else, most of the time some little branch...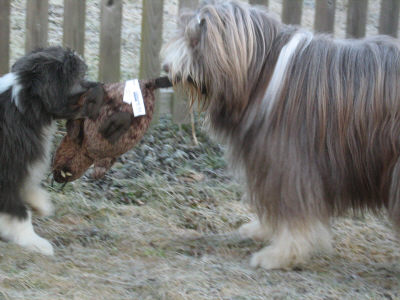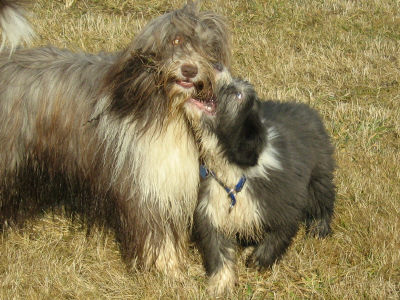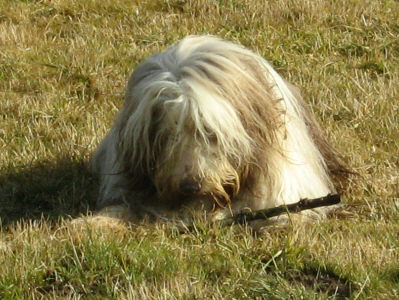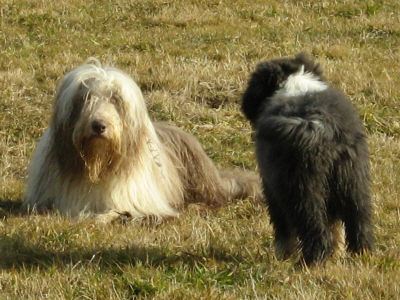 .... Casper hat auch einen Ast.... ob man den wohl klauen kann....
Casper has something, too....well, maybe it can be taken from him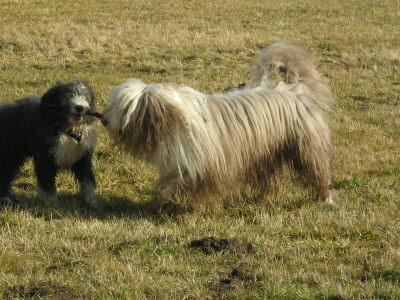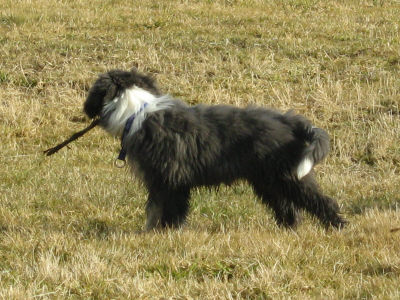 JA, ich habe ihn!!
YES, it's mine!!!
21/01/08 Gestern waren wir in Nürnberg und es hat viel Spass gemacht. Zum einen habe ich Chocolate ausgestellt, der sich wie immer sehr gut benommen hat und ein V erhielt, dann habe ich nach 3 Monaten MEIN Gracie wiedergesehen und ausgestellt. MEIN Gracie (ja ich weiß, sie gehört mir nicht wirklich ;-), aber sie wird immer mein Gracie bleiben!) hat die Jugendklasse gewonnen! Sie hat sich zu einer süssen kleinen "hell"blauen Maus gemausert und bisher noch nicht alles vergessen, was wir ihr beigebracht haben.
We went to the CACIB Show in Nürnberg and we had lots of fun. I did show Chocolate who was a good dog as always in shows and he got an Exc. And I saw MY Gracie for the first time since she left 3 months ago. And with MY Grace we won the Junior Class (well, I konw she isn't MY dog, but she'll always be MY Gracie ;-) ). Gracie is a lovel little "light" blue lady and she didn't forget everything we taught her! Pictures will follow.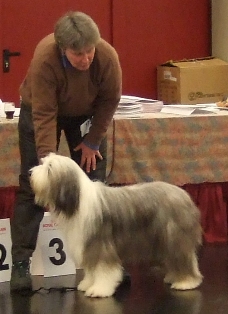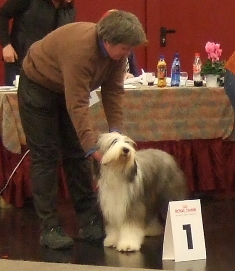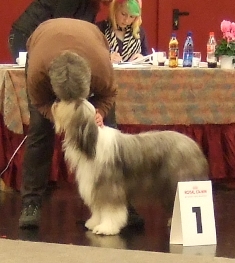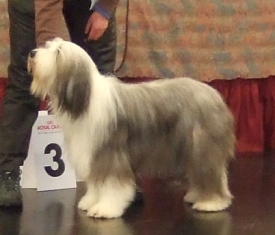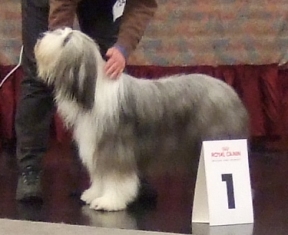 Danke Kerstin (©: K. Selle)
Grace von der Rohrbachau "Gracie"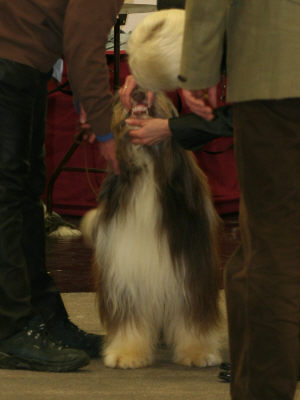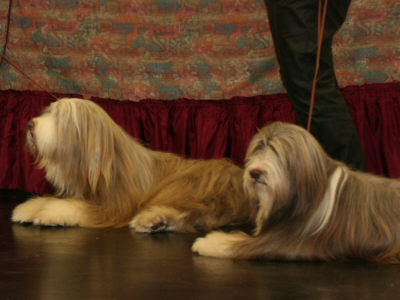 Geduld ist eine Tugend....
Alec v.d.Hummelwiese und Chocolate
©E.+R. Janz

Phil war auch dabei und hatte einen sehr ereignisreichen Tag: so viele Hunde und dabei so komische Gesellen. Aber das Beste war sicherlich, dass er Kerstin getroffen hat. Seine Freude hat sich eher feucht geäussert, nicht nur der Tisch war "unter Wasser" gesetzt.... aber diese kleinen Spuren in der näheren Umgebung sind schnell getrocknet.
Phil came along, too and had a very eventful day. All those different dogs he saw, all the smells and noises! The highlight came, when he saw Kerstin. He was totally out of his mind and it was a very wet encounter....not only the table but the surroundings, too. Well it all dried up.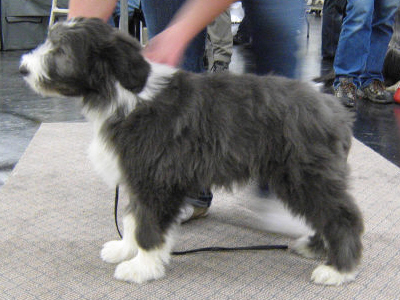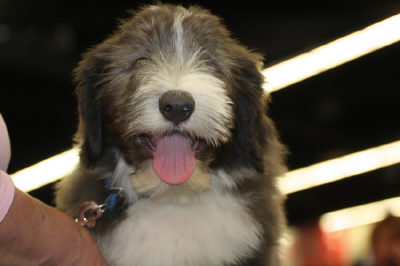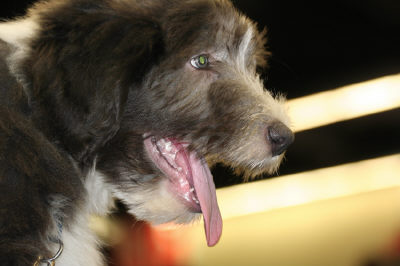 ©E.+R. Janz
Und heute ist Frühling... was natürlich mit extrem heissem Wetter einhergeht ;-) also waren die Herren baden und auch Phil war nicht zu bremsen. Leider hatte ich nur das Handy dabei, daher die schlechte Qualität der Fotos...
And today it is spring....which means it is very hot outside ;-). And the dogs went for a swim, even Phil couldn't be stopped. Sadly I only had my mobile on me, therfore the bad quality of the pictures.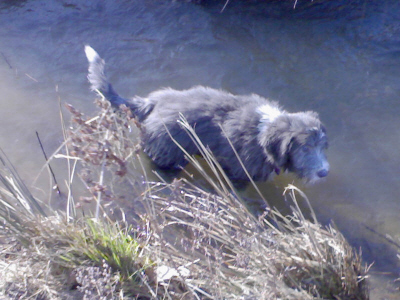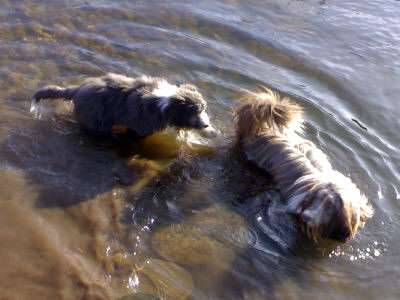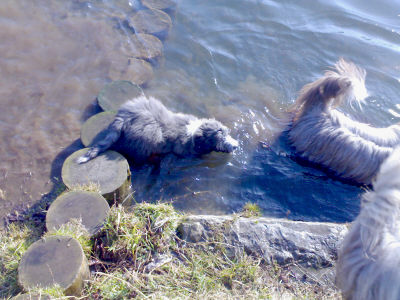 19/01/07
Phil 14 Wochen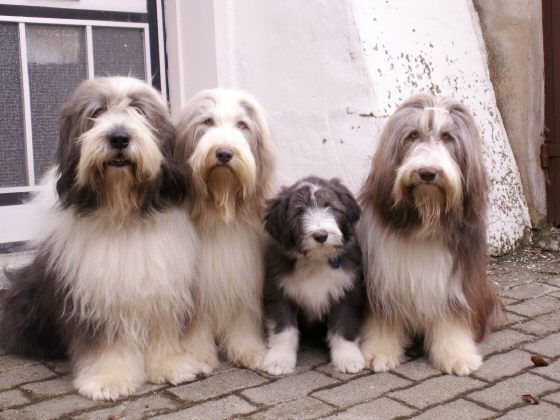 April 07 Gracie 16 Wochen alt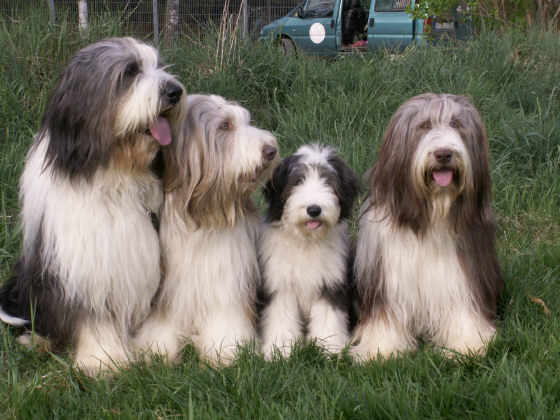 16/01/07 Es ist soweit! Die kleinen Spinneratze sind nun 8 Wochen alt und werden flügge. Ich wünsche ihnen und ihren Familien viel Freude, ein langes und glückliches Beardieleben und hoffe den einen oder anderen hin und wieder zu sehen.
It's time to say goodbye. The little Spinneratzes are 8 weeks old now and they wil be moving to their new families. I would like to wish them and their families a long and happy Beardie life and I hope to see one or the other from time to time.

* 22/11/2007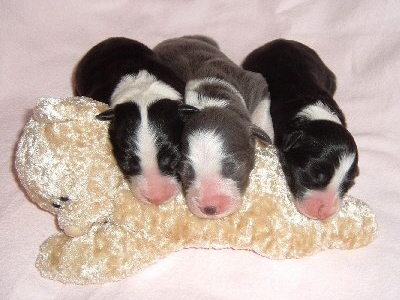 Timber Black - Tanita Special Blue - Tailor Ann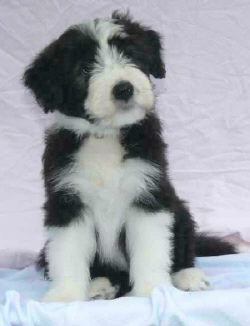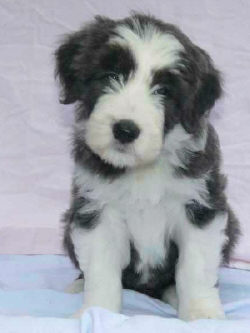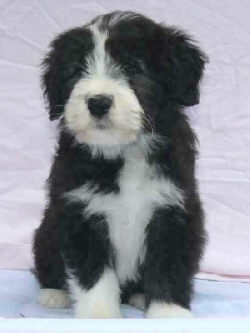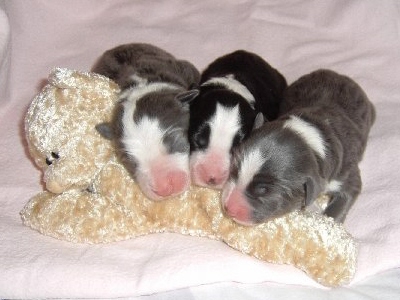 Touchdown - Topper Harley - Take That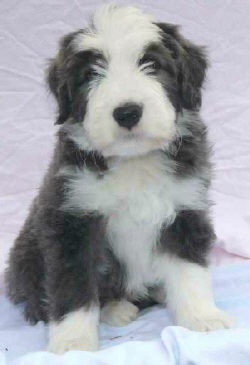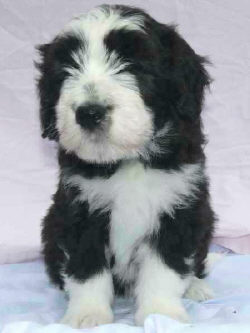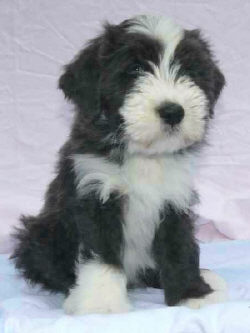 14/01/08 Obwohl es wohl kaum einer glauben wird, es kann auch gaaaanz ruhig bei uns zugehen. Zugegebenermaßen jedoch meist erst abends...und manchmal nur, wenn Chocolate den kleinen Teufel fixiert.
Even if you wo't believe it: things can be rather calm and relaxing over here, well to tell the truth, mostly only in the evening...and sometimes only if Chocolate pins the little devil down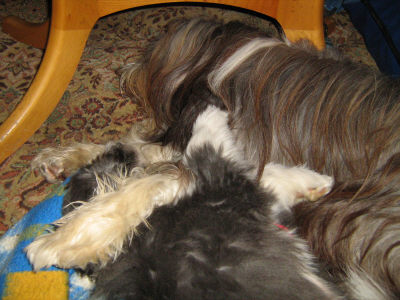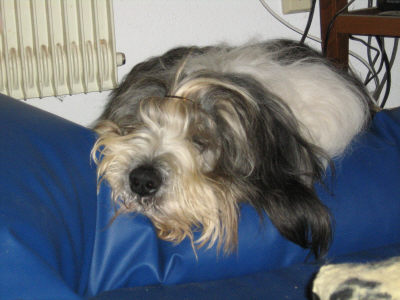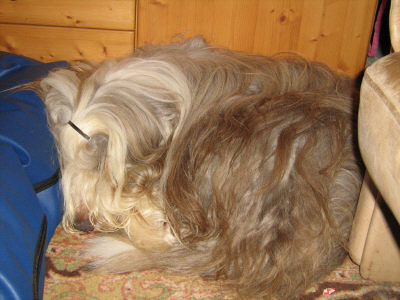 Aber meist spielen Chocolate, Casper und Phil und Baghira beobachtet die Lage.
But mostly Chocolate, Casper and Phil are playing together while Baghira is keeping an eye on them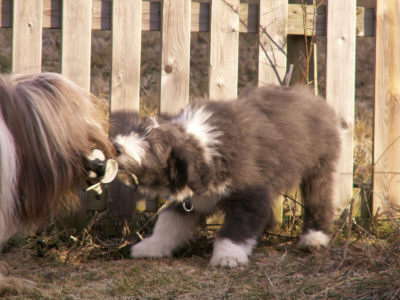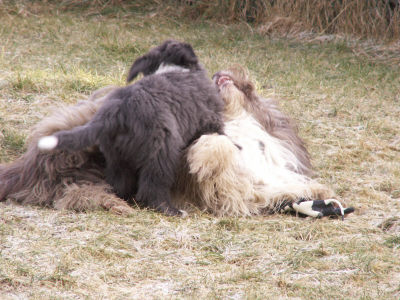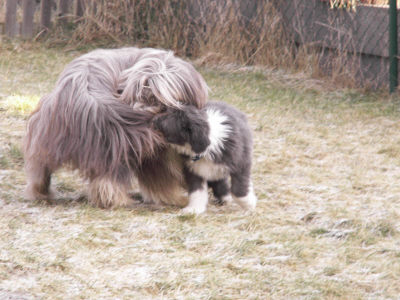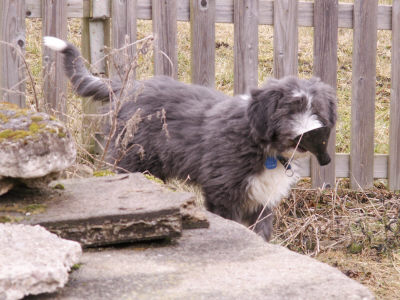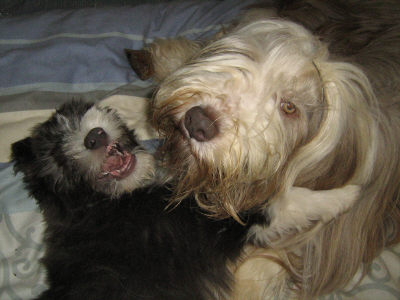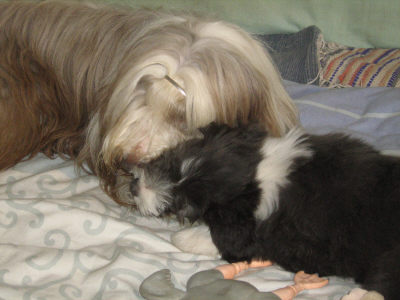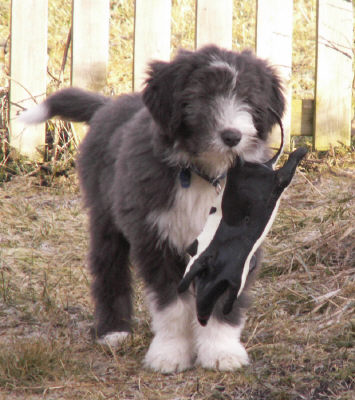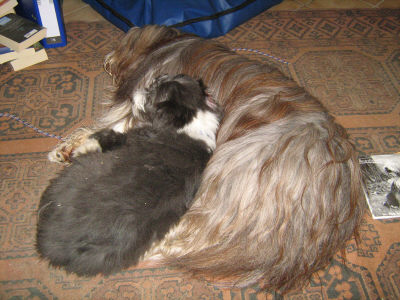 um dann völlig geschafft in seiner Lieblingsposition, rangekuschelt an Chocolate zu schlafen
and later, totally finished, Phil sleeps in his most preferred sleeping position next to Chocolate
09/01/08 ein nettes Datum.... heute gibt es neue Fotos von den Casper Zwergen, siehe Welpen. Sie machen sich so langsam für den Auszug bereit! Schade, aber da sie leider nicht "um die Ecke" wohnen, kann ich sie nicht mehr besuchen. Aber ich bin mir sicher, ich werde Gelegenheit haben, den einen oder anderen mal zu sehen, zieht doch Tooper Harley ins badische, also doch eher "um die Ecke"...
Nice date to send me new puppy pictures.... see Puppies. Now its about time for them to start moving to their new homes. Sadly they don't live "around the corner" and I can't visit them another time. But I am suer I will get a chance to see one or the other from time to time, well in fact Tooper Harley is moving down here, in fact almost "around the corner"
07/01/08 Es ist mal wieder Matschzeit...warum nur sehen manche schlimmer aus als andere, der Weg war der gleiche?
Again it's muddy, why are some dogs lokking worse than others, even when they walk the same path?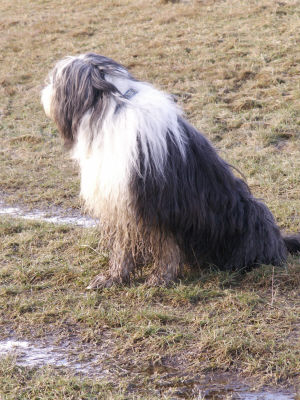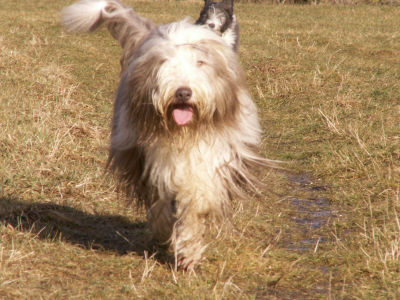 da hilft nur die Dusche.....in this case only the shower will help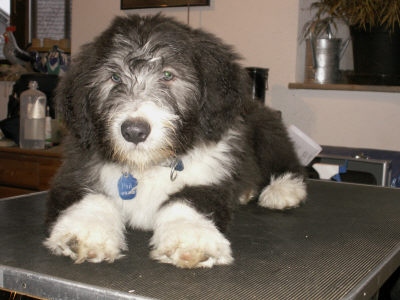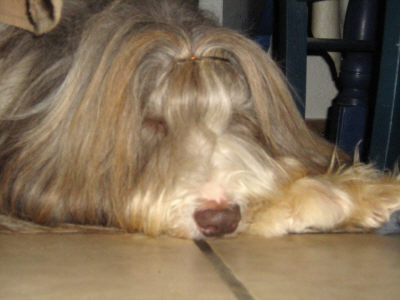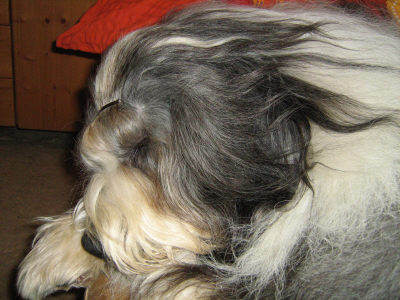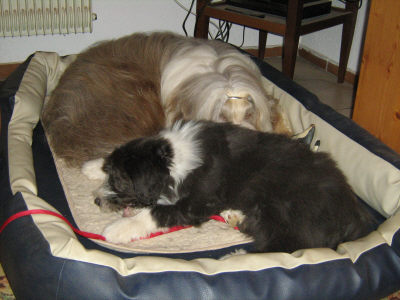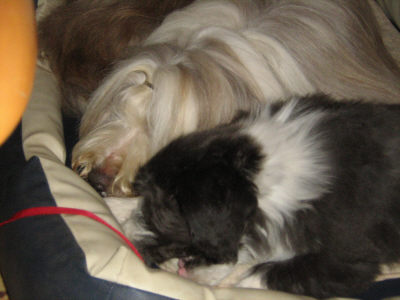 Phil und Casper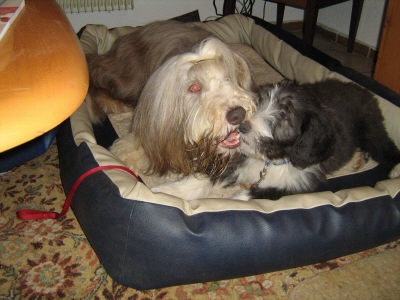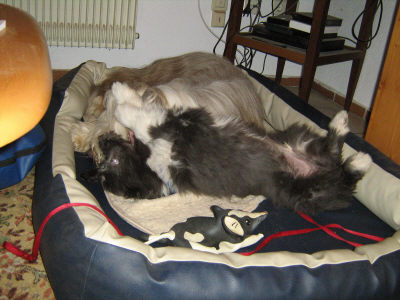 Casper klaut die Rinderklaue Phil aus dem Maul....
Casper is stealing the cow's hoof out of Phil's mouth
04/01/08 Phil wird immer frecher.... zuerst zieht er Chocolate am Fell durch den Raum, dann wird Casper das Opfer, nur bei Baghira kommt das Fellrupfen nicht so gut :-(. Aber bevor einer ganz gerupft ist, gehe ich doch dazwischen. Er war auch mal wieder auf der Waage und hat knapp 10 kg.
Phil turns into a very cheeky little fellow....first he pulls Chocolate across the room by his coat, next Casper is the victim and only with Baghira he has to be careful :-( But I do take care, all of them will keep some coat on them. I took him into practice the other day and his weight is almost 10 kg.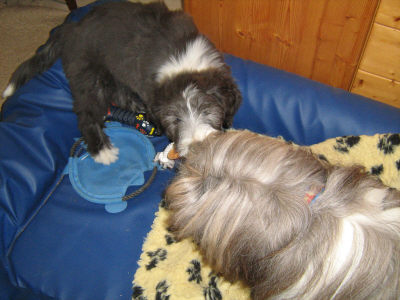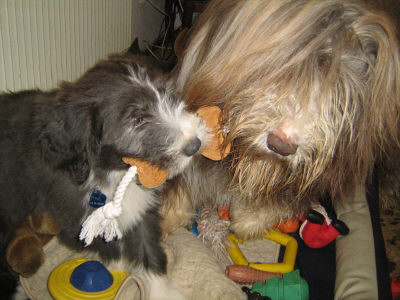 Lieblingspartner Chocolate, mit und ohne Spielsach -His best friend Chocolate; with or without a toy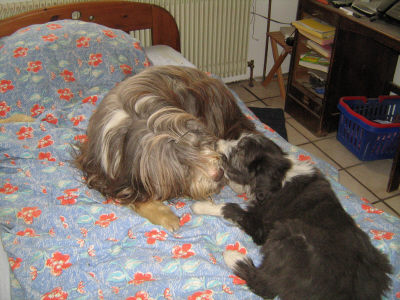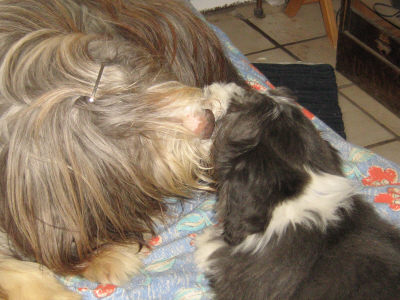 MISTER PHILEMON!!!!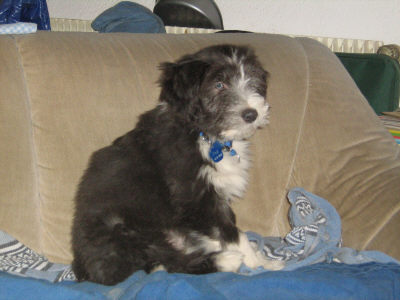 ICH?? Ich tu doch nichts, die Überdecke lag da nur! - ME?? I don't do anything the cover was just there!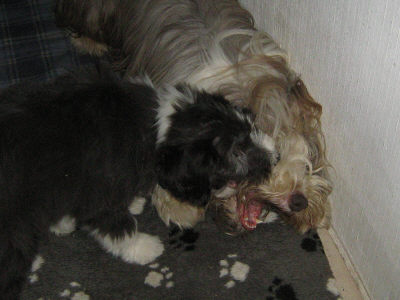 Opfer Casper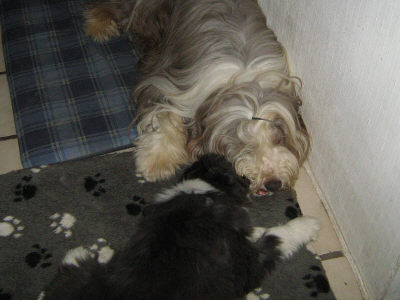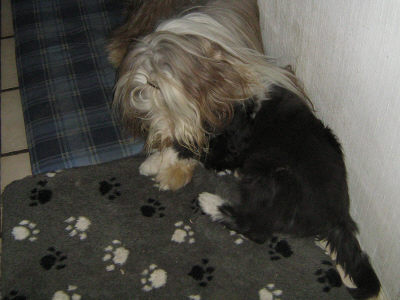 01.01.2008
EIN GUTES NEUES JAHR!
HAPPY NEW YEAR
dieser Jahreswechsel war ja soooo anstrengend - the turn of the year has been such an effort