November/Dezember 2007
28/12/07 Heute war es sonnig und schön, daher habe ich schnell bevor der Nebel zurück kam noch einige Fotos gemacht. Die Landaschaft ist weiß aber bisher sind es (zum Glück) nur 3 cm "Schnee"
Today the sun was shining for a short while and I was able to take some pictures just before the fog came back. It is white but only about 3 cm of "snow".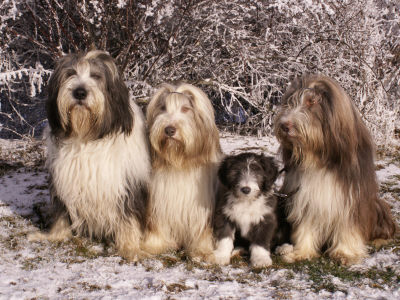 es sind genau 14 Tage zwischen den Aufnahmen - exactly 14 days inbetween the two pictures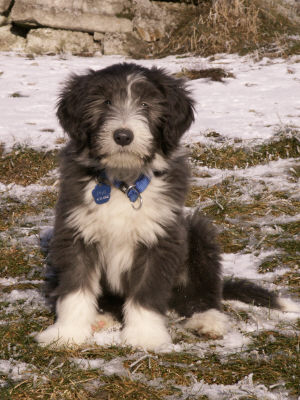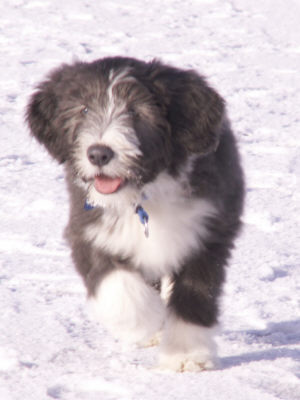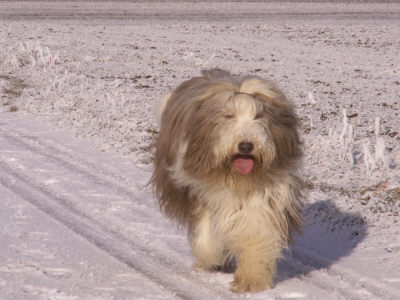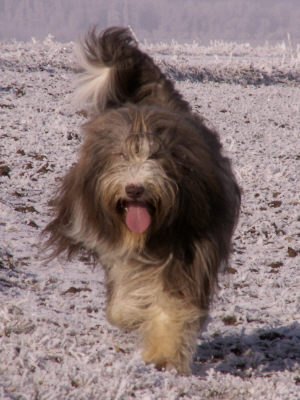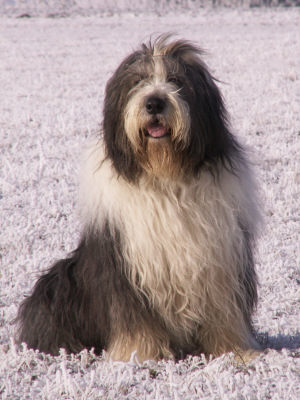 24/12/07 Nun ist Phil 14 Tage hier und er hat sich wie man unschwer erkennen kann sehr gut eingelebt. Auch bei Casper, der ja im Haus ein eher ruhiger Geselle ist, sucht er die Nähe und draussen tobt er mit allen zusammen über die Wiese. Damit er zu Beginn des Spaziergangs nicht überrannt wird, lasse ich ihn erst etwas später von der Leine, wogegen er laut protestiert. Und wehe das Futter kommt nicht schnell genug, bellen kann er auch schon!
Now Phil is living with us for two weeks already! He accustomed very well and Casper, who inside is a very quiet dog, can be found on the sofa with Phil next to him.
Outside the 4 of them are running together, only for Phil's safety I don't let him run with them at the beginning of our walk. But Phil has a very loud voice telling me this isn't fun. He even can bark already, but only if the food isn't coming fast enough!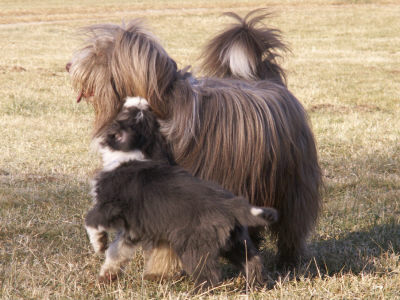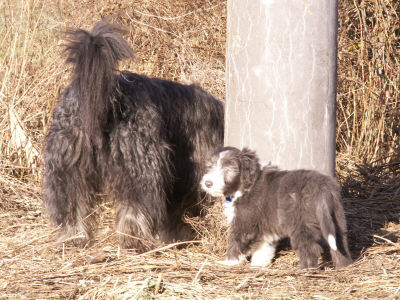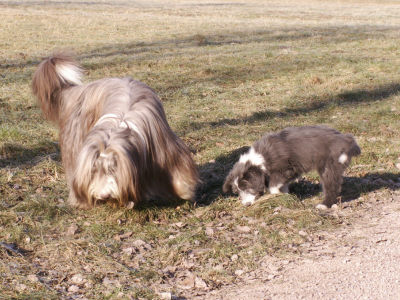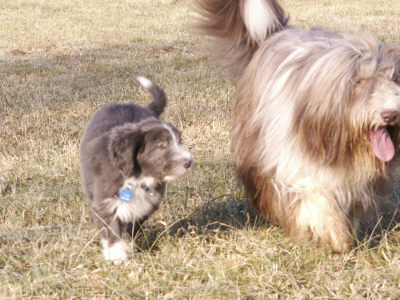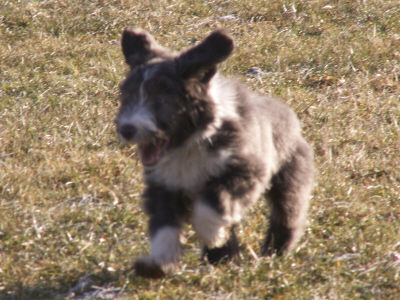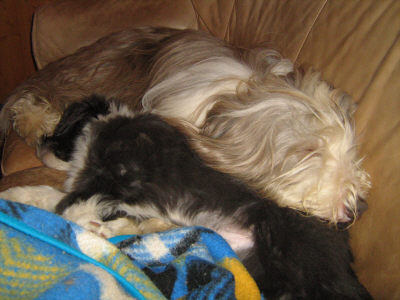 Casper und Phil

und mein Bett ist auch kein sicherer Platz mehr- and my bed isn't a save place anymore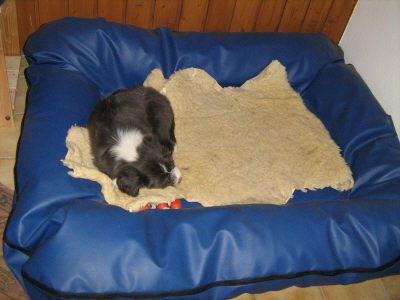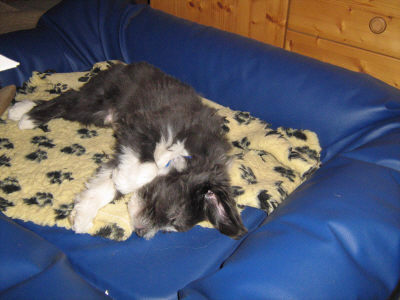 er IST tatsächlich gewachsen :-)- he DID grow already :-)
20/12/07 Chocolate und Phil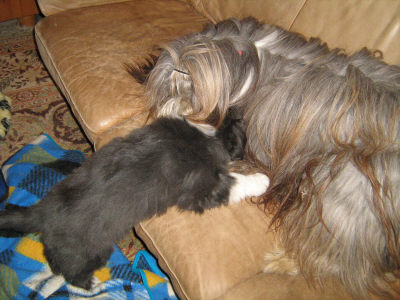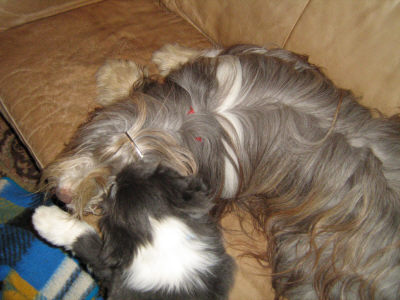 Noch schafft es Phil nicht aufs Sofa, also kommt ihm Chocolate entgegen - Phil can't hop on the sofa yet, so Chocolate is coming to meet him


es klappern die Zähne - the teeth are chattering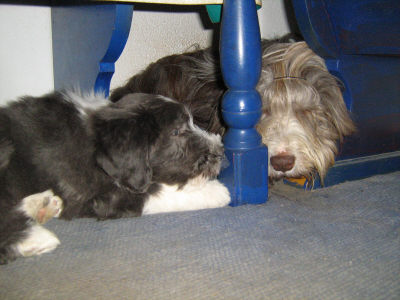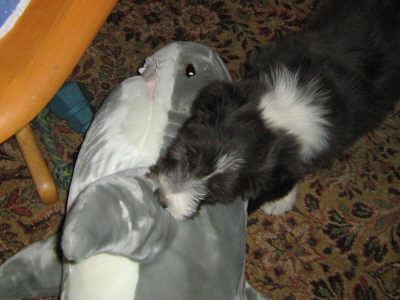 dazwischen nagt man am Teppich oder "killt" den Hai - later he tries the carpet or kills the shark


und wieder das Chocci - and again Chocolate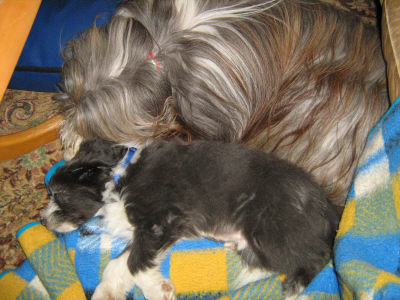 um dann völlig erledigt ein kleines Nickerchen neben Chocolate zu halten - later totally finished he takes a little nap next to Chocolate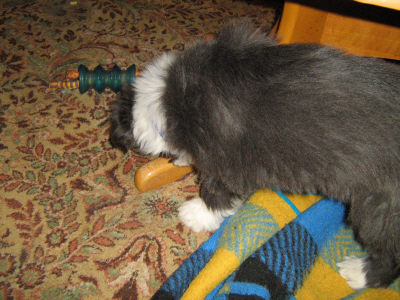 um schlußendlich das Tischbein zu probieren - just to have a taste of the table
Bei den Spaziergängen sind beide "Braunnasen" ein beliebtes Angriffsopfer und beide fordern ihm zum Toben auf. Baghira ist noch nicht ganz überzeugt...
During our walks both "Brownies" are a well loved targets and both try to play with him. Baghira is not totally convinced ....
17/12/07 Nun ist Phil schon fast eine Woche bei uns. Chocolate ist einfach super, nachts, wenn Phil sich meldet, muss ich nicht mit hinaus in die Kälte, das macht Chocolate! Tagsüber liegen die beiden meist zusammen unter der Eckbank, ausser sie machen Dummheiten. Phil ist so gut wie sauber, er meldet sich wann immer er raus muss. Nachts schläft er in seiner Box, nur ganz kurz beschwert er sich, dann schläft er tief und fest.
Already Phil is living with us for a whole week. Chocolate is great! He is taking care of Phil, during the night when Phil tells me he needs to be let outside, Chocolate takes him in the dark garden, no need for me to come along in the freezing cold. At night he is staying in his kennel next to my bed, only a short complaint, every day a little bit less. During the day they sleep together underneath the bench, except Phil is up to some mischief.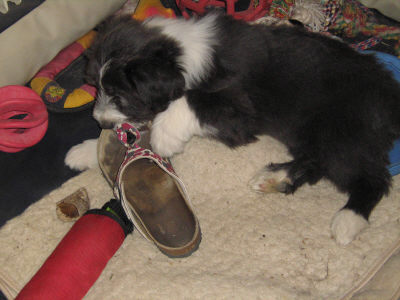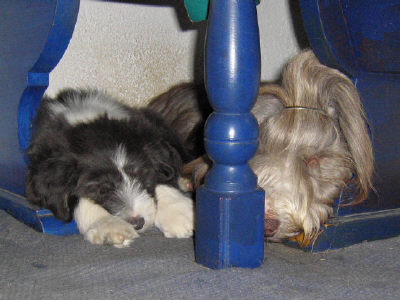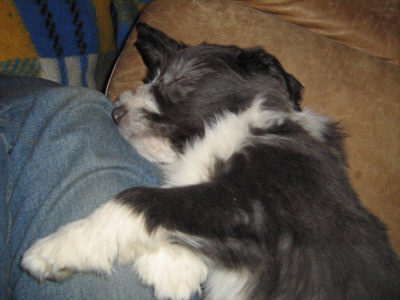 Autofahren ist absolut kein Problem, die ersten 1500 km hat er schon hinter sich, Hauptsache eine Rinderklaue ist dabei und die Fütterungszeiten werden eingehalten.
He has no problems what so ever with driving, I can even feed him 10 minutes before we leave, he already did his first 1500km. I only have to take care, a cows hoof comes along and his food is on time.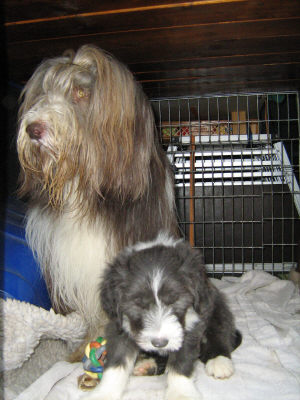 Und heute hat er Baghira und mich begleitet und mit seinem Besuch im Altenheim den Bewohnern ein vorgezogenes Weihnachtsgeschenk gemacht.
Today I took him and Baghira in the old peoples home, he being the early Christmas gift for the inhabitants.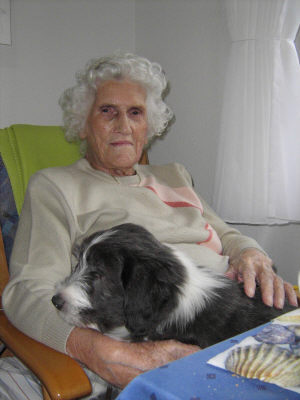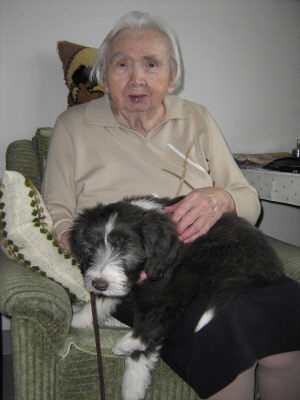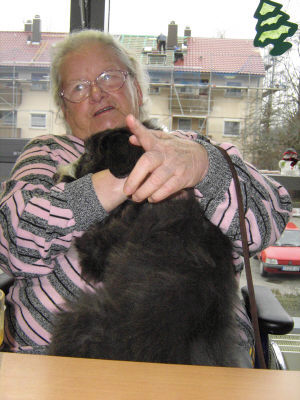 Kerstin, Andreas, DANKE!
P.S. aus dem kleinen, braven, ruhigen von seinen Schwestern unterdrückten Phil wird ein freches, kleines blaues Monsterchen ;-)
Thank you so much, Kerstin, Andreas!
P.S. Phil is developping from a small, peaceful, good boy, suppressed by his sisters into a cheeky little blue monster ;-)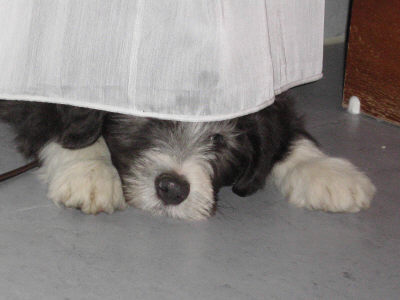 14/12/07
dazu muss man nichts mehr sagen....no words needed......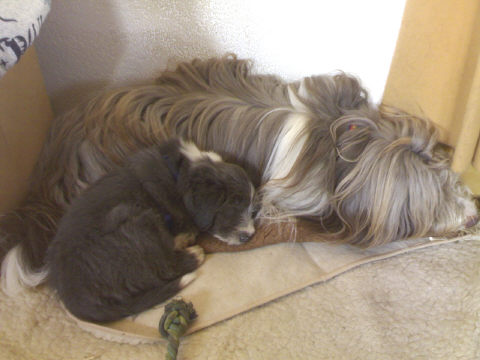 13/12/07 Phil hat sich schon ganz gut eingelebt, er hat so seine Plätze wo er seine "Beute" sammelt und orientiert sich absolut an seinem Kindermädchen, Chocolate ;-) Sie schlafen zusammen unter der Eckbank und Chocolate überprüft auch alles was Phil bekommt, auf Welpentauglichkeit.
Phil seems to enjoy living with us. He has his places where he collects his booty and is the shadow of his "nanny" Chocolate ;-). They sleep together underneath the bench in the living room and Chocolate checks every gift Phil gets of its use for a puppy .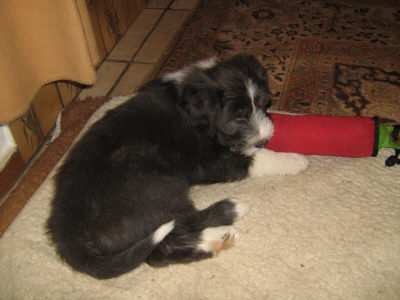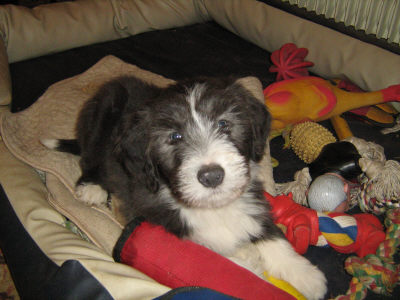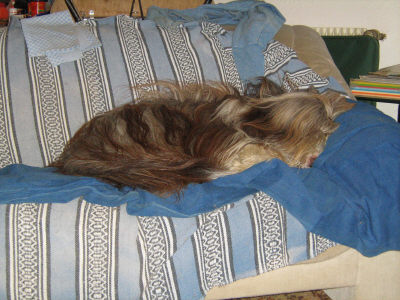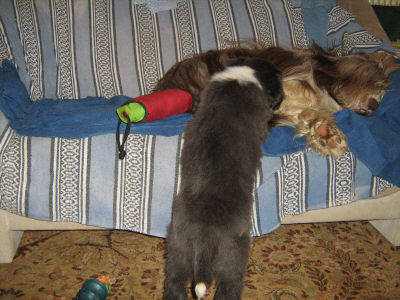 die Nanny schläft?? Nanny is sleeping???

und plötzlich fällt er um und schläft - and suddenly he falls asleep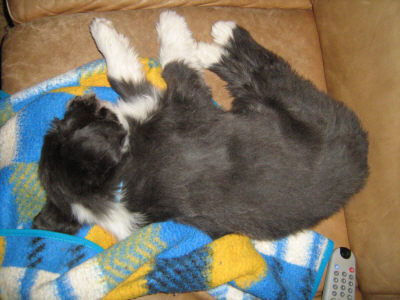 beim Hochheben aufs Sofa ist er nicht mal aufgewacht - he didn't wake up when I took him up on the sofa
10/12/07 Phil ist eingezogen...Phil moved in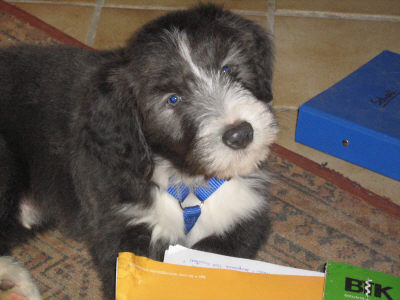 Die Fahrt von 450 km hat Phil ohne größere Probleme hinter sich gebracht. Einzig die holprige A 81 hat ihn dazu veranlasst etwas von seinem Mageninhalt von sich zu geben, ansonsten lag er zufrieden bei Chocolate in der Box und hat sich gleich mal eine Rinderklaue vorgenommen.
He had no major problems with the 450km drive. Only the bumpy Autobahn A 81 made him throw up part of his breakfast ;-), but otherwise he was content laying in the cage with Chocolate and tried the cows hoof.

Kaum angekommen hat er sein neues Zuhause inspiziert, es gab etwas zu fressen, dann wollte er noch schnell bei Kerstin anrufen, aber die dicken Pfoten haben das vereitelt. Anschließend hat er sich sofort an seine Ausbildung gemacht und das Deutsche Tierärztblatt durchgearbeitet.
Arriving here in his new home he had a good look around, had some dinner and tried to call home, but with his big paws he had no chance to do the dialling. Later he started on his education by "reading" my vet journal.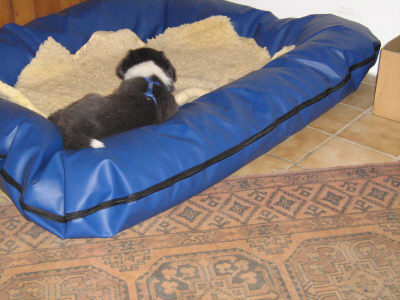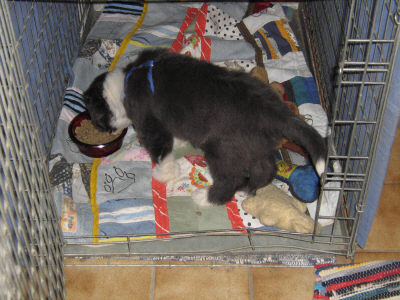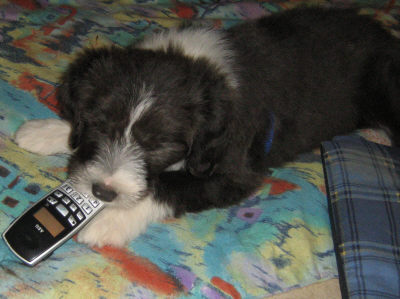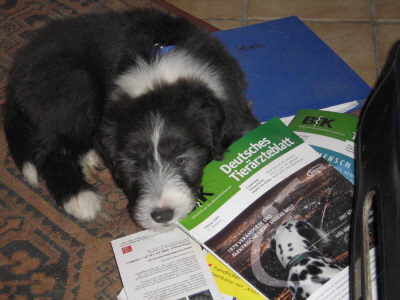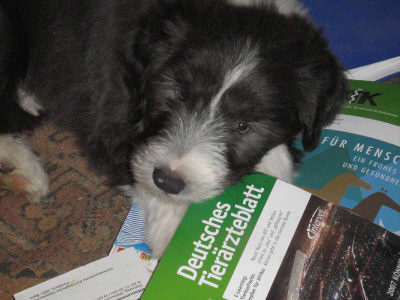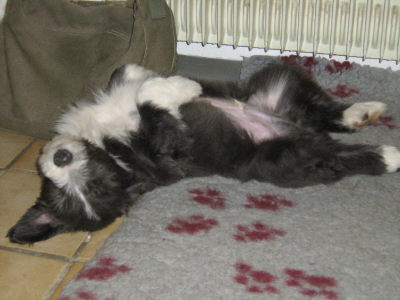 Jetzt schläft er kurz mal um neue Kräfte zu sammeln.
Just now he is taking a short nap to be ready for new adventures.
Zusätzlich haben wir am Freitag noch die Casper Welpen besucht, sie waren 2 Wochen alt.
And I visited Caspers puppies (2 weeks old) on Friday.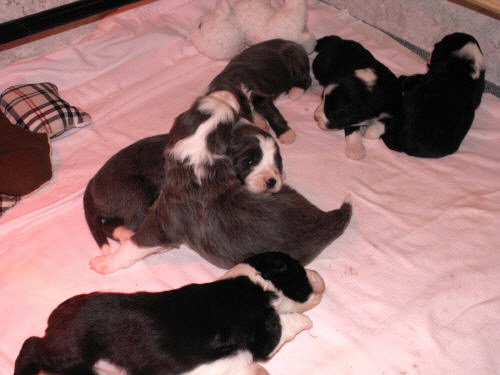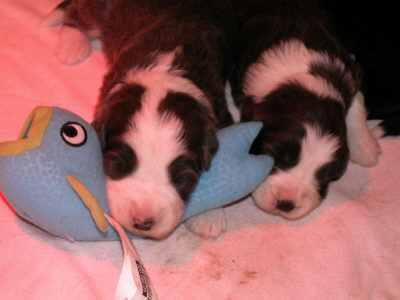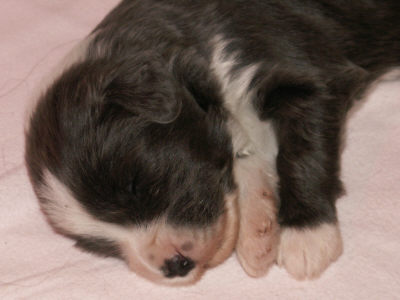 1. Advent; wir wünschen eine schöne Vorweihnachtszeit
1st Advent; we wish a joyful Advent Season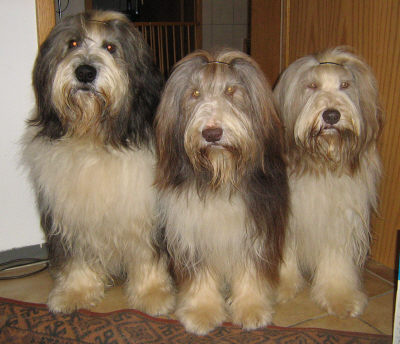 02/12/07 Chocolate und sein Cucurbita maxima maxima convar. hubbardiana ;-) ??
Chocolate and his Cucurbita maxima maxima convar. hubbardiana ;-) ??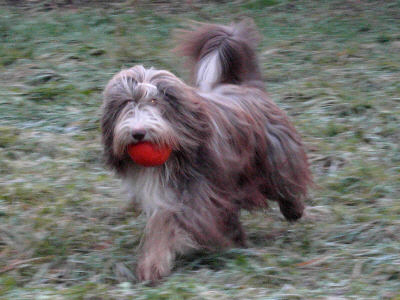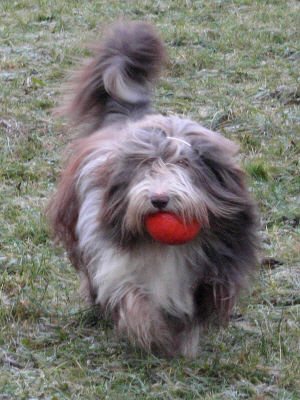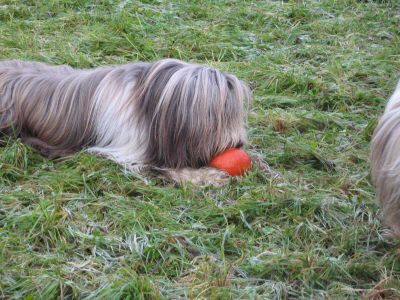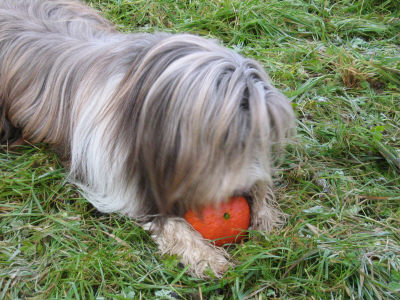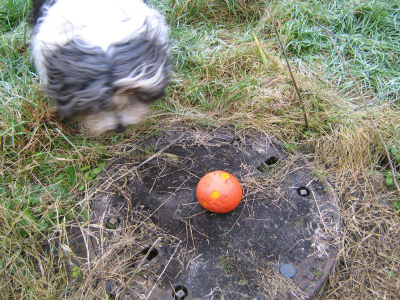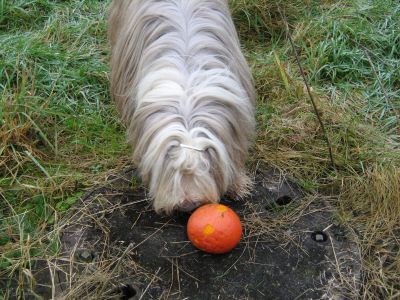 keine Sorge, auch Baghira und Casper wußten bisher nicht was ein Cucurbita maxima maxima convar. hubbardiana ist
never mind, even Baghira and Chocolate had no idea what a Cucurbita maxima maxima convar. hubbardiana is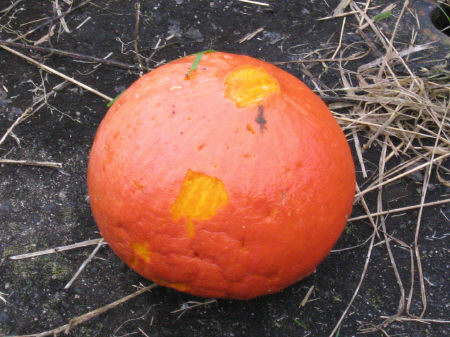 na, wer weiß es???.......Ganz einfach ein sog. Hokkaido Kürbis, hier etwas verändert mit Chocolates Nagespuren
well, who knows what it is??.... It is a so called "Hokkaido pumpkin", here seen with markings of Chocolates teeth
30/11/07 Der Countdown läuft....noch 10 Tage! Chocolate überwacht die Vorbereitungen und Phil harrt der Dinge die da kommen ;-)
The Countdown started....only 10 more days. Chocolate is supervising all the preparations and Phil is just waiting for the things to come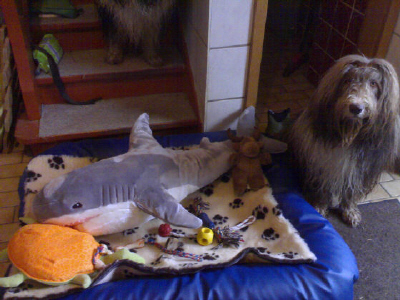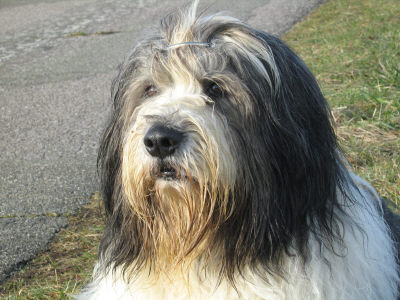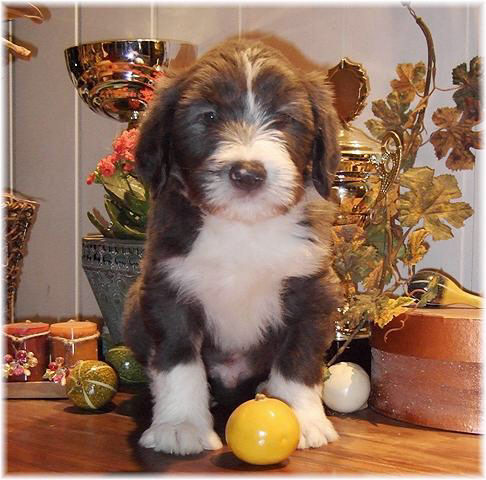 27/11/07
Nun ist er es offiziell: Dt. CH (VDH) Zotti Floppy Toppolino, mein "Casperle"
Now it's official: Dt.CH(VDH) Zotti Floppy Toppolino, he will always be my "Casperle"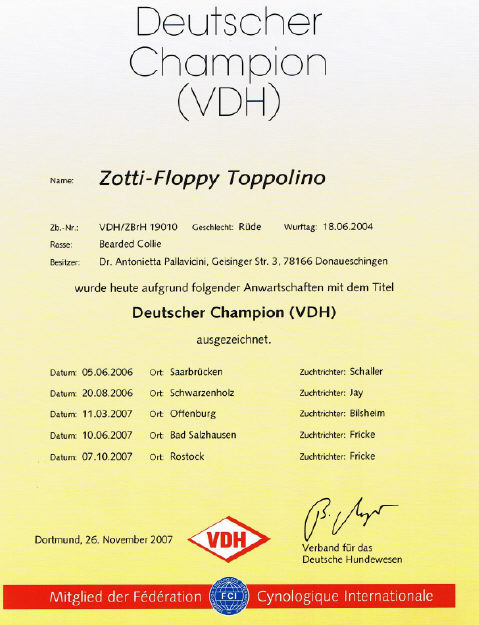 und Casper?.....
natürlich möchte er seinen Nachkommen einen guten Namen mitgeben, aber wie immer wenn etwas wichitges passiert,
of course he wants to give his offspring his good name, but as always during an important monment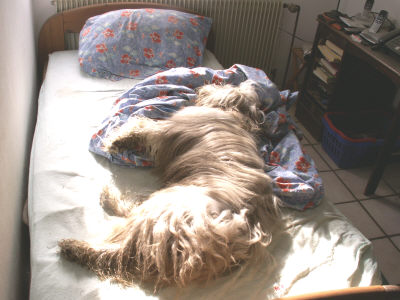 dann verschläft er es selig; heute mal in der Sonne...
he is very content sleeping, today in the sunshine..
In der Ruhe liegt die Kraft ;-)
24/11/07 Nun sind es noch 4 Wochen, dann ist Weihnachten und in 5 Wochen ist das Jahr auch schon wieder vorbei.... Und es sind noch 16 Tage bis Chocolates und mein "Weihnachtsgeschenk" einziehen wird ;-)
It's only 4 more weeks until Christmas and 5 weeks until 2007 is over.... and only 16 more days until Chocolate's and my "Christmas present" moves in ;-)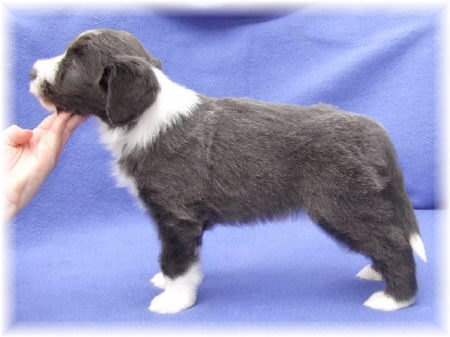 23/11/07 Auch dieses Mal hat Casper wieder sein Date bei der Arbeit völlig alleine gelassen.
And again, Casper didn't take part in the hard work of a relationship, he slept and Courtney did a perfect job!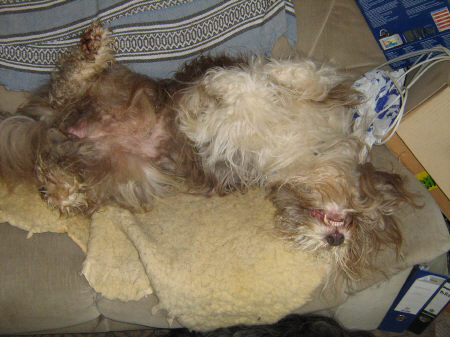 und Courtney hat ganze Arbeit geleistet 6 Welpen in schwarz und blau, gerecht aufgeteilt in Farbe und Geschlecht:
6 puppies, fair devided in colour and sex: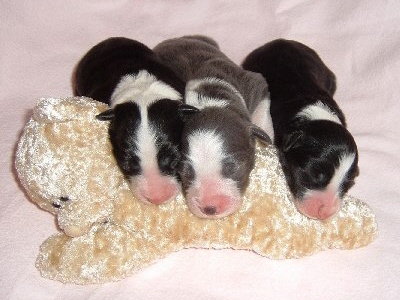 die drei Hündinnen, im letzten Wurf war es eine braune Nase, dieses Mal ist eine blaue Nase dabei
the three girls, last time the brown girl had her nose coloured, this time it is the blue one


und die drei Rüden
and the three boys
(ich fürchte ich habe zu sehr von den Blauen geschwärmt, da hat das Casperle die anderen Farben vernachlässigt)
(Probably I reveled too much about the blue Beardies and somehow Casper forgot about the other colours)
17/11/07
darf ich vorstellen may I introduce
"Phil"
Philemon Paparazzi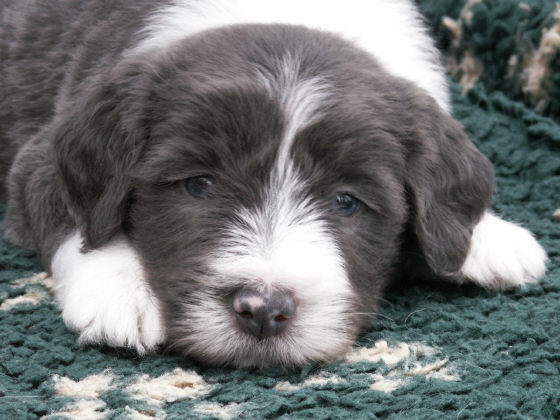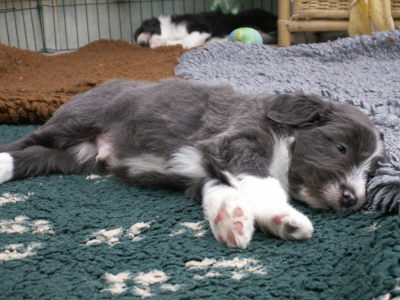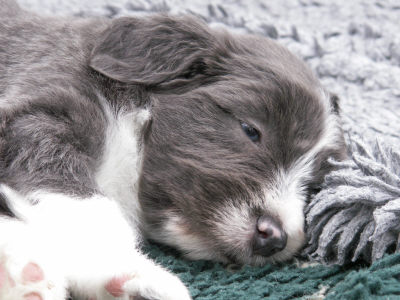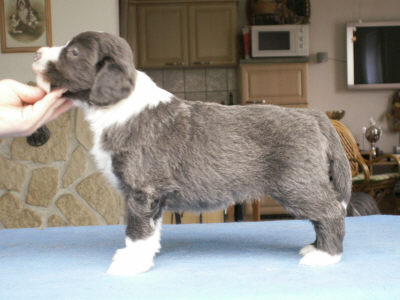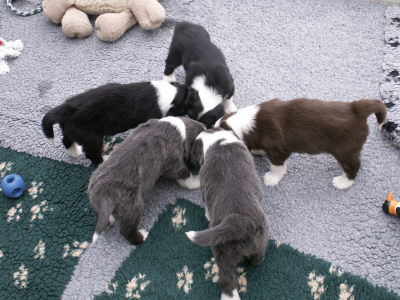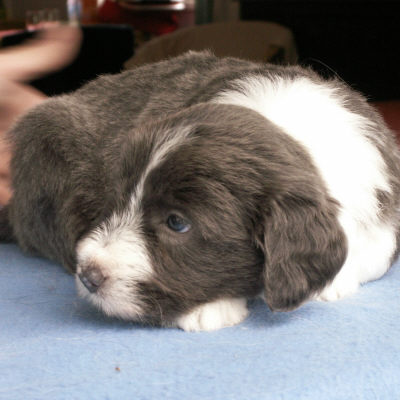 Noch ist er erst 5 Wochen alt, aber ab Anfang Dezember wird er das Trio zum Quartett ergänzen. Somit darf Chocolate seine bei Gracie erprobten Fähigkeiten aufs Neue einsetzen!
At the moment he is only 5 weeks old, but from December on he will live with us. Chocolate can use all his skills he perfected with the help of Gracie and show him all the necessities for a happy Beardie life.
15/11/07 Nun hat er uns erwischt, der Winter 2007/2008.... Hier mal zum Vergleich ein Foto vom 14.11.2006, damals hat es nachts geregnet und tagsüber hatten wir zwischen + 18° bis + 25°....
Winter has arrived... just to compare: last year November 13 and the following week it was between + 18 and + 25°, this year it is between -7 and 0°.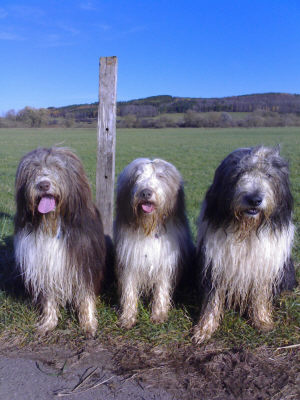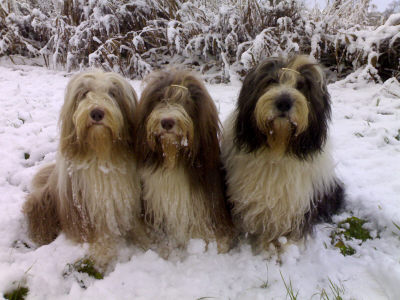 2006 - 2007
Ich brauche ja wohl nicht zu sagen, welches Wetter ich -die Hunde sind nicht gefragt! -bevorzugen würde....
No need to ask me - not the dogs- what I would prefer....
06/11/07 Da ich viel unterwegs bin (letzten Monat waren es immerhin 7000 km), habe ich auch viel Zeit nachzudenken, Staus gibt es ja genug.... ich sage nur Kreuz Stuttgart ;-). Heute habe ich mir überlegt, wie ich meine Herren charakterisieren würde, wenn mich jamand fragen würde.
As I travel around quite a bit (last month 7000 km), I do have a lot of time to think about different things ;-) as the motorways are rather full sometimes. Today I tried to figure out how I would characterize my dogs if I were asked.
Baghira: er ist einerseits der "Fels in der Brandung", der unter meinen Herren, auf den ich mich in jeder Situation verlassen kann. Er ist -egal was um ihn rum passiert- immer völlig ruhig und gelassen, manchmal braucht es keine Worte, ein Blick genügt und er weiß was ich möchte.
Aber er kann auch ein kleiner "Vulkan" sein und plötzlich "ausbrechen" ;-) Das kann vorkommen, wenn er aus dem Nichts heraus plötzlich meint er müsse diese Krähe jetzt jagen oder wenn er meint er müsse nach Möglichkeit durch die Boxentür "seiner" Christel (Pera) in die Arme springen. Dabei vergisst er leider manchmal, dass er kein kleiner Welpe, sondern ein zarter Beardie von 35 kg ist.
Baghira: he is a very reliable dog, like a rock, which can't be impressed no matter what is going on around him. He is always very relaxed and I can count on him 100%. Sometimes I don't even need words, just one glance and he knows what I would like him to do.
But on the other hand he can be like a "volcano", suddenly errupting. It can happen suddenly during a walk, when he decides to hunt just this bird, or if "his" Christel (Pera, Pahari Kennel) is in front of his box and he would glady jump out into her arms, forgetting he is not a little puppy anymore, but a grown Beardie with 35kg.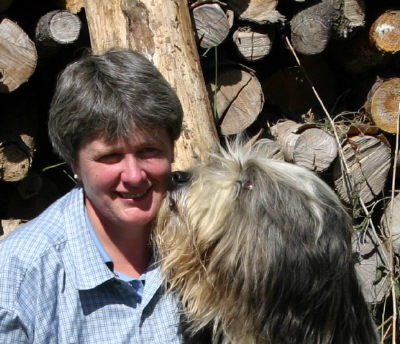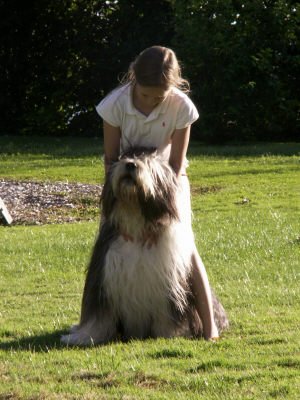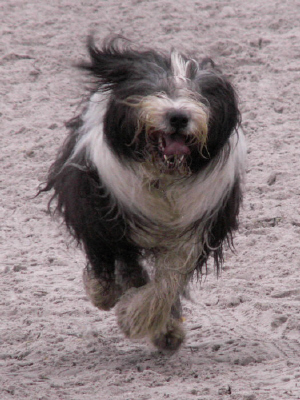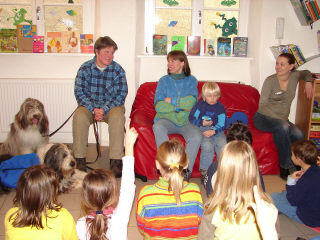 Chocolate ist ein sehr spezieller Hund, nun ja, mein spezieller Hund. Er ist ein "Hans Dampf in allen Gassen". Chocolate hat immer noch kaum Zeit für irgendwelche unsinnigen Dinge, die man von ihm fordert. Er hat keine Zeit längere Zeit ruhig zu sitzen, er hat aber auch keine Zeit für Streitigkeiten! Nicht nur seine Augen sind ständig in Bewegung, auch seine Rute hat ein Eigenleben.
Bei Chocolate kann ich mich auf eines zu 100% verlassen: er findet immer irgend etwas neues, was er anstellen kann. Dabei ist er aber der ideale "Kindergärtner" für kleine Beardies ;-) Farbe egal, Hauptsache klein und man kann ihnen die wichtigen Dinge des Beardielebens beibringen. Was wichtig ist, weiß Chocolate ganz genau!
Chocolate is a very special dog, well my special dog. At the age of 3 he still has no time to sit still for a longer period or to do those unnecessary things he is asked to. But he doesn't have time to get into a fight with another dog, too. Not only his eyes are always on the move, so he won't miss anything, his tail has a life of its own, too.
With Chocolate of one thing I can be totally sure: there is always something he'll find to do, but he is the perfect dog for a little Beardie, no matter what colour, just a little one he can teach all the necessities of life ;-). And Chocolate knows exactly what these necessities are!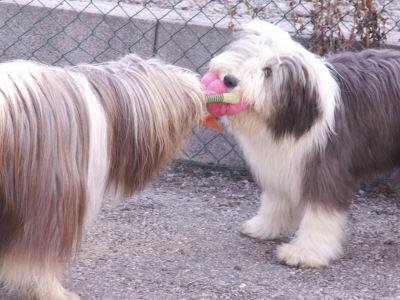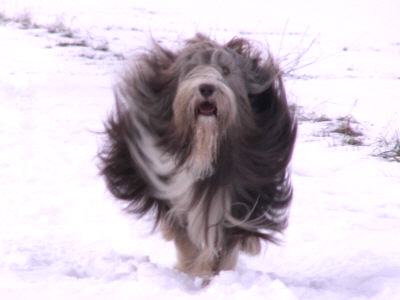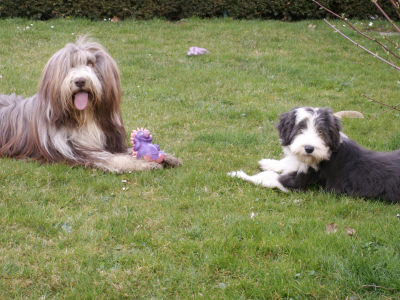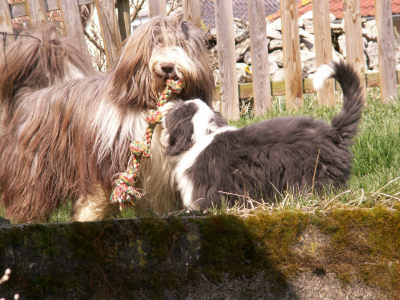 Casper Casper ist.... nun ja, Casper eben.
Er hat eine wahnsinnig ruhige Ausstrahlung, die bei ängstlichen Kindern aber auch im Altenheim sehr hilfreich sein kann. Er ist der von meinen Herren, der am meisten zum schmusen kommt, aber dabei auch mindestens einmal am Morgen aus dem Bett fällt.
Er ist ein kleiner Tolpatsch.
Er ist ein sehr sanfter Hund, aber er ist auch derjenige, der sich gerne mal mit anderen Rüden messen würde.
Casper is ..... well Casper.
He has a very soothing aura which helps a lot even with scared children or in the old peoples home. He is the one who loves to cuddle the most, but he is the one who manages to fall out of my bed at least once every morning.
He is a little clumsy fellow.
He is a very gentle dog, but he is the one who challenges other dogs.