September/Oktober 2007
31/10/07 Halloween...Chocolate als "Werwolf" ;-)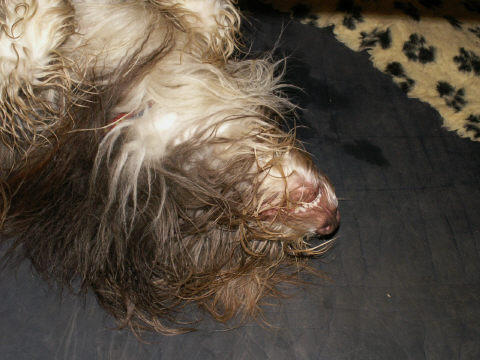 23/10/07 Fast wäre es untergegangen: seit dem 10. Juni habe ich meinen Sachkundenachweis der Voraussetzung für eine Zwingeranmeldung ist. Meinen Zwingernamen "BRADIBA'S" habe ich seit dem 27. Juli F.C.I. geschützt. Die Zuchtstättenabnahme wurde auch bis zu diesem Zeitpunkt erledigt.
Somit sind wir nun offiziell "BRADIBA'S"
I almost forgot to mention it: since July the affix "BRADIBA'S" is F.C.I. registered, therefore we are now officially "BRADIBA'S"
und......
Casper hatte erneut ein Date .... Casper had a date
Courtney vom Spinneratz und Zotti Floppy Toppolino
die kleinen Spinneratze werden Ende November erwartet....puppies are expected end of November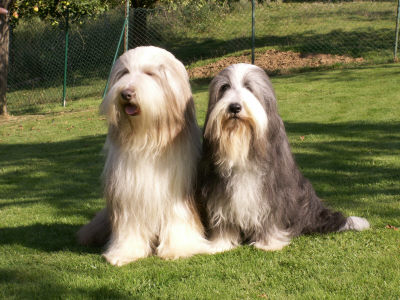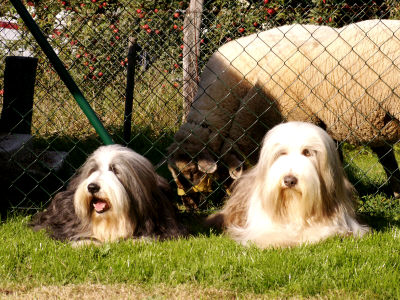 rechts mit den beiden Trauzeugen...on the right with the two witnesses
22/10/07 Nicht nur das Wetter hat sich übers Wochenende verändert... nach einem kurzen, goldenem Oktober ist es um uns plötzlich weiss. Ausserdem hat uns "mein" Gracie verlassen. Sie hat hier bei uns den Kindergarten und die Grundschule absolviert und wird ihre weitere "Ausbildung" bei Brigitte Schneeloch, ihrer Züchterin erhalten. Ich denke wir haben sie gut auf ein richtiges Beardie Leben vorbereitet, ihren Abschluss hat sie mit V1 in der Jugendklasse in Rostock mit Bravour gemeistert.
Denk daran, kleine Gracie, der Piepser ist eingebaut und das Chocci kommt sicherlich zu Deiner Verstärkung wenn Du ihn brauchst ;-)
Not only the weather changed at the weekend.... after a nice but short Indian Summer it is white out there.
And "my" little Gracie left at the weekend. She spend 7 months with us, passed kindergarden and first grade and did her final "exam" with Exc. 1 at the Rostock dog show. I do think we managed to show and teach her the basics of a happy beardie-life, she will now live with her breeder Brigitte Schneeloch and her sister Grete.
Remember little Gracie, there is a pager implanted and Chocolate will come immediately if you need him, I am sure ;-)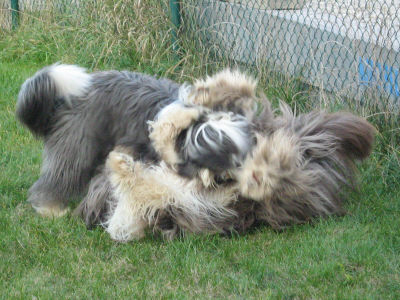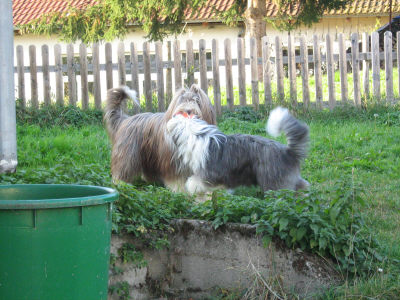 ja, ihre Rutenhaltung muss man im Auge behalten :-) well it is true, her tail needs to be watched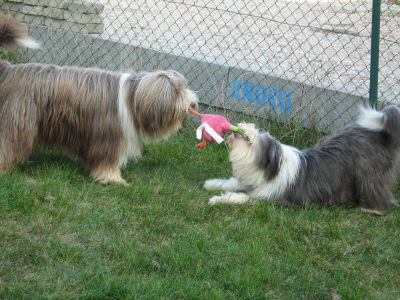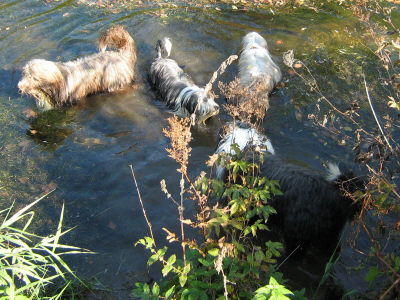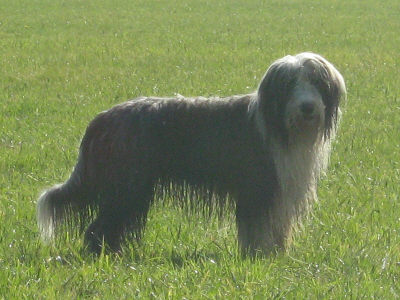 Gracie, vergiß nicht alles was Chocolate versucht hat, Dir bei zu bringen ;-) Gracie don't forget everything Chocolate tried to teach you for life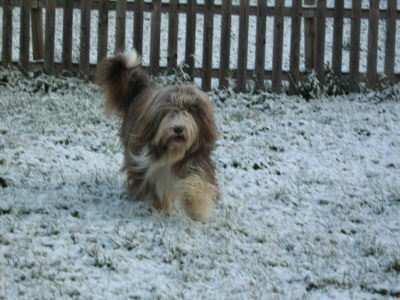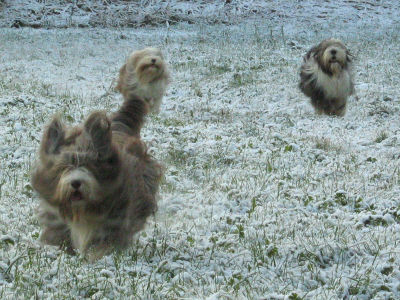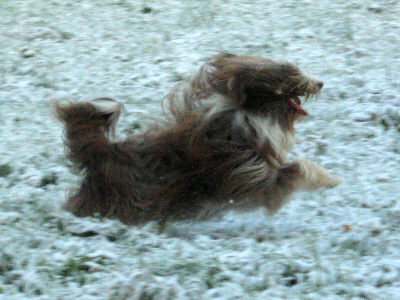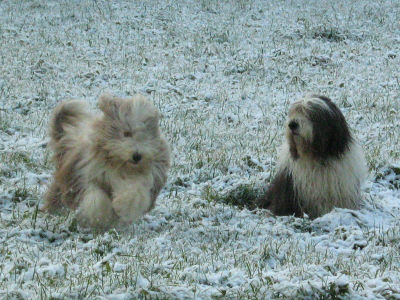 Der erste Schnee im Winter 2007, etwas was nur Beardies wirklich Spass macht.....First snow for the winter season 2007, something only Beardies love, I could do without...

13/10/07 Gestern waren wir im Altshauser Ried spazieren....und weg waren die weissen Pfoten
I went home to visit my parents and we had a walk....it was the end of the nice white feet
12/10/07 Gracie....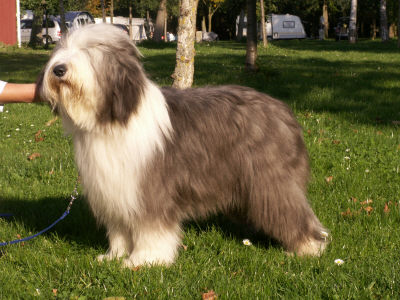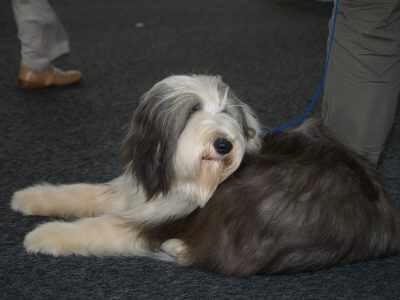 ©Kathrin Lange re. Foto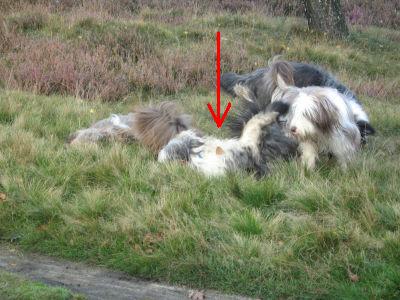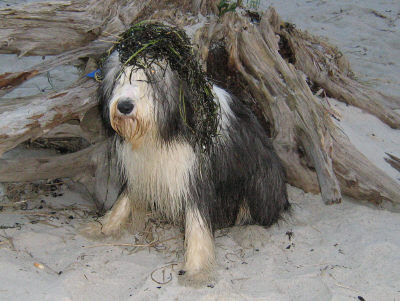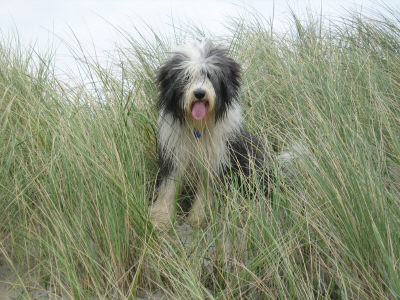 05/10 bis 10/10/07
05/10/07 Wir haben einen Ausflug gen Norden gemacht. Ziel war die Ostsee, genauer gesagt Rostock. Da es doch ein recht weiter Weg von Donaueschingen bis Rostock ist (knapp 1000 km OHNE Umwege ;-) ) haben wir uns mit Margit Denter und ihren beiden Damen Kate und Lucy in Kassel getroffen, wo wir auch übernachtet haben. Das Zimmer war nicht besonders groß, aber das Bett hatte eine ausreichende Größe... ich hatte wirklich auch noch Platz!
We went on a holiday up north, to Rostock at the sea. As it is quite a distance from Donaueschingen to Rostock, well around 1000 km without detours, we met Margit Denter and her two ladies Kate and Lucy. Our first stop was near Kassel, the room wasn't very big, but the bed was big enough... I promise, there was some space left for me!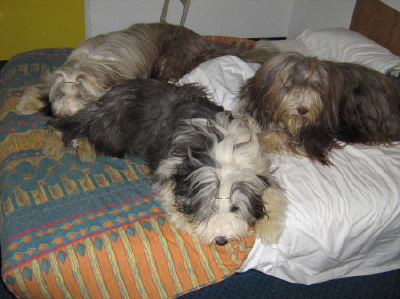 06/10/07 Am nächsten Tag ging es über die Lüneburger Heide weiter gen Norden. Wir haben natürlich in der Heide Rast gemacht und neben Heidekraut, Fliegenpilzen und einigen Heidschnucken gab es viel, viel Sand...
The next day we drove further north and had a nice walk in the "Lüneburger Heide".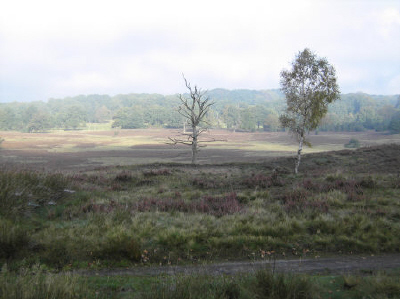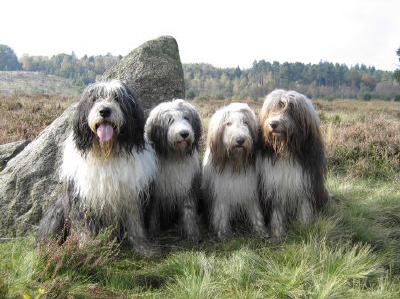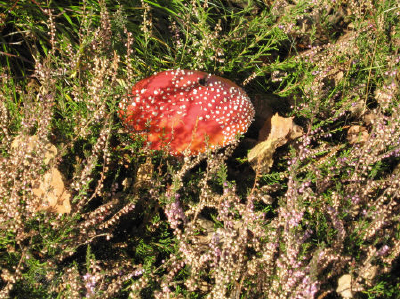 Unterwegs haben die beiden Landpomeranzen Gracie und Kate das feine Stadtmädchen Kayla getroffen. Wer wer ist, lässt sich leicht an den unterschiedlichen Schattierungen der weissen Pfoten erkennen: dunkelweiss für Gracie von der Rohrbachau, die immer noch nicht sicher ist ob sie ein Mädchen ist, mittlerweile schnüffelt sie ja schon an Laternenpfosten, dann wollweiss Denters Whirlwind Just a Kiss "Kate" und Philemon Sweet Secrets "Kayla" mit weissen Pfoten...
On the way we met Melanie and the two girls from the countryside, Grace von der Rhorbachau with very dark white socks, Denters Whirlwinds Just a Kiss "Kate" a bit lighter met "Kayla" Philemon Sweet Secrets with white markings. Well Gracie is still not convinced being a girl, she starts looking at trees and posts not being certain if she should start marking them...
Das ist "unser" Häuschen am Campingplatz in Markgrafenheide, gegenüber der Eingang zum "Hundewald"
"Our" little house at the camping ground in Markgrafenheide, on the other side of the road was a little wood for the dogs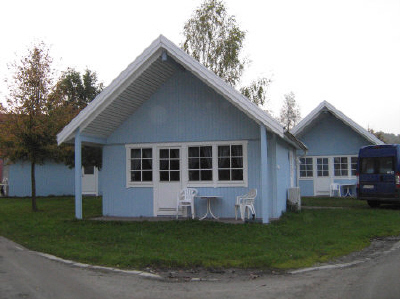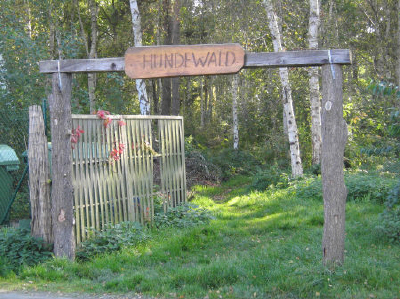 07/10/07 Wir waren auf der CACIB in Rostock.... Casper und Gracie haben V1 erhalten, Kate ein VV und Lucy V3.
Casper hat somit die Bedingungen für den dt. Champion erfüllt. Sein erstes V 1 erhielt er letztes Jahr im Juni in Saarbrücken, worüber sich Heidi Wicklein sehr gefreut hat. Seine weiteren Ausstellungserfolge konnte sie leider nicht mehr miterleben.
We went to the International Show in Rostock, Gracie and Casper were placed Exc.1, Kate was shown for the first time and got Very Promising, Lucy was placed Exc. 3.
Casper fulfilled with this show the requirements for the title "German Champion". Heidi Wicklein was still alive when his was placed Exc.1 last June for the first time but couldn't participate in his later success.
Ich möchte diesen Erfolg Heidi Wicklein widmen
I would like to dedicate this success to Heidi Wicklein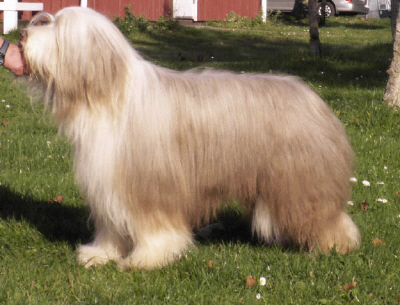 Zotti Floppy Toppolino, Casper
Zur Belohnung ging es für den Rest des Nachmittags an die Ostsee.
As a reward we spend the rest of the day at the sea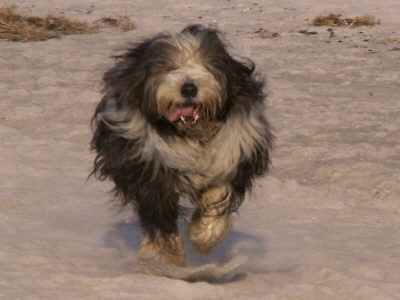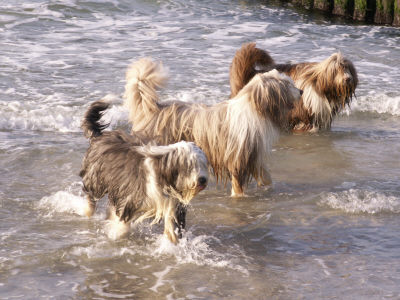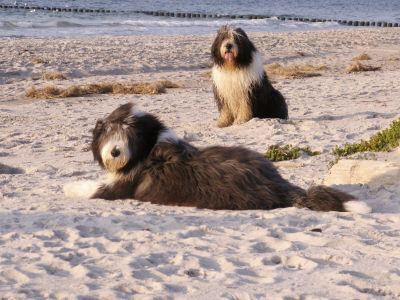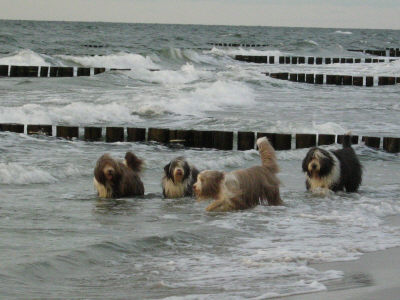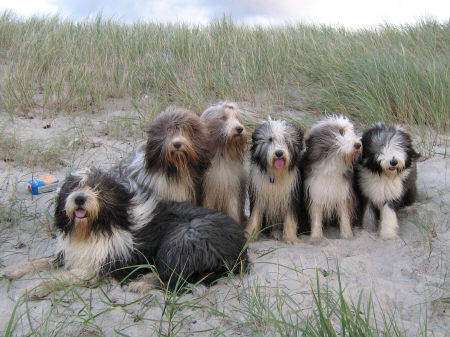 Baghira-Chocolate-Casper-Gracie-Lucy-Kate

08/10/07 Montag haben wir uns Rostock angesehen - On Monday we visited Rostock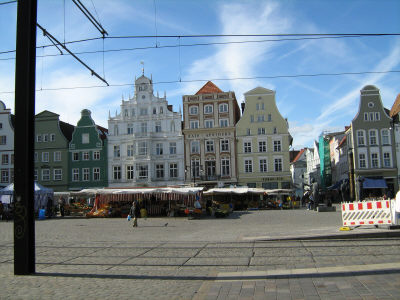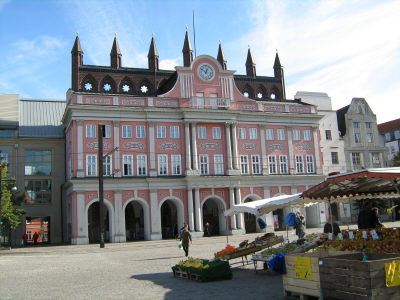 und nochmals einen Ausflug zum Meer - and again a trip o the sea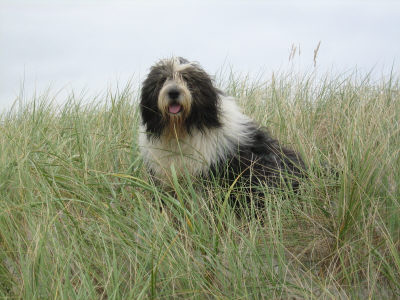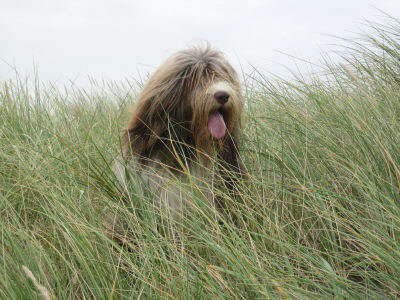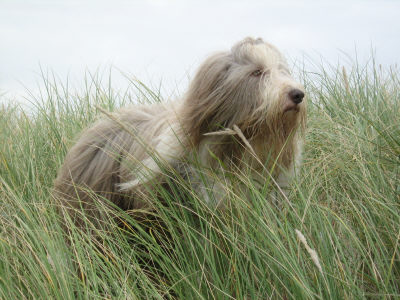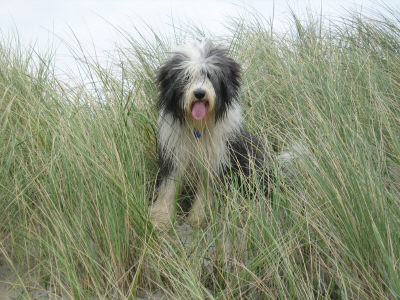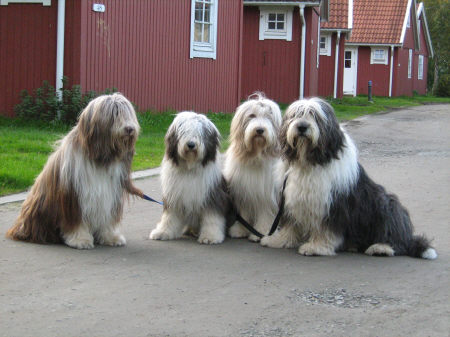 und wir haben einen kleinen Ausflug nach Schweden unternommen - and we took a short trip to Sweden
09/10/07 Der Rückweg hat uns über Potsdam geführt, wo wir am Wannsee Mittag gegessen haben. Dann ging es quer durch Potsdam, weiter zu Annett wo wir nochmals übernachtet haben um dann am 10.10. den restlichen Weg in Angriff zu nehmen.
Wir hatten ein wunderschönes Wochenende, haben sehr viel von Deutschland gesehen und hatten sehr viel Spass.
On our way back we passed Potsdam, we had lunch at the "Wannsee". Later we drove through Potsdam, on to Annett where we stoped over night to drive back home on Wednesday.
We had a very nice holiday, saw quite a lot of Germany and had lots of fun.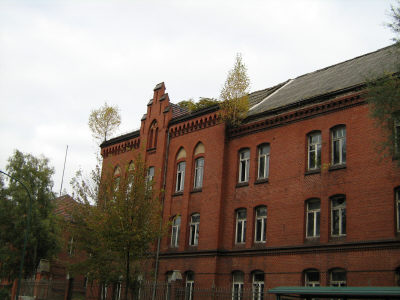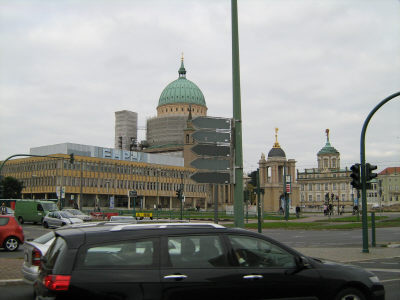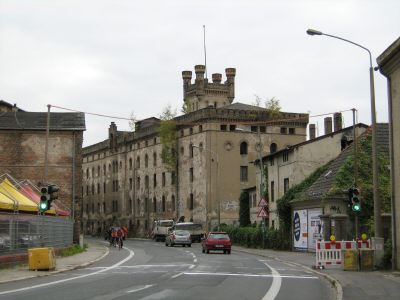 25/09/07 Der Sommer nimmt so langsam Abschied....und wir genießen die letzten schönen Tage, jeder auf seine Weise
Summer is turning into Autumn... we are enjoying the last sunny days, each one in his own way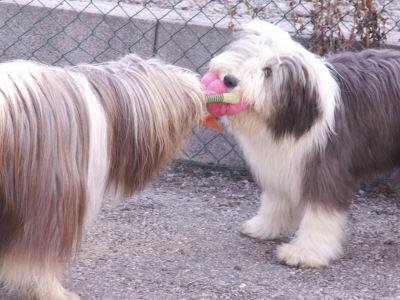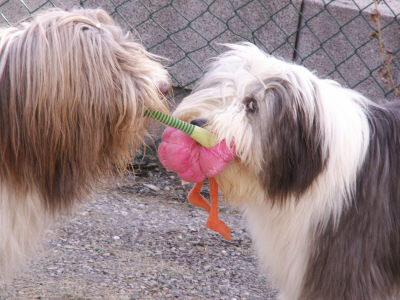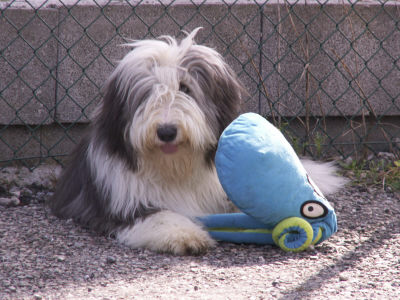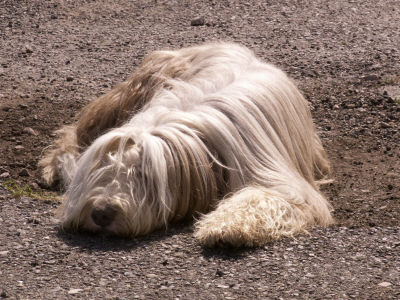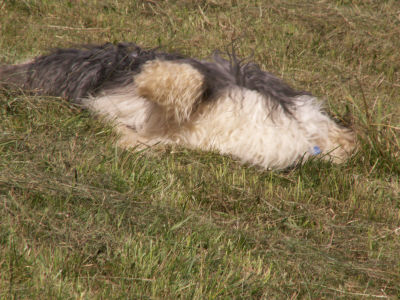 16/09/07 Wie eigentlich fast immer in den letzten Wochen, können wir uns über das Wochenendwetter nicht beschweren, vielleicht haben wir ja Glück und bekommen einen schönen Spätsommer.
Like almost every weekend for the last few weeks, the weather was nice and sunny again, hopefully we'll be lucky and there will be a nice "Indian Summer".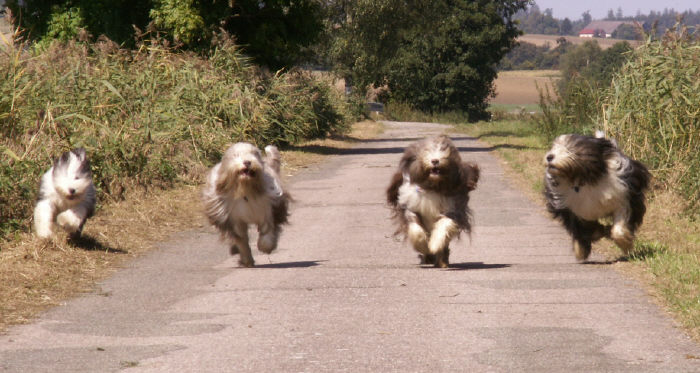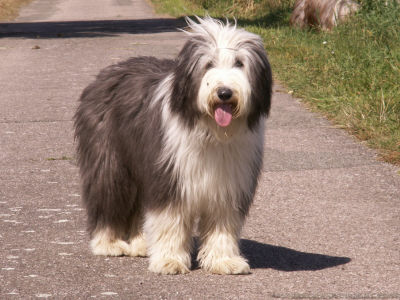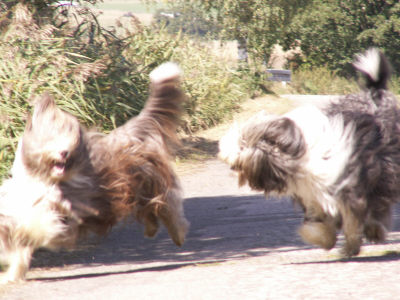 li. Gracie re: wie immer bei Chocolate und Baghira: viel Lärm um nichts, Chocolate war halt mal wieder schneller
left: Gracie. right: like always: just a lot of noise; Chocolate being faster again
14/09/07 Wir haben Brigitte und Grete besucht.
We went to visit Brigitte and Gracie's sister Grete.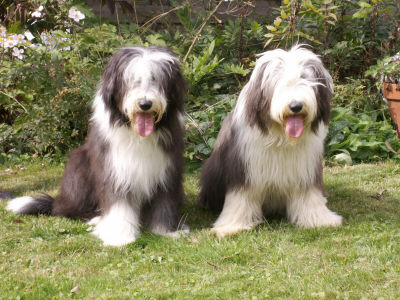 08/09/07 Nun ist es wieder mal soweit: in den Feuchtwiesen blühen die Herbsteitlosen....
Dieses Bild ist M.P. gewidmet, die diese Pflanze nicht kennt;-) Sie gehört zu den Liliengewächsen, alle Teile sind giftig, Giftigkeitsgrad +++ (sehr giftig)...
Autum is really coming now, the Medow suffron (Herbstzeitlose in german) can be found in the wet fields again. This picture is for M.P. a friend who doesn't know this plant ;-), a very poisonous plant, all parts being poisonous, member of the liliaceae familiy.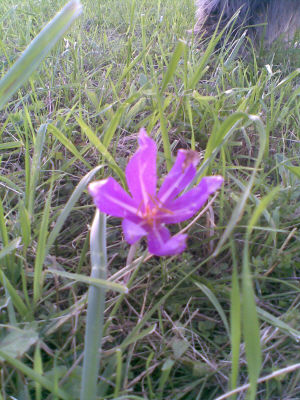 02/09/07 Wir waren in Heroldsberg auf der Ausstellung. Ich habe Chocolate und Gracie ausgestellt, die es sehr genossen haben wie man sicherlich sehen konnte.... Chocolate wurde mit V2 beurteilt, Gracie erhielt erneut ein VV.
We went to the dog show in Heroldsberg. Chocolate and Gracie enjoyed it a lot as one could obviously see... Chocolate was placed Ex 2 and Gracie Very Promising.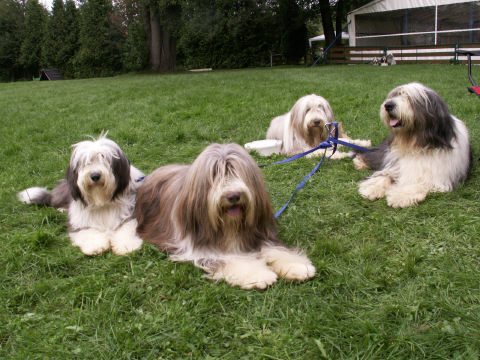 manchmal geht es schneller als man denkt: vielen Dank an Hanjörg von Wantoch für die vielen tollen Fotos!
Sometimes thinks happen faster than expectetd, the pictures were taken by Hansjörg von Wantoch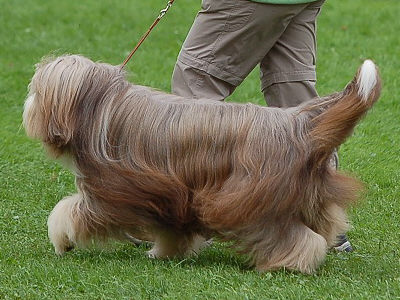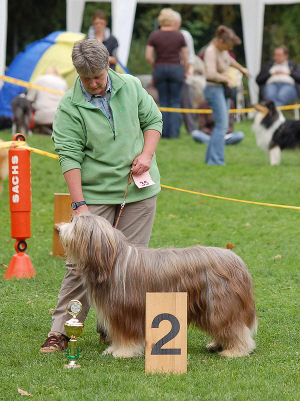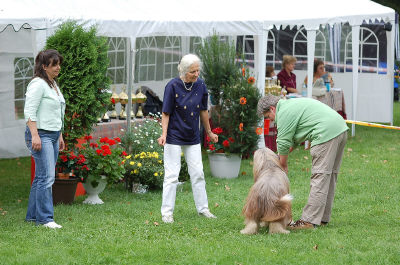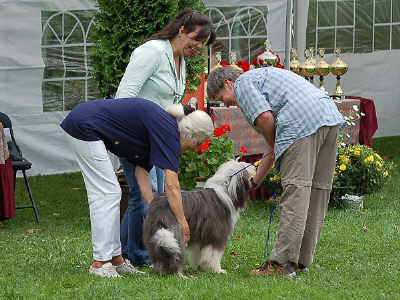 Ausstellen macht Spass - Dogshows are great fun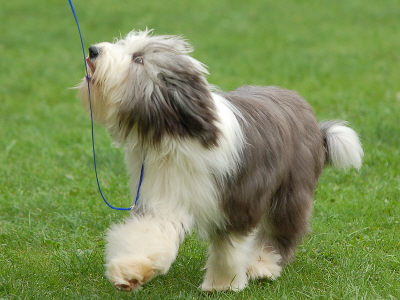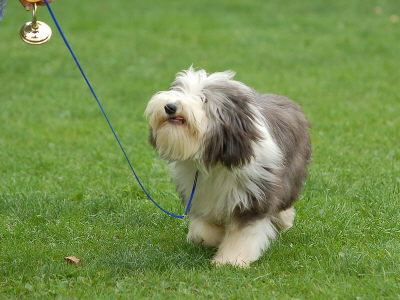 nachdem sie die Wurst gefressen hatte, "war das alles?"- Gracie after she had eaten the sausage, "please some more" :-)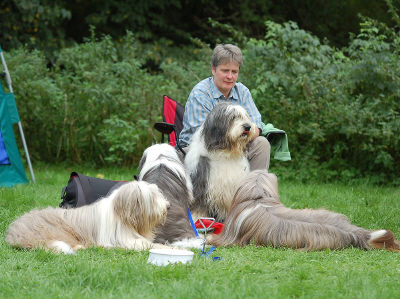 müde und zufrieden - tired but happy
01/09/07 Wir geniessen die Tage wie sie kommen, ist es nass, sind die Hunde begeistert - ich zugegeben weniger, ist es warm und sonnig sind wir alle sehr zufrieden. Die Zeit rennt, es scheint als wäre es gestern gewesen, dass die beiden Senioren morgens vorsichtig geweckt werden mussten, damit sie sich nicht erschrecken, aber dabei ist es schon wieder ein Jahr her, dass uns das Röschen verlassen hat.
Time is running. It just seems like yesterday when the two Oldies were around, but it is a whole year now, since Röschen left us. We enjoy the days as they come, when it is raining which seems quiet often this summer, the dogs love it - well I don't really, but when it is nice and warm, all of us love it, as you can see.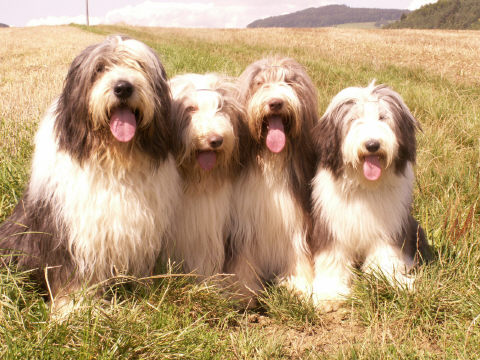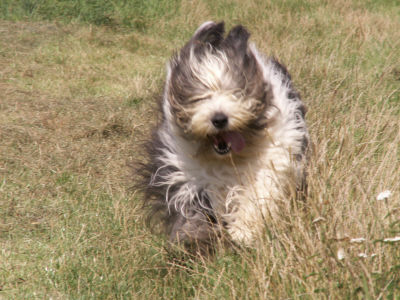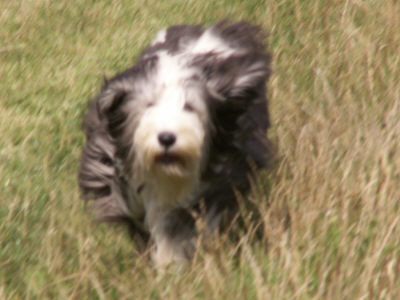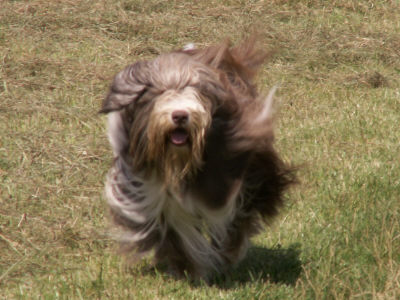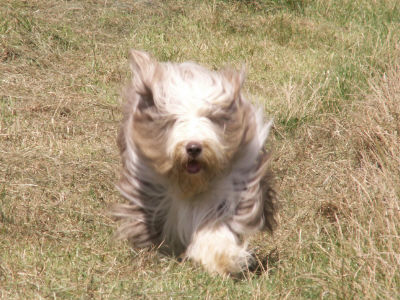 Gracie ist nun auch kein Welpi mehr, sie wird sogar eine kleine Dame. Ansätze zeigt sie zumindest ;-) -manche wollten es ja gar nicht glauben, dass das im Zusammenleben mit meinen den wilden Herren möglich ist. Und ja ich bin überzeugt sie wird läufig und nein, sie hebt noch nicht das Bein und glaubt, dass sie ein Rüde ist :-)
Gracie is growing out of puppiehood, sometimes she even looks like a little lady, something some people wouldn't believe could happen living with these 3 "rowdies". And yes, I do believe she will come into heat, and no, she is not standing on three legs thinking she is a boy :-)