März - April 07
25.04.07 Gracie die Wasserratte Gracie loves swimming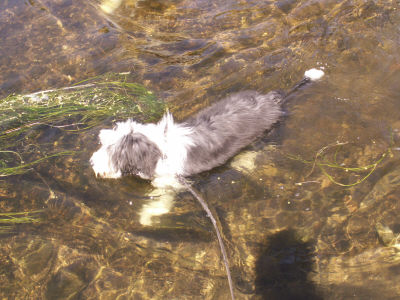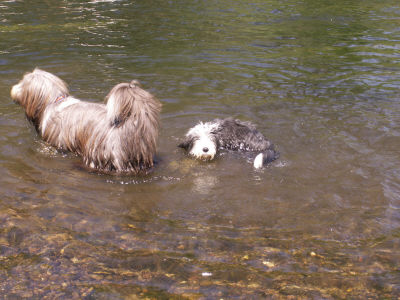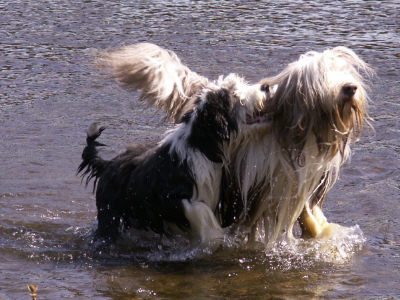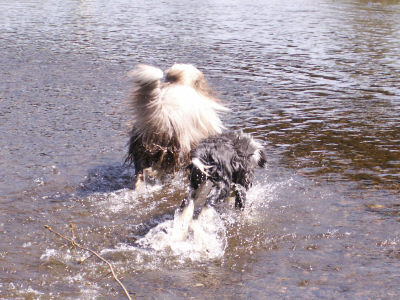 22.04.07 Erst waren wir gestern in Fulda auf Fortbildung (na ja ich, die Hunde nicht wirklich), also 400 km ein Weg, habe bei Kerstin einen Kaffee getrunken und auf die Gefahr hin, dass Melanie ihre Drohung ernst macht und nie mehr mit mir spricht, da sie nicht Kalya besuchen konnte, mit Kayla geschmust.
Die Hunde waren wieder vorbildliche Mitfahrer, Gracie war am Abend immer noch für jeden Unfug bereit und voller Tatendrang.
Yesterday I had to go to Fulda (400km one way) for a seminar; I even had time to go to Kerstin for a cup of coffee and cuddle Kayla even when Melanie threatend never again to talk to me, because she didn't have the chance to visit Kayla. The dogs were very good, when we were back, Gracie came out of the car still full of mischief and power.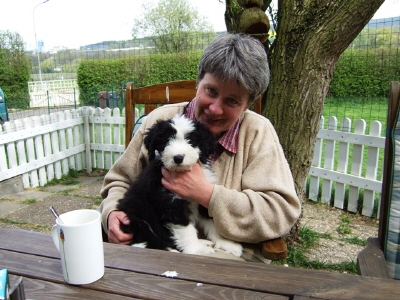 ©K. Selle
Heute waren wir in Freiburg auf der Messe "Mein Hund: Partner auf 4 Pfoten" um die Rasse zu repräsentieren. Es war eindeutig Baghiras Tag: SEINE Christel in unmittelbarer "Zungennähe", Hunderte von Besuchern denen man sich entgegenwerfen konnte und man wurde gestreichelt, oder kurz gesagt: ER WAR IM MITTELPUNKT.... na eigentlich hat ihm ja Gracie die Show gestohlen. Auch Chocolate war wie immer der Ansicht, alle Besucher sind nur wegen ihm da.
Today we went to Freiburg to the fair "My dog: my partner on 4 paws" to represent the breed. It was definetely Baghira's day: HIS Christel (Pera, Pahari Beardies) just next to his long tongue, lots of people just being there to cuddle him: to make a long story short: HE WAS IN THE CENTER OF INTEREST... well to tell the truth Gracie stole all the attention. Chocolate enjoyed it, too, as always he thought all the people came just to see him.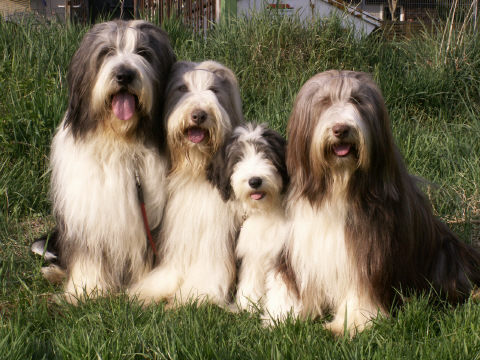 zurecht gemacht für die Messe
nice and tidy for the fair

19.04.07 Nachdem Gracie entdeckt hat, dass man im Wasser auch stehen und toben kann, ist sie heute einen Schritt weiter gegangen.... kaum aus dem Wasser war sie schon wieder drin :-)
Now that Gracie found out one can even stand and walk in the water, today she went one step further... just out of the water she went in again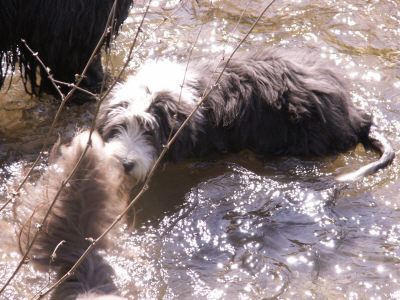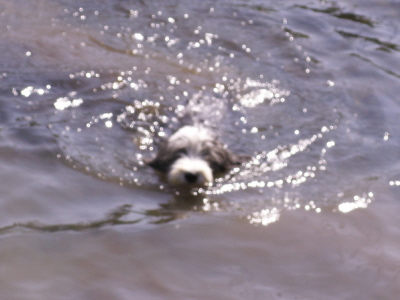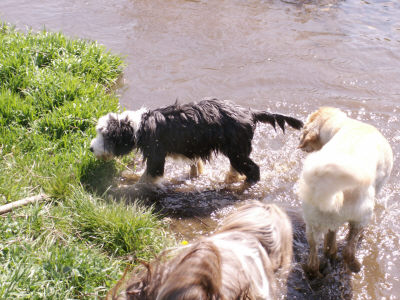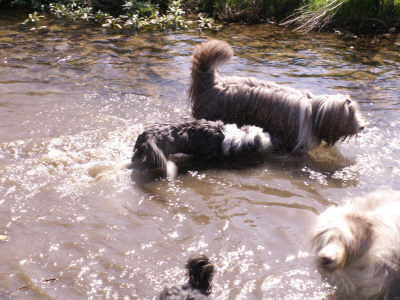 Da wir ja in Baden wohnen, dessen Bewohner von anderen gerne "Gelbfüßler" genannt werden, haben sich die Hunde -wie jeden Frrühling- angepaßt.
As we live in Baden, a part of Germany where the inhabitants are called "Gelbfüssler" (meaning yellow feet), the dogs found it fitting to look like "Gelbfüssler", too.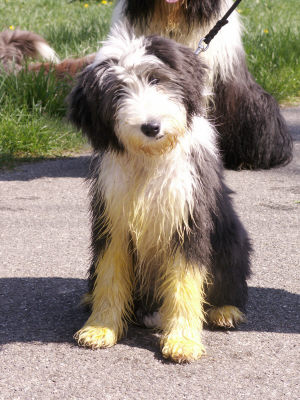 17.04.07 Völlig erholt von unserem Wochenendausflug hat Gracie das Element Wasser nun doch für sich entdeckt.
Fully recovered from our weekend trip, Gracie discovered water and its advantages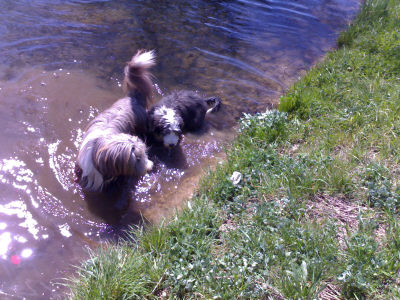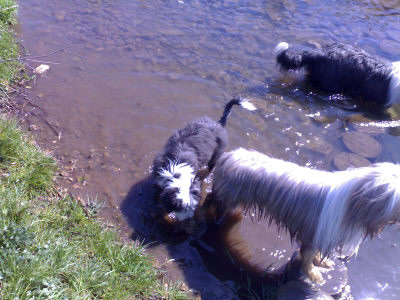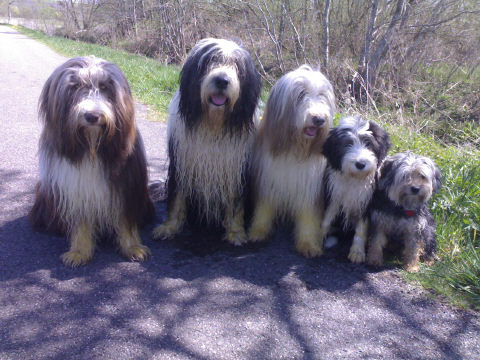 Toben mit Chocolate und Casper, denen man als kleine Dame alles klauen kann, macht müde. Da ist es schon von Vorteil, wenn man sich in der Sicherheit seiner großen Herren ausruhen kann.
Playing with Chocolate and Casper - a young lady may take everything from them- makes Gracie sleepy. In this case it's an advantage to have those big boys taking care.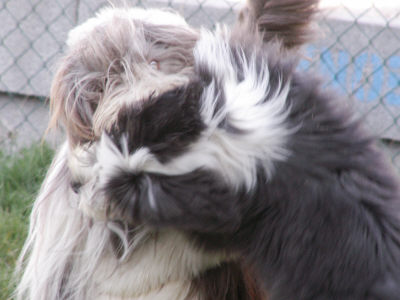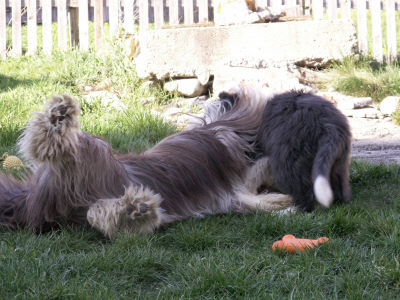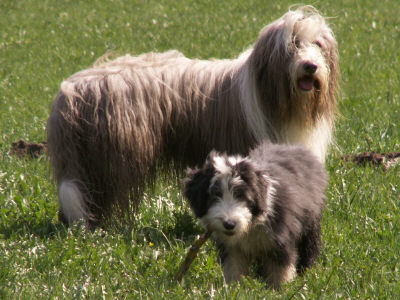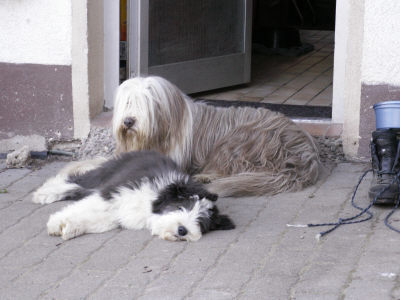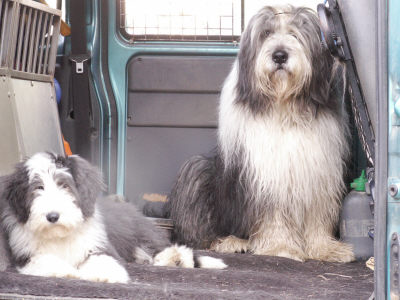 13.-16.04.07 Wir haben ein schönes Wochenende verbracht.
Zuerst ging es zu Kerstin wo ich mich durch die Hunde gestreichelt habe ;-), angefangen bei den Welpen, über die Junghunde bis zu den Senioren. Ach diese Zwerge.... und Sam...und Megan erst :-))
We spend a very nice weekend, first we had a stop at Kerstin's , where I had a chance to cuddle all the dogs: from the puppies to the seniors ;-) .... especially Sam.... and Megan :-))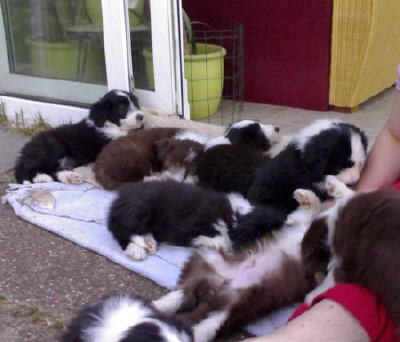 Samstag und Sonntag haben wir auf der Ausstellung in Erfurt verbracht, am Samstag waren Casper und Chocolate dran, am Sonntag nur Chocolate. Sie waren beide sehr brav, Chocolate hatte Samstag einen neuen Handler: Sabrina Halfmann. Vielen Dank! Chocolate hat sich von seiner besten Seite gezeigt.
Saturday and Sunday we were at the show in Erfurt, Casper was shown on Saturday, Chocolate on both days. He had a new handler on Saturday: Sabrina Halfmann, and Chocolate was a very good boy.
Am Rückweg haben wir noch ein Foto von Gracie und ihren Großeltern gemacht.
Gracie hatte dieses Wochenende viele neue Eindrücke zu verarbeiten und ich muss sagen, ich bin beeindruckt von ihrer Coolness. Mit freudig getragener Rute ist sie auf Kerstin und ihre Hunde zugestürmt, die Ausstellung fand sie nur toll, sie lag mit Grete zusammen in einer Box. Die beiden kleinen Damen haben sich vorbildlich benommen! Bei Annett war sie von Oscar, Chocolates Vater, ganz hin und weg (das wird ja wohl die Farbe sein ;-) )
On our way back, we took some pictures of Gracie and her grandparents.
Gracie learned a lot this weekend. She is a very cool young lady. She was running around with a very"happy tail" ;-), she spend some time with her sister Grete and the tweo young ladys did behave very well. At Annetts she was very impressed by Oscar, Chocolates father (probably the color being the reason...)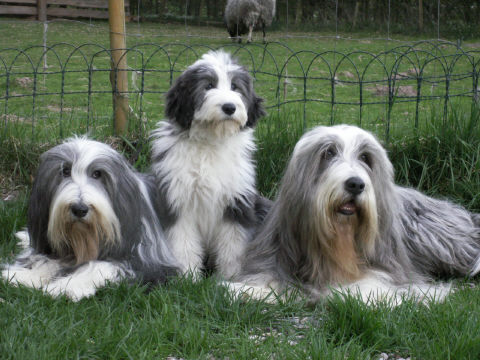 Jill (Moonhill Philemon's Dream) Grace von der Rohrbachau, Sam (Moonhill Philemon's Choice)
Da ich die Gelegenheit hatte, habe ich von Sam Fotos gemacht. Ist er doch nicht nur Gracies Großvater, sondern auch der von Baghira und Chocolates Urgroßvater bzw Caspers Ur-Urgroßvater
I had the chance to take pictures of Sam, as he is not only Gracie's grandfather but also Baghira's and he is Chocolate's great-grandfater and Casper's great-great-grandfather ;-)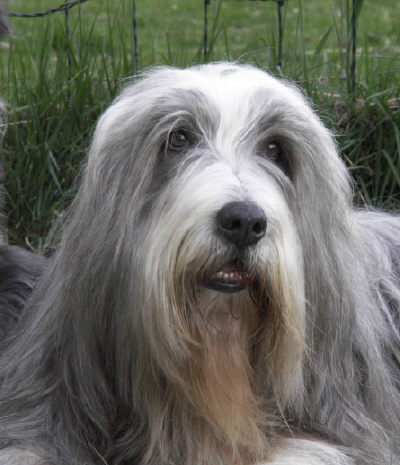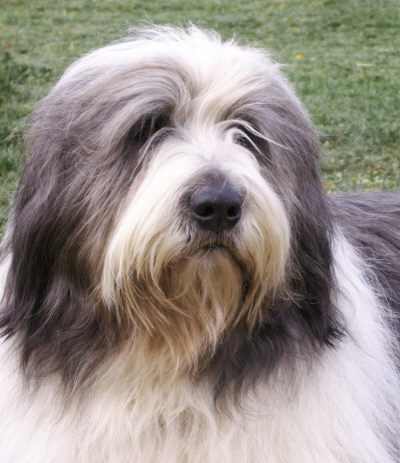 08.04.07 Grippegebremst ging es bei uns die letzten Tage seeehr ruhig zu. Alle haben Rücksicht genommen und genau soviel geschlafen wie ich. Zwischendurch ging es immer wieder in den Garten und die beiden Brownies haben sich alle Mühe gegeben, Gracie zu beschäftigen. Sogar Baghira hat sich mit ihr arrangiert.
The last few days were very quiet as the flu caught up with me. The dogs slept almost as much as I did, inbetween they could play in the garden. The two Brownies did their best to keep Gracie busy; even Baghira accepts her now.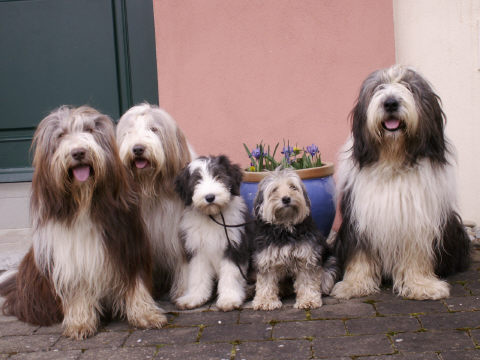 Kurzbesuch bei meinen Eltern, Primi ist schon kleiner als Gracie
just a short stop at my parent's home; Primi is already smaller than Gracie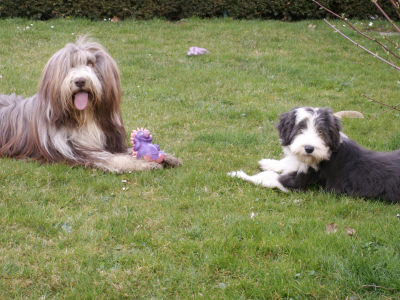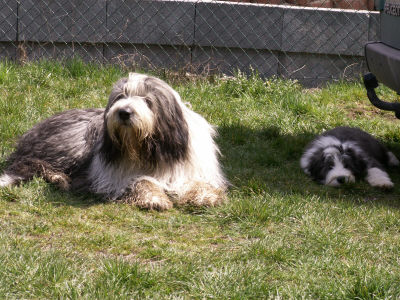 02.04.07 Heute ist der Tag an dem Gracie einiges "zum ersten Mal" gemacht hat.
Sie durfte mit ins Seniorenheim und hat den Bewohnern eine riesen Freude bereitet.
Today Gracie did lots of things "for the first time".
She came along to our Monday visit to the Old peoples home and the peolpe we visited had lots of fun.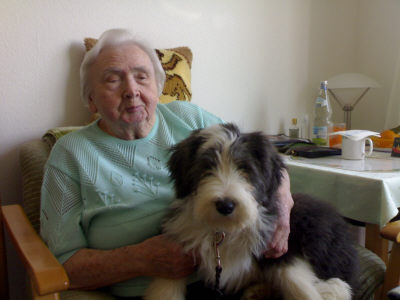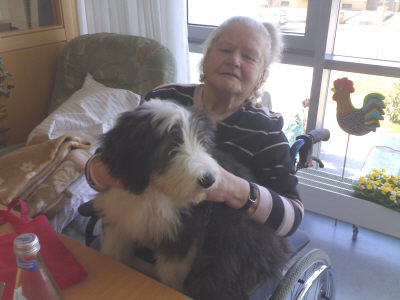 Beim anschließenden Spaziergang hatten wir wunderbares Wetter und Gracie dachte mal wieder sie könne auf dem Wasser gehen. Sie will es einfach nicht glauben, dass auch wenn man den Boden sieht, er nicht da ist ;-)
Afterwards we enjoyed the lovely weather and Gracie is still convinced, she is able to walk on water. She doesn't want to believe even if one can see the ground, is isn't there ;-)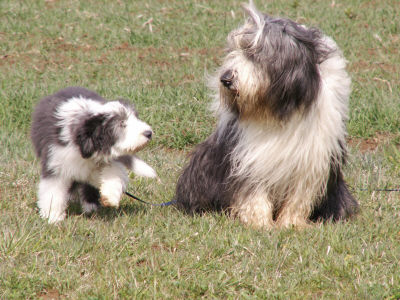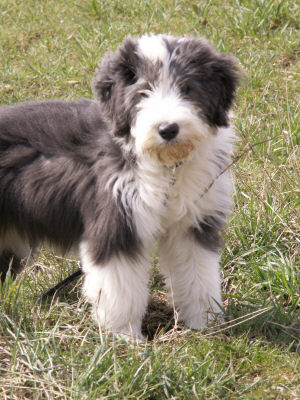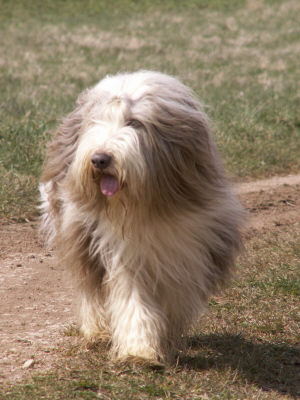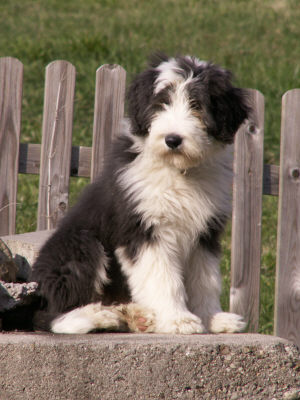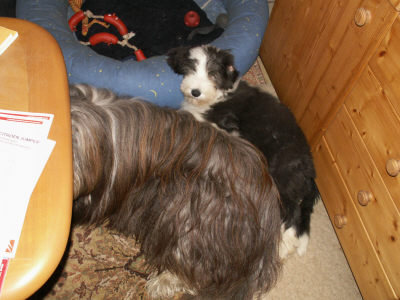 die besten Freunde - best friends
30.03.07 Genau so habe ich es mir vorgestellt....beide "Brownies" sind ideale Kindermädchen; Chocolate jedoch ist der perfekte Animateur und zeigt Gracie alle Dummheiten, Casper geht etwas vorsichtiger mit ihr um.
That is what I was hoping for..... both "Brownies" are ideal nannys but Chocolate is the ideal buddy for Grace to play with, he shows her all the foolish things. Casper is a little bit more careful.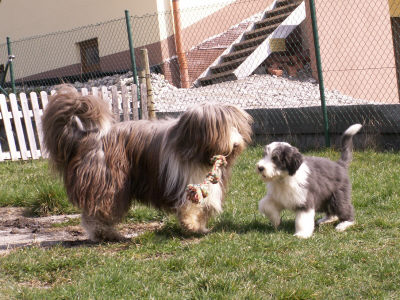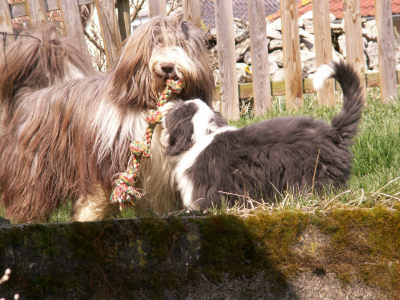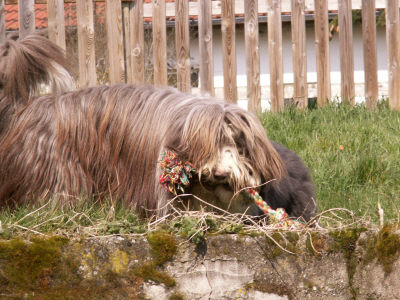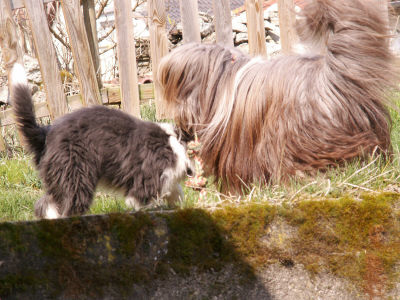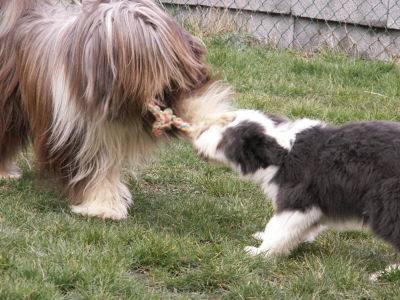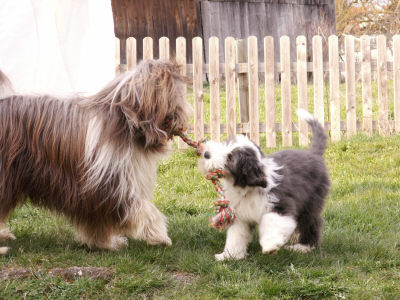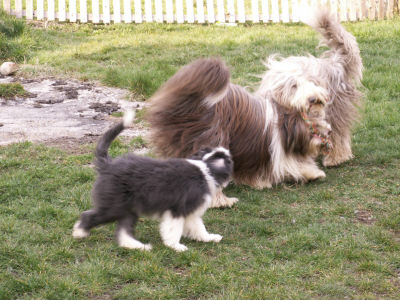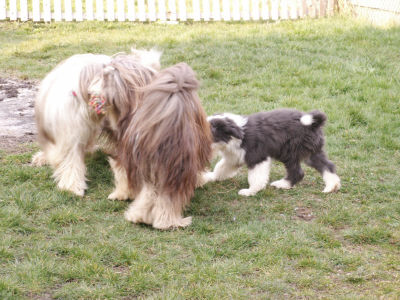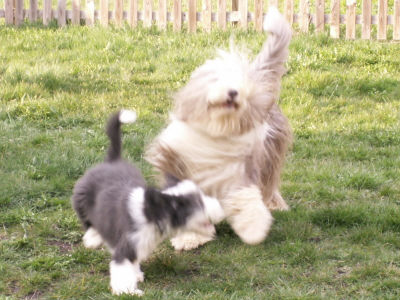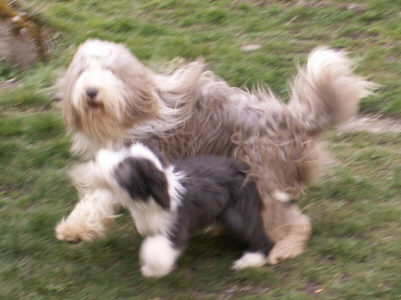 29.03.07Jäger und Sammler ... oder Toys'r' us für kleine Beardies? Es gibt aber auch so viele tolle Sachen in dieser Spielzeugkiste!
Toys'r' us for little Beardies? But there are so many lovely things in this toybox!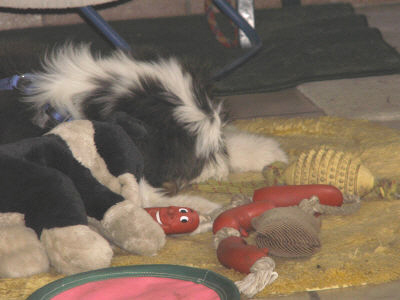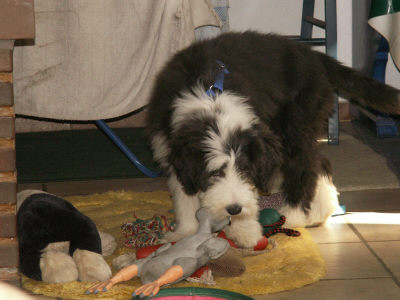 27.03.07 Baghira ist sicherlich der Ansicht, ich sei verrückt geworden...., nun ja anscheinend nicht nur er!
So langsam nimmt er Grace zumindest zu Kenntnis, wenn gleich er immer noch nicht sehr begeistert von ihr ist. Aber wehe sie kommt ihm zu nahe, oder schlimmer noch, sie möchte womöglich "SEINEN" Grashalm fressen...
In Baghira's oppinion I am probably crazy...
Now at least he takes notice of Grace, but he is still not very amused. But no way she comes really near him or worse she has a look at the grass he is about to pick..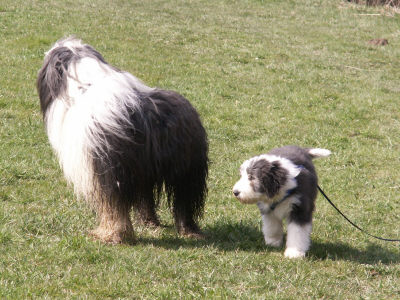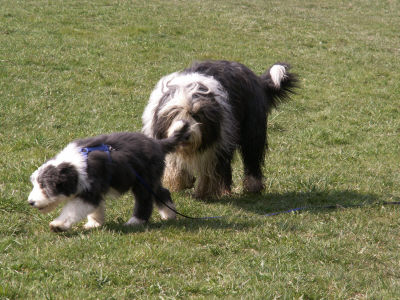 vielleicht ist "ES" ja weg wenn ich es ignoriere .... ob sich was ändert, wenn ich "ES" genauer ansehe?
well maybe if I don't look, "IT" will disappear ..... or maybe something will change when I take a closer look ?


.....hoppala, das ist ja gar kein "ES" das ist ja eine "SIE"
....."oops, that's not an "IT" it's a "SHE"
Der "Löwenzahnkiller" von der Baar
The "Dandelion-Killer"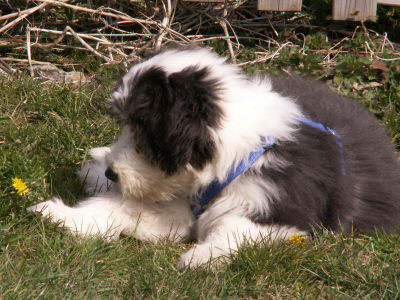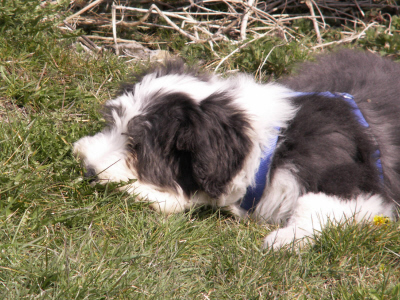 Opfer fixieren - stare at the victim ..... Überraschungsangriff - attack it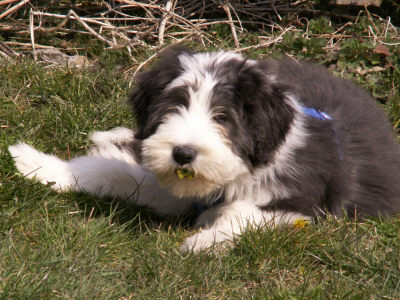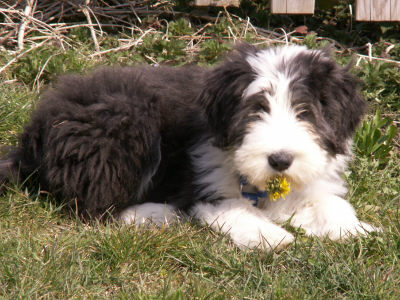 drauf rum kauen - try to eat it ........ausspucken, wer behauptet Blumenblüten seien lecker?- spit it out, who ever said flowers are delicious?

25.03.07 Wie sagte Reinhard vorgestern so passend? Morgen in 9 Monaten ist Weihnachten. Na das passende Wetter hätten wir ja, ob wir das in 9 Monaten auch haben?
Like Reinhard put it the day before yesterday: it's only 9 months until Chirstmas. Well, the weather would be fitting right now, let's see how it's going to be in December?!
Wenn ich in den letzten Jahren eines gelernt habe, dann dass man niemals "Nie" sagen sollte:
ich wollte NIE einen Fawnie -> und plötzlich waren es zwei
ich wollte NIE eine Hündin -> und dann kam das Röschen.
.... und jetzt hilft uns Grace bei den Vorbereitungen auf Mr. P....-
Something I learned during the last few years: never say "Never"!
I NEVER wanted a Fawnie -> and suddenly there werde two of them
I NEVER wanted a girl -> an then there came Röschen
...and now Grace moved in to help us prepare for Mr. P......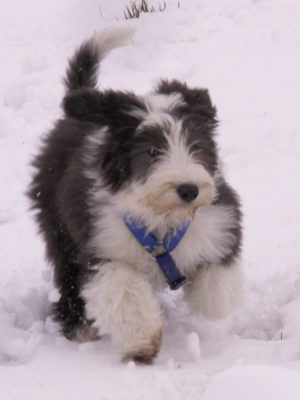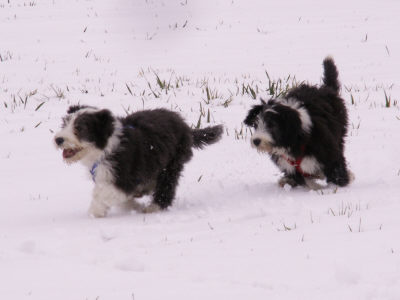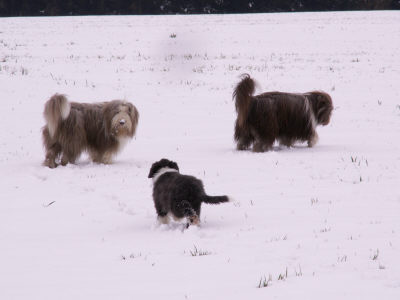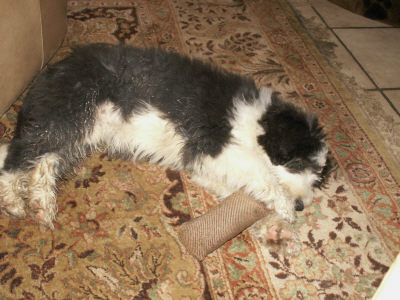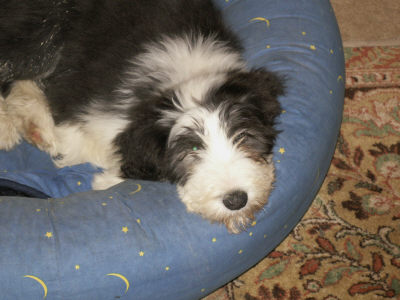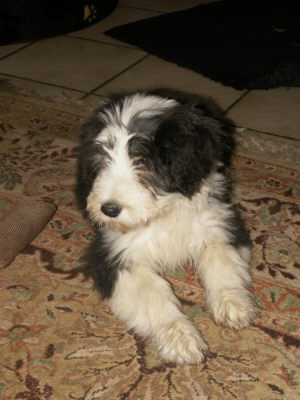 23.03.07 und dann steht man morgens auf und findet kaum das Auto.....
You wake up and can't find the car....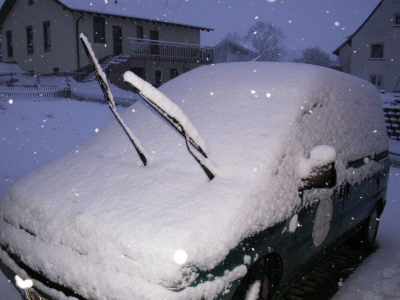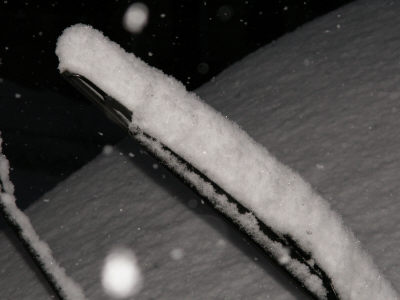 2 Tage nach dem Frühlingsanfang, morgens 6:00 im Schwarzwald....die Strassen waren noch viel schlimmer!
Two days ago Spring started, today at 6:00 a.m in the Black Forest....the roads looked even worse!
16.03.07 Da das Wetter so schön ist -zumindest momentan- habe ich das Fahrrad heraus geholt und nutze es über Mittag. Die Hunde laufen brav mit, wenn uns jemand begegnet sitzen oder liegen die beiden Braunnasen bei mir, Baghira lässt sich ja auf Distanz ins Platz legen, was sehr angenehm ist. Oder aber sie laufen alle drei bei Fuß neben mir her. Kommen wir aber in die Nähe vom Wasser, dann sind sie auf die Frage "wer will schwimmen gehen" nicht mehr zu bremsen.
As the weather is fine -at least for the moment- I decided to take my bike along for our walks. The dogs either run at heel when some other bike comes along or they lay down. Baghira being the only one so far who lays down and stays even at a distance. But once we get near some water and I ask them "who would like to go for a swim" they can't be stopped.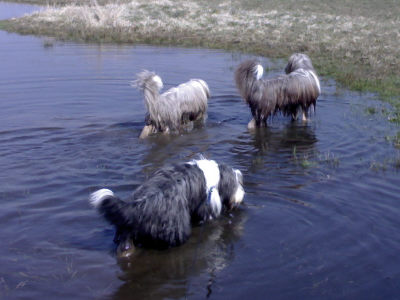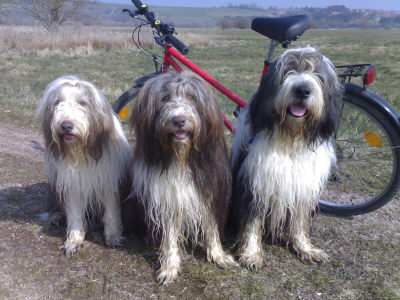 11.03.07 Wir haben ein schönes Wochenende in Offenburg verbracht, viele nette Leute getroffen, und mein Casper hat sich brav geschlagen und wurde mit V1 beurteilt. Ich bin sehr stolz auf Casper, denn Hallenausstellungen sind immer noch nicht ganz so sein Ding und wenn sich dann noch die Rüden hinter ihm gegenseitig angiften und die vorführenden Männer zu nahe aufrücken, reicht es ihm eigentlich. Aber ich weiss, dass er mir zu liebe mitmacht.
We had a nice weekend in Offenburg, met many friends and Casper was placed V1. I am very proud of Casper as idoorshows are still not his favourite especially when the dogs behind him start growling at each other and their handlers are standing very close to us. But I know he is doing it only for me.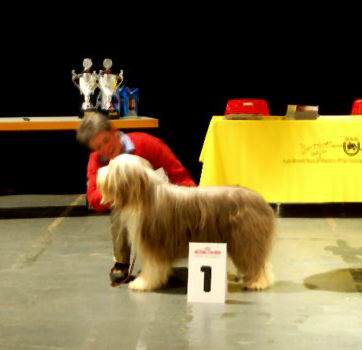 ©C. Kreutzberger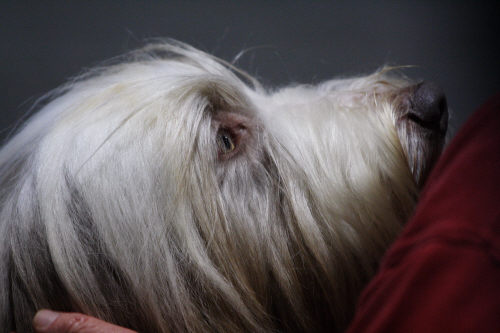 © E. Janz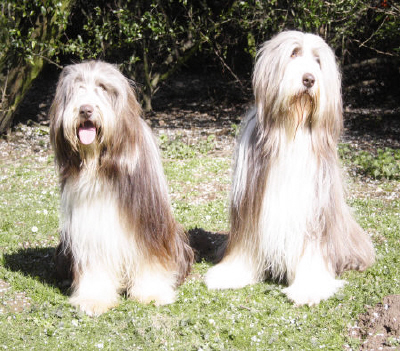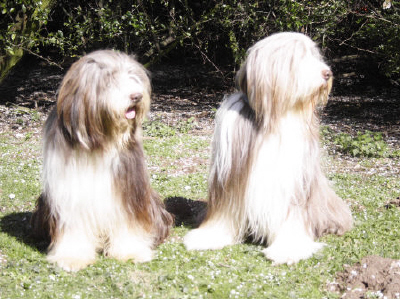 © E. Janz Vater und Sohn: li. Chocolate, re. Oscar
Father and son: left Chocolate right Oscar (Philemon Wild Pretty Bear)

10.03.07 Daniela hat mir eine Patchwork Decke gemacht. Meine Idee war ein "Bild" Landschaft mit Beardies, wobei ich alle meine Hunde auf der Decke haben wollte. Das war die Ausgangsidee.
Daniela made a patchwork quilt for me. My idea was a "picture" of a landscape with Beardies. The only important thing: all my dogs had to be on this picture.
Daniela hat sie folgendermaßen umgesetzt: Unter dem Regenbogen meine drei Oldies Röschen, Diabolo und Brandy. Über den Bergen, die die Vulkankegel des Hegaus (das ist die Region in der wir leben) darstellen, geht die Sonne auf. Im Vordergrund meine drei momentanen Herren von li: Casper, Mr. P der sich etwas verspätet hat und Chocolate sowie ganz vorne mein Baghirchen. Ganz besonders lag Daniela das dunkelgelbe Sonnenblumenfeld am Herzen, da sie von meiner Abneigung gegenüber der Farbe Orange weiss ;-). Daniela hat ihre eigene HP, ist voller Ideen und Kreativität www.patch4pets.ch

This is how Daniela arranged my ideas: below the rainbow you can see my three oldies: Röschen, Diabolo and Brandy. The sun is rising behind the Hegau volcanos ("Hegau" near Lake Constance being the part of Germany where we live). In front of the volcanos from left to right are Casper, Mr. P who will be a bit late and Chocolate . Baghira is the one in front. As Daniela knew how much I "like" the colour orange, she found it most important to put a sunflower field in the picture, it being a dark yellow and puting some color to the whole arrangement. Daniela has her own page and she is open for ideas: www.patch4pets.ch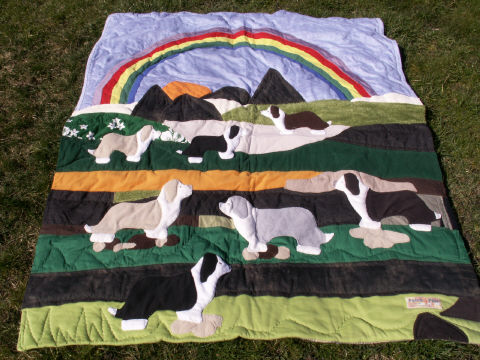 06.03.07 Nachdem es die letzten Tage gut geregnet hat, ist der Grundwasserspiegel wieder angestiegen und die "Seen" im Donauried sind wieder aufgefüllt ;-)
As it has been raining the last few days, the ponds in the fields along the Danube are there again ;-)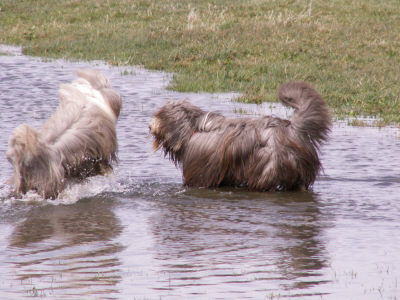 man kann plantschen - man kann sich jagen
one can spash around - one can chase each other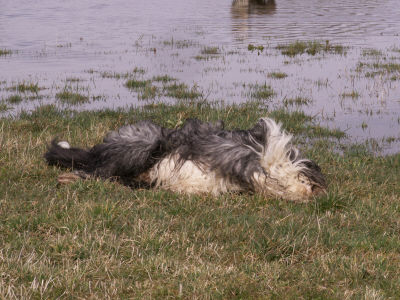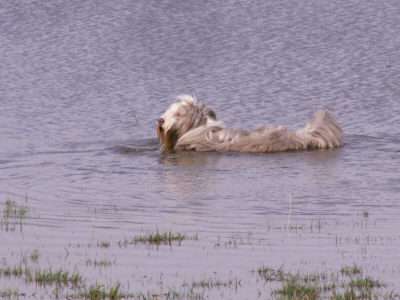 Baghria liebt es sich zu wälzen und Casper legt sich ins Wasser
Baghira loves to roll in the gras and Casper enjoys laying in the water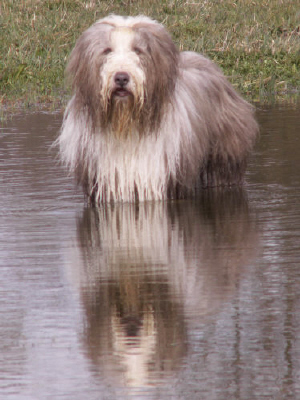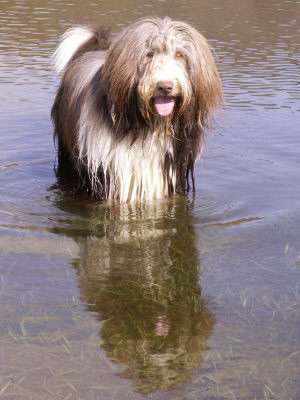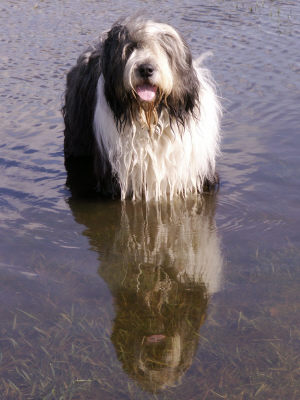 Spieglein, Spieglein an der Wand wer ist der Schönste im ganzen Land...
Mirror, mirror on the wall, who is the fairest one of all...