Januar-Februar 2007
23 bis 26.02.07 Wir haben ein wunderschönes Wochenende im Norden verbracht. Unser erster Stop war bei Kerstin wo ich mir die Welpen von Alice ansehen durfte. Schmusen mit Megan und Sam, Jack, Connor.... dann ging es weiter nach Norderstedt zu Melanie.
We spend a wonderful weekend in northern Germany. Our first stop was at Kerstin's place where I had the chance to have a look at Alices puppies. It was lovely to cuddle Megan, Sam, Jack, Connor.... and on we went up to Norderstedt where I stayed with Melanie.
Am Samstag sind wir an die Ostsee gefahren, wo die Hunde baden gehen durften.
Saturday we went to the Ostsee, where the dogs took off to chase the birds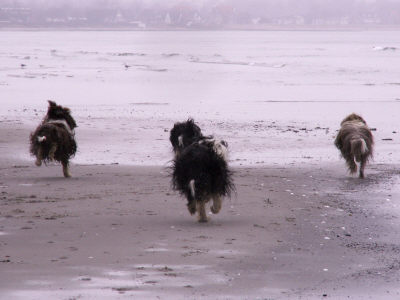 25.02.07
Sonntag war in Buchholz Ausstellung, Chocolate hat sich sehr brav benommen und wurde von Brenda White mit V bewertet. Vor allem meinte sie, der Name "Chocolate" sei sehr passend für einen "Chocolate Beardie".
On Sunday we went to the Dog Show in Buchholz, where Chocolate got an "Excellent" by Brenda White. Brenda found his name "Chocolate" very fitting for a "Chocolate Beardie"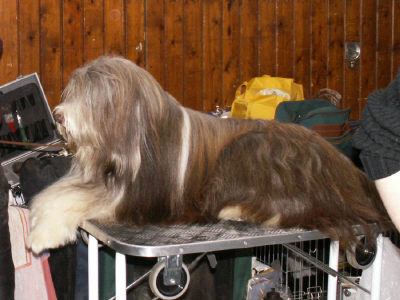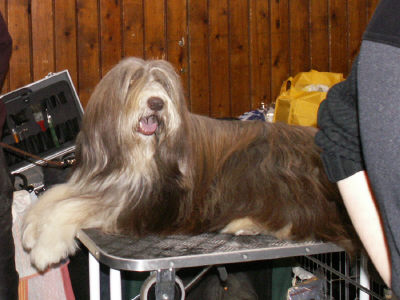 zur Belohnung durften die Hunde dann im angrenzenden Wäldchen laufen
as a reward we did a walk in the woods nearby, which the dogs enjoyed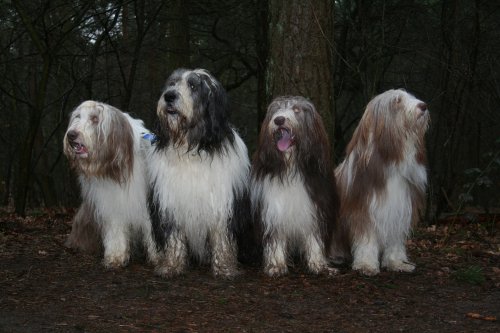 Casper-Baghira-Chocolate und Frida, seine Schwester

Nach der Ausstellung: alle sind müde und erledigt, nur Casper weiss nicht so recht, was er machen soll, ist er doch sooo verliebt in Jamie...
At the end of the day everybody is tired, only Casper doesn't know what to do. He is so much in love with Jamie, his first love...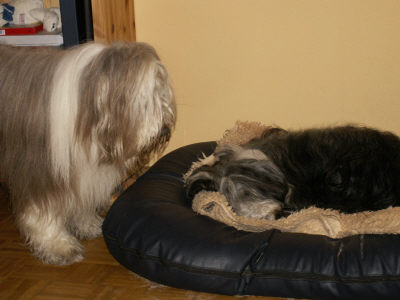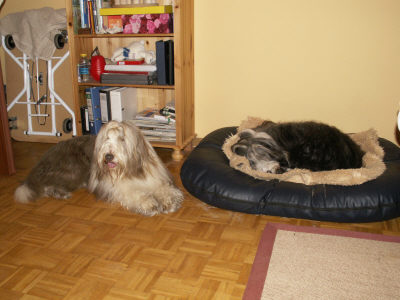 Casper überwacht Jamies Schlaf - taking care of Jamie sleeping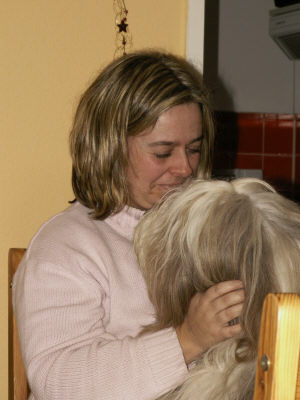 er versucht über Melanie an Jamie ran zu kommen - maybe Melanie can help Casper with Jamie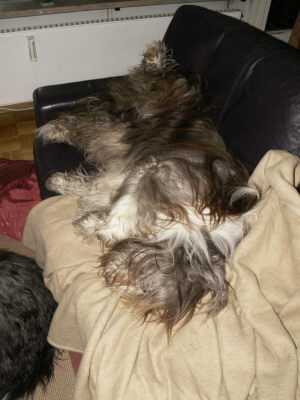 Chocolate nutzt das Sofa

26.02.07
Bevor es zurück ging, sind wir in der Früh nochmals an die Ostsee gefahren, damit die Hunde vor der Rückfahrt nochmals ausgiebig toben konnten.
Just before we drove the long way back, we went to the Ostsee once again for the dogs to have some fun and be tired on the journey.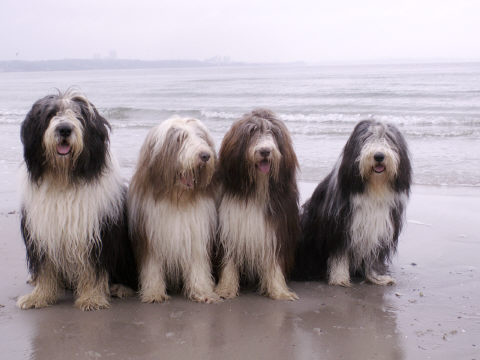 Baghira-Casper-Chocolate-Jamie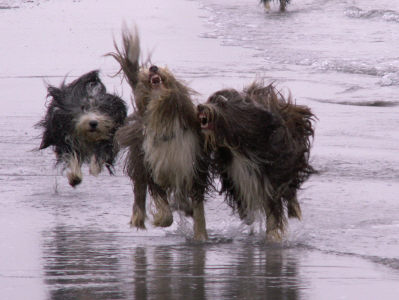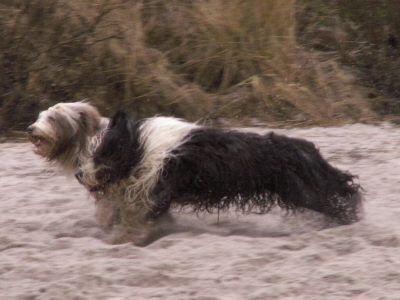 Jamie, Casper, Chocolate - Casper, Baghira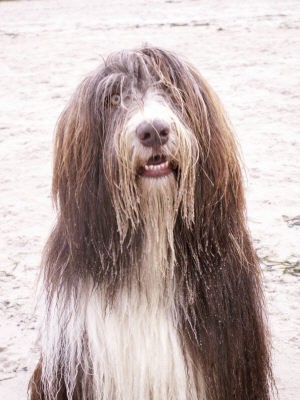 Chocolate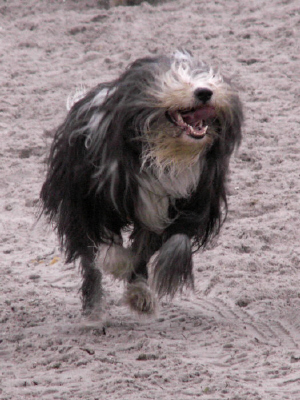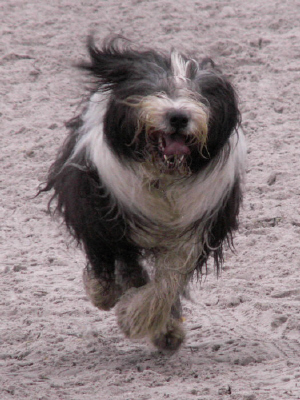 Jamie und Baghira
Seit langem hatten wir kein so schönes Wochenende. Welpen in der Hand zu haben, die noch keine Woche alt sind, mit Sam und Megan zu schmusen und natürlich Kerstin, Andreas, Melanie, Helga, Rüdiger, Annett, Margit und Sandra zu treffen, die schönen Spaziergänge.... Trotz der doch eher weiten Strecke (850 km ein Weg) war das Wochenende erholsam.
Baghria hat das Toben am Strand genossen, Chocolate wusste schon nicht mehr wie er sich wieder fangen sollte als plötzlich Helga und Rüdiger vor ihm standen, Casper hat seine große Liebe entdeckt und meine Herren vom Lande haben sich in der Stadt doch ganz gut geschlagen. Gut hin und wieder fehlt ihnen die Grünfläche, aber alles in allem war es ein wunderbares Wochenende. Danke allen und vor allem Melanie und Jamie!
It has been the most wonderful weekend for quite some time. Having had the chance holding puppies just a few days old, cuddling Sam and Megan an the rest, talking to friends like Kerstin, Andreas, Helga, Rüdiger, Annett, Margit and Sandra, those lovely walks with the dogs... Even it being quite a long journey up to Norderstedt (850 km one way), the weekend has been a holiday.
Baghira enjoyed running along the shore, chasing birds and the other 3, Chocolate almost went crazy when suddenly Helga and Rüdiger (his breeders) stood in front of him, Casper met his first love and the three boys from the countryside managed life in the city very well. Thank you very much, Melanie and Jamie!

18.02.07 Sonntag Morgen halb 10....Rauhreif aber sonnig. Später werden sie dort unten "schwimmen" gehen
On a Sunday morning, half past 9....frozen but sunny. Later in the day they will go for a swim in the ponds you can see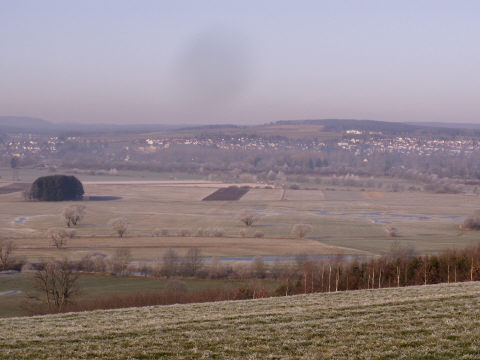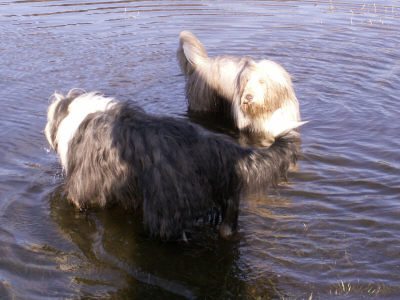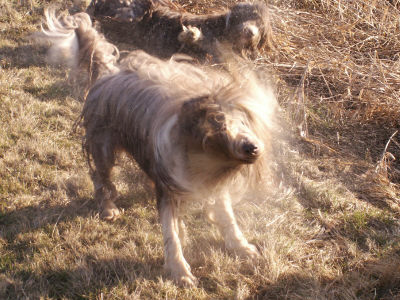 Baghira, Casper -- Casper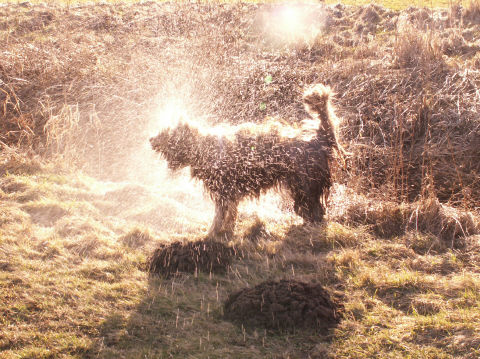 Chocolate

17.02.07 Primelchen ist wieder bei meinen Eltern und Casper hat SEIN Sofa endlich wieder....
Primelchen moved back to my parent's home as my mother is back and Casper enjoys HIS sofa, again....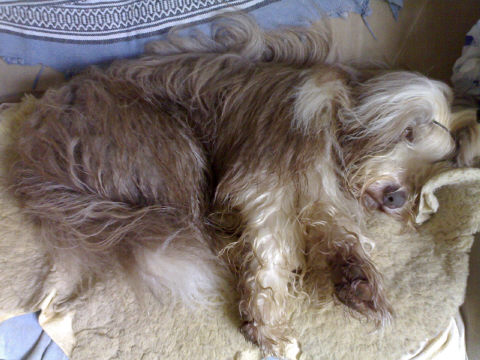 heute vor einem Jahr: das Wetter vermisse ich nicht, aber Röschen war eine Bereicherung. Ich habe erfahren, dass ihr Wurfbruder, "Zotti-Floppy Rasberry Blue", mit 16 1/2 gestorben ist.
Last year Feb, 17: I don't miss the weather, but Röschen who moved in. She was an enrichment . The other day I was told her brother "Zotti-Floppy Rasberry Blue" died at the age of 16 1/2.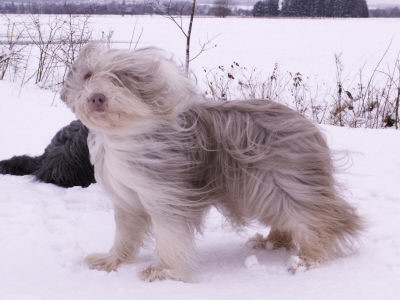 15.02.07 So langsam wirds Frühling... Nicht dass man denkt, wir waren am Bodensee, es sind nur die überschwemmten Wiesen im Donauried. Ich glaube es ist schwer zu sagen, wem der Spaziergang heute mehr Spass gemacht hat, mir (SONNE) oder den drei Herren (PLANTSCHEN).
Springtime is coming... it's only the flooded fields along the Danube, we didn't go to Lake Constance. As you see, all of us enjoyed the walk, me the nice and sunny weather and the three boys loved to run through the water.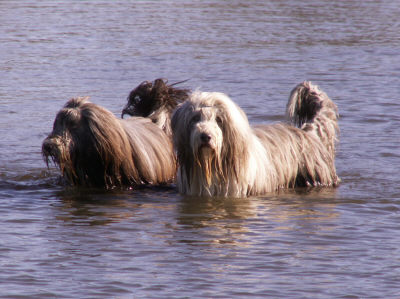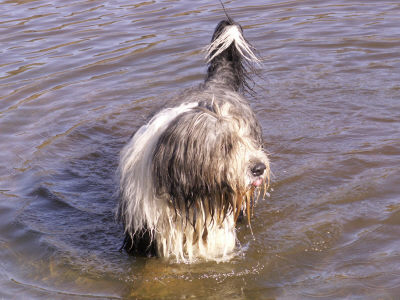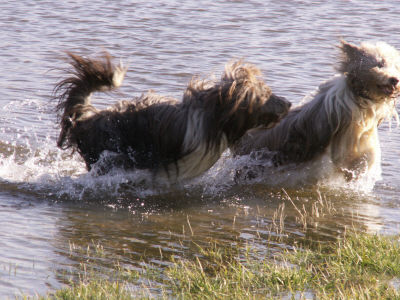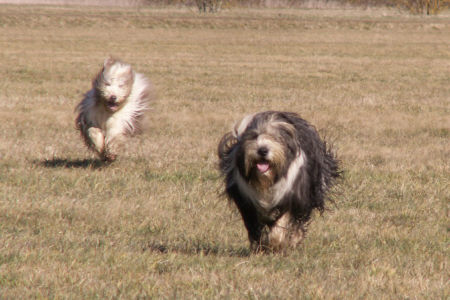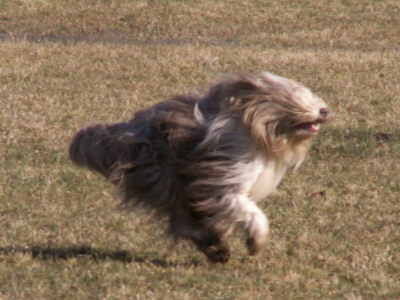 01.02.07 Nachdem ich auf einer website, die ich nicht nennen möchte eine haarsträubende Rassebeschreibung gelesen habe - langjährige Beardiebesitzer können sich die Verursacherin sicherlich vorstellen-, möchte ich einen Link zu einer meiner Meinung nach sehr schönen, informativen und vor allem auf persönlichen Erfahrungen beruhenden Rassebeschreibung setzen.
Some people live in the past and they don't seem to realize how much damage their "Breed-Information" does for the Bearded Collie. A nice, informative and very true "Breed -Information" based on personal experience can be found here. So far it is only in German...
28.01.07 Die beiden Braunnasen sind gebürstet, Baghira kommt noch dran. Es ist windig und es scheint die Sonne,und der Schnee beginnt zu schmelzen
I did groom the two "Brownies" , Baghira is still to come. Today it is windy and sunny, and the snow starts to melt.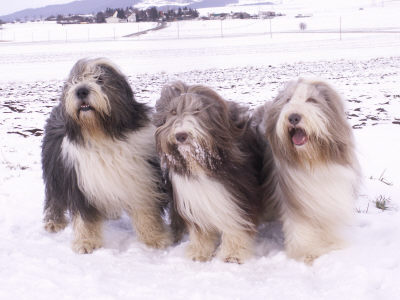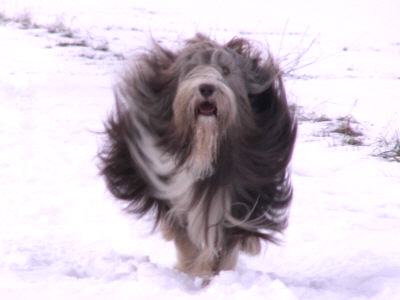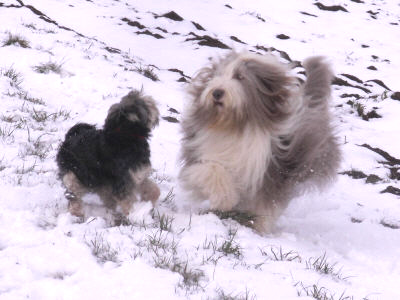 27.01.07 "Hilfe.... was tun denn die da an meinem Auto?" Ein Löwchen ist halt kein Hütehund...
"Help me please....what ist that?" Primi is no herding dog ;-)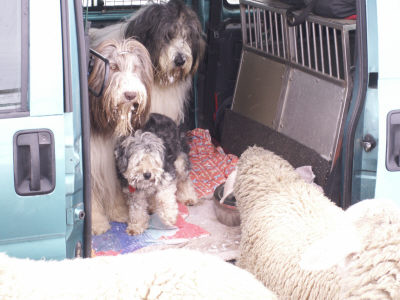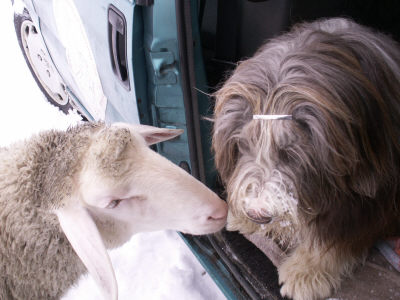 aber Chocolate zeigt wie's geht...
but Chocolate shows her how to tread them
24.01.07 Eigentlich hatte ich gehofft, diese Bilder erst wieder im Dezember zu sehen... Aber den Hunden macht der Schnee offensichtlich viel Spass. Primelchen war bis zum Bauch im Schnee, aber das scheint ihr nichts aus zu machen, sie findet sogar noch Energie Casper zum Toben anzuregen.
I was hoping to have until December before it would snow again... buas one can see, t the dogs love it. Even little Primel who was up to her belly in the snow had lots of fun and even found enough energy to play with Casper.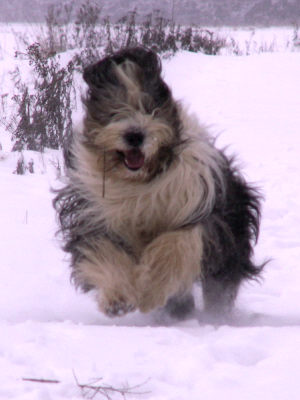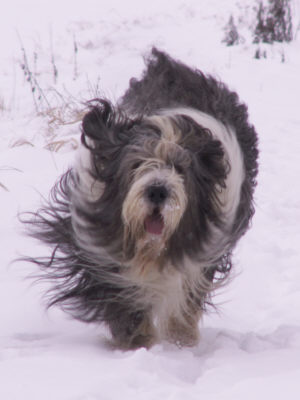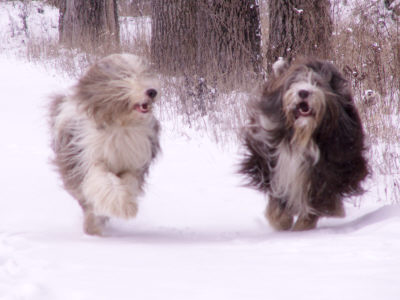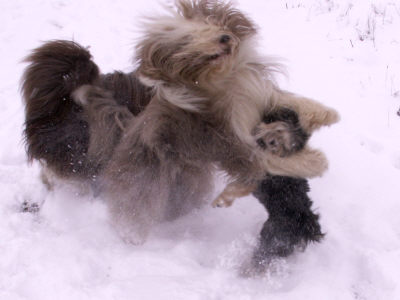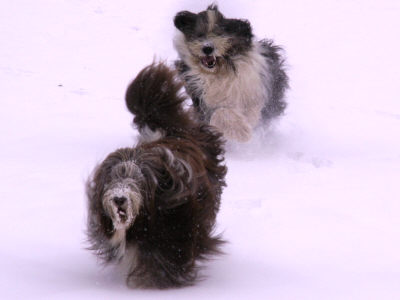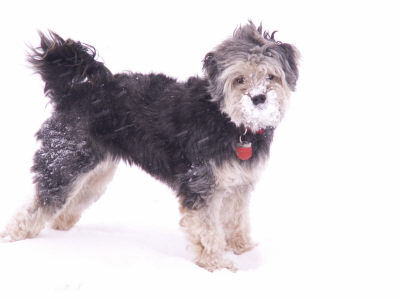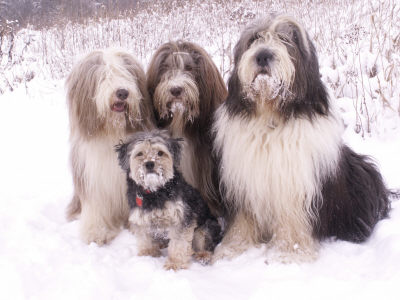 21.01.07 Kyrill und Lancelot sind über uns hinweg gefegt. Es war nicht nötig Primel an die Flexi zu nehmen. Das wäre nur für den Fall der Fälle gewesen, dann hätten wir sie wie einen Drachen im Wind mitsegeln lassen ;-). Schäden gab es keine, wir wurden nur durchgeblasen...
The two storms "Kyrill" and "Lancelot" have passed. There was no need for me to put Primel (my mother's dog) on the leash in case she'd start going up like a kite ;-)

Nicht dass die Hunde sehr viel Notiz davon genommen hätten, wie man sieht
The dogs weren't paying much attention to the rattling of the storms ....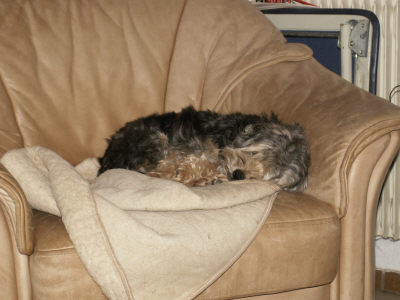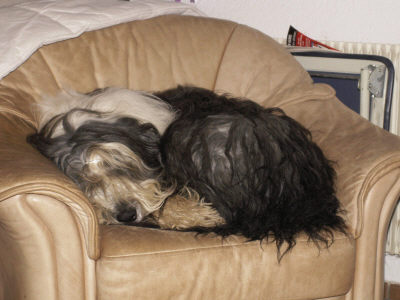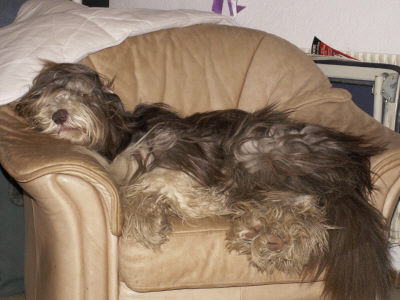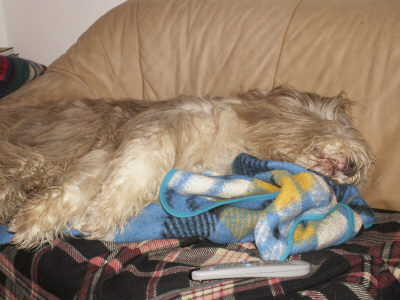 auch wenn es nicht danach aussieht: sie schlafen schon auch auf dem Boden....
Nur Primel kennt nichts und verteidigt "ihren" Platz ohne Rücksicht auf Verluste gegenüber allen 3 Herren ;-) - wie man sieht mit Erfolg, sie kann sehr deutlich werden. Sie mag es halt gerne weich...
Believe me, they do sleep on the floor -sometimes...
Only Primel needs a soft and cosy place and even being rather small, she has no problems showing the three boys which is "her" place.

07.01.07 So gemütlich kann ein Sonntag sein: nachdem wir in der Früh fährten waren, sind die Herren richtig zufrieden und müde. Baghira hat sehr konzentiert gesucht, Casper ebenfalls, er kommt nun auch auf den Geschmack und Chocolate hat die Winkel wunderbar gesucht, dazwischen dürfet er gerne noch etwas weniger stürmisch sein, es geht ihm nicht schnell genug!
It looks like a nice and cosy Sunday. In the morning we went to do some scent work, later they were very satisfied and sleepy. Baghira and Casper did their work with lots of concentration, Chocolate did the corners very well but in between he is working almost too fast.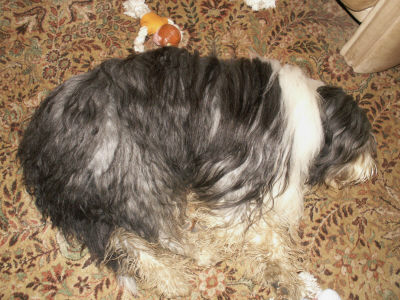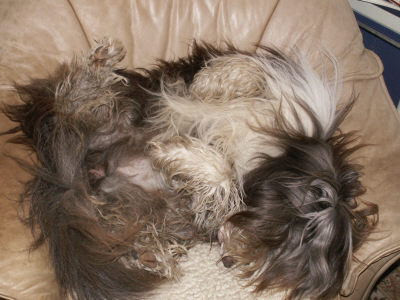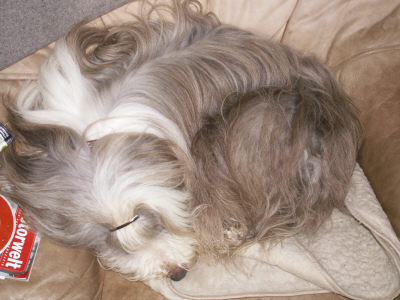 dies ist Chocolates zweiter Lieblingsplatz: vor der Stufe im Wohnzimmer, wie damals als Welpe
Choclate's second favourite sleepingplace, it is still the same spot as when he moved in as a puppy...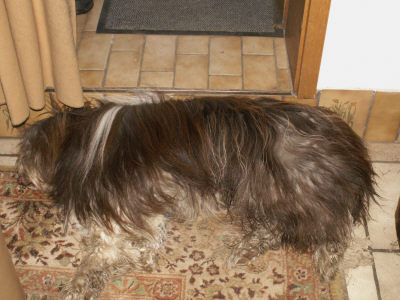 01.01.2007
Nach einem stürmischen Start letzte Nacht, ist alles sauber, aber nur zu Beginn des Spazierganges...
After a stormy start last night, everything is nice and tidy, but only at the beginning of our walk...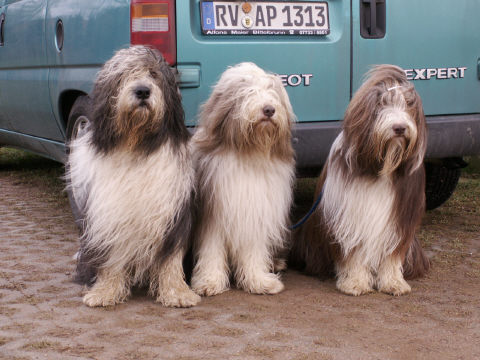 Baghira, Casper, Chocolate